Easy Caramel cheesecake with oreo crust has all your favorite desserts combined into one! Cheesecake plus oreo and caramel. This dessert is so decadent!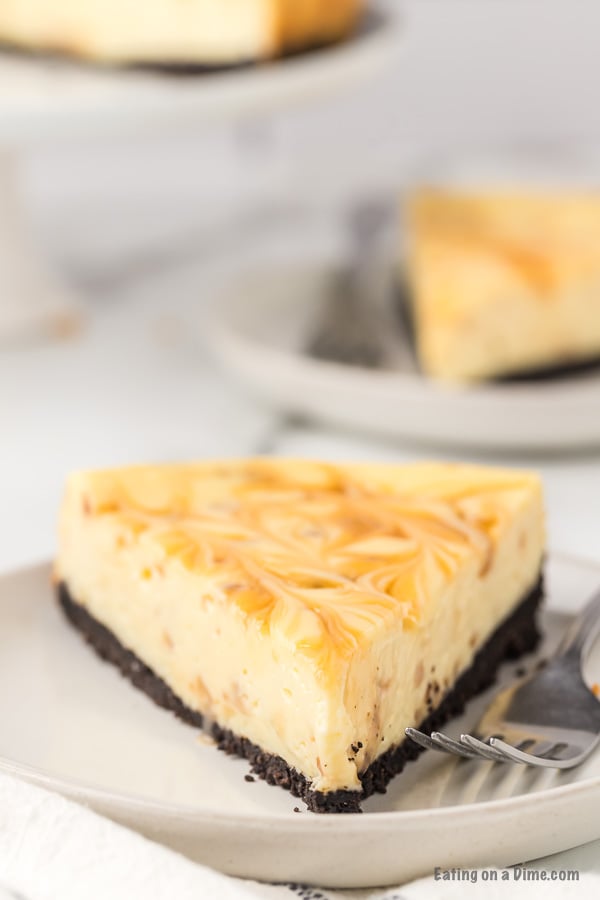 Caramel cheesecake with oreo crust
We love dessert around here and it just does not get any better than cheesecake….or so I thought!
But this cheesecake recipe combines a delicious caramel topping with oreo crust and it is unbelievable! It is even better than plain cheesecake.
I'm telling you, it is that good! It's very rich though so one slice will go a long way.
Each bite has lots of different delicious flavors. It's really just the best.
You just want to savor each bite and it's so good with a cup of coffee or this Homemade Iced Coffee Recipe.
This Oreo Crust Cheesecake is delicious.
Trust me, you will love this cheesecake recipe and end up making it for lots of parties, holidays and more! It's the best and very simple to make!
Ingredients:
melted Butter
Sugar
Cream Cheese -softened and room temperature
Vanilla
Eggs
Caramel -ice cream topping
How to make caramel cheesecake with oreo crust
First, preheat the oven to 350 degrees.
How to Make the Oreo crust:
Crush the Oreo cookies in a food processor or blender. You want the cookies to be very fine.
Then, make the crust. Mix together the Oreos, melted butter, and a tablespoon of sugar.
Combine this all together making sure the crumbs are all coated. However, you do not want to make a paste.
Next, put this mixture into the bottom of a cheesecake pan and press firmly.
Once the crust is in the pan, bake it for five minutes. Then set it aside while you make the filling.
How to make Caramel Cheesecake
Get out a large mixing bowl. Beat together the cream cheese, vanilla, and one cup of sugar.
Next, add the eggs one at a time. Mix this together using a hand mixer until it is smooth.
Finally, pour your brickle chips or brickle toffee into batter and blend together.
Now that you have the cheesecake filling, pour the batter on top of your crust.
The last step is to spoon caramel on the top of the batter. Cut through the batter mixture with a knife several times to give the marbleized effect.
This is what is going to make it look so pretty.
Bake at 350 degrees for 30 to 40 minutes.
The center should be set and not have any liquid.
Allow the cheesecake to cool completely in a water bath if needed. Then remove from the cheesecake pan, and refrigerate for three hours.
You can also refrigerate overnight.
Enjoy!
Supplies needed for caramel cheesecake:

You will need a few additional supplies to make this delicious cheesecake recipe. If you bake a lot, you probably already have these in your kitchen.
You will love this Oreo crust!
The entire recipe is just the best. The caramel sauce is so delicious and it all comes together to make the best dessert.
It's a great recipe. If you love cheesecake, you must try this! It's out of this world!
Variation ideas:
Change the Crust – Now you can certainly use this graham cracker crust recipe instead of the Oreos but the Oreo cookies really make this amazing! It adds an extra layer to this dessert that is simple the best!

Add Salt – Add Salt on top for a delicious salted caramel cheesecake.

Top with Whipped Cream – whipped cream is amazing on top for any cheesecake but especially this one.

Drizzle Chocolate Syrup – Since you have an oreo crust, drizzling hot fudge or chocolate sauce on top would be an amazing addition.
Let us know what you think once you try this amazing Easy Caramel cheesecake recipe with oreo crust.
I'm pretty sure everyone will love it and likely fight over the last piece!
This recipe is so gourmet and amazing!
This is the sort of dessert that will impress your friends and family. They will think you picked this up at the bakery.
It looks so fancy but really it's very simple to make. Just a few steps and this amazing cheesecake will be ready.
It is so worth it because every single bite is just oh so good! The caramel drizzle just makes each bite so yummy.
This cheesecake recipe is a must try! Anyone that loves cheesecake, oreo cookies and caramel will absolutely love this.
Print this caramel cheesecake with oreo crust:
More cheesecake recipes