This post may contain affiliate links. If you make a purchase through links on our site, we may earn a commission.
You have to make these delicious Chocolate Chip Cheesecake Bars. They are the perfect combination of creamy cheesecake and chocolate chip cookies. They are perfect for the holidays, bake sales, cookie trays and more!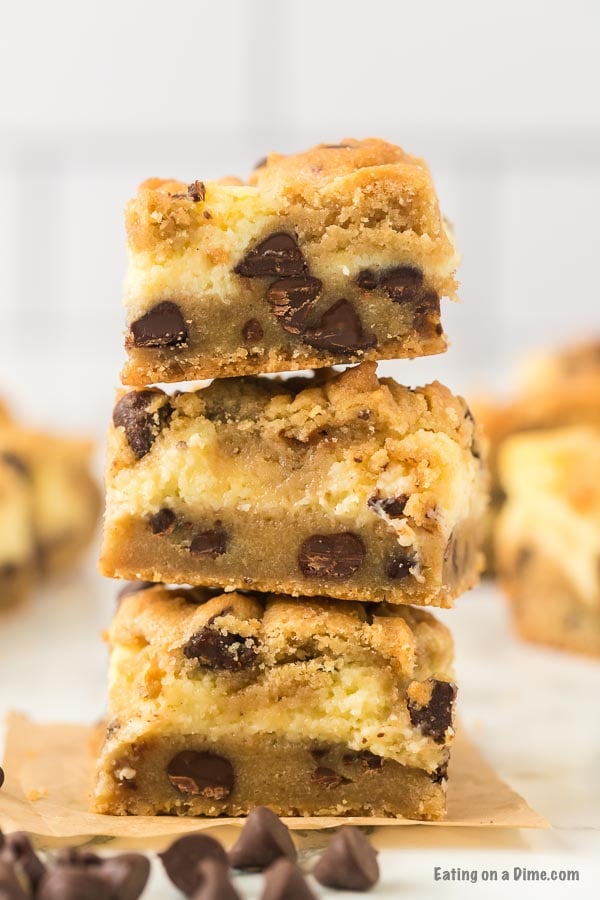 Chocolate Chip Cookie Cheesecake Bars:
Your family will love these Chocolate Chip Cheesecake Bars. You can't go wrong combining the deliciousness of chocolate chip cookies and cheesecake! I love how easy they are to make any night of the week!
I love cookie bars. In my opinion, they are much easier to bake then regular cookies. You don't have to scoop and batch bake your dough. It all goes into one pan.
Cheesecake Cookie Bars:
What could be better than delicious cheesecake or chocolate chip cookies? Chocolate chip cream cheese bars of course!
This recipe is a game changer and one you will fall in love with.
These cookie cheesecake bars are delicious and pretty much amazing! The cheesecake filling combined with the chocolate chip cookie dough make a dessert that no one will forget!
It's always a hit regardless of what kind you make and everyone will really love these Cookie bars!
Ingredients:
For the Crust (which is also the cookie layer):
Flour – In use unbleached all purpose flour for this recipe.
Baking Soda – This is needed so that the bars will rise when baking.
Salt – Just a small amount to bring out the flavors in the other ingredients.
Butter – Softened at room temperature.
Sugar and Brown Sugar – I love using a combination of both types of sugar.
Egg – This is necessary as it binds the other ingredients.
Vanilla Extract – Just a little bit as a delicious sweetness to these cookie bars.
Chocolate Chips – I usually use semi-sweet chocolate chips but milk chocolate would be delicious in this recipe too.
For the Cream Cheese Filling:
Cream Cheese – Full fat cream cheese as it makes these cheesecake bars cream.
Sugar – I only us the white granular sugar in the cream cheese layer.
Egg – Again it's needed to bind the other ingredients together.
Vanilla – A small amount adds a delicious sweetness to the cream cheese layer.
How to make Cheesecake Cookie Bars:
This is a really simple recipe and even the kids can help. The results are so tasty and one of our favorite recipes.
Make the Chocolate Chip Cookie Dough. – In a large bowl, combine the chocolate chip cookie dough crust ingredients, then press 2/3 of it into the 9×9 pan. Save the remaining dough for after you pour in the cheesecake filling.
Make the Cream Cheese Layer. – In a separate bowl beat the cream cheese and sugar until creamy. Add in the egg and vanilla for the Cheesecake Bar filling. Then pour the filling on top of the crust.
Make the Topping. – Then with the remaining dough, crumble on top and bake.
Then bake. – Bake at 350 degrees F for about 35-40 minutes and the top is golden brown!
And cool. – Let the cheesecake bars cool on the counter for an hour and then refrigerate for 3-4 hours before serving.
It is that easy to make Cheesecake Cookie Bars!
Everyone will go crazy over this delicious and easy dessert. Make sure you have your 9 x 9 baking pans for your cookie bars. Especially if you making for your next get together!
The ones with the lid are really handy if you are taking this dessert somewhere. When I am bringing it to a party or a family get together, I always bring in a disposable pan. This makes it easy to leave what is leftover, but there is rarely any left.
Tips for the best cheesecake bars:
Follow these tips for the best Chocolate Chip Cookie Cheesecake bars:
You can use refrigerated cookie dough to save time. In my opinion, homemade cookie dough is the way to go but you can use pre-made to save time.
I have even used white chocolate chips and it was delicious. Sometimes you have to use what you have on hand.
You can also add any nuts, candies, or sprinkles. That is what is great about this recipe, you can change it up to what your family likes! You might even co-ordinate the sprinkles with your holiday party!
Make sure to let them cool completely. – I have found that it is best to let them cool completely before cutting into them. As crazy as it sounds, using a plastic knife makes it cut easier. The cookie bars cut into perfect squares!
I usually make the chocolate chip cookie cheesecake bars in a 9×9 pan. But if I am bringing it to a party, I will double the recipe. Then I will use a 9 x 13 pan.
Use parchment paper. – Line the baking pan with parchment paper as it makes it easier to remove the cheesecake bars from the pan.
How to Store:
Due to the cheesecake layer, these bars should be stored in the refrigerator in an air tight container for up to 5-7 days. They can sit at room temperature for 15 – 30 minutes when serving but should be refrigerated after that time.
Can you Freeze?
Yes, these cheesecake bars freeze great.
To freeze:
Ensure that the bars have cooled completely and cut into bars.
Place the bars on a baking sheet and then put them in the freezer for at least 40 minutes to 1 hour.
After this time, move the cars to a freezer safe bag.
Then freeze for up to 2-3 months.
When you are ready to enjoy them, defrost them out over night in the refrigerator.
Print this Chocolate Chip cookie dessert recipe below:
Chocolate Chip Cookie Cheesecake Bars
Need a an easy dessert – make these chocolate chip cookie cheesecake bars. YUM! They are the perfect marriage of chocolate chip cookies and cheescake!
Ingredients
Instructions
Preheat oven to 350.

Line a 9×9-inch square baking pan with parchment paper or aluminum foil and spray with nonstick spray.

Whisk together flour, baking soda and salt for crust.

Cream together butter, brown sugar and sugar until fluffy.

Add egg and vanilla and whip to incorporate.

Add flour mixture and mix until incorporated.

Fold in chocolate chips.

Press 2/3 of the mixture into the bottom of the prepared pan to form an even layer.

Combine filling ingredients (Cream cheese, sugar, egg, and vanilla) and beat until blended.

Spread filling over the cookie dough layer and level.

Crumble remaining crust dough over the filling layer.

Bake for 40 minutes, or until cheesecake is set and cookie dough has browned.

Allow to cool completely and chill before slicing.
Recipe Notes
Chocolate and cheesecake come together to make the perfect dessert combination in this recipe.
Nutrition Facts
Calories
252
kcal
,
Carbohydrates
33
g
,
Protein
2
g
,
Fat
12
g
,
Saturated Fat
7
g
,
Cholesterol
39
mg
,
Sodium
167
mg
,
Potassium
38
mg
,
Sugar
24
g
,
Vitamin A
340
IU
,
Vitamin C
0.1
mg
,
Calcium
37
mg
,
Iron
0.8
mg
More chocolate chip desserts to Try:
More cheesecake bars to try: