This post may contain affiliate links. If you make a purchase through links on our site, we may earn a commission.
Make this caramel marshmallow popcorn recipe for a fun afternoon snack! With three amazing tastes in one recipe you can't go wrong with marshmallow caramel popcorn! Plus it is easy, fast, and fabulous!
I don't know what it is about popcorn, but my whole family loves it. As soon as they hear the sound of popping popcorn they're instantly excited! Honestly, I don't know if there is any kind of popcorn that they don't love!
We love our delicious caramel popcorn recipe and we definitely adore our white chocolate popcorn, Zebra Popcorn, or Peanut Butter Popcorn Recipe. This caramel marshmallow popcorn recipe is no different and it is a super fun idea for after school snacks or a special treat for movie night!
The amazing thing about popcorn is that it is so easy to make! And it's easy to switch up the flavors when you want something a little different! This caramel marshmallow popcorn has three amazing tastes all in one – salty popcorn, gooey caramel, and sweet marshmallows. What isn't to love?
How to make popcorn on the stove:
It is so simple and easy to pop popcorn on the stove instead of using bags of popcorn. Not to mention it usually is a lot cheaper, too!
Add 1-2 Tablespoons of oil to the bottom of a large stockpot. You can use vegetable oil, coconut oil or even butter. If we're wanting more of a movie theater type popcorn, we will use the Popcorn Popping Oil, but it isn't a must.
Heat the oil over medium-high heat and add a couple of popcorn kernels to the bottom of the pan. Add the lid.
Once the popcorn begins to pop you know your pan is ready! Add the rest of the popcorn kernels, replace the lid and move the pan continuously over the burner. Periodically shaking the pan so that you can move the kernels around and prevent burning.
Pay close attention to the sound of the popping popcorn. Once you notice a significant drop in the amount of kernels popping, remove from heat. They're done!
How is caramel marshmallow popcorn different than caramel corn?
While this recipe is somewhat similar to caramel corn, there are still enough differences that make it quite different! The marshmallows give this caramel marshmallow popcorn a different texture than traditional caramel corn.

It is light and airy and tends to stay soft, where caramel corn is more crunchy. Really, it is the result of rice krispie treats and caramel corn having a baby. It truly is the perfect combination!
One bite is really all it takes to get hooked, so be prepared! If you haven't had a chance to try this caramel marshmallow popcorn, now is the time! Grab the kids, pop in a movie and have a delicious evening! It is easy enough for the kids to help make, too! They'll love breaking apart the popcorn pieces. Keep an eye on them, there might not be many pieces make it without being eaten first!
Ingredients for marshmallow caramel popcorn:
1 package popped Microwave Popcorn or ⅓ cup of popcorn; popped
½ cup butter
1 cup brown sugar
2 tbsp corn syrup
2 tsp vanilla
25 big Marshmallows or 2 cups of mini marshmallows
How to make caramel marshmallow popcorn:

1. Whether you're using bagged popcorn or stove popped popcorn, remove any unpopped kernels from the popped popcorn.
2. Line a baking sheet with parchment paper and spread out the popcorn in a thin layer.
3. Melt the butter in a sauce pan over low to medium heat. Add in the brown sugar, corn syrup and vanilla and stir until completely blended. Let this mixture simmer for a couple of minutes, stirring occasionally.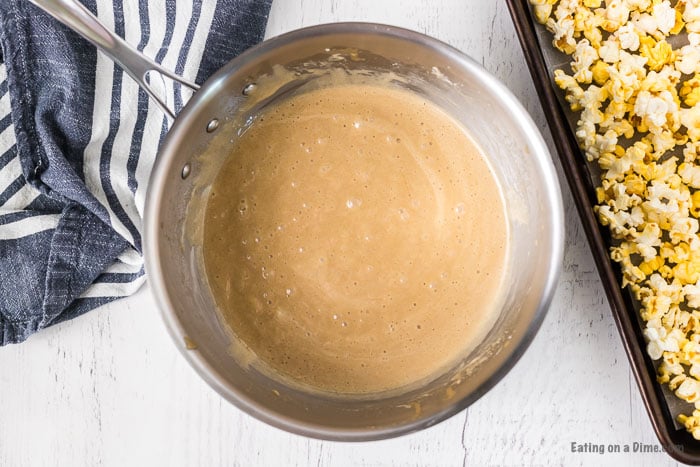 4. Add the marshmallows and stir until marshmallows are melted.
5. Pour the caramel mixture over the popcorn and stir or toss to coat all of the popcorn. Spread onto a prepared pan to set. Break the popcorn apart into chunks and pieces once it has cooled and enjoy!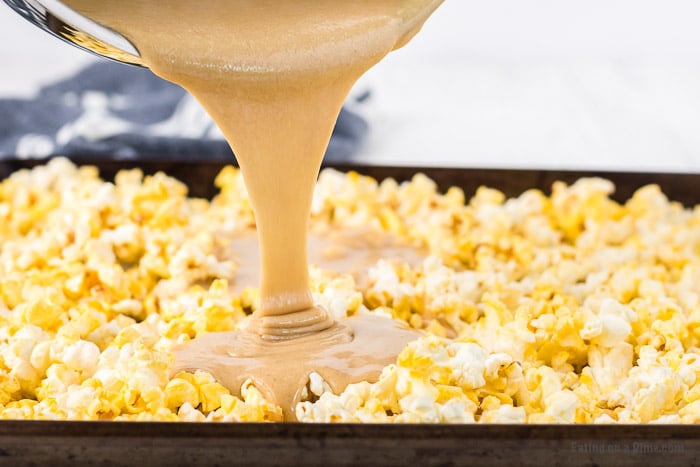 Everyone loves this caramel marshmallow popcorn when I make it! It is easy to make a double batch if you need it for a party. If you happen to end up with any leftovers, store them in an airtight container.
We like to enjoy caramel marshmallow popcorn when it is still warm, because it is ooey and gooey. But if you end up with leftovers, it is good or a couple of days in an airtight container or ziploc bag.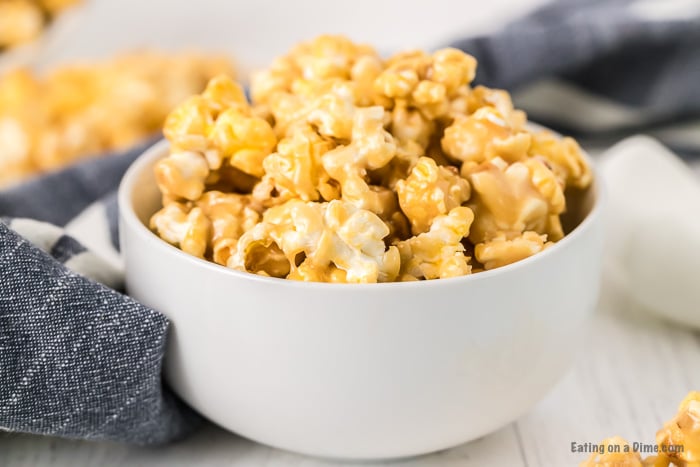 Print your marshmallow popcorn recipe below:
Caramel Marshmallow Popcorn
Make this caramel marshmallow popcorn recipe for a fun afternoon snack! Marshmallow caramel popcorn is easy, fast, and fabulous!
Ingredients
1

package popped Microwave Popcorn or ½ cup regular Popcorn

popped

½

cup

Butter

1

cup

Brown Sugar

2

tbsp

Corn Syrup

2

tsp

Vanilla

25

Marshmallows

giant ones
Instructions
Remove any unpopped kernels.

Line a baking sheet with parchment paper.

Melt butter in a pan over low heat.

Add brown sugar, corn syrup and vanilla and stir to blend.

Add marshmallow and stir until marshmallows are melted.

Pour over popcorn and stir or toss to coat popcorn.

Spread onto prepared can to set.
Nutrition Facts
Calories
296
kcal
,
Carbohydrates
50
g
,
Protein
1
g
,
Fat
11
g
,
Saturated Fat
7
g
,
Cholesterol
27
mg
,
Sodium
116
mg
,
Potassium
57
mg
,
Fiber
1
g
,
Sugar
39
g
,
Vitamin A
315
IU
,
Calcium
23
mg
,
Iron
1
mg
Try these other popcorn ideas:
Try these other easy desserts: