Mandarin orange jello salad recipe has just 6 ingredients and takes minutes to prepare. Whipped topping, jello, fruit and more make this salad sweet and delicious.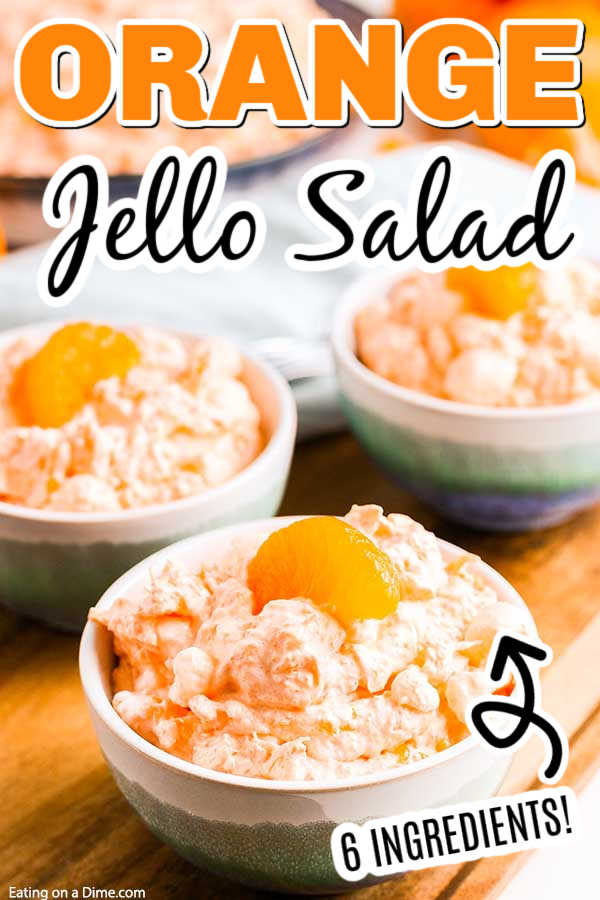 Mandarin orange jello salad recipe
This is the best side dish and my family pretty much expects me to make it for any occasion. From Summer BBQ's to Christmas dinner, this salad always has a place at the dinner table. It's no surprise because it is SO delicious!
Lots of marshmallows, whipped cream, jello and fruit make each bite so creamy and decadent. It is light and fluffy and not heavy at all.
My kids could eat this by the bowl for a snack. It is really so amazing.
With only 6 ingredients, anyone can make this with very little effort. If you can toss ingredients into a bowl and stir, you can make this recipe. It is just that simple!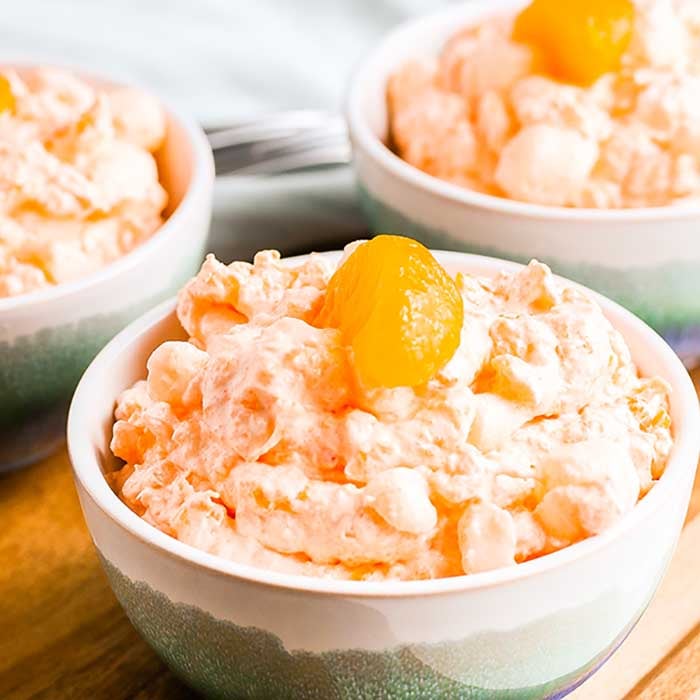 This recipe is so simple that the kids can help. If you have children that want to learn how to do things in the kitchen, this is a great recipe to let them help with.
Ingredient for easy mandarin orange salad:
2 cups (1 – 16 oz) container small curd cottage cheese
1 small box (3.4 oz) orange jello
1 can (14 oz) mandarin oranges, drained well
2 cups mini marshmallows
1 can (20 oz) crushed pineapple, drained well
1 container (8 oz) whipped topping, thawed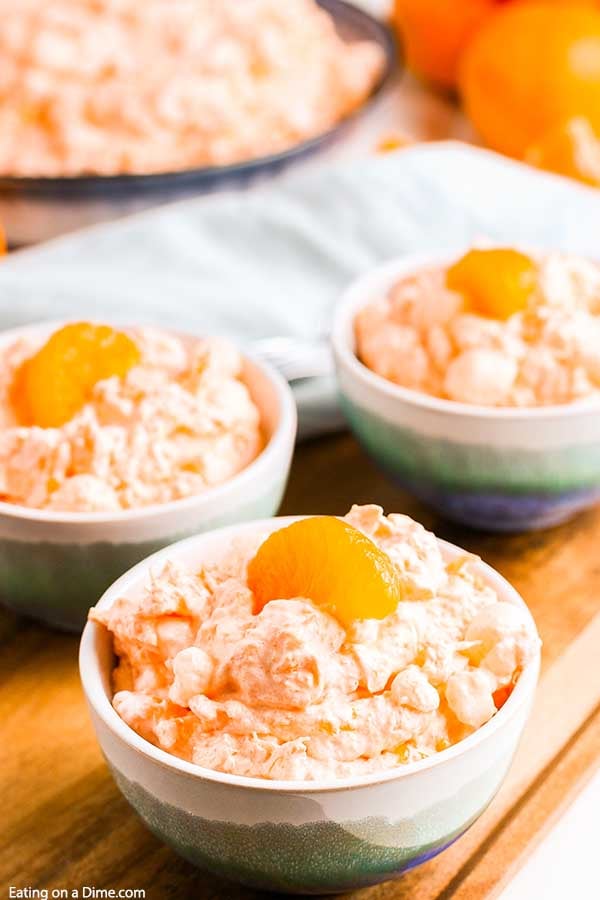 How to make mandarin orange salad:
First, add cottage cheese to large bowl. Next, sprinkle jello over cottage cheese and mix well.
Add mandarin oranges and pineapple. Mix well.
Stir in mini marshmallows. Fold in whipped topping. The kids love to help with this part!
Cover and chill at least 1 hour before serving. You can do this overnight to really let the flavors blend together.
Serve with additional mandarin oranges or whipped topping if you like. This is optional but looks pretty for garnishment.
Store leftovers in refrigerator. If you have any. 🙂 We rarely have leftovers because everyone loves this fruit salad so much!
Orange jello salad is quick and easy to make!
This recipe takes less than 10 minutes to prepare. The hardest part is waiting for the flavors to blend as it sits in the fridge.
I have been known to sneak spoonfuls of this amazing salad. It is so good!
The kids have no idea there is cottage cheese in this jello salad. Everything is blended with the whipped topping, marshmallows and fruit for a really tasty fruit salad dish. Yum!
Everyone will ask for the recipe. No one ever believes how easy this jello salad is.
Tropical orange jello salad is budget friendly.
Since this easy recipe has only 6 ingredients, the entire dish is so frugal. I don't mind at all when people ask me to bring this because it is so easy and inexpensive.
In fact, you can easily double this recipe if you have a large crowd to feed. Sometimes, I do this anyway just so I can keep some at home if I'm taking this jello salad somewhere.
This family favorite side dish is so easy and always a hit. I have even used other ingredients and the salad was amazing.
You can add a little frozen orange juice concentrate for extra flavor. My kids love when I add extra whipped cream on top.
So many recipes are seasonal or more suitable for one occasion or the other. This is one recipe that really works year round for anything!
I love having recipes like this to make. It really is possible to serve amazing dishes that are frugal and delicious.
From cookouts to birthdays and holidays and more, this dish never disappoints. It is also easy enough to make on busy weeknights for family dinner. You can't go wrong with this delicious salad.
Please leave a comment once you try this and let us know your family liked it. I think it will be a hit for sure!
Print this mandarin orange jello salad recipe:
Mandarin orange jello salad
Mandarin orange jello salad recipe has just 6 ingredients and takes minutes to prepare. Whipped topping, jello, fruit and more make this salad delicious.
Ingredients
2

cups

1 – 16 oz container small curd cottage cheese

1

small box

3.4 oz orange jello

1

can

14 oz mandarin oranges, drained well

1

can

20 oz crushed pineapple, drained well

2

cups

mini marshmallows

1

container

8 oz whipped topping, thawed
Instructions
Add cottage cheese to large bowl

Sprinkle jello over cottage cheese and mix well

Add mandarin oranges and pineapple, mix well

Stir in mini marshmallows

Fold in whipped topping

Cover and chill at least 1 hour before serving, overnight is fine

Serve with additional mandarin oranges or whipped topping, if you like

Store leftovers in refrigerator
Nutrition Facts
Calories
253
kcal
,
Carbohydrates
48
g
,
Protein
9
g
,
Fat
4
g
,
Saturated Fat
2
g
,
Cholesterol
14
mg
,
Sodium
305
mg
,
Potassium
249
mg
,
Fiber
2
g
,
Sugar
38
g
,
Vitamin A
508
IU
,
Vitamin C
47
mg
,
Calcium
105
mg
,
Iron
1
mg
Try these other delicious fruit recipes:
Try these other easy salad recipes: