Crockpot Taco Soup Recipe is one of my go to meals on busy weeks because it is so easy. The flavor is just amazing and the entire family goes crazy over it. You can't go wrong with this soup recipe for dinner.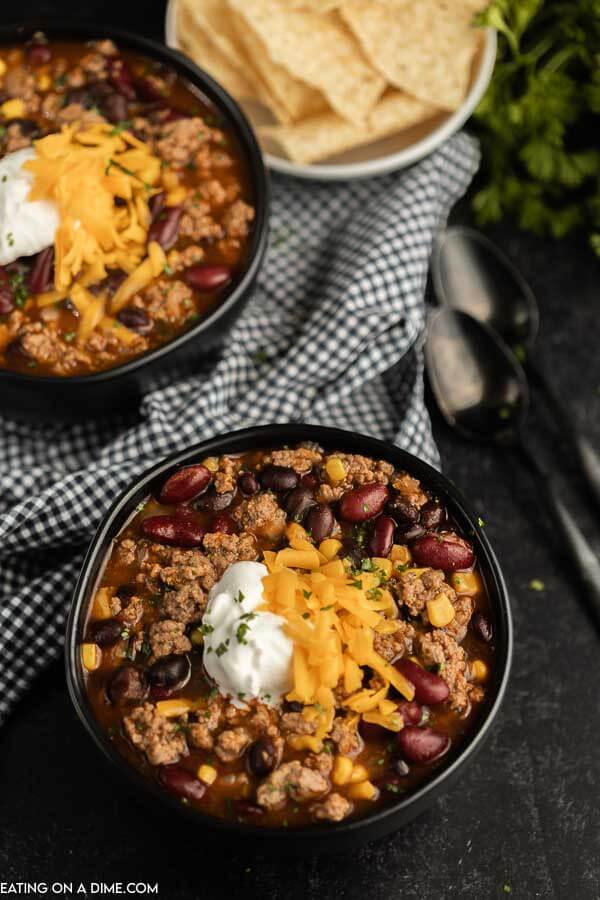 Crockpot Taco Soup Recipe
You only need a few simple ingredients to make this delicious soup. It is super easy and can be thrown together in minutes as you get ready to walk out the door.
Come home to dinner ready to enjoy with very little work. Anyone can make this recipe! If you can throw things in a crock pot, you can cook this.
The ground beef is so hearty and gives the beans and tomatoes the best flavor. This is one of our favorite soup recipes and even my picky eaters love this recipe.
If you loved our Chicken Taco Soup Crock Pot recipe, or our 7 Can Taco Soup recipe you will love this recipe for sure!
Make Homemade Taco seasoning
This recipe calls for taco seasoning. Did you know you can make your own taco seasoning with the ingredients you already have in your pantry?
It is so much cheaper and better for you than store bought seasoning mixes. We keep a jar of this ready to go for recipes like this.
How to brown ground beef:
For this soup, it is best to brown your ground beef before putting in the crock pot. We like to brown ground beef in a large skillet and add in the chopped onion.
This ensures that the crumbled ground beef and onion are cooked all the way through. Drain meat to remove excess grease and add to a crock pot.
Taco Soup Ingredients:
Ground Beef
Homemade Taco Seasoning
Garlic Salt
Salt and Pepper
Onion
Frozen Corn
Black Beans
Kidney Beans
Crushed Tomatoes – Tomato Sauce or Diced Tomatoes would work as well.
Chicken Broth
Cheddar Cheese
How to make Taco Coup Crockpot recipe:
Brown the beef on medium heat in a large skillet and drain.
Add the browned ground beef to the slow cooker. Top with the rest of the remaining ingredients.
Give everything a nice stir. That is seriously all you need to do for this easy recipe!
Cover and cook on low for 6-8 hours or cook on high for 3-4 hours. Then it is ready to eat.
Toppings for Taco Soup:
Shredded Cheese
Sour Cream
Green Onion
Hot Sauce
Fresh Lime
Cilantro
Diced Jalapeno Peppers
Saltine Crackers
Corn Chips
Tortilla Chips
Just use whatever you like for taco toppings.
Tips for the best Slow Cooker Taco Soup:
To reduce sodium, drain and rinse beans.
We like to double the recipe, to have leftovers. We think it taste better the next day.
Serve for a holiday party or get-together. Make a taco bar with all the toppings.
If you don't like kidney beans or black beans, you can change to pinto beans.
What to serve with Taco Soup:
This taco soup is a complete meal. But if you prefer, you can add in a few sides. Here are some of our favorites:
We have even just kept it really simple and make homemade cornbread.
You can also try Cheddar Jalapeno Cornbread Recipe for a little extra kick.
Tortilla Chips and Salsa pair well with this soup.
Easy Spanish Rice is always a good side.
Can you freeze Taco Soup?
Yes, this soup freezes great. I usually double the recipe so I can reheat for another meal on those busy nights.
Place cooked or uncooked taco soup in a freeze safe container or ziplock freezer bag. It will last in the freezer for about 3 months. Once you are ready to prepare your taco soup, you can place in the crock pot to cook.
We think it taste better the second time around.
How long does Taco Soup last?
As mentioned, we love this soup leftover. It will last about a week in the refrigerator. We place in individual serving container so it is an easy meal to grab and reheat.
This is the perfect soup to take for lunch or to have for a quick dinner. Sometimes my family eats at different times because of our busy weeknights. So to have these easy meals for my family to grab makes it easy for them to get a good meal.
Our family loves Crock Pot Original Taco Soup recipe!
I love taco soup and so does the entire family. This super easy recipe is just thrown together in the crockpot. Even though it is easy, it tastes delicious! It is not too spicy, so even the smallest taste buds will enjoy it.
This taco soup is my go-to soup when I know it is going to be a cold day. This taco soup recipe is so easy to just use what you have. It is also really delicious with ranch dressing mix. We have also used ground turkey instead of ground beef.
If you prefer a little more heat, add a can of green chili or try diced tomatoes with green chili.
Print this healthy taco soup crockpot recipe below:
Try these easy crockpot soup recipes: