Crock Pot Cajun Chicken Pasta Recipe is creamy and delicious with a little bit of heat. The Cajun flavor really jazzes up this chicken dish for an easy meal that your family will love.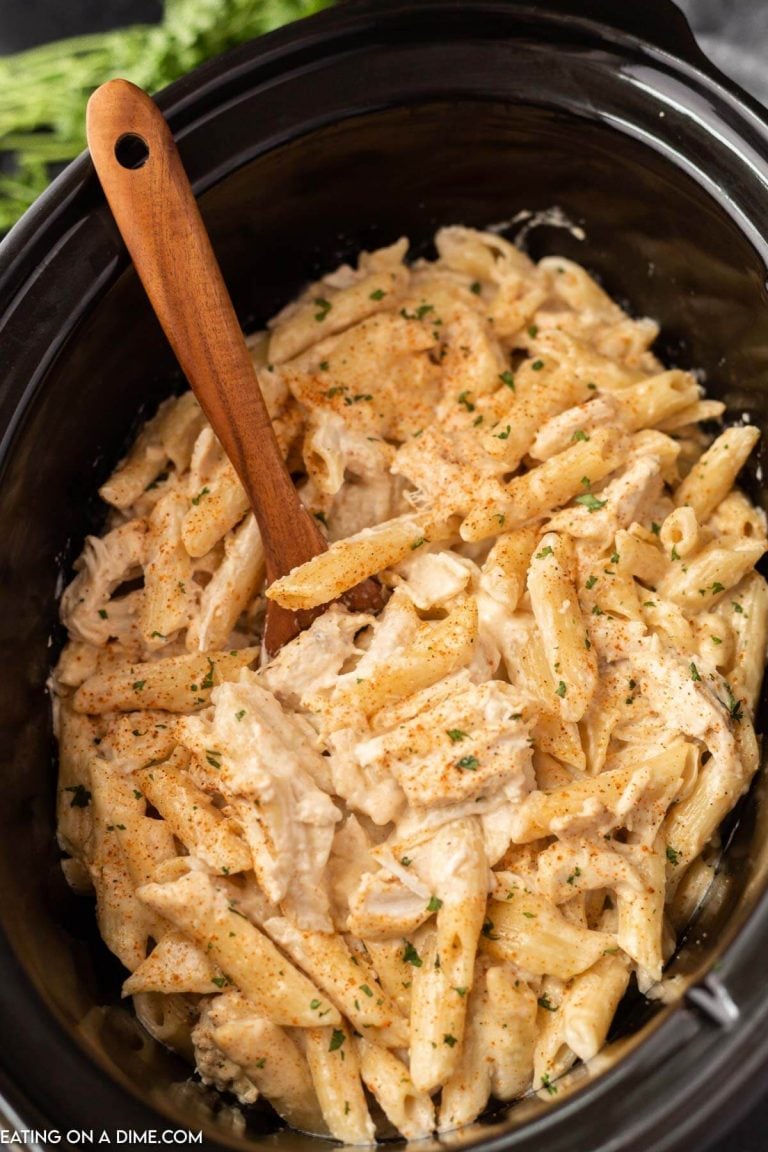 Crock Pot Cajun Chicken Pasta Recipe:
Our family loves chicken recipes and I am always looking for new and easy ways to serve it. This Creamy Cajun Chicken Pasta is a new favorite and it is so easy. The dish has the perfect amount of heat but not so much that the kids can't enjoy it.
Slow Cooker Cajun chicken pasta is made with simple ingredients but full of flavor. It is creamy and delicious and perfect for the entire family. Serve the creamy sauce and chicken over pasta for a delicious dinner idea.
Change up your pasta recipe and make this Cajun Chicken pasta in your slow cooker. Add a side salad and some garlic bread for a complete meal idea.
Ingredients:
Boneless Skinless Chicken Breasts
Heavy Whipping Cream
Chicken Broth
Butter
Cajun Seasoning
Garlic Powder
Penne Pasta, uncooked
Grated Parmesan Cheese
How to Make Crockpot Cajun Chicken Pasta:
Step 1 – Place ingredients in slow cooker – Add the chicken, heavy cream, chicken broth, and butter. Then stir in garlic powder and cajun seasoning into a 6 quart crock pot.
Step 2 – Cover and Slow Cooker – Cover and cook on low for 4-6 hours. Cook on high for 2 hours until the chicken is cooked through (has an internal temperature of 165 degrees F).
Step 3 – Shred Chicken – Remove the chicken from the crock pot and shred or dice it into large pieces.
Step 4 – Return chicken to slow cooker – Whisk the sauce in the crock pot. Return the chicken back to the crock pot and stir in the uncooked pasta.
Step 5 – Continue Cooking – Cover and cook on high for 20-30 minutes until the pasta is tender and cooked through.
Step 6 – Stir in Cheese – Then stir in the parmesan cheese. Cover for 5 minutes and allow the cheese to melt.
Step 7 – Serve and Enjoy – Serve warm and enjoy. Serve over pasta and dinner is ready to enjoy! We love to sprinkle more Parmesan cheese and season with salt and pepper on top of the pasta.
This recipe tastes really delicious but it requires very little work to put together. You can easily enjoy this chicken pasta dish even on busy weeknights.
Substitutions and Additions:
Chicken – We like cooking chicken breast and shredding it, but you can easily use boneless chicken thighs or chicken tenders.
Change the Meat – This slow cooker cajun chicken alfredo recipe would be delicious with smoked sausage mixed in. You can even substitute the chicken for sausage. Salmon or shrimp would also be a good substitute.
Pasta – We like the penne pasta, but feel free to use what you have. Fettuccini noodles or bowtie pasta would be a great variation.
Vegetables – Make it a one pot meal and mix in some vegetables. Bell peppers or diced broccoli or great suggestions.
Extra Spice – If you want to add in some extra spice, add a can of Rotel. This option comes in a variety of flavors and adds delicious flavor to the pasta dish.
Seasoning – Feel free to add in onion powder with the garlic powder.
Cook in a Skillet – For a quick and easy dinner idea, make this cajun chicken pasta in the skillet. Dinner can be done in about 30 minutes.
Recipe Tips:
Shredding Chicken – Once the chicken has cooked, shred the chicken with a hand mixer or stand mixer for best results. You can also shred chicken with two forks.
Pasta – You can cook the pasta in the crock pot with the other ingredients if you prefer. But you can also cook it separately and then dish the cream chicken sauce over the pasta.
Cooking Ingredients – This pasta dish cooks great in the slow cooker. We like to cook our chicken recipes on low, but if you are short on time cook on high. You can even cook frozen chicken in the slow cooker.
Is Cajun Chicken Alfredo Spicy?
We love the extra kick that the cajun seasoning gives the dish, but it is not spicy. My family doesn't mind a little extra heat in this dish. But you can always half what is added to reduce the heat.
The spicy cajun seasoning mixed with the pasta, chicken, and cream really gives this pasta dish so much flavor.
Adding the cajun seasoning really brings this dish together, making it the best comfort food.
What to Serve with Creamy Cajun Chicken Alfredo:
This slow cooker pasta dish is rich and hearty. So we prefer to serve sides that are bit lighter. These are some of our favorite options.
Homemade Garlic Bread – We love making breadsticks so we make sure we get every last drop of the sauce.
Side Salad – Make a large garden salad with fresh ingredients that pairs perfectly with this rich pasta dish.
Roasted Vegetables – Roast some broccoli for a light side that everyone will enjoy.
How to Store Leftovers:
Place the leftovers in an air tight container for a delicious lunch the next day. The leftovers will last about 4 days and taste even better the next day. The ingredients really marinate together to make a delicious leftover meal.
How to Reheat Leftovers:
To reheat leftovers, place in a microwave safe dish and reheat. We recommend reheating in 30 second intervals so that they are no hot spots. You can also reheat in the skillet on the stove if you are reheating a larger portion.
Print Cajun Chicken Pasta Slow Cooker recipe:
More Crock Pot Chicken Pasta Recipes: