This post may contain affiliate links. If you make a purchase through links on our site, we may earn a commission.
Lean How Many Teaspoons in a Tablespoon will save you time and stress while cooking. Knowing the correct measurement will save your recipe.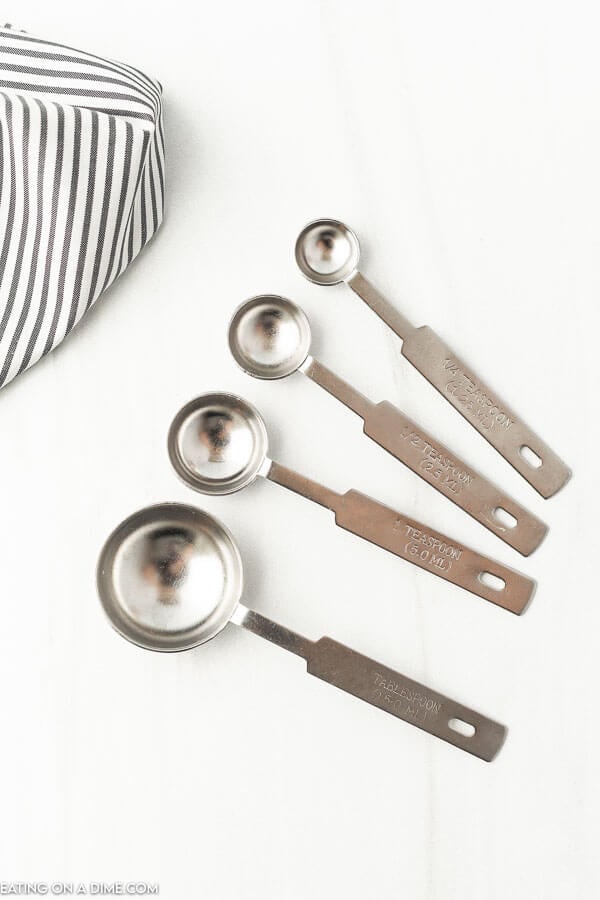 A Handy Measurement for Teaspoons:
As a cook, it is important to know that there are 3 teaspoons in one tablespoon. This basic kitchen measurement will come in handy to measure correctly for your dishes when adding to your mixing bowls.
When you are adding salt, baking powder, spices you want to make sure that you add the correct amount because it could ruin your favorite recipes.
Why you need to know this important measurement:
Able to Double Recipe – It would be easy to adjust the recipe when you want to double the recipe. So if the recipes calls for 1 ½ teaspoon then I can just add 1 tablespoon.
Tablespoon of Salt – If the recipes calls for a tablespoon of salt, then you can slowly add in a teaspoon of salt at time. You won't ruin your dish knowing that the max you add is 3 teaspoons.
Half a Recipe – If you are only making half the recipe and it calls for 1 tablespoons then you can add 1 ½ teaspoon of seasoning.
Easy Conversion Chart:
3 Teaspoon 1 Tablespoon
6 Teaspoon 2 Tablespoon
12 Teaspoon 3 Tablespoon
16 Teaspoon 4 Tablespoon
Tips for Adding the Correct Amount of Salt to a Dish:
Vegetables – When you are adding salt to vegetables, for every pound of vegetables add 1 teaspoon of salt.
Cooking Pasta – To cook pasta, the recommended amount of salt to add to 4 cups of water is 1 tablespoon.
Rice – For 1 cup of rice, add about ½ teaspoon of salt.
Kitchen Measurements:
These volume measurements are mainly used for smaller quantities that are added to your recipes. These are used for wet and dry ingredients such as spices and extracts.
They can be find in both metric and imperial systems for cooking and baking.
What is a Pinch Measure?
If a recipe calls for a pinch of something, then that is a cooking ingredient that you can hold between your finger and thumb.
A Pinch Measure equals to about ⅛ teaspoon.
More Kitchen Tips: