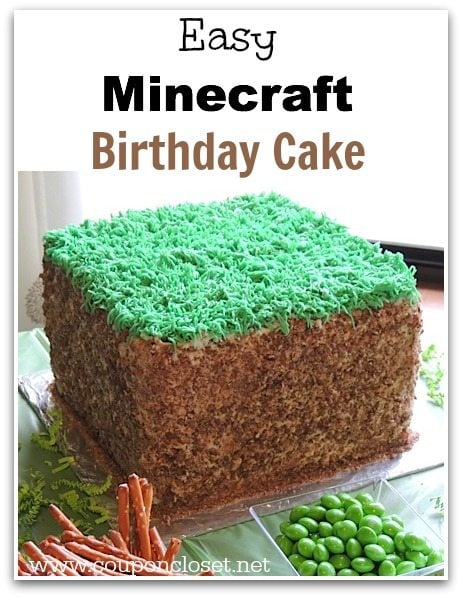 My boys LOVE Minecraft, so they wanted a Minecraft party for their 9th party! That means I had to make a Minecraft birthday cake. I already showed you how to make a Minecraft Cake Block Birthday cake. Honestly, I know knew very little about Minecraft so I had to check with them on every detail, especially the cakes.
The boys were very specific about which type of cake they each wanted. One boy wanted a cake that looked just like the cake block on Minecraft – white top, brown bottom and red squares on top. It was really easy to do. Make sure you read my other post here on how you can make it too.
My other son wanted a cake to look like a grass block from Minecraft – 'grass' on top and brown all around the sides. So, today I wanted to show you how to make a Minecraft Grass Block Cake.
Today we are talking about how YOU can make this Cake Block Minecraft Birthday cake. It is SO easy to make. I think you will be shocked with how easy it is to do. You might also like these minecraft cake pops.
In order to make true block cakes, I used an 8-inch Wilton Square Cake Pan and made 3 layers per cake, using one Betty Crocker Boxed Cake mix for each pan. For this Cake Block Minecraft birthday cake I used all vanilla cake mixes, but you could use different ones to change the flavor of the cake.
How to make this Grass Block Minecraft Birthday Cake
I used 3 Betty Crocker Chocolate Cake mixes. I covered it all over in white Buttercream Frosting.
Since the sides are supposed to look like dirt, I decided to cover them with Cocoa Krispies cereal. I thought this would be pretty easy, but it turned out being a little trickier than I thought. I finally figured out the easiest way to coat the sides of the cake with something crumbly was to use a large spoon. I simply filled the serving spoon with crushed cereal, held it against the side of the cake and slowly tilted the spoon so cereal poured over the side. I had my other hand under the spoon so I could quickly pat the falling cereal onto the side of the cake. This worked really well when the frosting was fresh. This was messy, but definitely worth it.
I then used the Wilton Grass Tip to make grass all over the top of the cake. Quick side note – when you are coloring frosting, do NOT use food coloring. That will water down your frosting. Be sure to use Gel Coloring. These are awesome.
I know that seems time consuming, but it wasn't too bad. Remember, you can make your cakes ahead of time and keep them in the freezer until they are ready to decorate. Frozen cakes are also easier to cut (I usually have to slice off the top of the cake that is rounded). I also like to make the cakes a day or two a day ahead of time and leave them in the fridge. They taste even better when they have sat in the fridge for a bit.
Make your own cakes are frugal!
Cakes are expensive. If you were to pay for a custom cake you will spend $60-$150 for a cake. This cake can be made for around $5-10.Try making this cake to also help you family save even more money. You don't have to be an expert to make a fun cake on a budget. You can make this cake for under $5… even cheaper if you already have the pans, the gel coloring and the grass tip like I did.
If you are throwing a Minecraft party, make sure you make these EASY Minecraft Cake pops.
Make sure you also check out how I made this Minecraft Cake block for my other son for his birthday.