This Minecraft Birthday Cake is so easy to make that anyone can do it. You will save yourself a TON of money by making your own Minecraft Cake.
My boys LOVE Minecraft, so it was inevitable that when their 9th birthday came around they would want a Minecraft themed birthday party! That means I had to make a Minecraft birthday cake. Honestly, I know knew very little about Minecraft so I had to check with them on every detail, especially the cakes.
Make your own Minecraft Cake
The boys were very specific about which type of cake they each wanted. One boy wanted a cake that looked just like the cake block on Minecraft – white top, brown bottom and red squares on top. It didn't seem like it would amount to much, but those were my instructions. My other son wanted a cake to look like a grass block from Minecraft – 'grass' on top and brown all around the sides. So, with instructions in hand (yes I was given written instructions) I set off.
Today we are talking about how YOU can make this Cake Block Minecraft Birthday cake for the Minecraft fan in your life. It is SO easy to make. I think you will be shocked with how easy it is to do.
In order to make true block cakes, I used an 8-inch Wilton Square Cake Pan and made 3 layers per cake, using one Betty Crocker Boxed Cake mix for each pan. For this Cake Block Minecraft birthday cake I used all vanilla cake mixes, but you could use chocolate cake or any other cake flavor you prefer!
How to make Minecraft Birthday Cake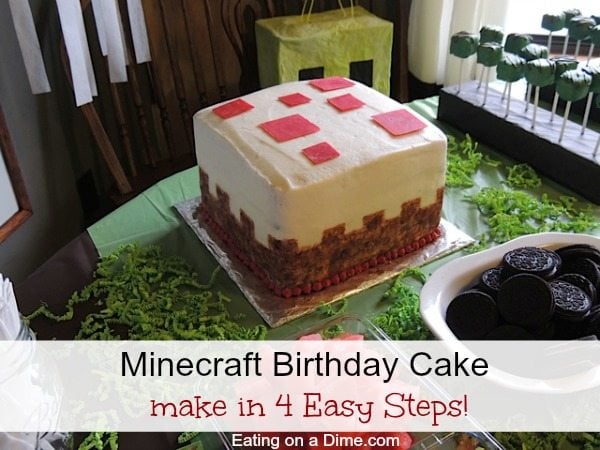 First you need to make the cake according to the box.
Next, I made 2 batches of The Best Buttercream Icing recipe and do a crumb coat on the baked cakes. A crumb coat is basically a thin layer of frosting that seals in the crumbs so they don't show up on the outside icing of my cakes. While it is an extra step, you'll be so thankful that you did it later on! Start by stacking the layers with icing in between and then crumb coating them.
After you're done with the crumb coat, add icing to the rest of the cake. To get the frosting smooth, cover it and place in the fridge. Once the icing is hard, use VIVA paper towels to help smooth the icing. Just place the paper towel on the icing and slightly pat and rub. Carefully lift the paper towel and you have much smoother icing! 🙂


How to Decorate a Minecraft Birthday Cake

Then, use a toothpick to "sketch" a rigid outline along the sides of the cake for the brown bottom. No need to measure anything, just eye-ball it. To achieve a smooth looking finish, I had to find a medium that would be smooth so I decided to try cinnamon. I simply used my finger tip to get this "airbrushed" look by dabbing my finger in the cinnamon and then on the side of the cake and repeated until the entire bottom of the cake was covered. Yes, this was a little time consuming, but I got the effect I was looking for, so it was worth it! Oh and I got tons of compliments on the flavor of the cake. Everyone LOVED the cinnamon on the cake. Win – win!
After you're done with the brown, move onto the red for the top of the cake! I melted Red Candy Melts, quickly spread it thinly on a piece of wax paper and let it dry. It dries very quickly. Once it's dry cut out various sized squares and transfer them to the top of the cake. I thought this turned out pretty cute, but most importantly, my son loved it!
Lastly, add the finishing touches! Now you don't have to add anything to the bottom but because I wanted to finish it off, I dyed some left over of the Buttercream Frosting red and piped the red along the bottom. You really wouldn't have to do this if you didn't want to.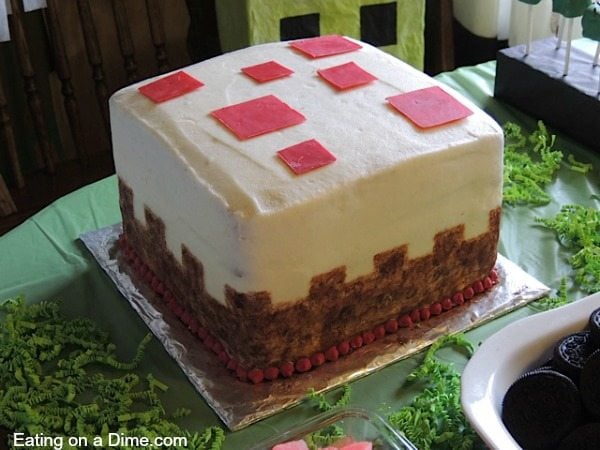 It is really that easy!
Is this frugal?
Um… YES! If you were to pay for a custom cake you will spend $60-$150 for a cake while this Minecraft Cake can be made for around $5-10. Even if you bought an inexpensive cake at your local grocery store or Walmart you are still saving money and your child will be so impressed with your skills!

If you are throwing a Minecraft party, make sure you make these EASY Minecraft Creeper Cake pops.
Try these other party foods: