Learn how to make a heart shaped cake without any special pans or supplies required. This is super easy and you probably already have what you need at home!
How to make a heart shaped cake
I have a fun post for you today! As Valentines Day approaches, you might be trying to think of ways you can show your family how much you love them.
One fun way would be to make a heart shaped cake. No heart shaped pan, you say? No problem!
I am going to show you how to make a heart shaped cake using one square and one circle cake pan. It is so easy you'll be wondering why you never tried it before!
I know that most of you already have these two pans, so this is definitely a frugal dessert for Valentines Day.
Let's get started!
What do you need to make diy heart shaped cake?
That is all you need. Are you ready to learn how to make a heart shaped cake? Let's do it!
How do you make a heart shaped cake?
First, make the cake according to package directions. Spray cake pans with non-stick cooking spray.
Fill cake pans with batter to about the same height (you'll end up putting a little more batter in the square pan because it has a little more surface area than the circle).
Bake the cake according to the package directions – I baked my cakes at 350F for 20 minutes in the 8″ pans and that was the perfect amount of time.
Remove cakes from pans and let cool on wire racks.
Once cooled, cut the circle cake in half. Do your best to cut it right down the middle or you'll end up with a lopsided heart.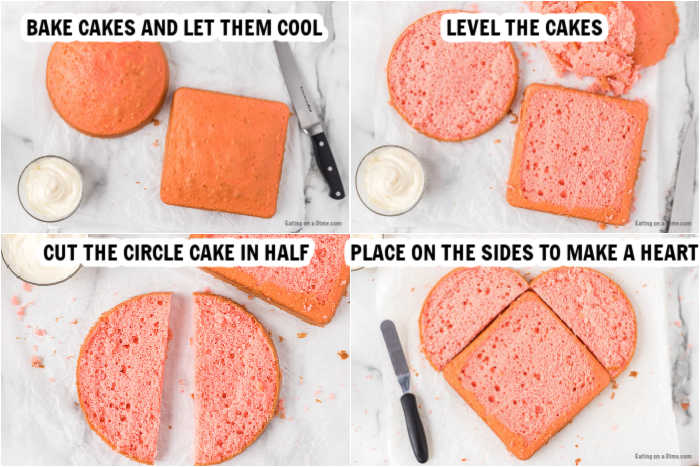 Set the two halves of your circle on two sides of your square and you will see your heart start to take shape.
Now, you'll notice the tops of the cakes aren't even, so you'll want to take a long serrated knife to cut off a portion of the top of each cake, aiming for a nice flat top.
You can also use a cake leveler. Amazon has several for sale here and I just love mine. It makes leveling cakes so much easier!
Once you've trimmed off some of the tops of the cakes and you are satisfied your cakes are pretty level, flip them over! Now you should have a nice beautifully smooth heart shaped cake.
Now you know how to make a heart shaped cake without a mold!
It is so fun and easy! You can use any type of cake you prefer.
Red velvet cake mix is really pretty. We also like strawberry cake and chocolate cake mix. Just use what your family enjoys!
Icing ideas:
Now, just decorate the cake how ever you desire. I like to put a crumb coat on my cakes before I frost it with my colored or flavored frosting.
The crumb coat ensures you won't have any ugly stray crumbs in your finished cake.
Some of our favorites include: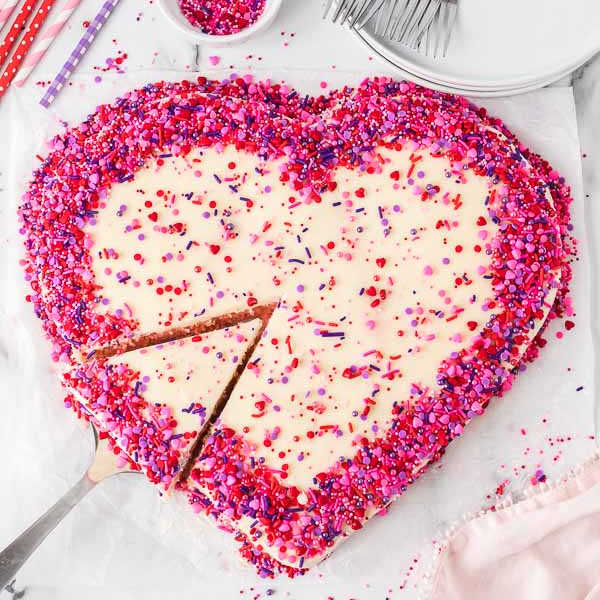 Options:
If you are thinking, "I don't have time for that!" you can simply buy a heart shaped pan.
It won't be as big as if you piece it together yourself, but it is definitely a time saver. I used the square and circle cake pans because I already had them on hand. 😉
**Note: You can use any size cake pans you have, just make sure the square and circle are the same size in diameter.
What do you think? Now that you know how to make a heart shaped cake from regular cake pans, do you think you'll make your family one for Valentines day? Let us know. We'd love to hear from you!
I think your family will love this festive and fun cake for Valentine's Day! Let the kids help and make lots of great memories together.
Need more frugal Valentines Day ideas? Try our frugal Valentines day menu ideas HERE and HERE.
Print this heart shaped cake recipe below: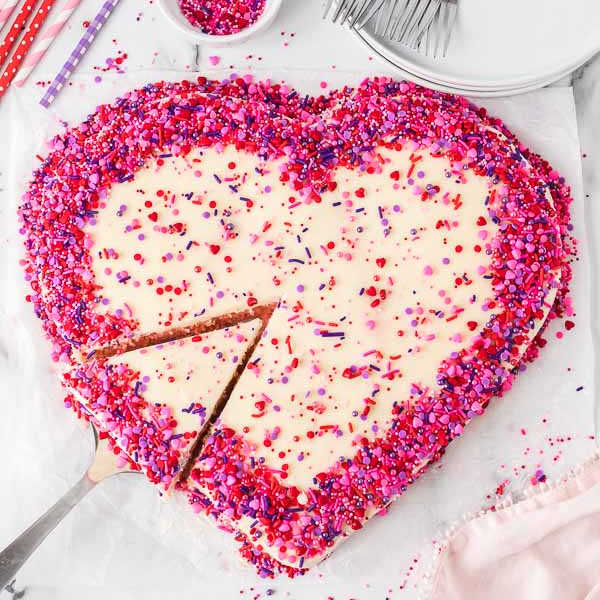 Ingredients
Strawberry Cake Mix

Ingredients need to make the Cake based on the package Instructions)
Instructions
Make the cake batter according the cake mix instructions on the package.

Spray the square and circle cake pan with non-stick cooking spray.

Fill the cake pans with the cake batter to approximately the same height in each pan so that the cakes will be approximately the same thickness (the square pan will need more batter than the circle pan).

Bake the cakes based on the package instructions on the cake mix for an 8" pan.

Allow the cake to sit for approximately 10 minutes to cool slightly in the pans.

Then remove the cakes from the pan and transfer them to a wire rack to cool completely.

Once the cakes are cool, cut the top of the cakes to make sure that they are level.

Then cut the circle cake in half.  Try to cut it right down the middle of the cake.

Place the 2 halves of the circle cake on 2 sides of the square cake to create a heart shaped cake.

Once the cakes have been cut, flip the cakes over and you'll have a perfectly even cake to icing and decorate!

Then icing the cake and decorate with the sprinkles of your choice!
Nutrition Facts
Amount Per Serving
Calories 260
Calories from Fat 135
% Daily Value*
Fat 15g23%
Cholesterol 33mg11%
Sodium 369mg16%
Potassium 155mg4%
Carbohydrates 32g11%
Protein 4g8%
Vitamin A 48IU1%
Calcium 70mg7%
Iron 2mg11%
* Percent Daily Values are based on a 2000 calorie diet.
Try these other easy valentines day recipes: