This post may contain affiliate links. If you make a purchase through links on our site, we may earn a commission.
Once you learn how to make buttercream icing you'll never buy store-bought icing ever again! This homemade buttercream icing recipe is so simple and creamy you'll be making it every chance you can get it!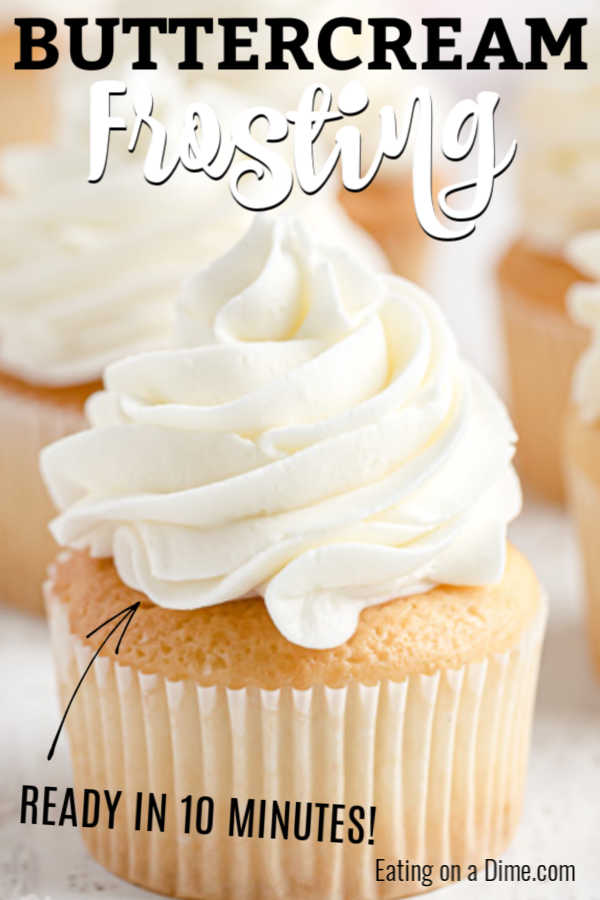 How to Make Vanilla Buttercream Frosting
Homemade vanilla buttercream frosting is delicious and so much better than store-bought icing. However, people tend to think making your own icing is difficult. Surprisingly simple and inexpensive to make this buttercream recipe is the perfect filling and icing for a layer cake, or topping your favorite cupcake recipe. Layer a thin icing on brownies or fill a couple of cookies to make a yummy treat.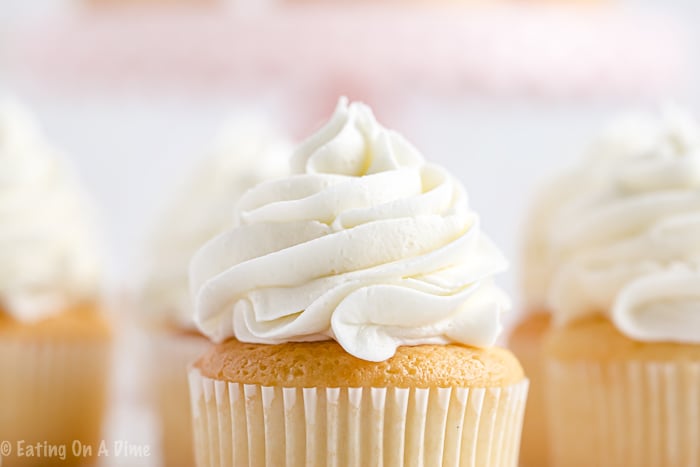 I used this easy recipe when I decorated my Ninja Turtle Cookie cake , this MineCraft Crass Cake and also on this Minecraft Birthday Cake.
Homemade Buttercream Icing can take an inexpensive box cake mix from ordinary to over the top. You could also use it to finish off homemade vanilla cake or a homemade chocolate cake. Substitute almond extract, hazelnut, lemon, strawberry, or any other extract for vanilla for another flavor option!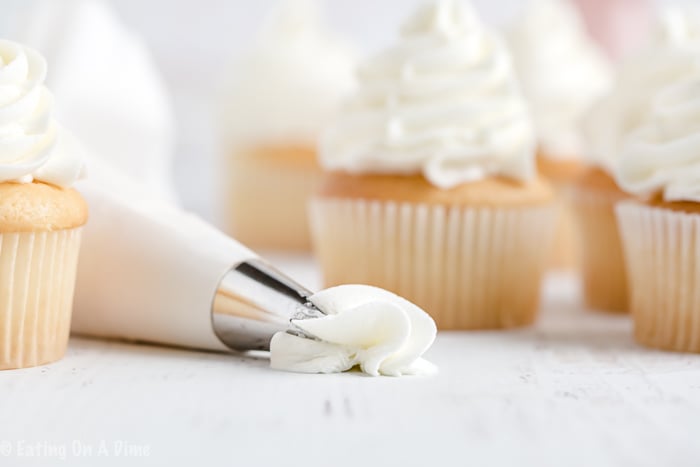 What kind of icing is best for decorating cakes?
There are so many different options for icing cakes that you might become a little overwhelmed! For me, there are a few icing options that I run to time and time again!
I love decorating our homemade cakes with vanilla buttercream icing because it is one of the easiest to make and is so easy to work with. It holds its shape making it easy to spread and also makes a great filling between layered cakes. It is also perfect for piping on cupcakes!
When I want to change it up, I simply change the extract flavor to go with cake flavor. It is also so easy to add a little bit of food coloring. Not to mention the flavor in this vanilla buttercream frosting recipe is so decadent without being overly heavy. If you're looking for a super-light option, homemade whipped cream might be just what you're looking for!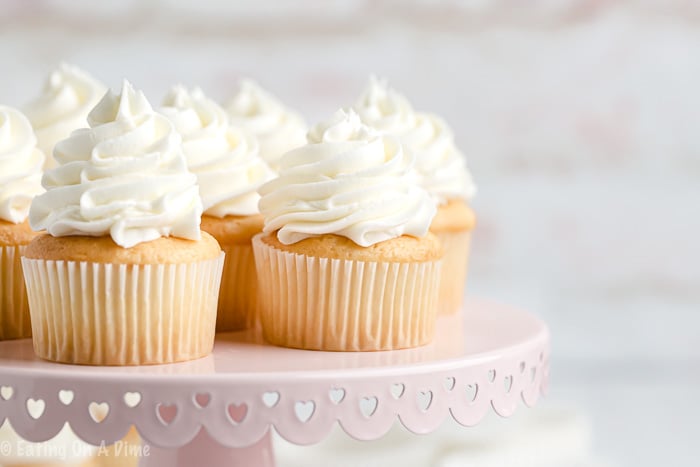 When I'm making a carrot cake or red velvet cake, I like to use cream cheese frosting instead of buttercream. The richness of the cream cheese really brings out the flavor of the cakes!
When you're all about the design and decoration of a cake, fondant might be your best option. It is probably the heaviest out of all of the options and is used mostly for birthday or celebration cakes. It is a lot more involved to make than a simple buttercream, but it definitely provided the wow factor!
Ingredients for Homemade Buttercream:
½ cup solid vegetable shortening
½ cup (1 stick) butter or margarine softened
1 teaspoon clear vanilla extract
4 cups sifted confectioners' sugar (about 1 lb.)
2 tablespoons milk
How do you make buttercream icing from scratch?
Buttercream icing is so easy to make from scratch! I recommend gathering all of your ingredients beforehand so that you have all of them ready. Once you have your ingredients ready, it is as simple as mixing them all together! Talk about easy peasy!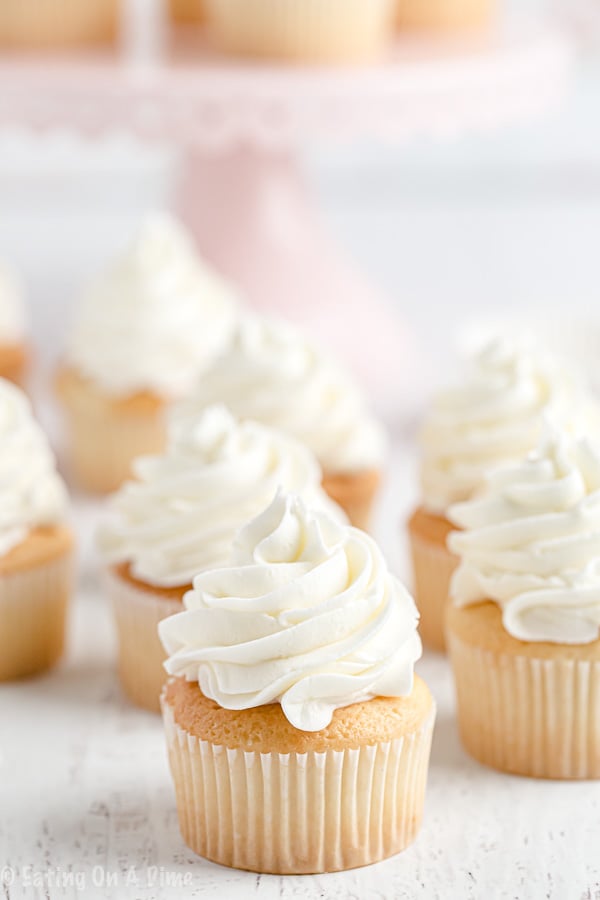 Using a stand mixer on medium speed, cream the shortening and butter together until smooth. You can still make buttercream frosting with hand mixer if you don't have a stand mixer.
Then mix in the powdered sugar, vanilla, and milk. Mix until it is fluffy and you have the best buttercream icing ever!

This is such a delicious recipe! If you want the icing a bit thinner, then add in milk, one tablespoon at a time. If you want a thicker icing to decorate your cakes with, add in powdered sugar ⅛ cup at a time. It is that simple and oh so tasty!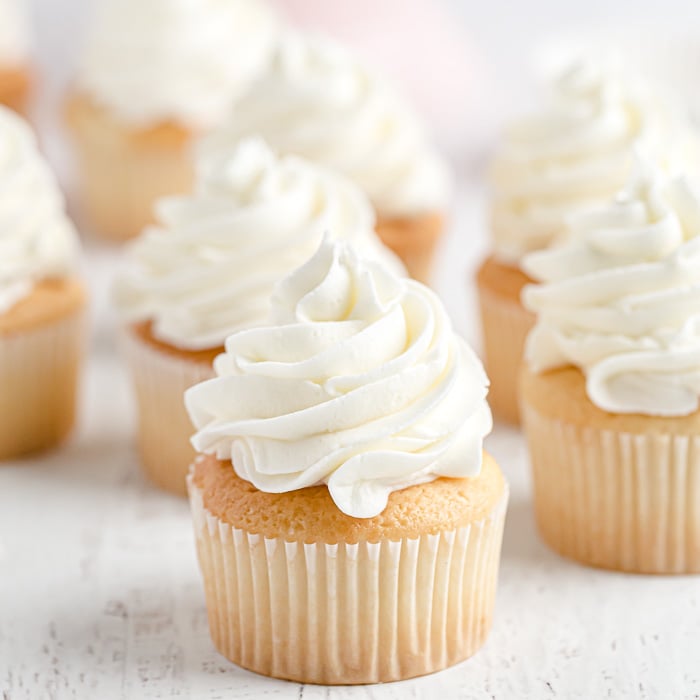 Print Homemade Buttercream Icing Recipe below:
Tips and tricks for the best buttercream frosting:
While this buttercream frosting recipe is super easy to make, there are a few things to keep in mind that will help you to make the best buttercream frosting you've ever had!
Make sure not to skip out on sifting your confectioners sugar. It makes a world of difference!
When you're creaming together the butter and shortening, don't rush it! Make sure all of the lumps are gone before you add in the sugar. No one likes lumpy frosting!
Also, make sure that you start with room temperature butter. You want it to be soft, but not greasy when you touch it. If it is greasy, it is too warm.
If you want a richer buttercream, use cream instead of milk. After all, it is called buttercream!
Mix your buttercream using the paddle attachment on your stand mixer for perfect fluffy buttercream frosting. The whisk attachment will incorporate too much air, which will leave your buttercream with air pockets.
Salted butter is perfectly okay in this recipe! It adds a little extra flavor to the icing and compliments the vanilla. If using unsalted butter, add in a pinch of salt.
Many buttercream recipes use only butter, but I prefer to use a combination of butter and shortening. This helps it to not melt as fast on a hot humid day and it also has a better (read: less greasy) texture.
Shortening and clear vanilla help keep this buttercream white instead of off white or brown. This is perfect for wedding cakes or when you're needing white frosting. Feel free to use regular vanilla if you're not worried about color.
Kitchen tools you need to make this:
I highly recommend getting a KitchenAid mixer to whip up this buttercream recipe, if you don't have one already. This is hands down my most used kitchen tool and is worth ever penny!
If you need a lesser expensive tool, you can use a hand mixer too and have this delicious recipe made in minutes.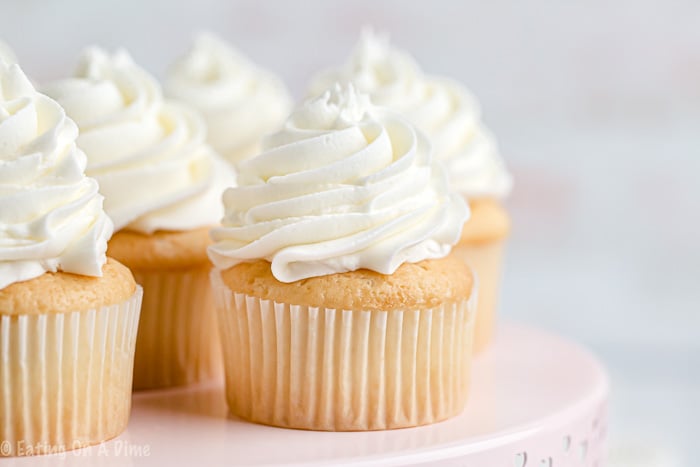 How to Make Homemade Buttercream Icing
See how easy it is to make this homemade Vanilla Buttercream Frosting. It tastes amazing and is perfect to ice your favorite cake, brownies or cookies.
Ingredients
1/2

cup

solid vegetable shortening

1/2

cup

1 stick butter or margarine softened

1

teaspoon

clear vanilla extract

4

cups

sifted confectioners' sugar

(about 1 lb.)

2

tablespoons

milk
Instructions
In a large bowl cream butter and vegetable shortening until smooth.

Beat in powdered sugar (one cup at a time) on low speed until well combined.

Stir in vanilla, and milk- whip until thoroughly mixed and fluffy on a medium-high setting.
For Decorating:
To pipe – icing on using a decorator bag, thicken it by using more powdered sugar.

For spreading and covering the cake – add in a bit more milk to make it thinner and easier to spread.
Recipe Notes
Recipe makes 2 ½ cups of frosting.
Nutrition Facts
Calories
150
kcal
,
Carbohydrates
20
g
,
Fat
8
g
,
Saturated Fat
3
g
,
Cholesterol
10
mg
,
Sodium
34
mg
,
Potassium
1
mg
,
Sugar
19
g
,
Vitamin A
120
IU
,
Calcium
3
mg
Make sure you give this easy recipe a try. I know you will love it on your next cake! 🙂
Try these easy desserts: