This post may contain affiliate links. If you make a purchase through links on our site, we may earn a commission.
My entire family loves this lazy day Cinnamon Bundt Cake recipe. It's easy to throw together but it looks like it took hours to make! This will become your favorite cake to make!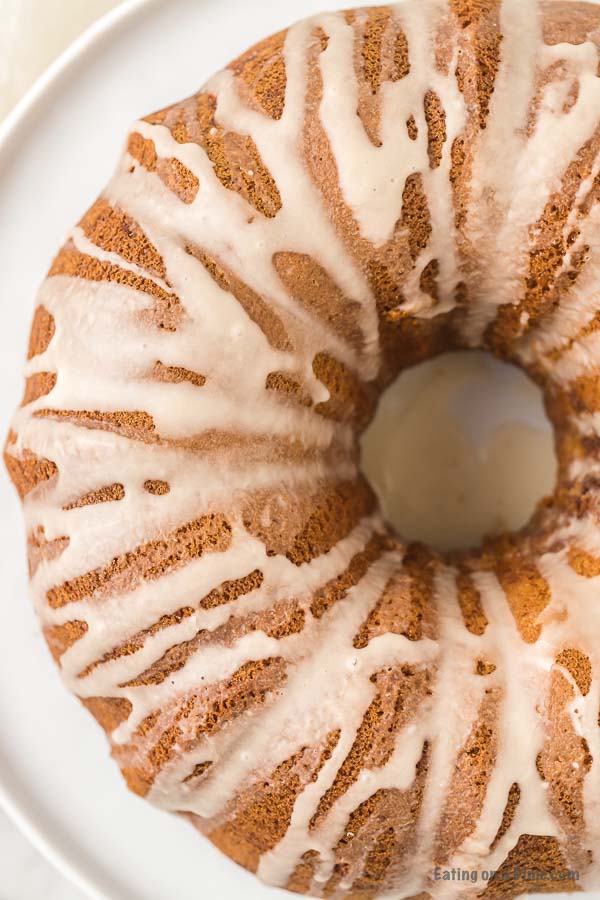 Cinnamon Cake Recipe:
This is our family favorite cake. My father loves this cake and requests it every year for his birthday. Every year, I ask what he wants and he always replies with that cinnamon cake thing you made last year.
This year we also made it for Thanksgiving. My kids forgot how much they loved it and they have requested it for Christmas too! This brown sugar cinnamon swirl cake is perfect for any occasion and I know you'll love how easy it is to make and how light and fluffy it is too.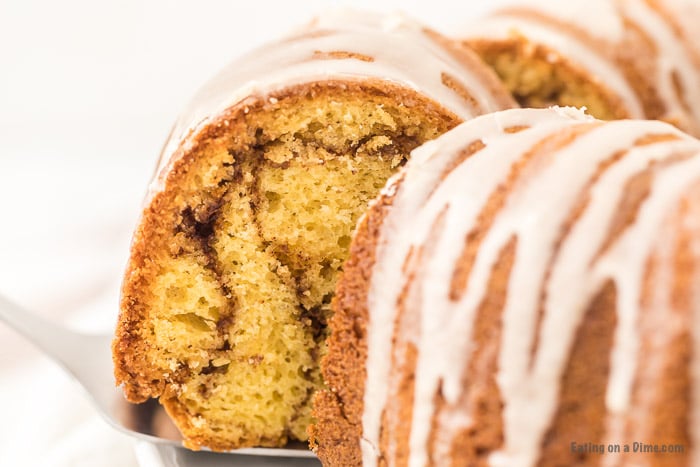 Lazy Day Cinnamon Bundt Cake:
A lazy day cake is what I call a cake recipe in which I find shortcuts to make a delicious cake recipe easier by using substitutions for some of the ingredients needed.
In this recipe instead of creating the flour mixture, I use a cake mix instead so I don't have to worry about the flour, sugar, baking powder, baking soda, etc for this recipe.
This helps create a great short cut but you don't have to sacrifice any of the flavors! In some recipes, it requires you to add in sour cream but in my recipe I add in a package of delicious pudding instead which really adds in the moisture and flavor to this delicious cake.
Ingredients for Easy Cinnamon Cake:
Cake Ingredients:
Yellow Cake Mix
Vanilla Instant Pudding
Vegetable Oil
Water
Eggs
Vanilla extract
Filling Ingredients:
Light Brown Sugar
Cinnamon
Chopped Pecans or Walnuts (Optional)
Glaze Ingredients:
Powdered Sugar
Milk
Vanilla Extract
How to make Cinnamon Bundt Cake:
Preheat oven to 350 degrees.
First you will want to prepare a 10-inch bundt pan (also known as a 12 cup bundt pan) with grease and flour. We like spraying it with your favorite non stick spray and lightly dusting it with flour. You don't want to skip this step so that it's easy to remove the cake once it's finished.
Next prepare the filling by combining the brown sugar, cinnamon and nuts together in a mixing bowl. Set aside as you'll need this later in this process.
To prepare the cake portion you need a large bowl combine the cake mix, pudding, oil and water. Then add eggs and vanilla extract. I mixed these ingredients together using my stand up electric mixer but you can use a hand held mixer as well. Just mix these ingredients together for a few minutes until they are well combined.
Next pour approximately one third of this batter into the prepared bundt pan.
Then sprinkle half of the sugar mixture over the batter in pan. After this, pour another one third of this batter on top of the sugar mixture in the pan. Then sprinkle the remaining cinnamon/sugar mixture over this layer. Next, pour the remaining batter in the pan.
Then bake for approximately 58-60 minutes in the preheated oven. You'll know the cake is cooked perfectly when a toothpick inserted into the center comes out clean.
After the cake baked, allow the cake to cool for at least 20 minutes. Then run a knife around the edges of the pan and invert the cake onto a wire rack. Let the cake cool completely on this wire rack.
Now it's time to prepare the delicious Glaze!
Now it's time to learn how to prepare the glaze for this delicious cake recipe. You don't want to skip this step as the glaze is my favorite part and make this cake even sweeter and amazing!
While the cake is cooling, mix together the glaze ingredients in a medium size mixing bowl.
Then I move the cake to a serving platter and next I drizzle the glaze on the top of the cake. The glaze is thin and will drizzle over the cake perfectly. It's not as thick as icing so don't be surprised when it's thinner than normal.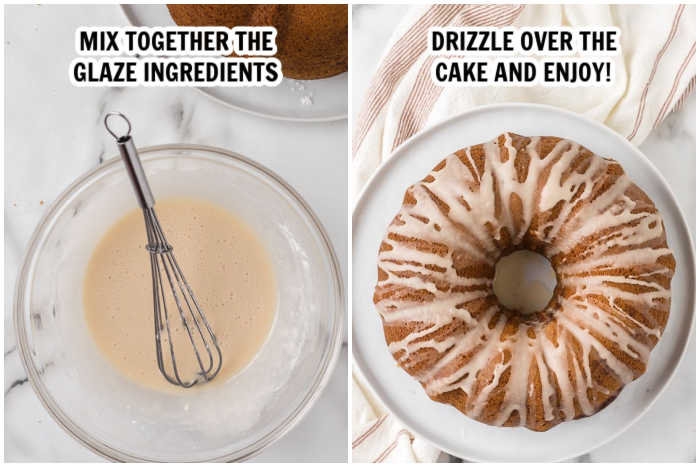 This cake is easy to make in no time at all but is a crowd pleaser.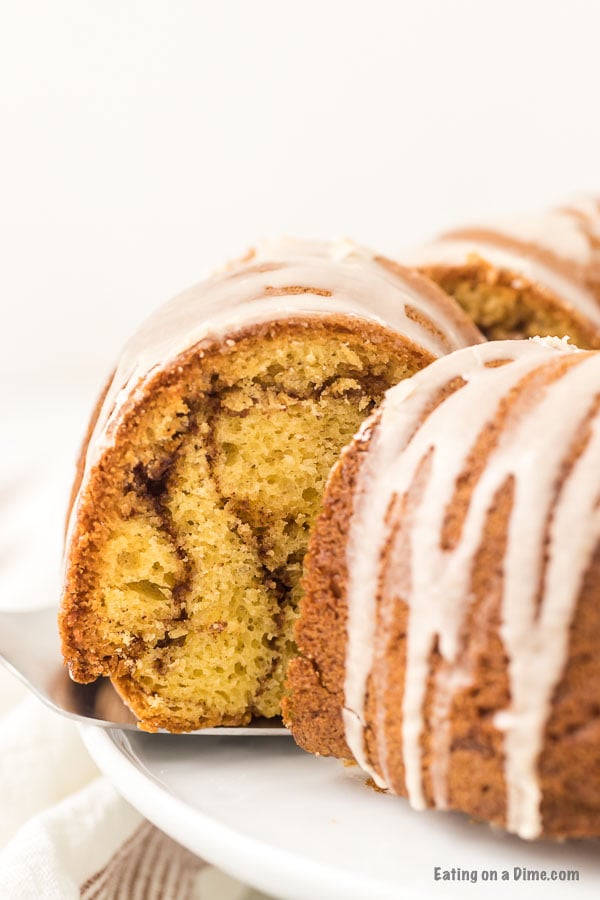 Homemade Vanilla Extract is easy to make!
Have you ever tried to make Vanilla Extract? Vanilla extract is needed for most baking recipes and recently started to make my own. It's so easy to make and really does add more flavor to my baking recipes.
I wrote an entire post on how to make your own vanilla extract here. It only takes 2 ingredients to create and I was able to make it in under 5 minutes. Also, I save a lot of money by making my own vanilla extract instead of using the store bought kind.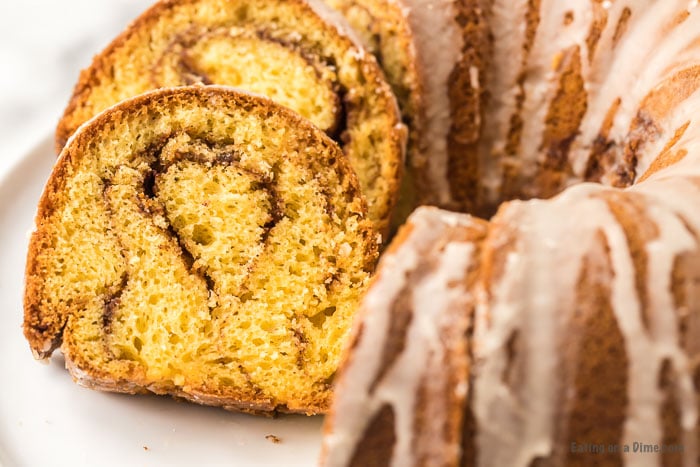 A Family Favorite!
All that delicious cinnamon with that yummy icing on top. It is perfect for dessert or I have enjoyed a slice with my morning coffee. I end up having to make two Cinnamon Cakes as my dad usually takes home leftovers. Have I mentioned how much we love this cake?
The best part is I bet you already have everything you need to make this easy dessert recipe! I promise, you'll want to try this one soon.
Print this C
innamon Swirl Bundt Cake Recipe
below:
Lazy Day Cinnamon Bundt Cake Recipe
You have to try this delicious Lazy Day Cinnamon Bundt Cake Recipe. This Cinnamon Swirl Cake is simple and easy to make. It's perfect for any occasion!
Ingredients
For bundt cake:

1

plain yellow cake mix

18.25 oz

1

package of vanilla instant pudding (3.4 oz)

¾

cup

vegetable oil

¾

cup

water

4

large eggs

1

teaspoon

vanilla extract

For filling:

1/3

cup

packed light brown sugar

2

teaspoons

cinnamon

½

cup

chopped pecans or walnuts

optional

For glaze:

1

cup

powdered sugar

2

tablespoons

milk

½

teaspoon

vanilla extract
Instructions
Preheat oven to 350 degrees F.

Lightly mist a 12 cup bundt pan with non stick spray and dust with flour.

Place the filling – brown sugar and the cinnamon in a bowl and set aside.

Sprinkle pecans in the bottom of the pan (optional).

Mix cake mix, pudding, oil, eggs, water, and vanilla extract in an electric mixer on low speed for 1 minute.

Mix for 2-3 more minutes scraping down the sides.

Pour one third of the batter into the prepared pan.

Sprinkle half the cinnamon/sugar filling over the batter.

Pour another one third of the batter into the pan.

Sprinkle the remaining cinnamon/sugar filling.

Pour the rest of the batter in the pan.

Bake for 58-60 minutes.

Let it cool for 20 minutes. Then Run a knife around the edges and invert the cake onto a rack.

Allow it to cool completely.

Prepare the glaze by mixing the sugar, milk, and the extract until smooth.

Place cooled cake on serving platter and drizzle glaze on top.

Slice and serve – enjoy!
Nutrition Facts
Calories
432
kcal
,
Carbohydrates
62
g
,
Protein
4
g
,
Fat
20
g
,
Saturated Fat
13
g
,
Cholesterol
55
mg
,
Sodium
403
mg
,
Potassium
74
mg
,
Fiber
1
g
,
Sugar
42
g
,
Vitamin A
79
IU
,
Calcium
119
mg
,
Iron
1
mg
More Easy Cake Recipes: