This post may contain affiliate links. If you make a purchase through links on our site, we may earn a commission.
My entire family and I all love a delicious sheet cake. I think it's a southern thing but this Chocolate Coca Cola Cake Recipe is definitely up there as one of my favorite cake recipes.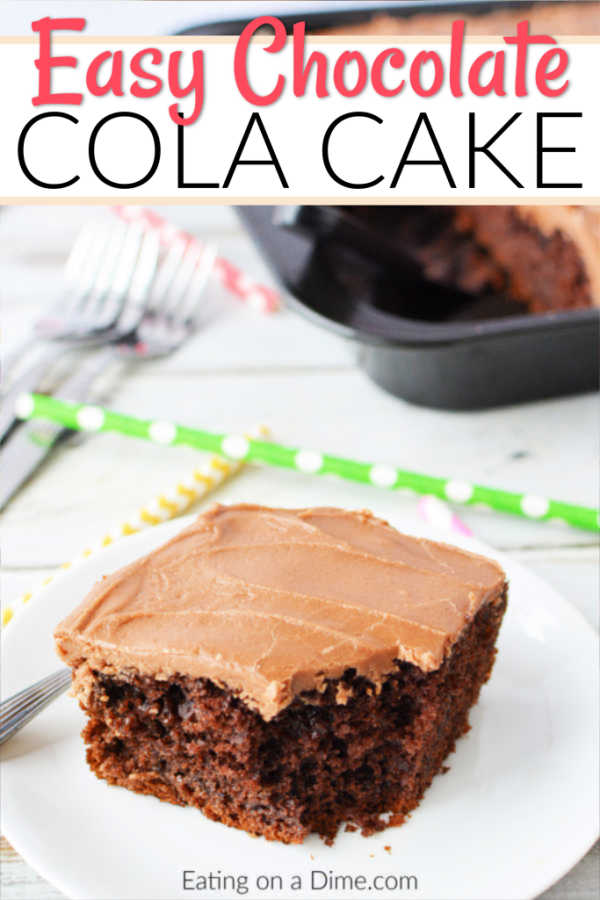 Chocolate Coca Cola Cake Recipe:
Chocolate Coca Cola Cake is a rich and moist cake that is topped with a chocolate frosting. It is easy to make with simple ingredients. The cola just makes the cake super moist so this cake is definitely one you will want to serve at a party or gathering.
This chocolate cake is rich, moist and decadent that you will be surprised how easy the ingredients are. I love making chocolate cake. Starting with a cake mix and adding in the coke and other simple ingredients takes the chocolate cake to the next level.
If you are looking for an easy dessert to take to your next gathering, this is the cake to make. It is always a crowd favorite topped with a scoop of vanilla ice cream.
Can you Make a Cake with Coca Cola?
Yes, you can make a cake with a coke. For this moist chocolate cake recipe, there is cola in the cake recipe and the frosting recipe too. This recipe calls for simple ingredients.
The soda adds a great flavor to this recipe and helps make the cake moist and delicious. This cracker barrel recipe has quickly become one of my favorite cake recipes.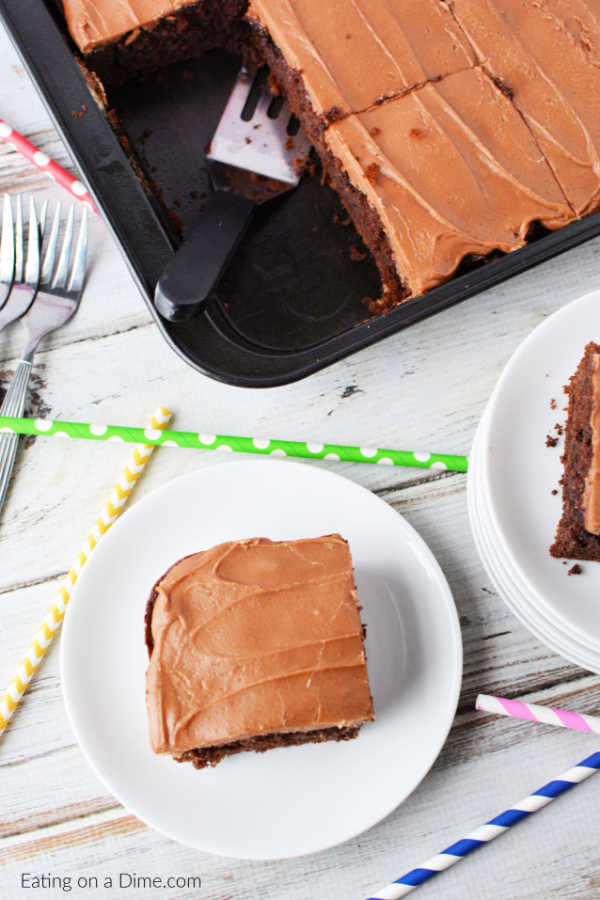 Ingredients for Chocolate Coke Cake:
For the cake recipe, you only need 6 ingredients and I bet you already have most of them in your pantry.
Chocolate Cake Mix
Butter
Cola (Duh!)
Milk
Eggs
Mini Marshmallows (my secret ingredient)
That's all that is needed to make the delicious cake for this recipe. This easy chocolate cake is topped with an easy and tasty homemade chocolate frosting!
Chocolate Coca Cola Icing Ingredients
Here is what you'll need to make this icing at home.
Butter
Coca Powder
Powdered Sugar
More Cola (Yummy!)
Don't be intimidated by this recipe, I promise that it's easy to make but tastes like it was complicated and you spent hours in the kitchen!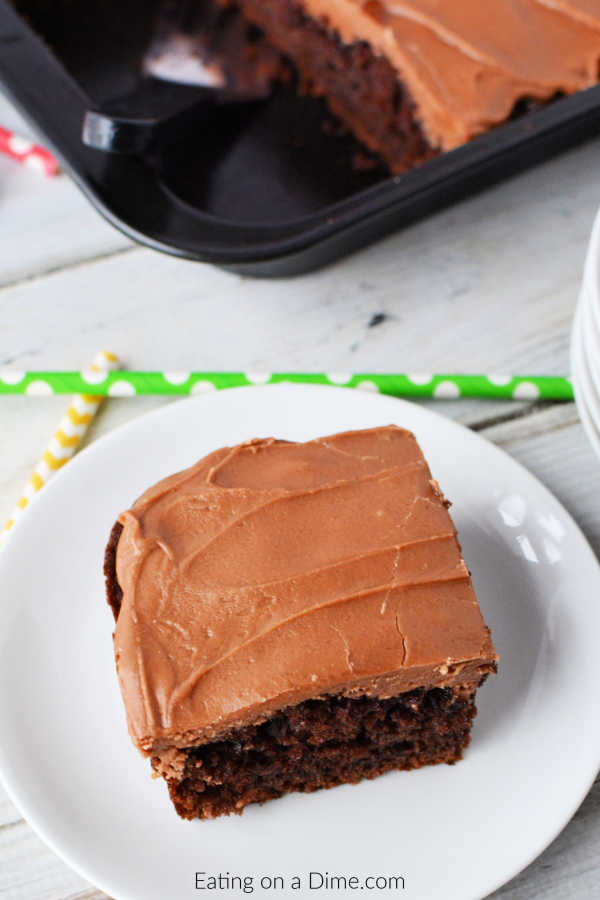 How to Make Cocoa Cola Cake:
Prepare oven and baking pan – First, preheat your oven to 350 degrees. Then lightly grease and flour the 9X13 pan that you'll use for this recipe.
Mix Ingredients – Next in a large bowl, add the cake mix, cola, butter, ½ cup of milk and eggs. Make sure to use a measuring cup to measure your ingredients and butter is melted.
Make sure ingredients are combined – Mix these ingredients until they are thoroughly combined. You can mix them by hand or with a hand mixer on medium speed.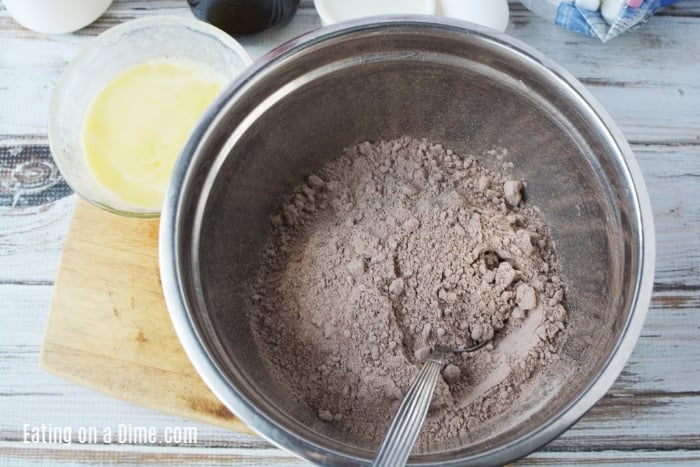 Stir in Mini Marshmallows – Then gently stir in the mini marshmallows. You don't want to forget the secret ingredient. Adding the marshmallows makes the cake batter look so delicious.
Pour Cake Batter into Pan – Next gently pour the batter into the prepared pan.
Bake – Spread the batter out evenly in the cake pan and bake for 40-45 minutes.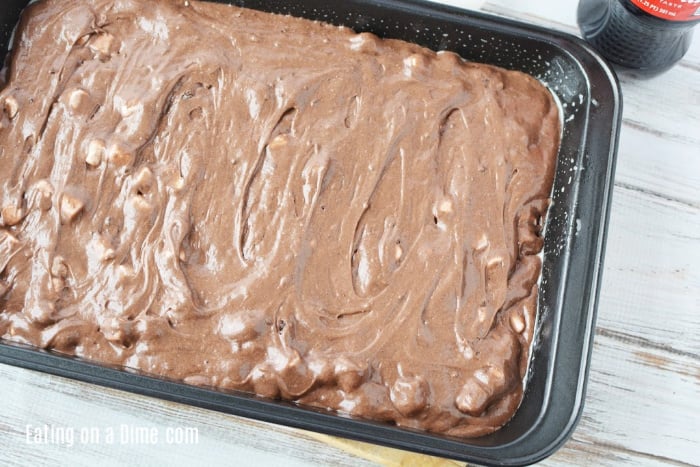 Cool Cake Completely – When the cake is done baking, set aside and allow to cool completely before applying the frosting so that the frosting doesn't melt.
How to Make the Coca Cola Chocolate Cake Icing:
Now it's time to prepare the frosting for this chocolate cake recipe.
Melt Butter and Cocoa Powder – First, in a medium sauce pan, melt the butter. Next slowly mix in the cocoa powder.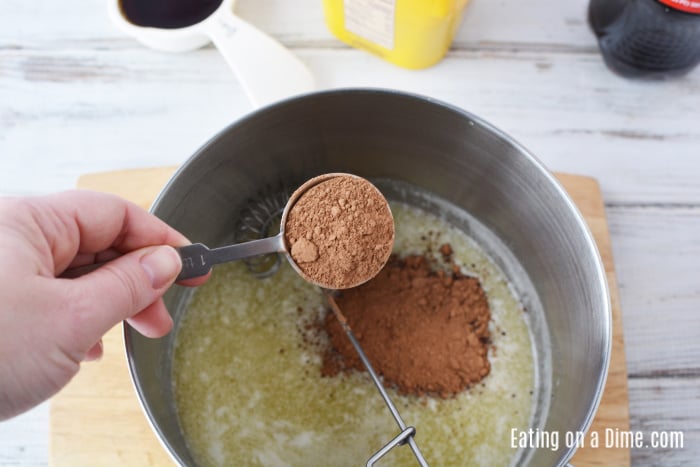 Stir in Coca Cola – Then slowly stir in the cola. Mix thoroughly and gradually bring just to a boil. Watch is closely as you don't want a roaring boil like boiling water but remove it right when it starts to boil.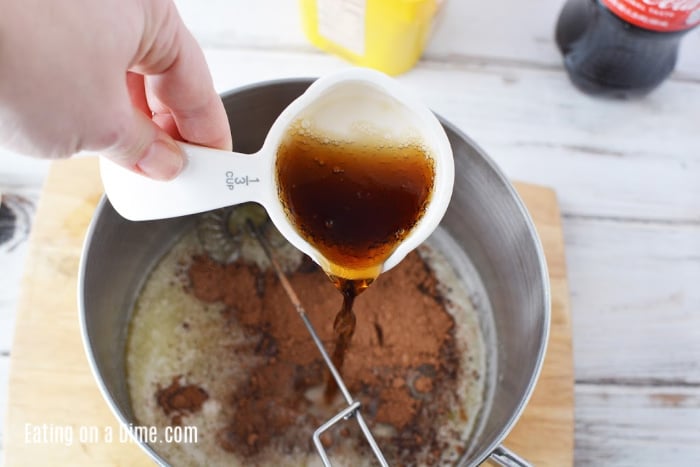 Add in Powdered Sugar – Then remove the pan from the heat and continue to stir constantly. Next mix in the confectioners sugar until the icing thickens.
Cool Completely – Finally, allow it to cool completely.
Spread icing on cake – Once both the cake and the icing have cooled completely, top the delicious cola cake with the icing mixture you just created.
Serve and Enjoy – Now it's ready to slice and serve to your favorite people.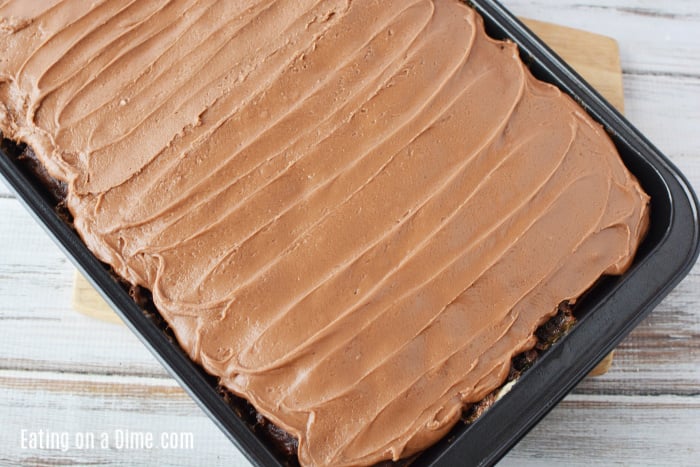 Recipe Variations:
Chocolate Chips – You can add in chocolate chips to the cake batter before baking.
Nuts – Top the chocolate cake with nuts. You can always top half the cake with nuts.
Change the Soda – You can change the soda to Dr Pepper if you prefer.
Lower Calorie Soda – If you want fewer calories, than you can use a diet cola instead of the regular cola.
Cherry Soda – I have also tried cherry cola before and it's add a nice subtle hint of cherry that tastes amazing in this chocolate flavor cake recipe.
I would recommend that you try this recipe with your favorite soda that you have on hand.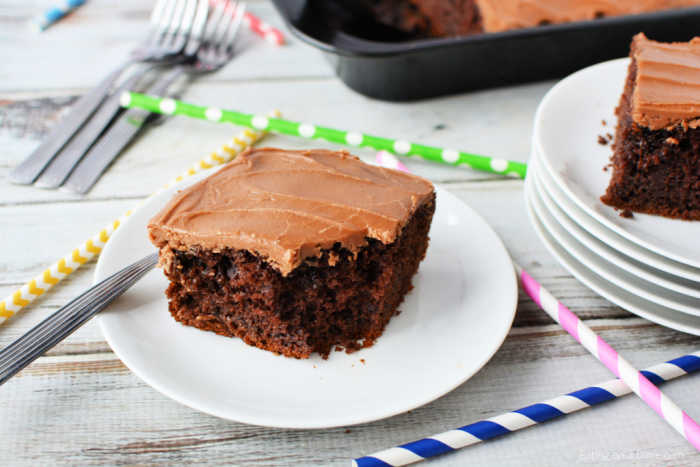 How to Serve:
I love to serve this cake warm with a scoop of vanilla ice cream. The ice cream melts and with the combination of the warm cake it taste so delicious. We also like to drizzle hot fudge or caramel sauce over the top.
Try our Homemade Vanilla Ice Cream for an easy no churn ice cream. It is made with easy ingredients that you probably already have.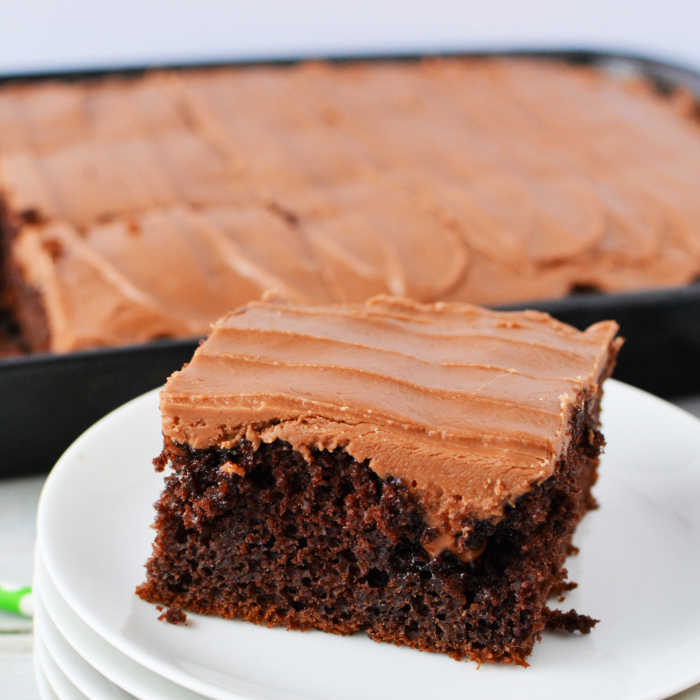 Chocolate Cola Cake Tips:
Mixing Cake – Make sure to not over mix the cake ingredients. Mix until ingredients are combined.
Cake is done – Use a toothpick inserted into cake to check for doneness. If the toothpick comes out clean then the cake is done.
Homemade Cake – You can easily make a homemade chocolate cake. We used a chocolate cake mix for a simple recipe.
Cool Cake – Make sure to cool cake completely before applying the frosting to the cake.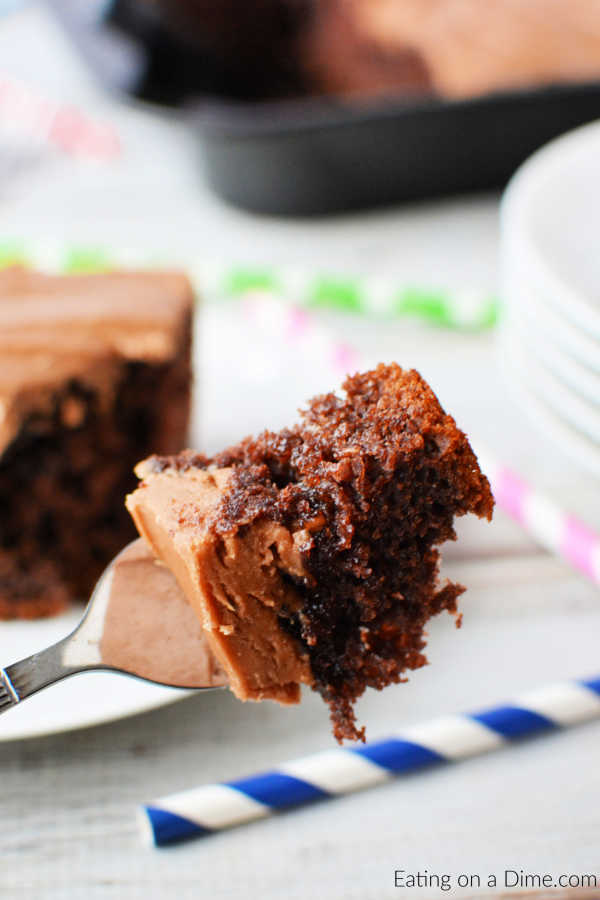 How to Store:
If you have leftovers, make sure to store in an air tight container. Leave cake at room temperature and it will stay fresh for up to 5 days.
Can you Freeze Chocolate Cake?
Yes, you can freeze this chocolate cake. Once the cake has cooled completely, store in a freezer safe container. If stored properly the cake will last up to 3 months.
Print this Cola Cake Recipe below: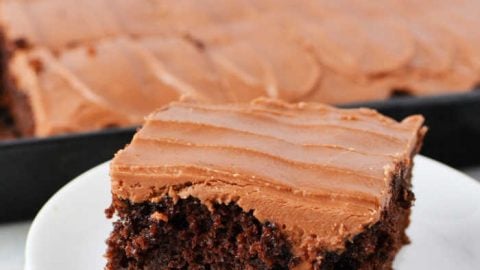 CHOCOLATE COLA CAKE
Cola Cake is the best Chocolate cake recipe for you to make. The secret ingredient is Coca Cola!
Ingredients
For cake:

1

chocolate cake mix

1

stick of butter melted

1

cup

cola

½

cup

of milk

2

large eggs

1

cup

mini marshmallows

for Cola icing:

1

stick of butter

2

tablespoons

cocoa powder

1/3

cup

cola

4

cups

of powered sugar

sifted
Instructions
Preheat the oven to 350 degrees.

Lightly grease a 9×13 pan.

Mix the cake mix, cola, butter, milk and eggs until thoroughly mixed.

Once completely mixed, stir in the mini marshmallows.

Pour into the pan. Bake at 350 degrees for 40 to 45 minutes.

Meanwhile make the icing:

In a medium saucepan, melt the butter.

Mix in the cocoa power and cola. Bring just to a boil.

Remove from the heat and stir constantly.

Mix in the powdered sugar until a the icing thickens. Allow it to cool slightly.

Pour on top of the cake.

Let the cake cool completely before serving.
Nutrition Facts
Calories
486
kcal
,
Carbohydrates
73
g
,
Protein
4
g
,
Fat
22
g
,
Saturated Fat
11
g
,
Cholesterol
69
mg
,
Sodium
452
mg
,
Potassium
155
mg
,
Fiber
1
g
,
Sugar
58
g
,
Vitamin A
525
IU
,
Calcium
75
mg
,
Iron
1.9
mg
More Easy Cake Recipes: