My entire family and I all love a delicious sheet cake. I think it's a southern thing but this cola chocolate cake recipe is definitely up there as one of my favorite cake recipes.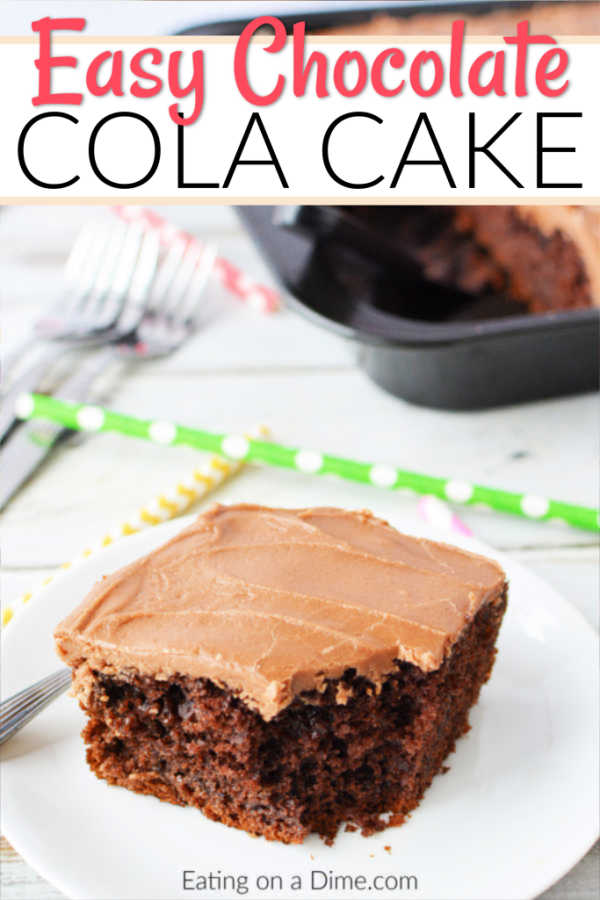 This easy chocolate cake recipe is simple to make and tastes amazing!
There are two things I love… cola and chocolate cake! Seriously… they are probably my two favorite guilty pleasures.
So… I put them together and made a Chocolate Cola Cake. It is delicious! The cola just makes the cake super moist so this cake is definitely one you will want to serve at a party or gathering.
Oh and did I mention there is a surprise inside? Mini marshmallows are added into the mix for that extra depth sweetness with every bite.
I will warn you…. you will want to lick the bowl clean. 🙂
You need a great baking dish to make this cola chocolate cake recipe!
Everyone will go crazy over this delicious and easy dessert. Make sure you have a 9 x 13 baking dish for your chocolate cake. The cake pans with the lid are really handy if you are taking this dessert somewhere.
I have even taken this dessert to someone that just had surgery or had a baby and used a disposable 9×13 pan.
It is always a hit and these disposable pans are great so no one has to worry about getting the baking dish back to you after they have devoured this delicious dessert.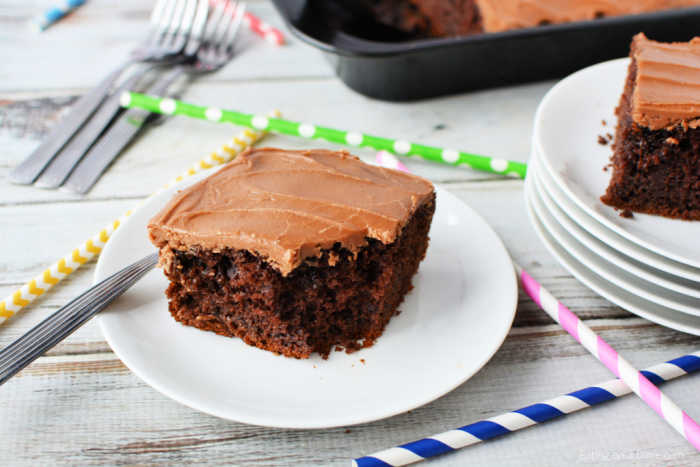 Can you make a cake with coca cola?
The short answer is…yes, definitely! For this moist chocolate cake recipe, there is cola in the cake recipe and the frosting recipe too!
The soda adds a great flavor to this recipe and helps make the cake moist and delicious. This recipe has quickly become one of my favorite cake recipes.
As you probably already know, I do not like overly complicated recipes. With most cake recipes, I have to worry about when to add the vanilla exact, how to mix in the wet ingredients and, of course, saturated fat. How can anyone keep up with all of this?!
This recipe, however, takes away all of these concerns and simplifies the process for me so I still have a delicious layer cake without all that hard work.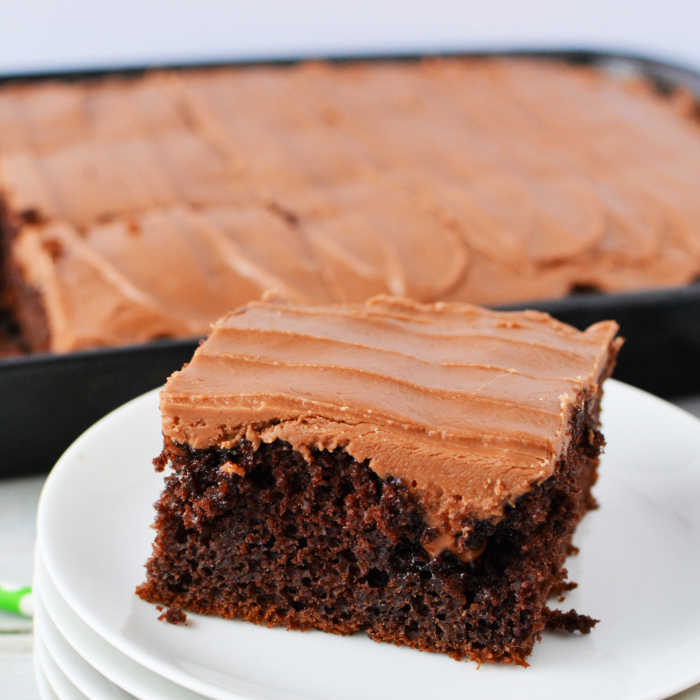 What is needed to make this cola cake recipe?
For the cake recipe, you only need 6 ingredients and I bet you already have most of them in your pantry!
Chocolate Cake Mix
Butter
Cola (Duh!)
Milk
Eggs
Mini Marshmallows (my secret ingredient!)
That's all that is needed to make the delicious cake for this recipe.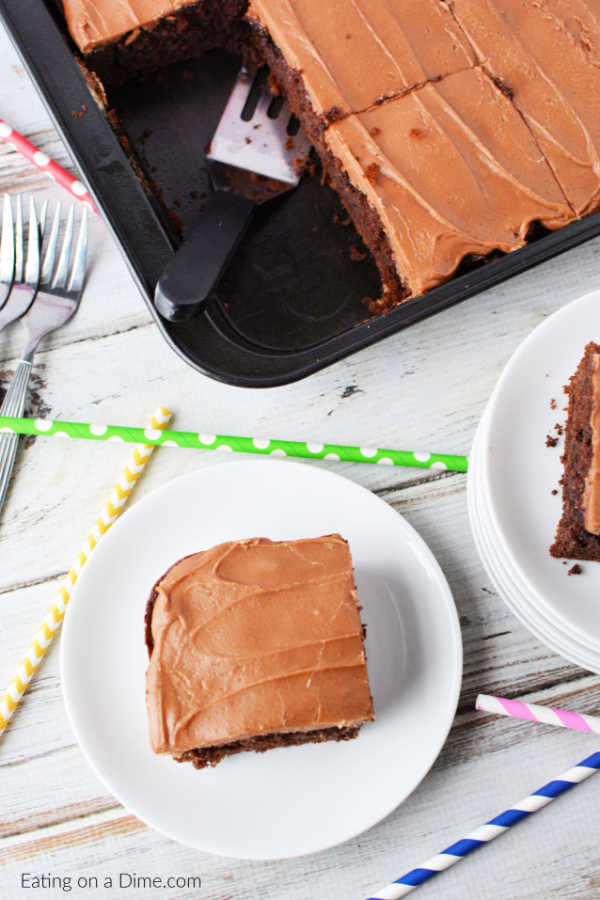 This easy chocolate cake is topped with an easy and tasty homemade chocolate frosting!
Here is what you'll need to make this icing at home.
Butter
Coca Powder
Powdered Sugar
More Cola (Yummy!)
Don't be intimidated by this recipe, I promise that it's easy to make but tastes like it was complicated and you spent hours in the kitchen!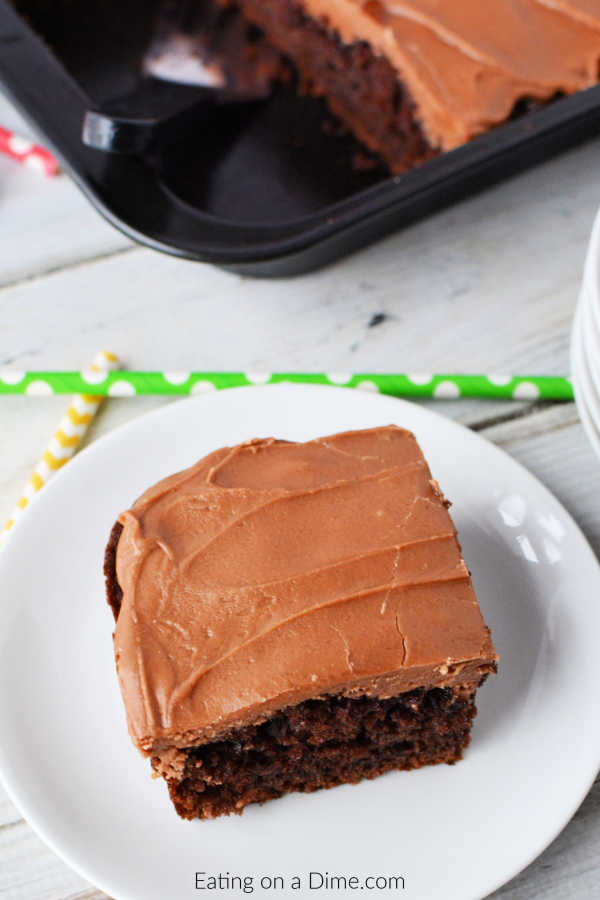 How do you make this cola chocolate cake recipe?
First, preheat your oven to 350 degrees. Then lightly grease and flour the 9X13 pan that you'll use for this recipe.
Next in a large bowl, add the cake mix, cola, butter, milk and eggs.
Mix these ingredients until they are thoroughly combined. You can mix them by hand or with a hand mixer on medium speed.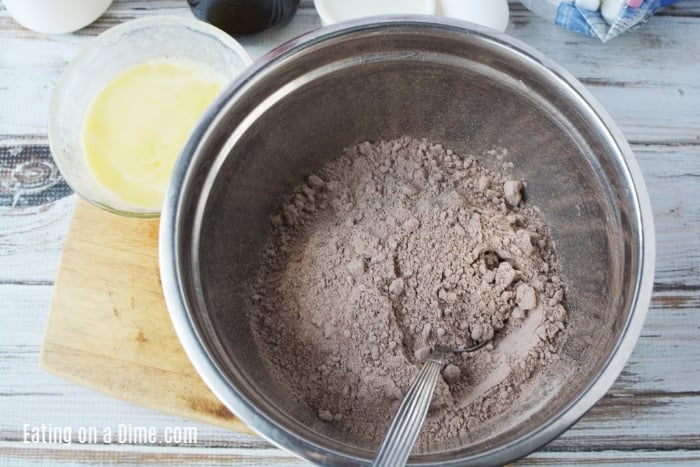 Then gently stir in the mini marshmallows. You don't want to forget the secret ingredient!
Doesn't that look delicious?!
Next gently pour the batter into the prepared pan.
Spread the batter out evenly in the pan and bake for 40-45 minutes.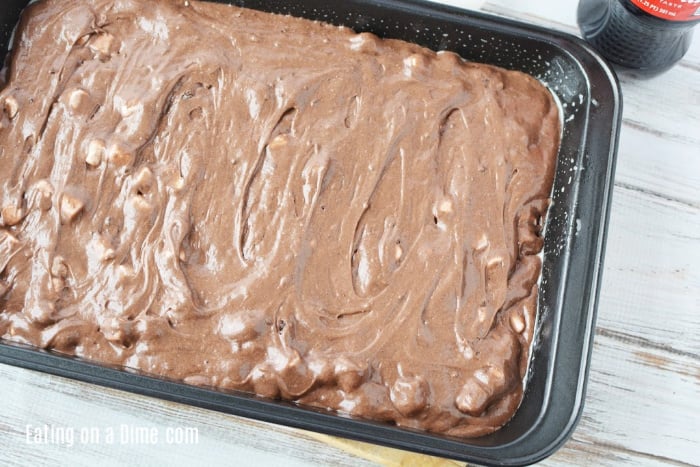 When the cake is done baking, set aside and allow to cool completely before applying the frosting so that the frosting doesn't melt.
Now, let's learn how to make the cola chocolate cake icing:
Now it's time to prepare the frosting for this chocolate cake recipe.
First, in a medium sauce pan, melt the butter. Next slowly mix in the cocoa powder.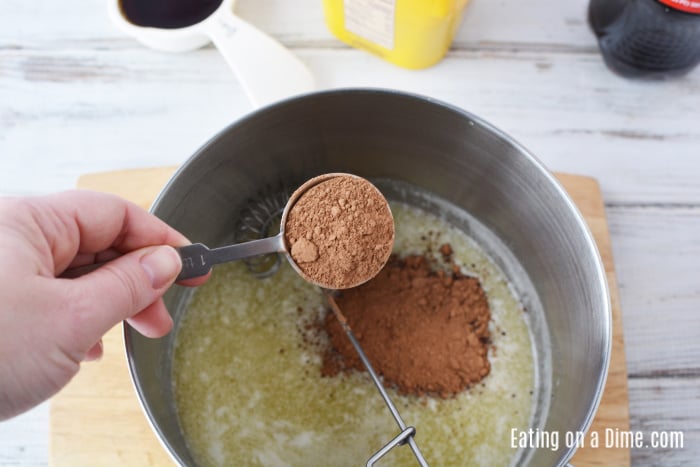 Then slowly stir in the cola. Mix thoroughly and gradually bring just to a boil. Watch is closely as you don't want a roaring boil like boiling water but remove it right when it starts to boil.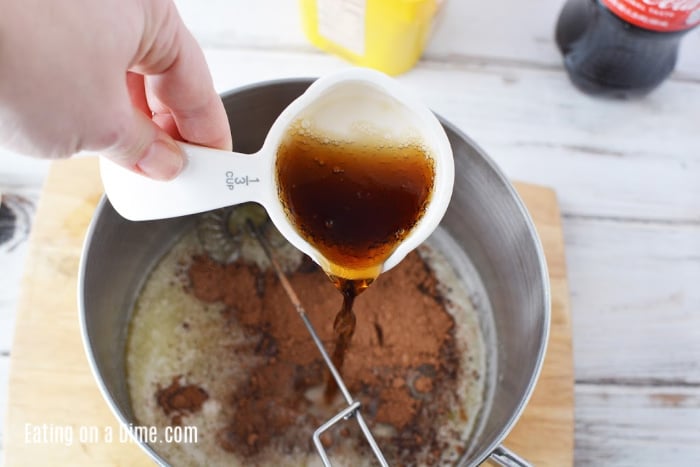 Then remove the pan from the heat and continue to stir constantly. Next mix in the powdered sugar until the icing thickens.
Finally, allow it to cool completely.
Once both the cake and the icing have cooled completely, top the delicious cola cake with the icing mixture you just created.
Now it's ready to slice and serve to your favorite people!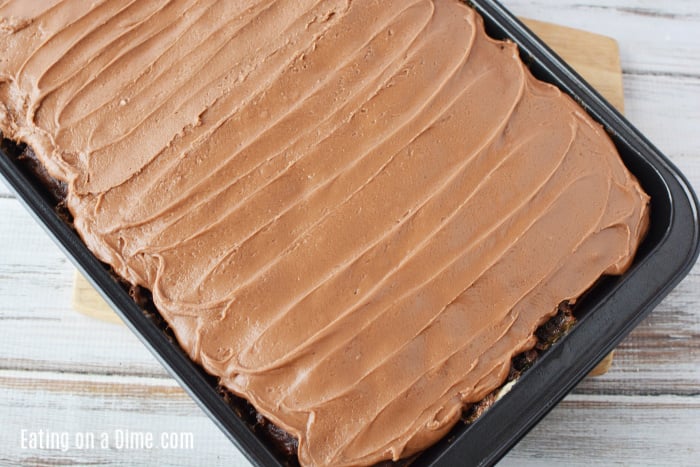 This chocolate cake recipe is easy to make and is a crowd pleaser!
This has quickly become my favorite chocolate cake recipe. I can easily make it in no time at all and it makes a large amount so it's perfect for when I'm having company over.
It's taste like the entire sheet cake was made from scratch. No one ever knows that I cheated and used my favorite soda instead!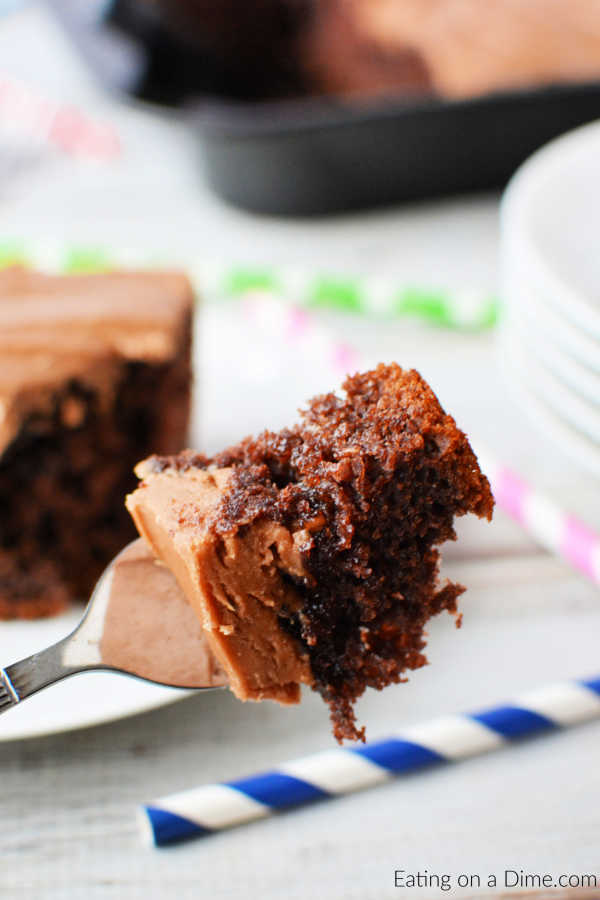 What variations can you make to this cola chocolate cake recipe?
You can easily switch up this recipe by changing the type of soda that you use when making this easy chocolate cake recipe.
If you want fewer calories, than you can use a diet cola instead of the regular cola. Also, if you're a Dr. Pepper fan, it would work great in this recipe as well.
I have also tried cherry cola before and it's add a nice subtle hint of cherry that tastes amazing in this chocolate flavor cake recipe.
I would recommend that you try this recipe with your favorite soda that you have on hand!
What do you serve with this moist chocolate cake recipe?
This chocolate cake recipe is very moist and it can definitely be served by itself. However, all my kids love it served with some vanilla ice cream. Yummy!
Also, it would be great topped with your favorite types of nuts or your favorite caramel or dark chocolate syrup.
In addition, if you are serving this for a special birthday celebration, it would taste amazing topped with your favorite festive sprinkles!
Can you make cupcakes out of this recipes?
Yes, you can use this recipe to make chocolate cupcakes instead of a sheet cake. I always use cute and fun cupcake liners.
This recipe will make 24 cupcakes and you'll only need to bake them for 20-25 minutes until they are done. I love making cupcakes to celebrate birthdays in my family and using a cute cupcake stand to display them on.
I hope you make this cake recipe soon!
This recipe is easy to make and taste moist and delicious. I hope you make it soon for the next holiday, birthday or Friday!
We all deserve a little bit of this goodness in our lives!
Print this Cola Cake Recipe below: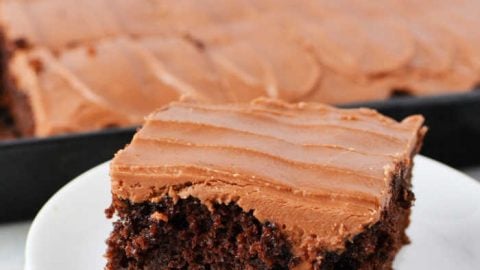 CHOCOLATE COLA CAKE
Cola Cake is the best Chocolate cake recipe for you to make. The secret ingredient is Coca Cola!
Ingredients
For cake:

1

chocolate cake mix

1

stick of butter melted

1

cup

cola

½

cup

of milk

2

large eggs

1

cup

mini marshmallows

for Cola icing:

1

stick of butter

2

tablespoons

cocoa powder

1/3

cup

cola

4

cups

of powered sugar

sifted
Instructions
Preheat the oven to 350 degrees.

Lightly grease a 9×13 pan.

Mix the cake mix, cola, butter, milk and eggs until thoroughly mixed.

Once completely mixed, stir in the mini marshmallows.

Pour into the pan. Bake at 350 degrees for 40 to 45 minutes.

Meanwhile make the icing:

In a medium saucepan, melt the butter.

Mix in the cocoa power and cola. Bring just to a boil.

Remove from the heat and stir constantly.

Mix in the powdered sugar until a the icing thickens. Allow it to cool slightly.

Pour on top of the cake.

Let the cake cool completely before serving.
Nutrition Facts
Calories
486
kcal
,
Carbohydrates
73
g
,
Protein
4
g
,
Fat
22
g
,
Saturated Fat
11
g
,
Cholesterol
69
mg
,
Sodium
452
mg
,
Potassium
155
mg
,
Fiber
1
g
,
Sugar
58
g
,
Vitamin A
525
IU
,
Calcium
75
mg
,
Iron
1.9
mg
Try these other cake recipes