How to Make Vanilla Extract at Home is a sponsored post from Native Vanilla. However, all my opinions are my own. I hope you enjoy this post.
Learning to make homemade vanilla extract was a ton easier than I thought and it has really enhanced my baking game. I was excited to learn How to Make Vanilla Extract at Home and I hope you enjoy it as well.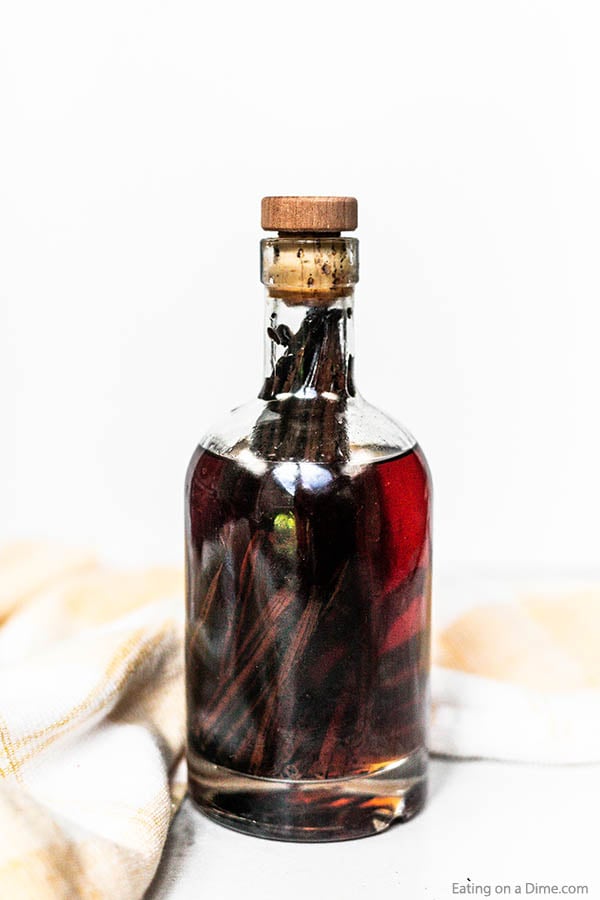 Why would you make your own Vanilla Extract?
I have been trying to bake more and increase my baking skills. I heard that making homemade vanilla extract really improves the vanilla flavor and makes all your baked goods taste even better.
After I tried it, I was definitely a believer! Making your own homemade vanilla extract gives your recipe a strong vanilla flavor. You can be certain that there is not any synthetic ingredients (chemicals) in it.
Also, have you seen the price of vanilla extract lately at your local grocery stores? It's definitely NOT cheap and making your own from scratch can save you money.
Easy Ingredients:
I was surprised by how easy it is to make so there is no reason why you shouldn't try it. This recipe only calls for 2 ingredients which is probably my favorite part. Pluis it's more affordable and taste better!
Ingredients for homemade vanilla extract:
Like I said earlier, it only takes 2 ingredient to make this homemade vanilla extract recipe.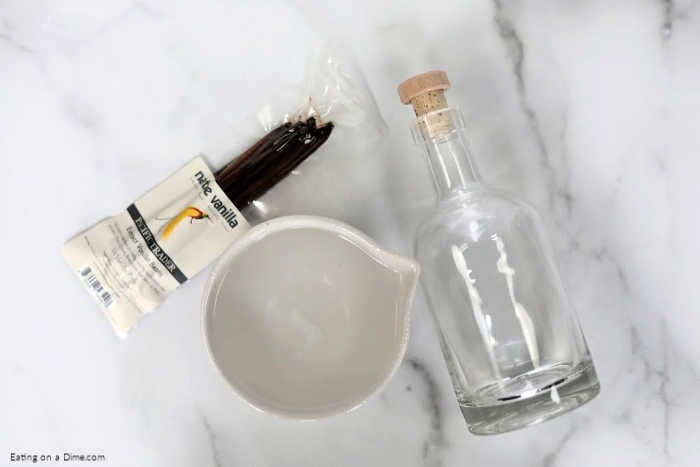 Making Vanilla Extract is easy!
Making homemade vanilla extract is definitely easier than I thought. It's only 4 steps and then some waiting time. It's worth it to have delicious vanilla extract in your home to use in your favorite baking recipes.
First you'll need to thoroughly wash your bottle or jar that you will be using to store this vanilla extract recipe. I washed my jar in a mild dish soap and rinsed and dried thoroughly. You could also boil the container as well to ensure that it's sterile.
Then cut the vanilla beans in half lengthwise to expose the seeds. I used my kitchen scissors for this step and it was easier than I thought it was going to be! You can also use a knife if you don't have any kitchen scissors.
Next add the split vanilla beans in the jar or bottle that you have choose to store your vanilla extract. You might need cut the beans in halves or thirds to get it to fit into your bottle.
Then you add the vodka to the bottle by pouring the vodka over the beans in the glass bottle. You may need to use a funnel depending on the size of the opening in the container that you have chosen. Make sure that the beans are completed submerged in the vodka.
The ratio for this recipe is 6 vanilla beans per cup of vodka. If you would like a stronger vanilla flavor, then feel free to add 2–4 extra beans. Pastry chefs call this a double-fold extract.
Next, store in a cool dark place, I put mine in the pantry. This allows the vodka to extract the vanilla flavor from the beans. You'll want to shake the bottle at least once a week to ensure that it's thoroughly combining.
For the final step, you'll need to wait for at least 8 weeks to use the vanilla. This allows for the beans to release their flavor into the alcohol.
Let the flavor mature:
The vanilla bean flavor with enhance and mature with age. You'll notice the vodka begins to change to a golden-brown color. That is how you'll know that it's ready to use. This is how the vanilla will look once it's ready to enjoy!
For the best results, you'll want your homemade vanilla extract to soak for 3 months.
You can strain the vanilla extract from there if you choose. However, I left my beans in the container as they continue to add flavor to the extract. When I use it, I just ensure that I'm using the liquid only. You want to make sure there are not any beans in the amount that I'm removing from the jar.
Where do you find vanilla beans?
I purchased the Extract Vanilla Beans used in this recipe from Native Vanilla. Their high quality Tahitian vanilla beans are bursting with vanilla flavor and I also love the purpose behind the company.
I completely fell in love with this company's mission. They help farmers in Papua New Guinea. The founder of this company actually grew up in Papua New Guinea. It's an amazing story and you can read it about it more on their website.
Kits Available:
In addition, they have free shipping on all their products. I purchased the vanilla extract beans from Native. They also have kits available so that you can get everything you need in one box!
You'll want to make sure that you are using Extract Vanilla beans when making your homemade vanilla bean extract. They have less moisture and more visual imperfections than Gourmet Beans, so they are generally more affordable too.
Make sure you keep them in a air tight container (I used a glass container) and do not refrigerate them. Store in this a dark place like in your pantry or a basement would work as well.
What is the best alcohol to make vanilla extract?
Vodka is needed for this recipe. However, you can use the cheapest kind that is available in your area. This is probably the only time in your life that someone has told you to use the cheap stuff!
This recipe does not require a brand specific vodka so to save even more money used the cheapest one available. All the flavors comes from the Tahitian vanilla beans. So I recommend spending more on good quality vanilla beans and saving money on the vodka.
Also, if you're not comfortable using alcohol for this recipe. Check out how to make this easy vanilla extract recipe without using alcohol here.
How to store homemade vanilla extract recipe
You will need glass bottles to create and store your homemade vanilla extract in. Any glass bottle that you have will work as long as it can seal correctly with a lid or a cork.
I used a 12.68 oz bottle for this recipe and it worked perfectly! You can also use a glass mason jar to store homemade vanilla in as well.
Don't overthink the container. This recipe is very versatile so there are tons of options.

What is the difference between single fold and double fold vanilla extract?
Single-fold vanilla extract is the most common type of vanilla extract. If you purchase a store bought pure vanilla extract, it is likely a single fold vanilla extract.
To create a single fold vanilla extract, combine 6 vanilla beans with 8 ounces of vodka as outlined in this recipe.
Double-fold vanilla extract is what is generally used by professional bakers. It provides a much stronger flavor without having to use more of the extract.
With this recipe to create a double-fold vanilla extract add 2-4 more beans to this recipe. It creates this delicious and strong homemade vanilla extract.
Don't forget to label your homemade vanilla extract.
After you have created your own homemade vanilla extract, don't forget to label it. If you're like me, you have lots of homemade items in your pantry. So having a label is needed to tell them all apart.
Native Vanilla also provides a free printable label for your vanilla extract that you can find here.
Is it cheaper to make your own vanilla?
I was able to make approximately 12 oz of homemade vanilla extract for less than $30. The extract vanilla beans from Native Vanilla were $22.75 for 10 beans and I used approximately $5 in Vodka. I bought the cheap stuff and only used approximately 12 oz from this bottle.
For 12 oz of pure vanilla extract at my local grocery store the cost is over $47. Plus it doesn't even taste as well as my homemade recipe.
This is a no brainer to me. I was able to easily create a delicious large batch of homemade vanilla extract that saved me money as well.
How long does homemade vanilla extract last?
Homemade pure vanilla extract if stored correctly can have an indefinite shelf life. Make sure you store it in a glass jar or container that has a secure lid.
Keep you vanilla extract in a cool dark place. If it's exposed to heat or moisture, this can definitely cause it to loose some of it's flavor.
Print this Homemade Vanilla Extract Recipe below:
Homemade Vanilla Extract
Learn how to make vanilla extract at home. Making homemade vanilla extract only takes 2 ingredients and 4 steps. It's easy to make and tastes amazing!
Ingredients
6

Native Vanilla Extract Vanilla Beans

1

cup

Vodka

1

8 ounce glass bottle or jar
Instructions
Thoroughly clean or sterilize your glass container. 


Split the vanilla beans in half lengthwise to exposure the beans.  
Place the beans in the bottle or jar. You can cut the beans in half or thirds to get them to fit if needed. 

Add the vodka to the bottle or jar and use a funnel if needed.

Allow the vanilla extract to sit in a cool dark place for a minimum of 8 weeks until the vodka changes to a golden brown color. 

Wait for 3 months before use for the best results. 
Nutrition Facts
Calories
13
kcal
,
Carbohydrates
1
g
,
Fat
1
g
,
Sodium
1
mg
Vanilla Extract for Gifts this year!
Making a batch of vanilla extract would make the best birthday present or Christmas gifts for the bakers in your life.
If you're like me, you probably have a few family members or friends that you never know what to buy for. This is the perfect option because it's unique and beneficial as most people use vanilla in their recipes.
Also, who needs more cookies at Christmas time. I love gifting the vanilla beans with a cute jar. I also include the step by step instructions on how they can make their own vanilla extract at home. This is such a fun, unique and practical gift idea.
My friends and family are going to love it this year!
Recipes to try with your homemade vanilla extract: