Learn how to make a mug cake and you can enjoy a single serve dessert any time you have a sweet craving. In under 5 minutes, you can make a cake from scratch that is so easy and delicious.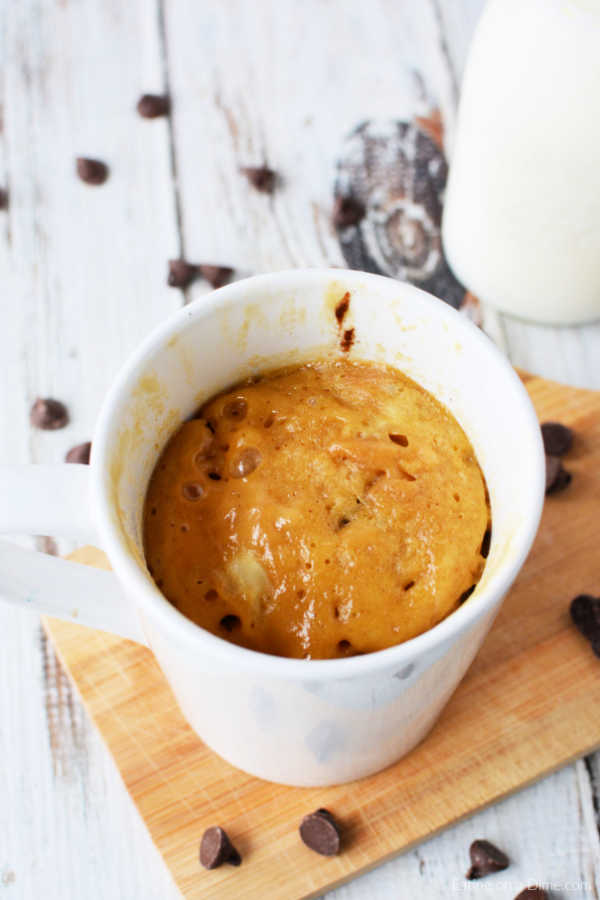 How to make a mug cake
Oh how I love baking from scratch! Yes, boxed mixes are easy and yes, they do taste pretty good, but there is just a pleasant satisfaction I get when I make something from scratch.
Now, cake is not my favorite thing to make from scratch, so I had to find a way to make it more appealing. How about making a single serve version that you can prepare and eat in under 10 minutes!
I would say under 5 minutes, but if you don't let this cool a little you will surely burn your mouth. Trust me on that one. 😉
Anyway, this is so easy and delicious you will want to make it over and over again. Enjoy!!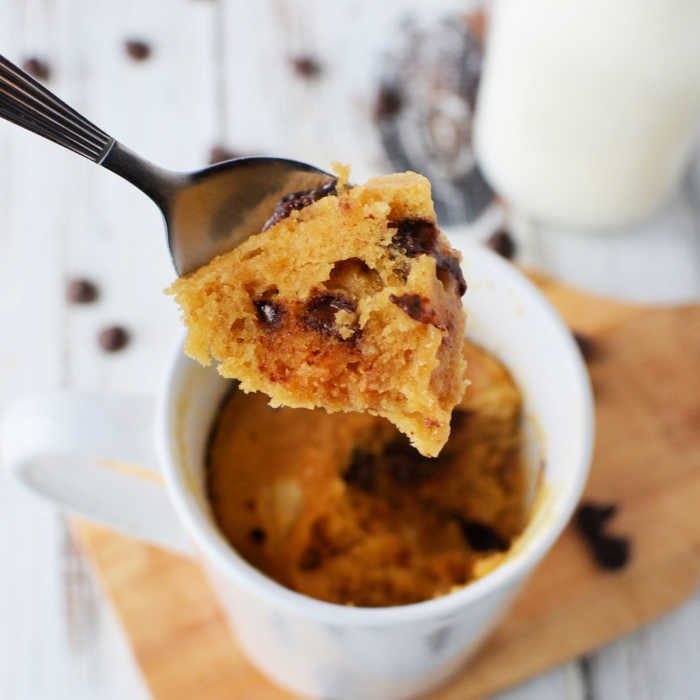 This easy microwave cake in a cup is so easy!
Sometimes I really want a yummy dessert but don't want to make a full size cake because I know I will eat the leftovers. 🙂 This single serve dessert is the perfect solution when you just need something sweet. It is so delicious and will satisfy your sweet tooth.
We love this easy recipe and make it all the time. The kids love that I gladly make it because it is just so simple!
The entire family loves Chocolate Chip Mug Cake!
The kids go crazy over this recipe and since it is so easy, they can enjoy this treat frequently. In fact, we switch up the recipe often and try new things.
You only need a few simple ingredients to make this simple Microwave mug cake:
flour
brown sugar
baking powder
milk
vegetable oil
peanut butter
egg
vanilla extract
It is that simple to make this delicious cake and I bet you already have those ingredients at home!
You will be amazed what a little baking soda, flour sugar and more can do and how quickly these ingredients come together for a great cake.
All of the sugar cocoa powder baking and simmering together make a decadent cake that can't be beat.
Keep reading for the full recipe.
Change up the ingredients to make other easy mug cake recipes:
As you can see, this recipe is so versatile and you can easily make a different type of cake. Just switch a few ingredients depending on what you are in the mood for and have a delicious cake in minutes!
The kids think it is so cool that you can make a cake in the microwave. We all like different kinds of cakes so this is such a fun and easy way to let everyone in the family get just the cake they love!
How to make mug cake from scratch:
Make sure you have a microwave safe mug to make your cake in. We have tons of these in our cabinet so the kids like to choose their own to use.
This recipe is just so fun and the kids especially like having their own personal size cake to eat.
In just minutes, you can have a fabulous cake for dessert or a snack. It takes only 5 minutes to make one of these delicious cakes so you can easily enjoy this any day of the week.
Just mix the wet and dry ingredients in the mug and microwaved until cooked. It is that simple and easy!
You can easily make this cake gluten free by modifying the ingredients.
Try ice cream with Gooey Chocolate Mug Cake!
My favorite way to enjoy this mug cake recipe is to serve it warm and top with vanilla ice cream. Maybe an extra drizzle of chocolate syrup too. 🙂
The ice cream melts into the cake and the chocolate chips are so decadent. Oh my! It is the best!
It reminds me of a hot fudge sundae. Sometimes, if I am feeling really indulgent I will add a little whipped cream.
If you are a big chocolate fan, try making a Chocolate Mug Cake with cocoa powder and chocolate chips. Top with chocolate ice cream and you will have a rich and amazing treat for chocolate lovers.
I love to make one of these simple microwave mug cakes when everyone has gone to bed and just sit and enjoy. 🙂 It is SO good!
My kids love vanilla cake in a mug!
We omit the chocolate and you have the best vanilla cake. It is so tasty and reminds me of a blondie brownie.
That is the beauty of this microwave mug cake recipe. You can easily change it to suit anyone's taste.
The kids love a cold glass of milk or almond milk with their cake. Yum!
I'm certain that however you enjoy this amazing cake, you will love it. Once you try it, this recipe will quickly become a family favorite.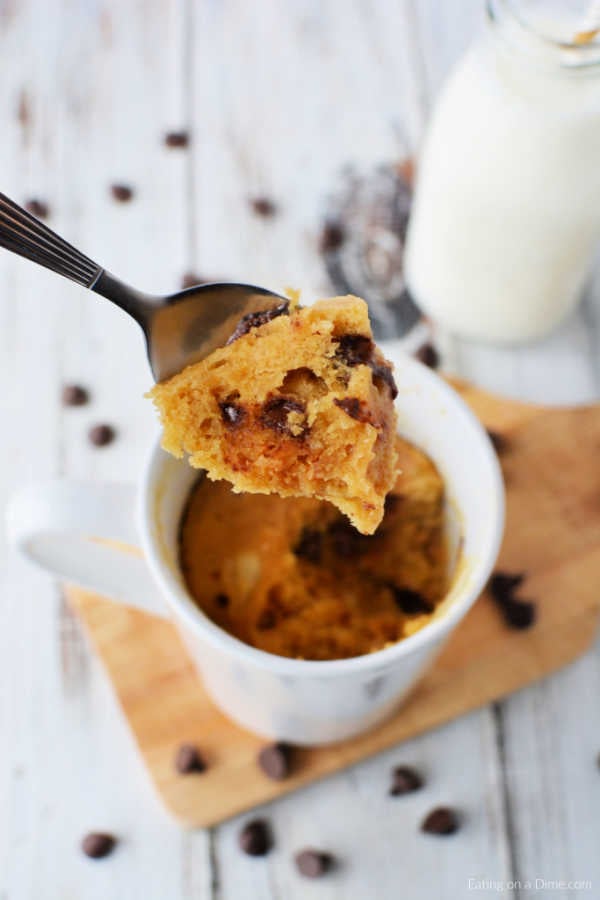 Try this simple mug cake!
From yellow mug cake to chocolate chip and peanut butter and more, this simple recipe can be made so many different ways. It is simple and easy and just delicious!
The kids can help because this recipe is so easy. In fact, our family loves baking and the kids look forward to helping bake this easy microwave mug cake.
If you have children that are wanting to learn how to bake or just getting started with cooking, this is a great recipe to let them try. It is so much fun to bake and what sweet memories you and the children will have for years to come.
I'm always amazed at the creations they come up with. I tend to make the same kind of cake each time but they love mixing it up and trying new things each week.
This easy recipe does not disappoint and however you make it, will be a hit! Another fun idea if you are having a sleepover or small party, let everyone make their own cake.
The kids will think you are the best when really it was super easy and hardly any work at all. Talk about a mom win. 🙂
Print this Mug Cake Recipe below: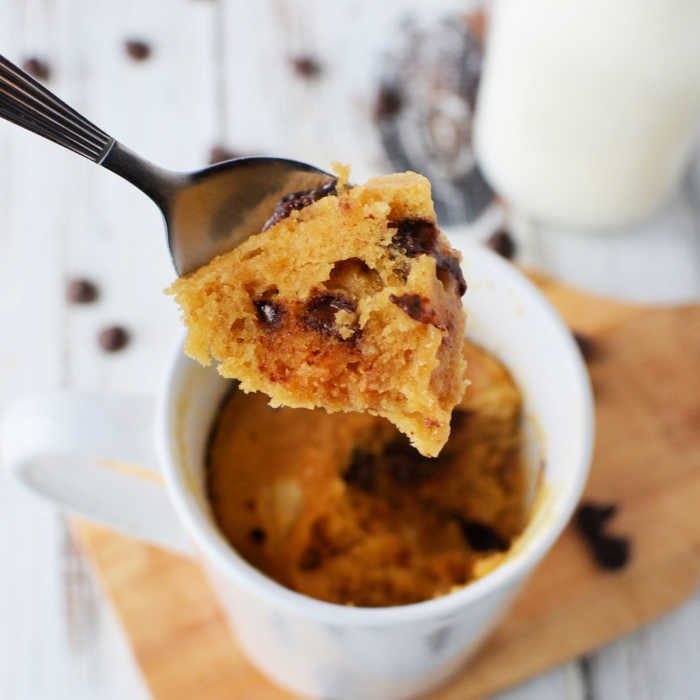 How to make a Mug Cake From Scratch
Learn how to make a mug cake and have a delicious dessert in minutes. You can enjoy a single serve dessert quickly with this amazing mug cake recipe.
Keyword:
How to make a Mug Cake From Scratch
Ingredients
3

tablespoons

flour

3

tablespoons

brown sugar

¼

teaspoon

baking powder

3

tablespoons

milk

2

tablespoons

oil

3

tablespoons

peanut butter

1

egg

?

teaspoon

vanilla

sprinkle of chocolate chips
Instructions
Mix dry ingredients together in a large mug.

Add wet ingredients in the order listed: milk, oil, peanut butter, egg, vanilla. Mix until just moistened. Do not over mix.

Sprinkle chocolate chips and give one good stir. I used a small palm-ful of chips.

Cook in microwave for 1 minute on high. Depending on the wattage of your microwave it my take a bit longer to cook. I used a 1200 watt microwave and my cake was done after 1 minute. If your cake is not done after 1 minute, continue to cook in 30 second intervals until cooked through.

This might not be a typical cake consistency for you as it is spongy more than moist. Believe me though, this is oh so delicious and definitely worth a try. Enjoy!
Recipe Notes
You can easily make a different type of cake with this recipe. Just switch a few ingredients depending on what you are in the mood for and have a delicious cake in minutes!
Nutrition Facts
How to make a Mug Cake From Scratch
Amount Per Serving
Calories 835
Calories from Fat 522
% Daily Value*
Fat 58g89%
Cholesterol 168mg56%
Sodium 313mg14%
Potassium 580mg17%
Carbohydrates 64g21%
Protein 21g42%
Vitamin A 310IU6%
Calcium 169mg17%
Iron 3mg17%
* Percent Daily Values are based on a 2000 calorie diet.
My entire family and I all love a delicious sheet cake and this cola chocolate cake recipe is a must try!
Dessert is even easier when you make this easy Crockpot Apple Dump Cake Recipe for the perfect fall dessert.
Try Keto Vanilla Mug Cake for a delicious keto dessert option to enjoy.
Keto Chocolate Mug Cake Recipe is so amazing and ready in just 1 minute!
CHOCOLATE CHIP KETO MUG CAKE is a delicious keto friendly option for dessert.
You might also enjoy COCONUT FLOUR KETO MUG CAKE for a healthy treat in seconds.
Try these other easy cake ideas: