Nutella mug cake has only 3 ingredients for a decadent treat. Make this easy recipe in just 2 minutes anytime you want cake.
Nutella mug cake
Have you ever made a mug cake before? It is super easy, really delicious and takes just minutes. Nutella fans will go crazy over this easy to make cake.
The next time the craving strikes for something sweet, you can make this delicious cake in the microwave. It is perfect for when you only need a small portion and making an entire cake doesn't make sense.
Or maybe you just want cake on the spur of the moment, this is the recipe to make. You can enjoy cake anytime the mood strikes thanks to this easy cake recipe in the microwave.
If you can add the nutella and a few ingredients, you can make this easy cake.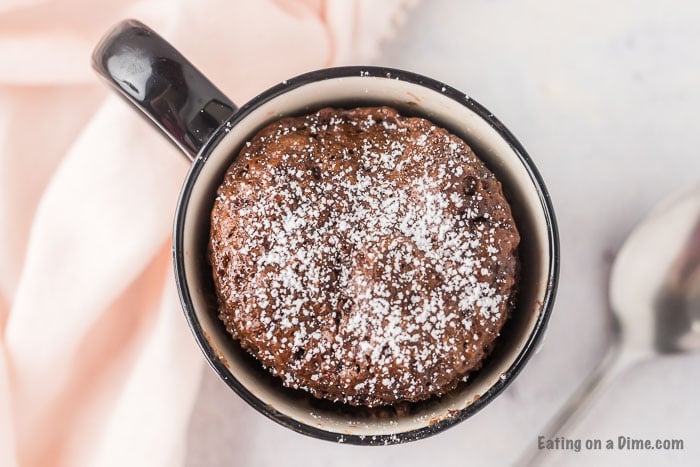 3 Ingredients
Nutella
egg
all purpose flour
How to make nutella mug cake:
First, whisk together the nutella and eggs in a coffee mug. To make clean up easy, I like to spray the mug first with nonstick cooking spray.
Then fold in the all purpose flour.
The last step is to microwave for 2 minutes. It is so simple to make.
Serving ideas:
Serve with vanilla ice cream on top. The cold ice cream sinks into the warm cake for an amazing treat.
Sprinkle powdered sugar on the cake.
Whipped cream is a great idea too.
Variation ideas:
Eggless option: If you need a recipe without eggs, use 4 tablespoons all purpose flour, ¼ teaspoon baking soda, 3 Tablespoons milk and ¼ cup nutella. Mix together and put in the microwave for 1 minute. Continue to cook in 20 second intervals until the cake has finished cooking.
Chocolate Chips: Chocolate lovers may want to add a spoonful of chocolate chips to the cake mixture before cooking. You can use milk chocolate or white chocolate.
Cocoa Powder. Craving a lot of chocolate? Add a teaspoon of cocoa powder to the mixture before cooking.
Sprinkles. Make this cake festive for any occasion by topping it with sprinkles after cooking.
Fruit. Sliced strawberries are delicious with nutella. You can add a few to the top when it comes out of the microwave.
Nuts: Add chopped pecans or walnuts to the cake mixture before microwaving. It is yummy.
Baking powder. Add a ¼ teaspoon baking powder if you like more of a cake texture instead of brownie.
Extra nutella. You can add an extra scoop of nutella to the middle of the mug cake before cooking. This is really rich and decadent.
Let us know if you try any of these variations. They all sound so delicious and make this cake even better.
3 ingredient nutella brownies
If you are craving brownies, you can make some with just 3 ingredients in a baking dish. All you need is 1 ¼ cup Nutella, 2 large eggs and ½ cup all purpose flour.
Preheat oven to 350. Use an 8×8 baking pan and spray with cooking spray or use parchment paper. Pour the mixture in the pan.
Bake for 25 minutes or until a toothpick inserted is clean. This is such an easy and delicious brownie recipe with simple ingredients.
Tips for 3 ingredient nutella mug cake:
Microwave safe mug. Make sure the mug you are using is safe for the microwave.
Don't overfill the mug. Your mug needs to be large enough to hold everything and account for the cake rising.
Don't over cook. If you are unsure of how your microwave cooks things, start with less cooking time. You can always add more time in increments.
Fresh is best. This cake is best enjoyed right out of the microwave while warm. Of course you can enjoy it later and it will be delicious. I just prefer it served right away.
Give it a try.
The next time someone has the craving for cake, make this individual serving instead. I also like to make these because I'm not tempted to eat more than I should.
The small serving helps to satisfy my sweet tooth while not having lots of leftover cake around. It is truly the perfect recipe.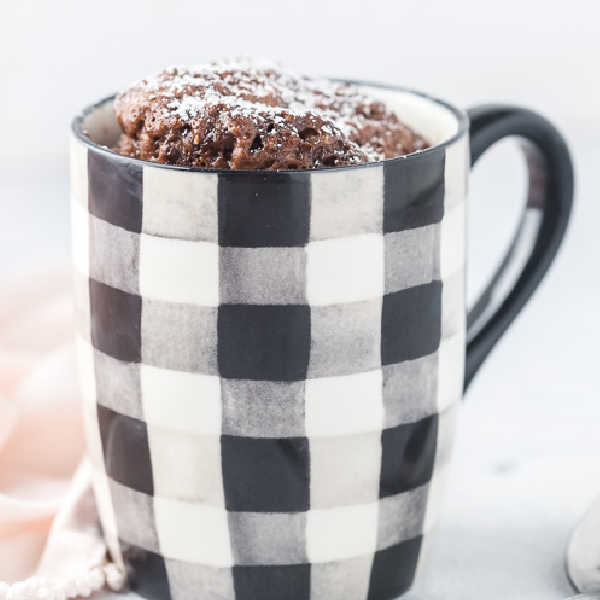 Print this nutella mug cake recipe:
Nutella Mug Cake
Nutella mug cake has only 3 ingredients for a decadent treat. Make this easy recipe in just 2 minutes anytime you want cake.
Ingredients
¼

cup

Nutella

1

large egg

2

tablespoons

all purpose flour
Instructions
Whisk together the egg and the nutella In a coffee mug. Fold in the all purpose flour.

Microwave for 2 minutes.

Serve with ice cream or powdered sugar on top.
Nutrition Facts
Calories
523
kcal
,
Carbohydrates
58
g
,
Protein
11
g
,
Fat
27
g
,
Saturated Fat
23
g
,
Polyunsaturated Fat
1
g
,
Monounsaturated Fat
2
g
,
Trans Fat
1
g
,
Cholesterol
164
mg
,
Sodium
94
mg
,
Potassium
382
mg
,
Fiber
4
g
,
Sugar
41
g
,
Vitamin A
240
IU
,
Calcium
108
mg
,
Iron
5
mg
More Microwave Desserts recipes: