This easy Marshmallow Fluff Frosting Recipe is the best frosting for your cupcakes and cakes. It only takes a few ingredients to mix this frosting together and making a tasty easy frosting.
Marshmallow Fluff Frosting Recipe:
This Homemade Marshmallow Fluff Frosting is light and airy and the perfect frosting for cookies, cakes cupcakes, and brownies. It turns your favorite chocolate dessert into something amazing.
We are big fans of homemade icing. I like that this frosting only has 5 ingredients. When you bye frosting at the store there are so many ingredients that are not necessary.
We hope that you give this light and fluffy frosting a try on your next bake goods.
Simple, Easy Recipe:
As most of you know, I like simple, easy recipes. When researching this Marshmallow Fluff Frosting I found that a lot recipes had unnecessary ingredients. Such as egg whites, cream of tartar and granulated sugar.
You also had to simmer water in a double boiler which is another step that is unnecessary. I love that this recipe only requires 4 ingredients and it is a simple process to make.
How long will Marshmallow Fluff Frosting last?
Marshmallow Fluff Frosting is a great frosting to make ahead. It stores perfectly in the refrigerator. Since there are no egg whites, you can make this frosting several days ahead of time.
You can also go ahead and top your cupcakes and store them in the refrigerator until you are ready to serve.
Can I add in Mix-ins?
Yes, you can. This frosting is good but adding in some mix-ins would take this frosting to a whole new level.
Add in some toasted coconut. We love coconut and it would be great on top of a German Chocolate Cupcake.
Chocolate Chips is a great addition to the frosting.
Chop up with strawberries or other fresh fruit and mix into the frosting.
I have even mixed in some peanut butter powder to the frosting when I make chocolate cupcakes.
Since this frosting is so easy to make. Invite your family and friends over for a holiday party. Have a frosting bar with different toppings. This way everyone can make their own.
Ingredients:
Butter – room temperature
Marshmallow Fluff
Powdered Sugar
Vanilla Extract
Milk (optional)
How make Marshmallow Frosting:
First, Mix Butter and Sugar – Beat butter and powdered sugar until fluffy and well mixed in a large mixing bowl. You want to make sure that there are no lumps and mixed together well.
Add in Fluff – Mix in fluff and vanilla by hand and mix well. If you prefer you can use an electric mixer.
Milk can be added – If needed mix 1-2 tablespoons milk to get to the desired consistency.
Use Piping Bag – Add to piping bag and pipe onto cupcakes or spread evenly on a cake.
Where to find Marshmallow Fluff?
If you are having a hard time finding Marshmallow Fluff, check you baking isle at your local grocery store. If it is not there, you can use the Marshmallow Creme.
I have also found it on Amazon if you are still unable to locate it.
What does Marshmallow Frosting Fluff go with:
Make some chocolate chip cookies spread the frosting on each side of the cookie and make an easy cookie sandwich. This is my kids favorite.
Top these Double Chocolate Chip Brownies for an amazing dessert.
These Chocolate Peanut Butter Cupcakes are great frosted with this marshmallow fluff.
Use a kitchen torch to make these S'mores parfait Recipe.
You can also use a kitchen torch on the marshmallow frosting when making chocolate cupcakes. The toasted marshmallow will be like eating a s'more but less messy.
Graham Crackers are great for dipping in the marshmallow frosting. It is a great snack to have.
How to store Marshmallow Frosting Fluff:
Store you leftover Marshmallow Frosting Fluff in the refrigerator. As long as your frosting remains in a cool, it will last several days in the refrigerator.
Can you mix Marshmallow Fluff with store bought frosting?
Yes, you can. You will mix equal parts of marshmallow fluff with a store bought frosting. It also works great if you add in some Nutella or Hazelnut to the frosting.
This works best when you are using it on chocolate frosting.
How much frosting does this recipe make?
This recipes makes enough to frost 12 cupcakes. Using a piping bag it should cover all 12 of your cupcakes. If you are spreading the frosting on with knife on your cupcakes, then it will probably cover more.
Covering a 9×13 you will need to double to recipe. You will also need to double it if you are a frosting two 8×8 round cakes.
Tips for the best Marshmallow Frosting:
We like to use piping bags and decorative bags and then toss when finish. Using piping bags makes easy to frost the cupcakes and easy cleanup.
Use a stand mixer to beat the powdered sugar and butter. It makes is so much easier than doing it by hand. I do recommend mixing in the marshmallow fluff and vanilla by hand.
Remember if you frosting is to thin add more powdered sugar slowly. But if it is to thick you can thin it out with milk.
Do not substitute melted marshmallows for marshmallow fluff. It will change the texture and the frosting will not set.
Always make sure the butter is fully softened. This helps it to mix well with the powdered sugar.
If you are using milk, make sure you are adding in a little at time.
We do not recommend freezing this frosting. It works best if you use it after making it or storing in the refrigerator for a few days.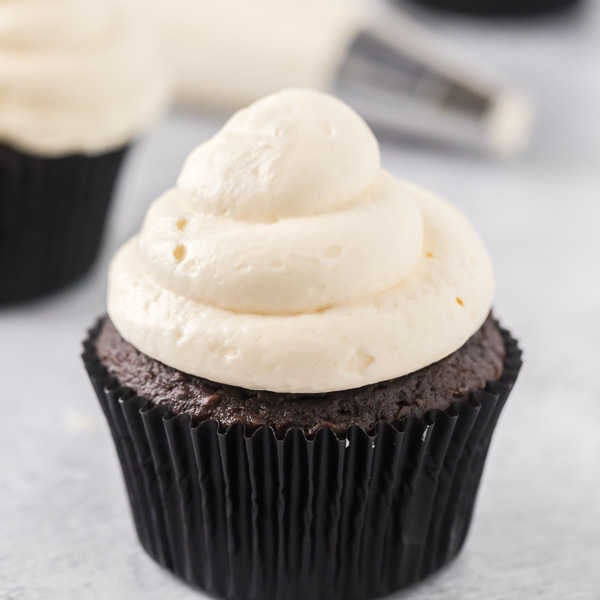 How to thicken the frosting?
If you find that your frosting ends up being to thin, add in some powdered sugar. We start with about a tablespoon of powdered sugar at a time. Then stir in the additional powdered sugar if needed.
You might need to add a little each time to get the consistency that you want.
You will love Easy marshmallow fluff frosting!
This delicious marshmallow creme frosting is the best! It isn't too heavy and has the perfect amount of sweetness.
This recipe is super easy and a real treat. It looks gorgeous and pipes so pretty on cupcakes.
Your friends and family will think you bought these treats at the bakery. The combination is tasty and so pretty!
Make this frosting today for a real treat that is so decadent. With just 5 ingredients, it is such a simple recipe but the results are stunning.
Print Recipe here for Marshmallow Fluff Frosting:
Marshmallow Fluff Frosting
This Marshmallow Fluff Frosting Recipe is the best frosting for your bake goods. Only a few ingredients are needed to make this easy frosting
Ingredients
1

cup

butter room temperature

7

oz

Marshmallow Fluff

2

cups

powdered sugar

1/2

tsp

vanilla extract

1-2

tablespoons

milk

optional
Instructions
Beat butter and powdered sugar until fluffy and well mixed.

Mix in fluff and vanilla by hand and mix well.

If needed mix 1-2 tablespoons milk to get to the desired consistency.

Add to piping bag and pipe onto cupcakes.
Recipe Notes
Makes enough to frost 12 cupcakes
Nutrition Facts
Calories
266
kcal
,
Carbohydrates
34
g
,
Protein
1
g
,
Fat
15
g
,
Saturated Fat
10
g
,
Polyunsaturated Fat
1
g
,
Monounsaturated Fat
4
g
,
Trans Fat
1
g
,
Cholesterol
41
mg
,
Sodium
136
mg
,
Potassium
7
mg
,
Sugar
30
g
,
Vitamin A
475
IU
,
Calcium
6
mg
,
Iron
1
mg
More Frosting Recipes: