This post may contain affiliate links. If you make a purchase through links on our site, we may earn a commission.
This Crock Pot Brisket Sandwich Recipe is great to feed a large crowd or for a busy weeknight meal for my family. Slow Cooker Brisket is easy to make ahead and there are so many options with the leftovers on this recipe.
Crock Pot Brisket Sandwich Recipe:
You'll love how easy this recipe is to throw together in the morning. Then let it slow cook all day long and you'll have delicious and tender BBQ pulled brisket to serve that evening.
The Crock Pot Brisket Recipe turns out so tender, juicy and full of flavor. It doesn't require a lot of ingredients to make this slow cooker brisket. All the ingredients are put in the slow cooker to cook all day.
Serve the BBQ brisket on a bun with some slice red onions or toppings of your choice. We love serving this easy meal when we have friends over. It is the perfect meal to feed a crowd.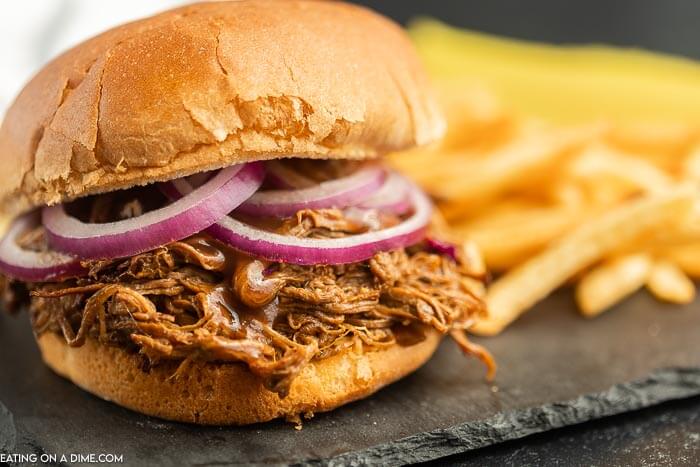 What is Beef Brisket?
Brisket refers to a cut of beef that is from the lower chest portion. It is typically smoked to get that amazing flavor.
This cut of meat is tough and ideal for slowly cooking until tender. Brisket in a Crock Pot Recipe is easy, but if you are short on time, try making Instant Pot Beef Brisket Recipe.
You can also smoke a beef brisket. The key is to the constant temperature for many hours while it cooks.
Pick up some meat at the grocery store and save money and time. If I spot one on sale, I always grab it for the freezer.
Ingredients
You'll just need a few basic ingredients to create this brisket sandwich recipe.
Beef Brisket
Brown Sugar
Paprika
Salt and Pepper
Worcestershire Sauce
Chili Powder
Cumin –
BBQ sauce
Buns
How to make Crock pot Brisket Sandwiches:
Place Brisket in the Crock Pot – Put the brisket in the bottom of my favorite crock pot on the fat side.
Add in the remaining ingredients – Then I put all the other ingredients except for the buns on top of the brisket.
Cover and Cook the Brisket – Next you slow cook the barbecue brisket for 10 hours. I don't recommend cooking on high for this recipe. Slow cooking this brisket recipe makes it fork tender that it almost melts in your mouth.
Remove Brisket from Crock pot – After this cook time, remove the brisket.
Shred Brisket – I put it on a cutting board and shred with 2 forks.
Add back to Slow Cooker – Return the brisket to the crock pot. Then mix with your barbecue sauce mixture in the crock pot. You can also place everything in a baking dish.
Serve and Enjoy – Finally it's ready to serve on your favorite type of brisket sandwich bread!
Variation ideas
This recipe is so versatile that there are tons of substitutions that you can choose to make this recipe your own.
Make it Sweeter – We like serve sweeter slow cooker pulled beef brisket sandwiches. Add approximately ½ brown sugar to the crock pot prior to slow cooking the brisket.
Add Garlic – If you like garlic like me, you can add 1 teaspoon of garlic powder. Adding garlic gives it a delicious garlic flavor to your brisket sandwich sauce.
Onion Powder – If you would like you can add in some onion powder with the seasoning.
Beef Broth – For some extra flavoring, you can add in some beef broth.
Can I make Homemade BBQ Sauce?
This is totally optional but we just love to make this Homemade BBQ Sauce for the brisket. Barbecue sauce is one of the easiest things to make.
Not only is it simple to make but this Easy Homemade BBQ Sauce Recipe is very cost effective as well. I love to have extra barbecue sauce to top our sandwich with after cooking.
You might be surprised to find out how simple it is to make. With only 8 ingredients, you can make it from scratch and really bump of the flavor without a lot of extra work.
Once you give it a try, you will see how easy and flavorful it is. Homemade barbecue sauce is a game changer. All you have to do is mix the ingredients in a small bowl.
What to serve with Brisket Sandwich
Here are 3 that I absolutely love and of course, they are also easy to make!
Can I make Slow Cooker Brisket in Advance?
Yes, you can make this recipe in advance. It is super easy to make ahead of time and the flavor is even better.
This is a great way to save time if you plan to make this for a party. Just cook as normal and store in the fridge.
Make sure to use an airtight container and it will last up to 3 days.
Can you Freeze Chopped Brisket?
This recipe can be easily converted to a freezer meal to make slow cooking even easier!
If you enjoy freezer cooking as much as I do, I encourage you to check out our Lazy Day Cooking Club. This club is a freezer cooking meal plan. It provides you with great recipes, instructions on how to freeze and all the ingredients that you need for great crock pot recipes.
This club takes away the stress of deciding what's for dinner and gets dinner on your table in less time.
How to Store Brisket:
Place the leftover brisket inside an airtight container in the refrigerator. It will last up to 4 days if stored properly.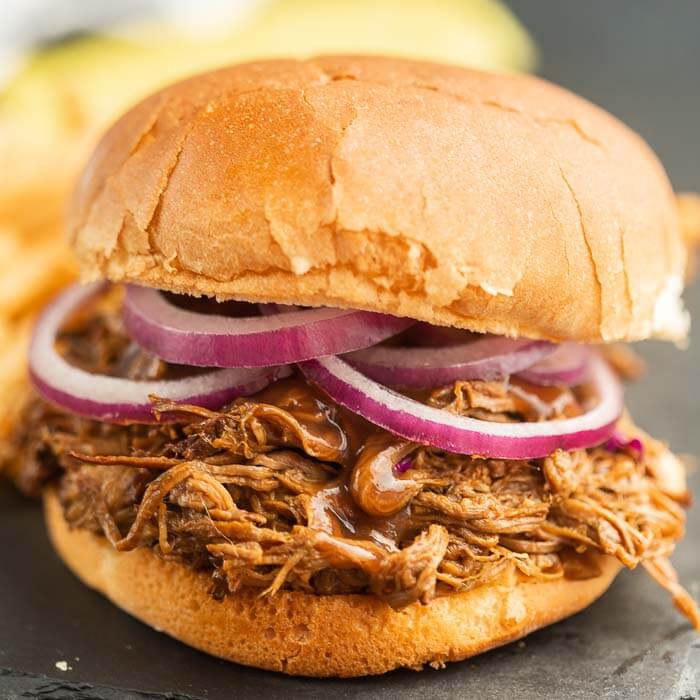 How to Reheat Brisket
One of my favorite things about this quick and easy recipe is that you can do so much leftover brisket recipes slow cooker. Check out How to Reheat Brisket to learn how to heat up leftovers without drying out the brisket.
How to Use leftover Brisket
Bake Potatoes – I really enjoying serving the left over brisket over baked potatoes. You can cook these potatoes in the crock pot or in the microwave. Both ways are easy and will create a great second meal with these delicious left overs.
Pasta Dish – In addition, you can serve the leftover brisket with your favorite pasta side dish. I love this simple parmesan pasta recipe. It goes great with anything.
Mashed Potatoes – BBQ Brisket Sandwiches is great served with some creamy mashed potatoes. In less than 15 minutes you can have a complete meal.
Beef Brisket Sandwich Toppings:
Coleslaw. We love to top the brisket sandwich with The Best Coleslaw Recipe for a really amazing meal.
Red Onion. I like to thinly slice these.
Barbecue Sauce. Top the sandwiches with even more delicious BBQ Sauce.
Pickles. Dill pickle chips taste great with the brisket.
We love to serve this for parties and set up a topping bar. Everyone loves it and can choose their favorite toppings.
Print this Crock Pot Brisket Sandwich Recipe below:
Crock pot Brisket Sandwich Recipe
You are going to love this crock pot brisket sandwich recipe. I hope you try this quick and easy slow cooker chopped brisket recipe today!
Instructions
Place everything (except the buns) in the crock pot recipe. I used a 6 quart slow cooker.

Cook o low for 8-10 hours or on high for 4-5 hours.

Shred the brisket and stir it into the other ingredients in the crock pot.

Serve on hamburger buns with our favorite toppings and enjoy!
Recipe Notes
*Refrigerate the leftovers in an air tight container for up to 5 days.  
Nutrition Facts
Calories
692
kcal
,
Carbohydrates
69
g
,
Protein
55
g
,
Fat
20
g
,
Saturated Fat
7
g
,
Polyunsaturated Fat
2
g
,
Monounsaturated Fat
9
g
,
Cholesterol
141
mg
,
Sodium
1922
mg
,
Potassium
1112
mg
,
Fiber
3
g
,
Sugar
31
g
,
Vitamin A
1332
IU
,
Vitamin C
2
mg
,
Calcium
158
mg
,
Iron
8
mg