This is the easiest crock pot recipe. Crock pot Italian chicken recipe is delicious and perfect for busy nights. It truly is a one pot meal. The green beans and potatoes taste amazing with this Italian chicken. Everything you need for a tasty meal is in the crock pot! Clean up is a breeze.
Crock Pot Italian Chicken recipe
This recipe takes very little work, yet tastes delicious! I would say it doesn't even taste like a crock pot meal. It's so nice coming home to dinner ready and waiting! The chicken is so tender and packed with the best flavor. I love drizzling some of the marinade over the potatoes and green beans. Yum! It's so good! We love this recipe and it can't get any easier! No need for separate side dishes and dirtying more pans! The green beans and potatoes all go in the slow cooker for an amazing one pot dish!
This is totally optional but if you have extra time, these Easy Homemade Dinner Rolls taste so good with this chicken. They are light and fluffy and oh so good! The rolls are perfect for dipping in the yummy Italian marinade and getting every last drop! You will love these rolls.
I also like to use crock pot liners to make clean up a breeze. These are worth every penny and save a ton of time.
If you need a crockpot or maybe just want a new one, I highly recommend this crockpot. (it is actually on sale right now). This is the crockpot that I use and it's great. I love that you can actually lock the lid down making it easy for when you take meals to potlucks. There are several others on sale here.
I also love this programmable crock pot for when I am am not at home. It's so nice to just set it and forget it! It's especially perfect for those days you will be out of the house. Just set it for the amount you need and it will cut off for when you programmed it. Plus, it will stay warm until you are ready to eat. Such a great feature! Perfect for busy Moms!
Let's get started making Crockpot Italian dressing chicken!
Ingredients in Crockpot green beans and potatoes:

Chicken Breasts

Red Potatoes

Onion

Frozen Green Beans

Italian Salad Dressing

Italian Seasoning
How to make crock pot italian chicken recipe:
Spray crockpot with non-stick spray
Place potatoes in crockpot along bottom.

Place chicken on top. We used frozen chicken breasts.

Top with green beans and onions.


Pour Italian Dressing over top. Just pour over chicken.

Sprinkle in Italian seasoning.

Cover and cook on low for 6 to 8 hours.
I have often stirred in a bit of extra Italian Seasoning right before serving. This dish is also good with parmesan cheese sprinkled on top as well!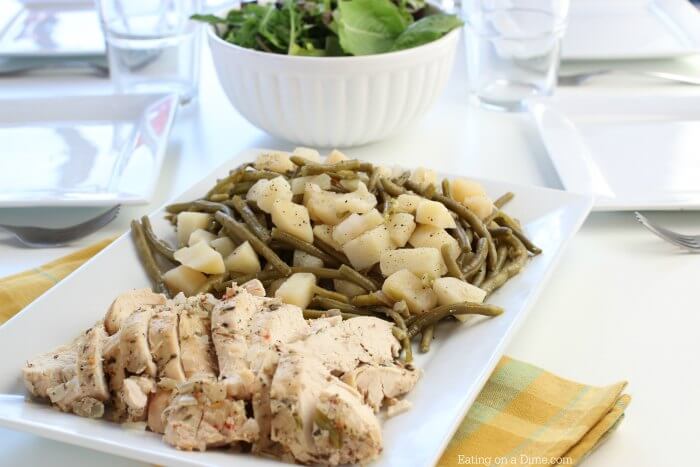 How to make Slow cooker Italian chicken and potatoes:
Crockpot Italian Chicken Dinner
If you need an easy and delicious dinner idea, Crock pot Italian chicken recipe is amazing! Crockpot italian dressing chicken is such an easy recipe. Try this one pot meal! Slow cooker italian chicken and potatoes is packed with flavor. Your family will love Slow cooker italian chicken!
Ingredients
4

boneless skinless chicken breast

(filleted)

2

lbs

red potatoes

diced

1/2

onion

chopped

16

oz

package of frozen green beans

1

cup

Italian Salad Dressing

1

Tbsp

Italian Seasoning
Instructions
Spray crockpot with non-stick spray

Place the chicken breasts in the crock pot. Season with the Italian Seasoning.

Top with the red potatoes, green beans and onions.

Pour the Italian Dressing over top.

Cook on low for 6 to 8 hours or on high for 3-4 hours until the chicken is cooked through.
Recipe Notes
*Refrigerate the leftovers in an air tight container for up to 5-7 days. 
*You can use frozen chicken breasts in this recipe as well.  If using frozen, add 30-60 minutes to the cook time.  
Nutrition Facts
Serving
8
g
,
Calories
236
kcal
,
Carbohydrates
27
g
,
Protein
15
g
,
Fat
8
g
,
Saturated Fat
1
g
,
Polyunsaturated Fat
4
g
,
Monounsaturated Fat
2
g
,
Trans Fat
1
g
,
Cholesterol
36
mg
,
Sodium
381
mg
,
Potassium
887
mg
,
Fiber
4
g
,
Sugar
7
g
,
Vitamin A
437
IU
,
Vitamin C
18
mg
,
Calcium
51
mg
,
Iron
2
mg
More variations to slow cooker Italian chicken:
There are lots of ideas for this yummy recipe. Depending on what your family enjoys, you can add lots of other ingredients. We like to add carrots and that is really tasty. You can also add cream cheese and that makes an amazing creamy sauce. Or omit the potatoes and serve this dish over rice. I also have thrown in a bell pepper and it goes really well with the onion.
I bet you could also substitute chicken thighs instead of the chicken breast. There are lots of great ways to enjoy this meal.
The ideas are endless for Crockpot Italian Chicken and potatoes!
How to Freeze Crock pot Italian chicken?
I'm all about freezer meals. They sure make life easier. Did you know you can make 10 Crockpot freezer meals in under and hour? You can also freeze this Crock Pot Italian Chicken! Just substitute potatoes for dice hashbrowns and then place in a freezer bag and freeze. So simple! When you are ready to cook, just place it all in the crock pot and cook on low from frozen for 8-10 hours. Perfect for busy days!
I use JOKARI Hands-Free Baggy Rack Storage Bag Holder to make putting together freezer meals so easy. You don't have to use them but they sure make it simple and so quick.
The entire family will enjoy Crock pot chicken potatoes and green beans!
We also love Crock Pot French Onion Chicken Recipe that has everything you love about the classic soup but with hearty chicken.

You will love this slow cooker Italian chicken!
It is one of our family favorites! I can't wait for you to try this chicken dish. It helps so much having several easy recipes to rely on during busy seasons of life. This chicken recipe is the crockpot recipe that everyone always asks me for!
Another delicious crock pot recipe if you would like an easy dessert idea is Slow Cooker Chocolate Lava Cake. Top with ice cream and you are set!
Slow cooking really is such an easy way get dinner on the table without all the chaos. Dinner time does not have to be complicated. No need to stress over what to cook or trying to get take out. Try this amazing chicken for a quick and easy meal that the family is sure to love! It's frugal, fast and tastes much better than eating out. Not only will everyone enjoy this meal but you will save so much money.
You might also like Cowboy Crockpot Pork Chops Recipe. It is comfort food at its best. This dish is loaded with potatoes, mushroom soup, chili and more. Yum!
Slow Cooker Crack Chicken Recipe is comfort food in every single bite. The cream cheese blended with the ranch and bacon make this one unforgettable recipe you must try!

You might also like this delicious Crock Pot Spaghetti Sauce recipe. You can make a HUGE batch that tastes way better than the jar version when you buy everything at rock bottom prices.
You only need 4 ingredients to make this delicious Crock Pot Mississippi Chicken Recipe.
Check out these other delicious slow cooker recipes:
Be sure to check out all of our delicious Crock Pot Recipes here. Lots of ideas to get dinner on the table fast! These are perfect for days that are busy with activities, work and more!