This post may contain affiliate links. If you make a purchase through links on our site, we may earn a commission.
Crock Pot Italian Chicken Recipe is delicious and perfect for busy nights. It truly is a one pot meal. The green beans and potatoes taste amazing with this Italian chicken.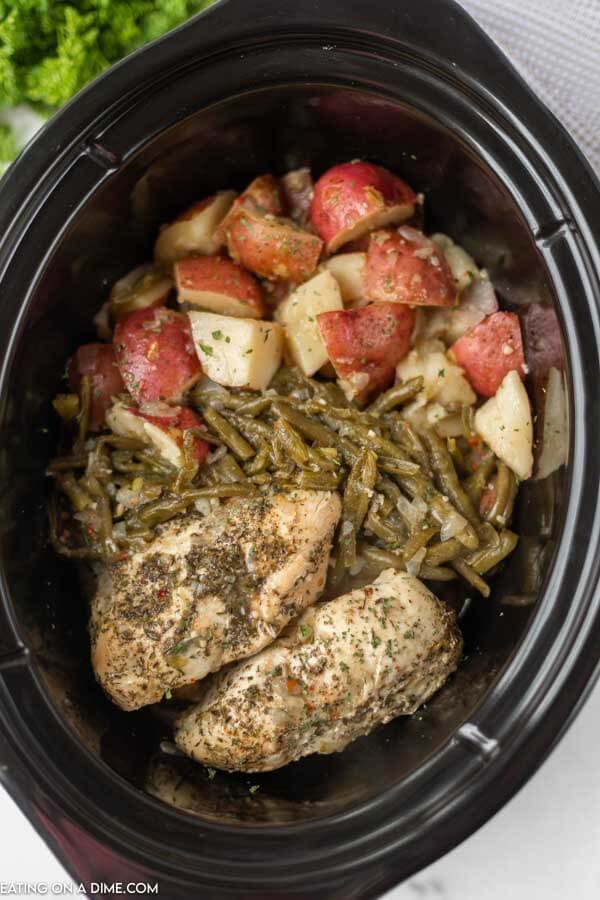 Crockpot Italian Chicken Recipe
This recipe takes very little work, yet tastes delicious and is super easy! Your family will be surprised that the crock pot did all the work. It's so nice coming home to dinner ready and waiting.
The chicken is so tender and packed with the best flavor. I love drizzling some of the marinade over the chicken and potatoes and green beans. It is so good. It makes me think of Olive Garden's Italian Chicken but so much better.
We love this chicken and potatoes recipe and it can't get any easier than the crock pot doing all the work. No need for separate side dishes and dirtying more pans! The green beans and potatoes all go in the slow cooker for an amazing one pot dish!
Crockpot Chicken with Italian Dressing:
Crock Pot Chicken with Italian Dressing is one of the easiest meals. The ingredients are easy and everything goes into the crock pot. Adding Italian dressing to the chicken makes the chicken so flavorful.
Everything you need for a tasty meal is in the crock pot. Clean up is a breeze.
This is totally optional but if you have extra time, these Easy Homemade Dinner Rolls taste so good with this chicken. They are light and fluffy and oh so good.
The rolls are perfect for dipping in the yummy Italian chicken broth marinade in a small bowl. We love getting every last drop! You will love these rolls.
Let's get started making Crockpot Chicken Green Beans and Potatoes
Ingredients in Crockpot Italian Chicken green beans and potatoes:
How to make Crock Pot Italian Chicken Recipe:
Spray crockpot with non-stick spray
Place potatoes in crockpot along bottom.
Place chicken on top. We used frozen chicken breasts.
Top with green beans and onions.
Pour Italian Dressing over top. Just pour over chicken.
Sprinkle in Italian seasoning.
Cover and cook on low for 6 to 8 hours or cooked on high for 3 to 4 hours. Cooking time will vary.
I have often stirred in a bit of extra Italian Seasoning right before serving. This dish is also good with parmesan cheese and salt and pepper sprinkled on top as well!
How do you know when chicken is done in the crock pot?
If you cook chicken to long in the crockpot, it could dry out. That is why it is very important to check chicken to make sure you do not over cook.
I like using a meat thermometer to make sure the chicken is done. You want the internal temperature to read 165 degrees before serving.
You can also check by cutting a slit in the chicken to see if you see any pink. If there is pink, it will need to be cooked longer.
Cooking time varies when cooking in your crock pot. Just make sure when using the crock pot that you check chicken so that it does cook to long.
What to serve with Crockpot Chicken and Potatoes:
Since the crock pot does all the work for a complete meal, there is really not much you need to add. Here are a few suggestions:
Variations Ideas:
There are lots of ideas for this yummy crockpot recipe. Depending on what your family enjoys, you can add lots of other ingredients.
Add in some Carrots – We like to add carrots to the crock pot.
Make Cream Sauce – You can also add cream cheese and that makes an amazing creamy sauce. You can add in some cream of chicken soup.
Just Cook the Chicken – Cook the chicken and Italian Dressing and omit the potatoes and serve this dish over rice.
Add in Peppers – I also have thrown in a bell pepper and it goes really well with the onion. Mushrooms would also a good addition to this one pot meal.
Use Chicken Thighs – I bet you could also substitute chicken thighs instead of the chicken breast. There are lots of great ways to enjoy this meal.
Shred the Chicken – You can shred the chicken or serve as a whole chicken breast.
Potato Variety – We used red potatoes in this recipe, but you can use yukon gold potatoes or russet potatoes.
Storing and Reheating Crockpot Italian Chicken:
This Crockpot Italian Chicken is get leftover and east to store. We like to store in individual containers to make it easy for my husband to grab and head out the door. I can put everything in one dish for easy reheating.
To reheat place microwave safe dish in the microwave and heat for 1 minute intervals until heated.
We think it taste better the next as the Italian dressing and seasoning really marinates in the chicken. The chicken would even be great shredded and put on a salad for a low carb option.
How to Freeze Crock pot Italian chicken?
I'm all about freezer meals. They sure make life easier. Did you know you can make 10 Crockpot freezer meals in under and hour? You can also freeze this Crock Pot Italian Chicken.
Just substitute potatoes for dice hash browns and then place in a freezer bag and freeze. This is a simple substitution that still makes a great meal.
When you are ready to cook, just place frozen ingredients in the crock pot. Then cook on low from frozen for 8-10 hours. Perfect for busy days.
I use JOKARI Hands-Free Baggy Rack Storage Bag Holder to make putting together freezer meals so easy. You don't have to use them but they sure make it simple and so quick.
Crockpot Italian Chicken Dinner
Crockpot Italian dressing chicken is such an easy one pot meal recipe. Slow Cooker Italian chicken and potatoes is packed with flavor.
Ingredients
4

boneless skinless chicken breast

(filleted)

2

lbs

red potatoes

diced

1/2

onion

chopped

16

oz

package of frozen green beans

1

cup

Italian Salad Dressing

1

Tbsp

Italian Seasoning
Instructions
Spray crockpot with non-stick spray

Place the chicken breasts in the crock pot. Season with the Italian Seasoning.

Top with the red potatoes, green beans and onions.

Pour the Italian Dressing over top.

Cook on low for 6 to 8 hours or on high for 3-4 hours until the chicken is cooked through.
Recipe Notes
*Refrigerate the leftovers in an air tight container for up to 5-7 days. 
*You can use frozen chicken breasts in this recipe as well.  If using frozen, add 30-60 minutes to the cook time.  
Nutrition Facts
Serving
8
g
,
Calories
236
kcal
,
Carbohydrates
27
g
,
Protein
15
g
,
Fat
8
g
,
Saturated Fat
1
g
,
Polyunsaturated Fat
4
g
,
Monounsaturated Fat
2
g
,
Trans Fat
1
g
,
Cholesterol
36
mg
,
Sodium
381
mg
,
Potassium
887
mg
,
Fiber
4
g
,
Sugar
7
g
,
Vitamin A
437
IU
,
Vitamin C
18
mg
,
Calcium
51
mg
,
Iron
2
mg
Check out these other delicious Chicken recipes: