Learn How to Season Cauliflower Rice for a low carb side dish. Cauliflower Rice is a great veggie alternative to regular rice. Add flavor with these seasoning options.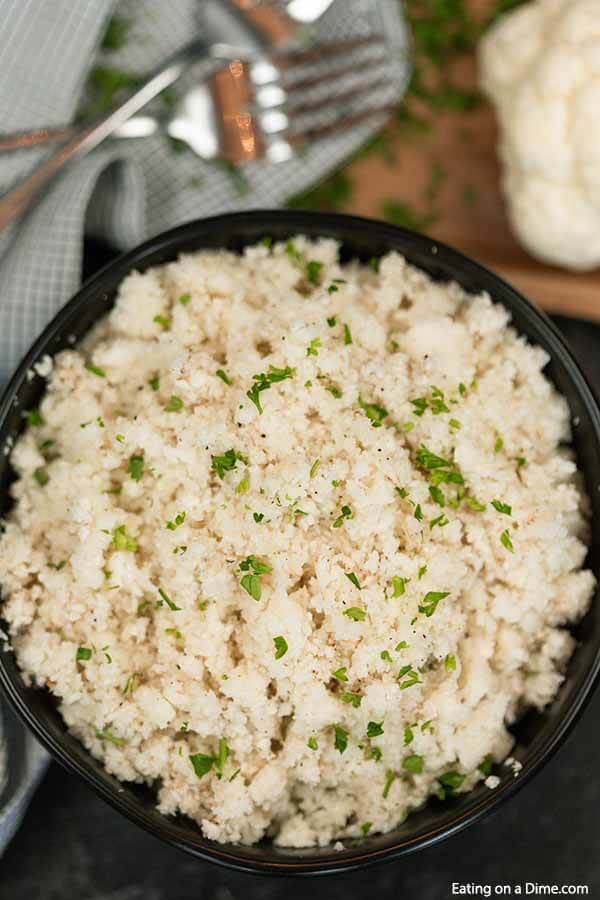 How to Season Cauliflower Rice:
Cauliflower Rice is a great alternative to regular rice. Cauliflower is a great healthy vegetable that has been diced to make rice. We will show how to season riced cauliflower and how to make it.
Cauliflower is a great way to sneak in vegetables. Mixed with some of your favorite dishes that calls for white rice. It is easy to make and taste even better when seasoned for a side dish. It is even great as a base to your saucy recipes.
Cauliflower Rice is a low carb alternative to regular rice. This is a great way to stay on track with you diet, but still getting to eat rice.
How do I Make Cauliflower Rice taste better:
If you have ever tried cauliflower rice without any seasoning, it may taste bland to you. Like regular rice it is a versatile side dish. It can be eaten as a side dish or mixed with many different recipes.
There are many different ways to seasoning cauliflower rice. Without seasoning this diced vegetable it could be mushy or bland. The trick to an amazing side dish is how to cook it and how to seasoning it.
This low-carb, gluten-free veggie-base side can be made for any occasion. You can make fresh cauliflower rice or you can even find frozen cauliflower at your grocery store.
How to Make Cauliflower Rice:
Cauliflower Rice is easy to make. All you need is a food processor, a head of cauliflower, some pepper and garlic salt.
Place the head of cauliflower, after cutting cauliflower into large pieces. Then add cauliflower in the food processor and begin mixing until a rice mixture forms. You may need to work in batches to grate the cauliflower into rice.
Then you can place the rice mixture in a microwave safe bowl with the seasoning and heat in microwave. Cook for about 5 minutes with the lid on. The cauliflower rice is cooked for an amazing side dish.
Making Homemade Rice Cauliflower is easy, but the frozen cauliflower rice is a great alternative. You can easily find at the grocery in the frozen section. Make sure to check ingredients to see if it has any added sugar.
Storing, Freezing, and Reheating Cauliflower Rice:
Storing – Once the cauliflower has cooled, place in an air tight container. Refrigerate and it will last about 5 days.
Freezing – Cauliflower rice freezes great. Place in a freezer safe container and it will last about 6 months in the freezer.
Reheating – You can reheat cauliflower rice on the skillet or in the microwave.
What Seasoning is good with Cauliflower Rice?
There are many different ways to season cauliflower rice. You can easily use just salt and pepper or season salt. But sometimes you need to jazz up your cauliflower rice for an amazing side dish.
The below listed options are cauliflower rice recipes that can easily be customize to what you have on hand. Some of them are just staple pantry ingredients so there is no need to run to the store for anything specific. You can also add in fresh herbs if you have those on hand.
1. Make Cauliflower Fried Rice
My kids love getting Chinese takeout. But it is loaded with so much sodium and other ingredients that we can't even pronounce. So I decided to recreate their favorite Chinese fried rice and make Cauliflower Fried Rice.
In a large skillet over medium heat, I added our favorite fried rice ingredients with some olive oil. While ingredients are cooking, stirred in the diced cauliflower to make a lighter version of their favorite fried rice.
It was easy to prepare and full of flavor. The diced cauliflower definitely wasn't bland and now has become a family favorite.
2. Make Cheesy Cauliflower Rice
If you like cheese, then this is the best recipe to make to add some flavor to cauliflower rice. My kids even devoured this decadent dish. It is Keto friendly and a great alternative to a macaroni and cheese recipe.
You can even add more cheese or even bacon to this cheesy dish. Make sure to shred your own cheese since pre-shredded has added ingredients. Especially if you are following a low carb diet.
3. Make Loaded Cauliflower Casserole
This recipe originally calls for cauliflower, but it works great for cauliflower rice. This recipe is a great alternative to a loaded bake potato. Add your favorite toppings just like you would for a bake potato but a healthier version.
Cut cauliflower into small bite size or into rice. Then place in a casserole dish after steaming the cauliflower in the microwave. Make sure to cook cauliflower rice until it is fork tender before adding to the baking dish. Every few minutes stir together to make sure it is steamed.
Combine your favorite cheese ingredients in a small bowl then place over the
cauliflower and bake. This is definitely a crowd pleaser and no one will complain that they are eating cauliflower.
4. Make Spanish Cauliflower Rice
To add to your favorite Mexican dishes, make Spanish Cauliflower Rice. It is very simple to do, simply stir in some salsa and taco seasoning to make a Spanish flavored cauliflower rice.
Spanish Rice is full of flavor and compliments any Mexican dishes that you make. Mexican dishes usually are very heavy and serving this Spanish cauliflower rice balances the meal out perfectly.
For some added flavor you can add in cumin, garlic, or some fresh cilantro. Combining these ingredients together, your family won't know the difference.
5. Cilantro lime cauliflower rice
My family loves Cilantro Lime Rice. When we make burrito bowls with chicken or beef, Cilantro Rice is a must. Making Cauliflower Rice with cilantro and lime is a great alternative.
Add in some freshly chopped cilantro and fresh lime juice with a pinch of garlic salt. These ingredients combine really brings out so much flavor. The texture is similar to regular rice and it doesn't require a lot of additional ingredients.
This healthy vegetable side dish is ready in about 5 minutes and perfectly paired with all your favorite Mexican Dishes.
6. Parmesan Cauliflower Rice
We love adding in Parmesan to our cauliflower rice. It is one of the easiest way to turn bland rice into an amazing healthy side dish. All you have to do is saute the cauliflower rice with minced garlic and butter then top with parmesan cheese.
You can even heat it all together in the microwave instead of on the stove. This buttery, garlicky, cheesy option is a family favorite.
7. Lemon Garlic Cauliflower Rice
For a citrus flavor on your cauliflower rice, add in minced garlic, salt and fresh lemon juice. We love making this healthy side dish when we grill out. Especially with fish or steaks.
We love fresh lime and when we squeeze fresh lemon over the cauliflower rice it is perfect together.
Give Cauliflower Rice at try:
There are so many ways to jazz up your cauliflower. You will be amazed how much your family will love it. It is a great way to make healthier choices with out giving up rice.
We have also put this cauliflower rice in our soups instead of regular rice. The best part is our kids didn't even question us. I loved it because I was adding a vegetable into our meal where we normally wouldn't have it.
Once you try cooked cauliflower rice, you will see how easy it is. It only takes a few minutes to turn a head of cauliflower or cauliflower florets into delicious cooked cauliflower rice.
The ideas are endless and your entire family will enjoy it. My kids were hesitant at first but really loved it once they tried it.