I've got another fun and frugal 20 minute dinner idea that your family will love! This Pepperoni Pasta Recipe is easy to make but tastes great.
Easy Pepperoni Pasta Recipe
You are going to love how easy this pepperoni pizza pasta is. It is very kid friendly and perfect for a busy evening. This skillet recipe is made with simple ingredients that can be changed to what you have on hand.
It's such an easy meal for busy week nights. I can throw this recipe together in just a few minutes. Everyone always loves it and it's nice to have a meal that is simple and delicious.
Throw together a salad or steam some vegetables and you have a complete meal.
Ingredients:
Rotini Pasta
Olive Oil
Onion
Pepperonis – You can also use turkey pepperoni
Minced Garlic
Italian Seasoning
Marinara Sauce (24 oz) or Pasta Sauce
Water
Shredded Mozzarella Cheese
Parmesan Cheese
Italian Parsley
How do I make Pepperoni Pasta?
Cook the pasta to al dente based on the package instructions and drain.
Heat Oil – While the pasta is cooking, heat the olive oil in a large skillet over medium high heat.
Cook Onions and Garlic – Add in the diced onions and cook for 3-5 minutes until the onions are tender and translucent. Then add the garlic and cook for 1 minute until the garlic is aromatic.
Stir in Sauce, Pepperonis, water and Seasoning – Then add in the marinara sauce, thinly sliced pepperonis, water and Italian seasoning. Make sure all cook and stirring occasionally until well combined. Bring the mixture to a low boil.
Simmer – Cover and let the mixture simmer for 8-10 minutes.
Add Pasta – Then stir in the cooked pasta, 1 ½ cup of the mozzarella cheese and the parmesan cheese. Turn off the heat and cover the skillet to allow the meal to melt the cheese.
Add Cheese – Then top the meal with the remaining shredded mozzarella cheese and allow for it to melt.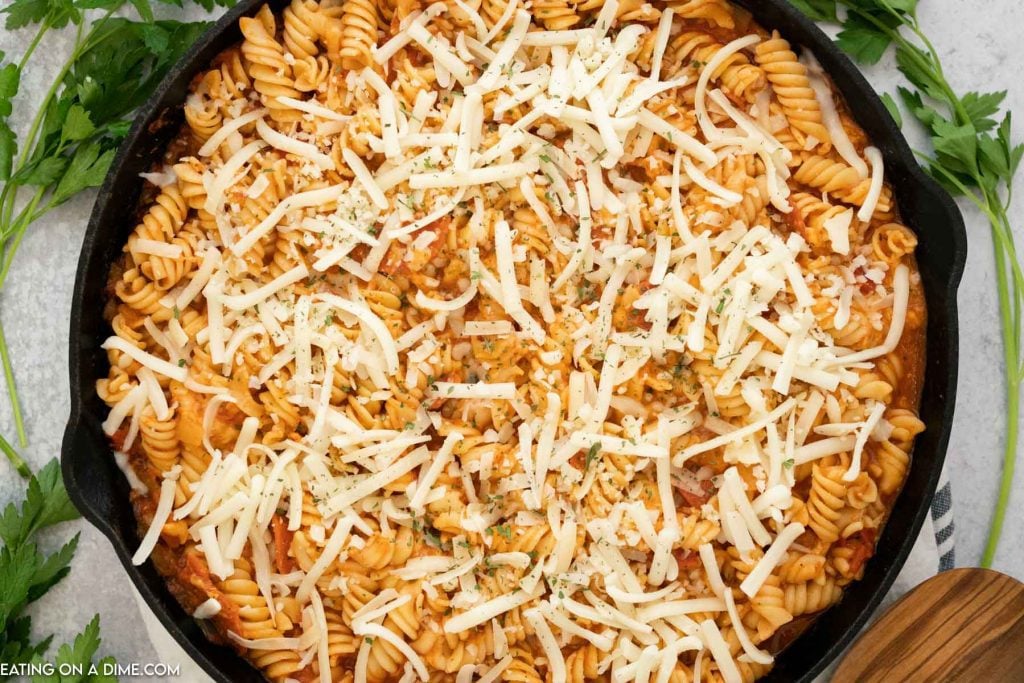 Serve and Enjoy – Serve topped with the chopped parsley and red pepper and enjoy!
What to Serve with Pepperoni Pasta Dish:
Side Salad – We often serve a simple salad with this meal. It is quick and easy and goes great with the pasta.
Broccoli or Green Beans – You could also try Roasted Green Beans or learn how to steam broccoli in the microwave for a super easy veggie side dish.
Garlic Bread – If you have a few extra minutes, try this Garlic Bread Cheese Sticks Recipe.
Asparagus – We love to roast asparagus to serve along this pasta.
How to Freeze Pepperoni Pasta:
When we plan on freezing this pepperoni pasta, we double the recipe. You can freeze the pasta with the meat sauce, but the texture of the pasta will change. Try undercooking the pasta if you plan on freezing it.
We recommend just freezing the meat sauce ingredients. Then you can toss the meat sauce in the crock pot for a quick week night meal. Add the pasta and cheese and your meal is ready.
How to Make Pepperoni Pasta Bake
Making Pepperoni Pasta Bake is great to way use up your leftovers. Place the ingredients in a baking dish and cook in a preheated oven at 350 degrees.
Bake pasta for about 25 minutes. Top with cheese and let the cheese golden brown. Serve and Enjoy. This the best comfort food.
This is a great dish to add in some green peppers or other vegetables.
How to make Pepperoni Spaghetti:
The great think about this Pepperoni Pasta is your can use different types of pasta. Using spaghetti noodles or penne is a great option. Simply make the noodles as indicated on the package and stir into the meat sauce.
Print this Pepperoni Pasta Recipe Below:
More Easy Recipes with Pepperonis: