If you need a really easy and quick dessert idea, try Easy Cake Ball Recipe. It is the perfect dessert for parties, holidays and more but simple enough to make any day of the week.
Easy Cake Ball Recipe
If you have a sweet tooth this is the recipe for you. This is also a great dessert if you need a last minute treat to take somewhere. You can put this together in no time at all and it looks really pretty.
Plus, the kids love helping make these. They are just so fun and everyone loves them. They are the perfect addition to your party and easy to change for various themes and holidays.
What are cake balls made of?
You only need 3 simple ingredients to make cake balls. Cake mix, frosting and almond bark.
Just these minimum ingredients will result in the best treat. I love that they are a bite size cake.
It is the perfect size if you are craving a sweet treat. Plus with only 3 ingredients needed, you can make them anytime of the week.
Perfect Dessert for any occasion.
Everyone loves a bite size dessert and it works for so many different occasions. You can make them for:
Birthdays
Holidays- Christmas, Easter, Valentine's Day and more.
Graduation Parties
This dessert is amazing any time you want something fabulous but simple. Give it a try and see how wonderful it is.
They are always a hit anytime I make them.
Ingredients:
Boxed Cake Mix
Frosting
Vanilla Almond Bark
This recipe is so simple since it calls for a boxed cake mix and prepared frosting.
How to make cake balls:
Make the cake mix. Follow the instructions on the box to prepare and bake the cake mix.
Allow to cool. The cake needs to cool completely for about 15 minutes.
Crumble the cake. Use a large bowl and crumble the cooled cake.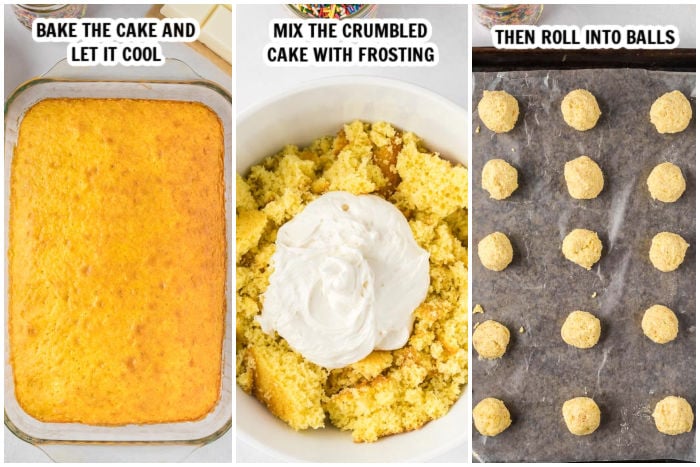 Combine the cake and frosting. Now, it is time to mix the cake and frosting all together. I used a large wooden spoon and mixed it for a couple of minutes until it was well combined.
Roll the cake mixture into balls. You just want a small amount as this recipe normally makes 3-4 dozen cake balls.
Melt the almond bark. Use the microwave or place in the crock pot to melt.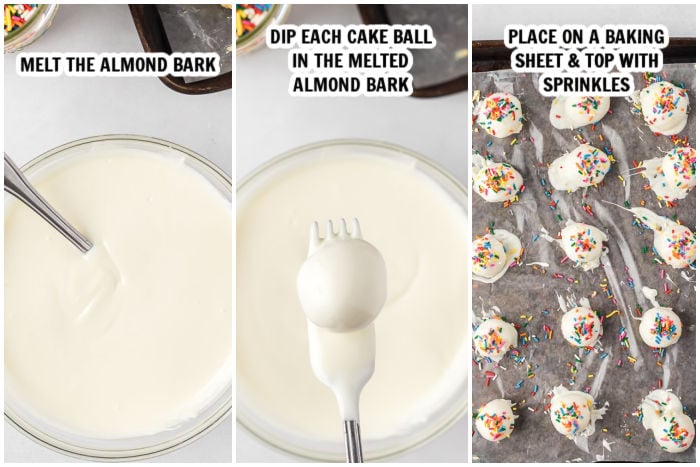 Dip the cake balls. Coat each ball into the melted almond bark. Make sure to remove any excess chocolate.
Place on wax paper. Once covered with melted chocolate, place on parchment paper and sprinkle with your favorite toppings.
Place on wax paper. Once covered with melted chocolate, place on parchment paper and sprinkle with your favorite toppings.
What is the best way to coat cake balls?
It is easiest to use a fork to dip into the coating. Then shake any excess off of the cake balls by gently tapping the fork.
If you have trouble with cake crumbs, place in the freezer for a few minutes. Then dip into the melted almond bark.
How do you dip cake balls?
You can either just drop it in the melted almond bark with a fork or use a toothpick. Some people prefer to stick a toothpick in the cake ball and use this to dip the balls.
Feel free to use the method that works best for you.
How long do cake balls last?
Cake balls will last for about 5-7 days left out on the counter in an airtight container. You can store them in the refrigerator and they will last about 10 days.
Just make sure to wrap each one carefully.
Can you freeze Cake Balls:
Yes, you can. I like to store my cake balls in the freezer. I find they stay fresh for longer and we like to eat them when they're nice and cold.
You can freeze them up to one month if you need them to last longer.
Tips:
You can use a cookie scoop to make the balls. You

will

thank me later because it saves so much time on spooning out the cookies. They are also uniform.
If you are having trouble dipping the cake balls in the almond bark, you can just spoon some almond bark over the cake balls and coat them manually (though this will take longer).
Cake ball recipe variations:
Change the Cake – The beauty of this recipe is any type of cake can be used. We used a plain white cake mix and white icing but anything will work.
Switch this up for holidays, birthday parties and even baby showers.
Red Velvet
Funfetti
Chocolate
Lemon
Strawberry
Devils food
Carrot Cake
Vanilla Cake
Dark Chocolate Cake
Mix in peanut butter
More variations to try:
Vary the Sprinkles – Try using different types of sprinkles to decorate according to your theme. These are so easy to make work for any occasion.
Change the chocolate – We love to try different frosting inside and even different candy melts. Try milk chocolate instead of white chocolate to dip in chocolate with the cake balls.
Use different icings – You can switch out frosting and use chocolate frosting with chocolate coatings and even chocolate cake mix. We also like to use cream cheese frosting.
How to make cake pops
You can even make cake pops with this recipe. Follow the directions as is, but grab some lollipop sticks to put in them and there you go.
Also, it's totally optional but if you do make cake pops, one of these holders make displaying so easy! This is the one I have and I love it.
Enjoy.
This recipe is absolutely delicious and so easy to make. The cake balls are very sweet. We normally only eat 1 or 2 for a yummy dessert.
Print this Easy cake Ball recipe below:
More easy Cake Ball Recipes: