This post may contain affiliate links. If you make a purchase through links on our site, we may earn a commission.
If you are searching for The Best Substitutes for Rice Vinegar we have gathered 7 substitutes. Pantry staple rice vinegar substitutes for your recipe.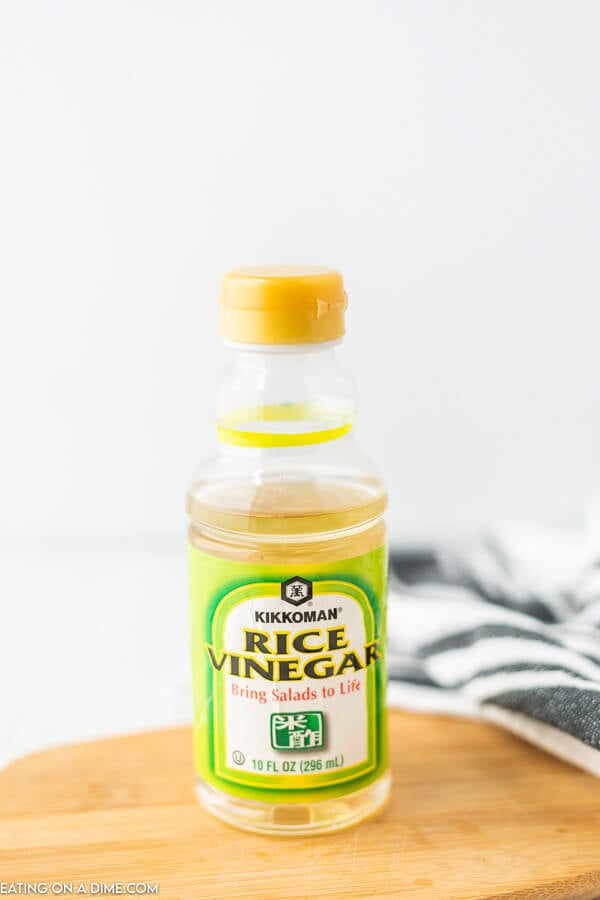 Rice Vinegar Substitutes:
We have gathered the best substitutes for rice vinegar. These substitutes are ingredients that are commonly used so you probably already have them in your pantry.
There are many different vinegars. Each offer there own flavor to a recipe. Rice vinegar has a unique, mild and sweeter flavor. Rice Vinegar is used in many different recipes because of its flavor.
What is Rice Vinegar:
Rice vinegar is made of fermenting rice in alcohol. Other than alcohol other things are added such as acetobacters are add to the mixture. The types of bacteria can convert ethanol which is fermenting sugar in the rice.
Rice vinegar is still acidic but also has hint of sweetness. It has a milder flavor but it great added for a little kick to your recipe.
What is Rice Vinegar used for:
Rice Vinegar is a common used ingredient in Asian recipes. It is also great in sauces, salad dressing and marinades. If you make sweet and sour sauce for a favorite Chinese stir fry recipe which is a main ingredient.
It is also used in a lot of Japanese dishes including in sushi rice. Not only is a great ingredient added to Asian dishes, we also add it flavor meat, fish, and vegetables.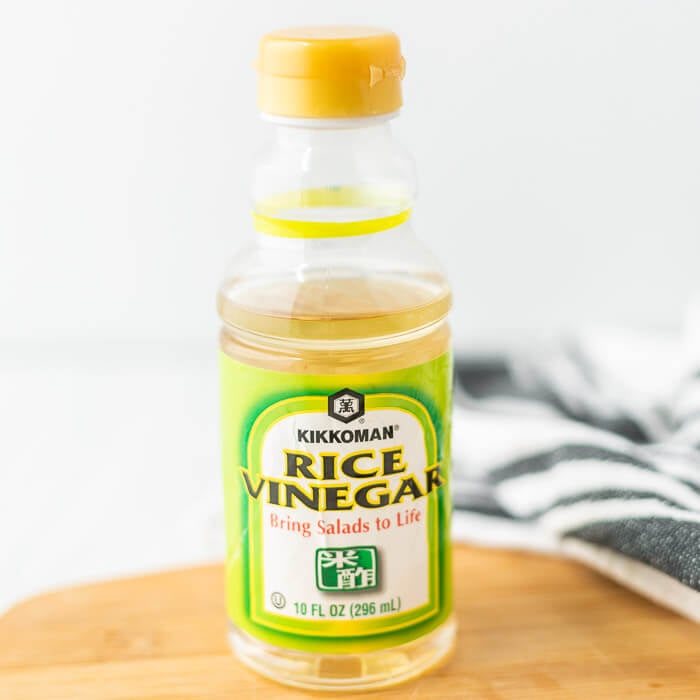 What is the difference between Rice Vinegar and Rice Wine Vinegar:
There is a slight difference between rice vinegar and rice wine vinegar. Rice wine vinegar is lower in alcohol content and has a sweeter milder taste. Rice Vinegar is has a sweet, acidic flavor.
Similar flavor to apple cider vinegar, rice vinegar is used in small amounts.
What are Best Substitutes for Rice Vinegar:
When choosing the best substitute for it depends on what the substitute is being used for. Rice Vinegar has two components, sweet and acidic finding a substitute will determine the flavor that needs to be added.
Most of these substitutes do not offer both sweet and acidic, so only adding a small amounts to get the flavor you needing is recommended. Sherry Vinegar is a good replacement when needing a sweet substitute.
White Wine Vinegar:
The best replacement rice vinegar is White Wine Vinegar. It is similar in flavor offering the slight sweet and acidic flavor that rice vinegar has. If you recipe is needing more of the sweetness flavor, add a pinch of sugar.
Substitute 1:1 with White Wine Vinegar
Apple Cider Vinegar:
Apple cider vinegar is made from fermenting apples. It is bit more acidic than it is sweetness but gives your dish that apple flavor. But if you are needing a substitution for rice vinegar for sauces, salad dressing, or marinades then use apple cider vinegar.
Apple Cider Vinegar also offers many health benefits, it is easy to find at the store and budget friendly.
Substitute 1:1 with Apple Cider Vinegar with a pinch of sugar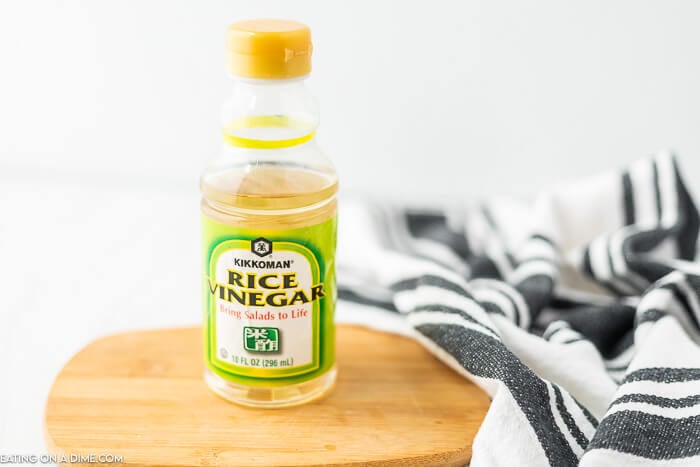 Champagne Vinegar:
Another good substitute is Champagne Vinegar. We love the milder delicate flavor that it offers which is great in adding to your recipe since it won't overpower it. It is a great substitute because of it milder and less acidity flavor.
Substitute 1:1 with Champagne with a pinch of sugar
Rice Wine:
If you are looking for a substitute for a sweeter flavor, rice wine is a great substitute. For also the added the acidic flavor, you may need to add some white wine vinegar. It will depend on your recipe if you need the acidic flavor the rice vinegar offers.
For an close substitute to rice vinegar, add ½ cup of rice wine and ½ cup of white vinegar. Then slowly add to your recipe as a substitute.
Lemon Juice:
When substitute lemon or lime juice it will change the overall flavor of your recipe. But it is a good substitute for the acidic flavor. Most of us always have a lemon, so it is substitute when you are in the middle of a recipe.
Use this substitute when making fish, chicken and salad dressings.
Substitute slowly by adding in a ¼ of what the recipes calls for. Then add more if needed.
White Wine:
There are many white wine options so choose wisely as some could take your dish to another flavor. A dry Pinot Grigio would be a good substitute. White wine offers a bit more acidity flavor profile.
If you are making light dishes such as white fish, vegetables and rice dishes then I would use white wine.
Substitute 1:1 for White Wine for acidity recipes, squeeze a few lemon
White Vinegar:
White Vinegar is a good substitute but is more acidic than rice vinegar. It isn't as sweet as rice vinegar but is a substitute that you usually have in your pantry. The neutral profile means that you can use it as a substitute for many dishes.
Substitute with a tablespoon of vinegar for rice vinegar
Recipes with Rice Vinegar:
Try these recipes that calls for rice vinegar or with one of these substitutes.
1. Grilled Teriyaki Steak:
We love to grill steaks and the flavor of teriyaki is amazing. With just a few ingredients, you can make this delicious marinade and have an awesome steak night.
Grilled teriyaki steak
Grilled teriyaki steak recipe is full of flavor from being marinated and then grilled to perfection. This easy recipe is a guaranteed hit.
See the Recipe
2. Black Pepper Chicken Recipe:
My family loves Chinese chow mein takeout. One of their favorite places to go is to Panda Express. This black pepper chicken is one of their favorite meals to get. I like it since it is naturally gluten-free but full of flavor.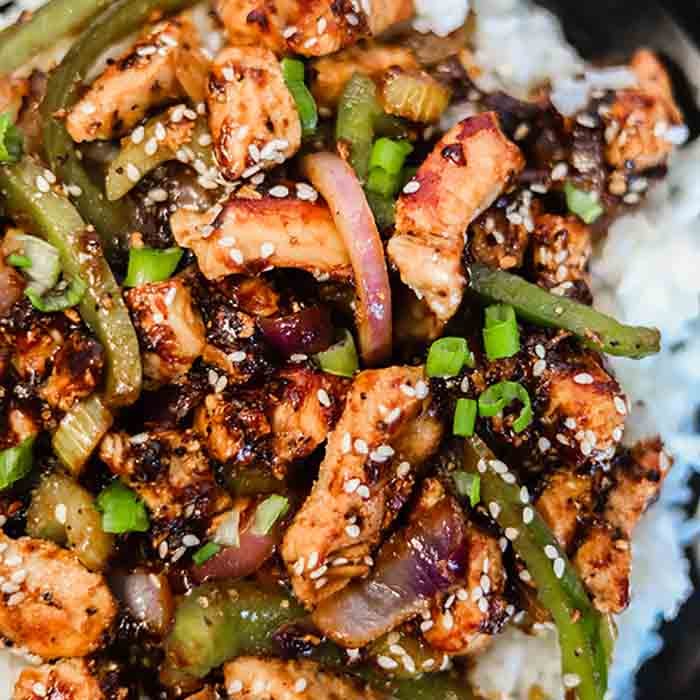 Black pepper chicken recipe 
Skip takeout and make this delicious Black pepper chicken recipe in 15 minutes. Chinese black pepper chicken is the best one pot meal and so easy.
See the Recipe
3. Grilled Teriyaki Chicken
Grilling season is upon us but if I'm being honest, I grill year round! The flavor is amazing and it keeps my kitchen clean. This grilled teriyaki chicken is simply the best.
Grilled teriyaki chicken
Grilled teriyaki chicken is sweet, savory and cooked to perfection. The entire recipe is super easy but the results equal an amazing dinner!
See the Recipe
More Substitutes: