This post may contain affiliate links. If you make a purchase through links on our site, we may earn a commission.
Learn The Best Soy Sauce Substitutes for this salty sauce ingredient. This key ingredient can not be skip when your favorite dish calls for it.
Best Substitute for Soy Sauce:
Soy Sauce is a staple ingredient in many of our Asian Cuisine. We also use it in our marinades for steaks and added to dressing. There are many uses for this simple ingredient, but when a recipe calls for it, this ingredient should not be skip.
That is why we have gathered some of the best substitutes to add that salty, tangy and savory ingredients when you are out. Some might use these soy sauce substitute because of a allergy or are looking for something with less soy.
What is Soy Sauce?
This brown liquid ingredient is a Chinese origin. It is known as shoyu and is actually fermented paste of soybeans, roasted grains and brine. This key ingredient takes months to make.
Once the soy sauce is brewed it is bottled and shipped to your local grocery store. Soy sauce can taste different per bottle. It also comes in a variety of flavors. You can find light, dark, sweet and thick soy sauce.
How to Use Soy Sauce:
This simple but important ingredient can be used in many different ways. It is a great way to add a savory taste to your favorite dishes. We have added to our morning fried eggs, to sauteing our favorite vegetables.
Soy sauce can also be used in marinades, dressings, and sauces.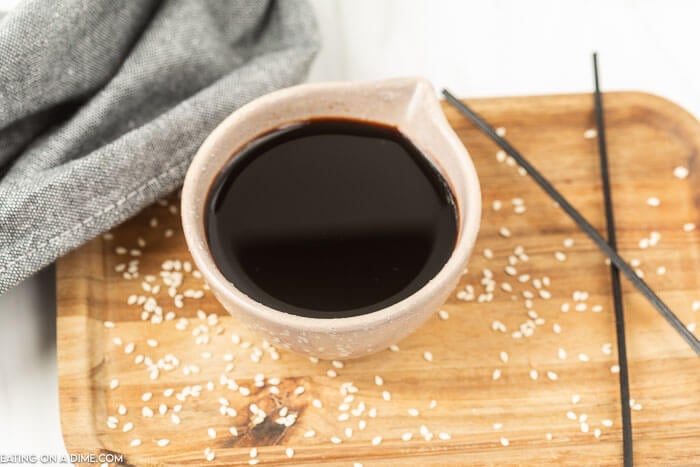 Does Soy Sauce go bad?
Soy Sauce might lose a bit of it's flavor but can last a lifetime if kept in the refrigerator. If you decide to leave at room temperature, it would only stay good for about a year.
Easy Soy Sauce Alternatives:
There are many different soy sauce substitutes to choose from. You may be searching an alternative to soy sauce because you are out or for dietary reasons.
Whatever the reason might be, these are options are helpful to replace this key ingredient. These options may not be an exact swap, so start slow when adding to your recipe. It may not be a 1 to 1 swap.
1. Coconut Aminos:
Coconut Aminos is a great substitute and is similar in taste as soy sauce and coconut secret. This option comes from fermentent coconut trees instead of soybeans. It is still a gluten-free option. It is a bit sweeter but still a great option.
Substitute Coconut Aminos 1:1 for Soy Sauce
2. Liquid Aminos:
Liquid aminos is a another great option that is gluten free and similar in taste and is complete source of amino acids. Any type of liquid aminos from the Bragg's brand is a great if you are looking for a wheat free option.
Substitute Liquid Aminos 1:1 for Soy Sauce
3. Worcestershire Sauce:
Worcestershire Sauce is a great alternative to soy sauce. It is fermented similar to soy sauce so it gives it that strong salty flavor like soy sauce does.
Worcestershire sauce is made with additional ingredients so check the label if you are vegan you might skip this option.
It is a stronger sauce, so make sure to slowly add into your recipe.
Start with half of what the recipe calls for and add more as needed.
4. Tamari:
Tamari is probably the closest replacement to soy sauce. It is fermented soybeans which gives it the similar flavor. However, Tamari does have some differences. Tamari is thicker than soy sauce and it doesn't contain wheat.
Substitute Tamari 1:1 for Soy Sauce
5. Fish Sauce:
Fish Sauce is commonly found in Asian dishes. It is made by fermenting fish such as anchovies. It is salty like soy sauce but it does have a distinct fish flavor. If you are used to cooking with fish flavor, then this is a good substitute for soy sauce.
Substitute Fish Sauce 1:1 for Soy Sauce
6. Miso Paste:
Miso Paste is a great option because it is similar in taste. However this is a great option to add to soups or sauces because of the consistency. Miso Paste is a paste so you would need to add it to recipes that it can melt.
Substitute Miso Paste 1:1 for Soy Sauce
7. Oyster Sauce:
Oyster Sauce is another option that is found in a lot of Asian Dishes. It does not have a fishy taste and is less salty than soy sauce. It is a great substitute as it has a similar flavor profile but it a bit sweeter.
Start with half of what the recipe calls for and add more as needed.
8. Hoisin Sauce:
Hoisin Sauce has a thicker consistency but is a great option for a soy sauce substitution. The flavor is a bit different but it goes great in stir fries or other Asian dishes. You can also thin it out with some water, for a similar consistency as soy sauce.
Substitute Hoisin Sauce 1:1 for Soy Sauce
9. Salt:
Salt is a soy free option if you are needing the salty flavor that soy sauce offers but trying to avoid soy. It won't give you the savory umami flavor that soy sauce does, but it is a good option if you are in a pinch.
10. Chopped Anchovies:
For the salty and savory flavors that are needed for a recipe, chopped anchovies is a great option. Of course it won't give you the liquid that soy sauce does, but it does add flavor to your recipe.
Other Substitutions to try are Maggi Seasoning which is made from fermented wheat proteins.
Easy Recipes with Soy Sauce:
Italian Dressing Soy sauce Marinade
You only need 2 simple ingredients to make Italian dressing soy sauce marinade. Save money and make this amazing recipe at home.
See the Recipe
Panda Express String Bean Chicken
This Panda Express String Bean Chicken is the best copycat recipe. Stir Fry chicken beast with string green beans in an soy sauce marinade.
See the Recipe
Grilled Pork Chop Marinade
Grilled Pork Chop Marinade is a simple and easy way to add a ton of flavor to pork chops. This sweet and savory blend combines with the smoky grill flavor for a great meal.
See the Recipe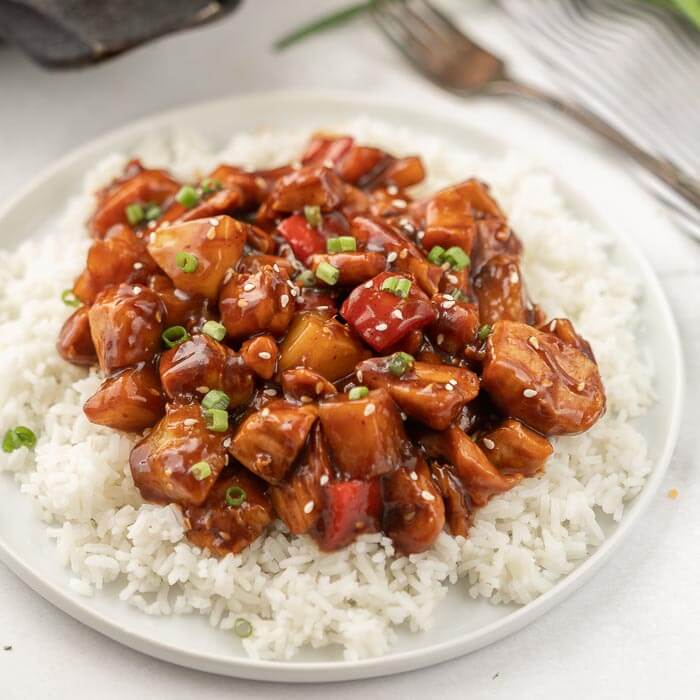 Pineapple Chicken
This delicious Pineapple Chicken Recipe is so simple and easy. The chicken is so tender and flavorful. Try Hawaiian Chicken Recipe today!
See the Recipe
More Kitchen Substitutions: