This post may contain affiliate links. If you make a purchase through links on our site, we may earn a commission.
The Best Shrimp Taco Recipe can easily be prepared in only 5 minutes and it's packed with flavor. These are great to serve on Taco Tuesday and they're simple enough to make for your next party as well.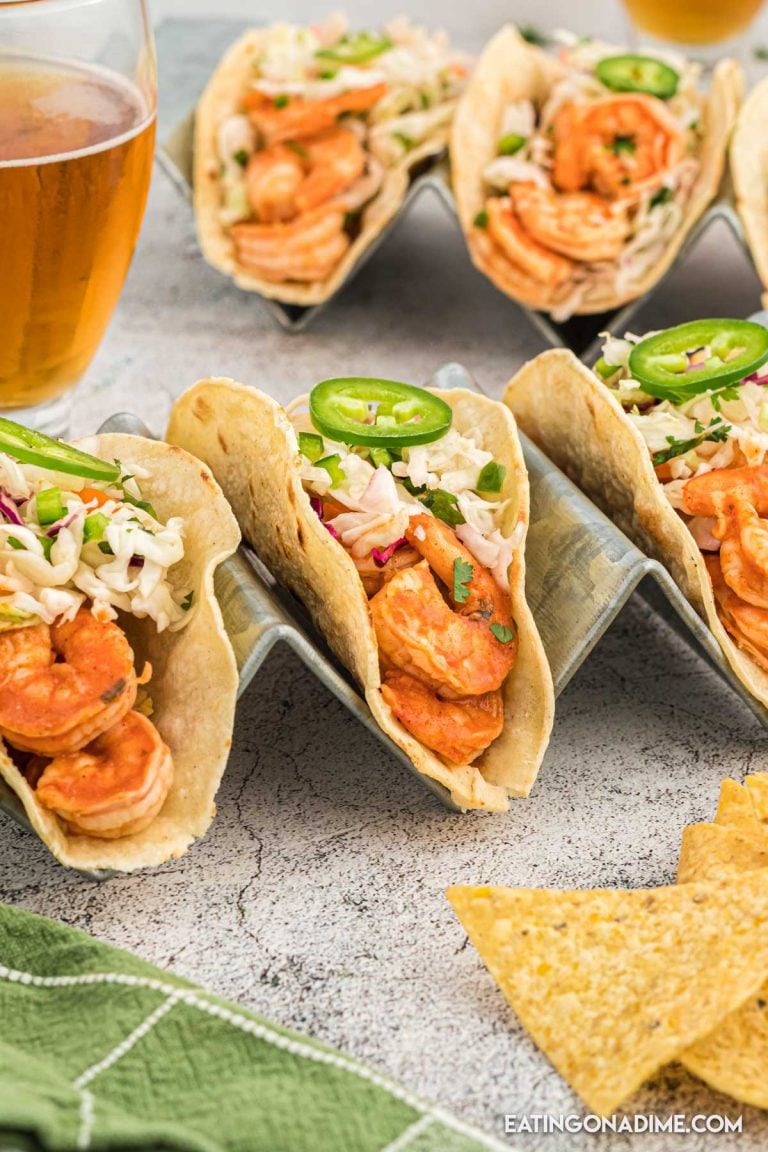 Easy Shrimp Tacos Recipe:
Shrimp tacos always remind me of being on a beach and eating a light and easy meal to relax. However, with this recipe, they are super easy to prepare at home in only 5 minutes so you can easily bring a bit of vacation home with you!
These Shrimp Tacos are easy to prepare with easy ingredients. You start with precooked shrimp and toss in taco seasoning. Then layer the shrimp in corn tortillas and topped with clow slaw.
Shrimp Tacos are the perfect weeknight meal they take 30 minutes or less to prepare. If you love shrimp as much as my family does, skip the beef and make shrimp tacos for dinner tonight.
What Size Shrimp do you use?
The perfect shrimp to make shrimp tacos is the large, jumbo or colossal size shrimp. In this recipe we bought the precooked shrimp that is already peeled and deveined.
I like to keep things easy, so I look for the shrimp that is already peeled and cooked. This recipe can be made with raw or pre-cooked shrimp. The seasoning can be used for both and makes a delicious meal.
Ingredients for Easy Shrimp Tacos
Precooked Shrimp (peeled and deveined)
Salsa
Chicken Broth
Corn Tortillas
Cole Slaw Mix
Jalapeno, diced
Cilantro, chopped
Honey
Lime Juice
Salt and Pepper
How to Make Shrimp Tacos:
There are 2 parts to this healthy shrimp tacos recipe. First you have to cook the shrimp and then you have to prepare the slaw that is served in the tortillas with the shrimp. The combination of these 2 items is what makes these tacos so amazing!
Step 1 – Preparing the shrimp is the easiest part – In a large skillet add the shrimp, taco seasoning, salsa, broth and squeeze of lime. You can cook the shrimp in olive oil or butter.
Step 2 – Cover and heat over medium high heat until the shrimp is cooked through. This should only take 5 minutes.
Step 3 – While the shrimp is cooking, I like to prepare the slaw so I'm ready to assemble the tacos once the shrimp is ready.
Step 4 – Make Coleslaw – To make the slaw, in a separate large bowl, combine the cole slaw mix, diced jalapeños, fresh cilantro, honey and more fresh lime juice. Then stir to thoroughly combined these ingredients.
Step 5 – Then I like to slightly brown the corn tortillas over a flame on my stove top to heat them and brown the edges. You can heat them in the microwave if you prefer, the browning adds a unique flavor to the tacos and really is simple to do.
Step 6 – The final step in this recipe is to assemble the tacos.
Step 7 – Put a portion of the shrimp topped with the slaw mix on each corn tortilla or flour tortilla and serve with lime wedges. We like to serve in warm tortillas.
Can I use Raw Shrimp?
This is one of your favorite recipes. We have used raw shrimp and pre-cooked shrimp to make this recipe. Just make sure to peel and devein the shrimp. It will take a few minutes longer to cook through.
What Goes in a Shrimp Taco?
In my opinion, the most important part of shrimp tacos and fish tacos is the slaw mix that goes in the taco. This mix is generally made with shredded cabbage and seasonings (spices) that give the taco recipe it's flavor.
There are tons of different types of slaw recipes but to keep things quick and easy, I love using the prepackaged cole slaw mix so I can save time chopping all those vegetables!
You all already know that I love saving time in the kitchen and this recipe is no different.
Tips for Making Shrimp Taco Recipe:
Shrimp – We used precooked shrimp to make it easier. But you can use raw shrimp. We recommend buying the jumbo or large shrimp for cooking.
Cooking in Skillet – Don't overcrowd the pan when heating up the shrimp. Place in the pan in a single layer.
Grill Shrimp – Instead of cooking on the stovetop, you can easily place the shrimp in a foil pack or on skewers. Prepare the tacos as indicated.
Frozen Shrimp – Before putting shrimp in the skillet, make sure you thaw overnight.
Cole Slaw Variations:
An easy way to change up this recipe is to change what is mixed in with the shrimp taco slaw. Most of the flavor from this recipe comes from the slaw so it's no surprise that altering the slaw can easily change this up.
Here are a few recommendations to consider adding to the slaw recipe.
Add Sour cream or mayonnaise to the slaw recipe, if you prefer a cream based slaw for your shrimp tacos.
Mix in Chipotles to the slaw recipe, if you like a spicy and smoky flavor to your tacos.
Add Orange juice or orange zest for a stronger citrus flavor to your tacos.
These are just a few suggestions, but don't be afraid to change up this slaw recipe to make it your own by adding your favorite flavors to this delicious taco recipe.
Recipe Variations:
Grill Shrimp – If you are eating outside and grilling out, you can grill shrimp instead of sautéing it. I would only grill the shrimp for 3-4 minutes and grilling them would add a delicious flavor to this recipe.
Change the Salsa – Another way to change up this best shrimp taco recipe is to change the salsa that the shrimp is sautéed in. I generally use a mild salsa as not all my kids like spicy foods so these is generally a win for the entire family. But a spicy salsa works great also.
Add a Fruit Salsa – I know that these shrimp tacos will taste amazing prepared with a peach or mango salsa. I love fruit and shrimp combined together. Either of these salsa will add an delicious flavor to this recipe.
This recipe is simple to make so get adventurous and makes some changes to figure out your favorite variation of this taco recipe. You can also a shrimp taco sauce.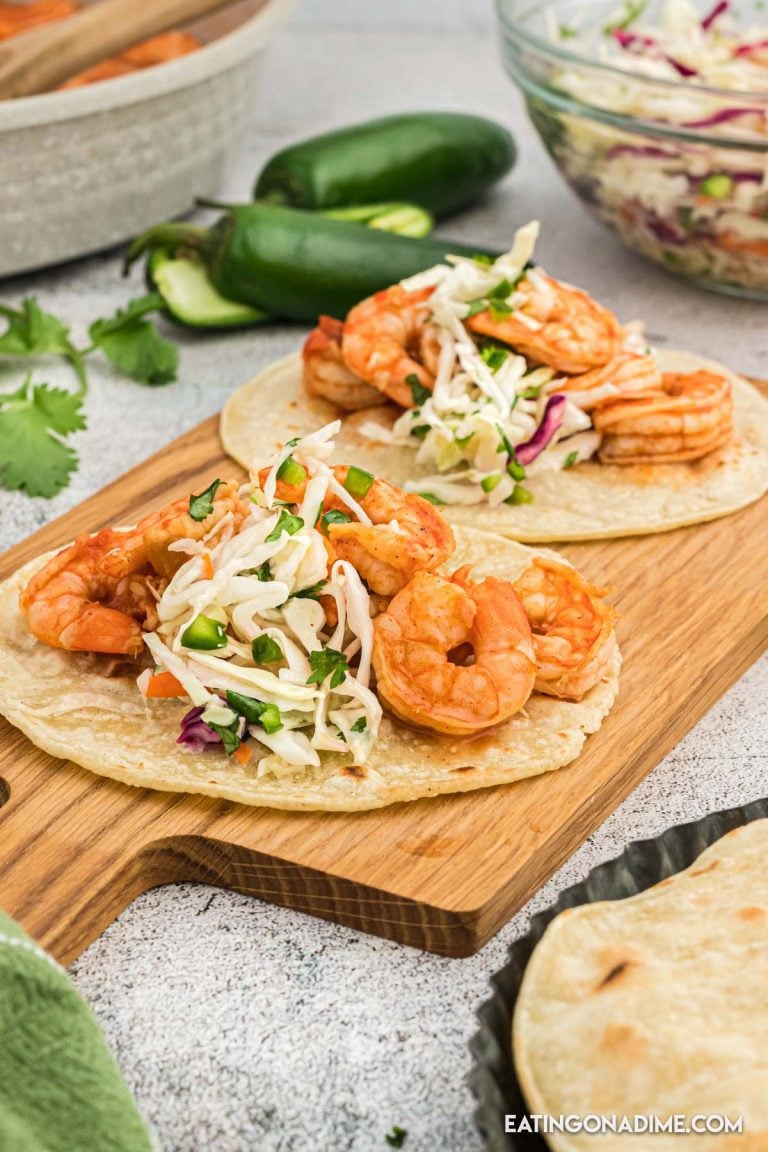 What to serve with Shrimp Tacos:
Spanish Rice – Make easiest Spanish rice to add as a side with these shrimp tacos. We love easy sides and this one goes perfectly with shrimp tacos.
Cilantro Lime Rice – This delicious cilantro lime rice is so flavorful and easy to make.
Salad – If you are on a low carb diet, top these shrimp and the clow slaw on a green salad.
Shrimp Taco Topping Ideas:
Shredded Cheese or Cotija Cheese
Pico de Gallo
Guacamole
Sour Cream
Salsa
Salsa Verde
Sautéd Red Peppers and Onions
How to Store Leftovers:
If you have leftover shrimp tacos, I would store the slaw and shrimp in separate containers. This prevents the shrimp from getting soggy. Store in an airtight container for up to 3 days.
Once you are ready to serve again, top the ingredients in a corn tortilla or on a salad.
Print this Best Shrimp
Tacos

Recipe

below:
Best Shrimp Taco Recipe
The entire family will love this quick and easy shrimp tacos recipes. Everything is easily prepared in under 5 minutes in a skillet and is healthy.
Ingredients
For the Shrimp:
1

lb

medium frozen precooked shrimp

peeled and devained

1

tablespoon

taco seasoning

1

cup

salsa

1/2

cup

broth

1

lime

freshly juiced
For the Taco and Garnish:
12-20

corn tortillas

2

cups

cole slaw mix

1/2

jalapeno

diced

1/4

cup

cilantro

chopped

1/4

cup

honey

1

lime

juiced
Instructions
In a large skillet add the shrimp, taco seasoning, salsa, broth and lime juice.

Cover and heat over medium high heat for about 5 minutes or until the shrimp is heated through.

Meanwhile, combine the cole slaw, jalapeno, cilantro, honey and lime in a separate bowl. Stir to combine.

Serve on corn tortillas with the slaw on top.
Nutrition Facts
Calories
259
kcal
,
Carbohydrates
42
g
,
Protein
20
g
,
Fat
3
g
,
Saturated Fat
1
g
,
Cholesterol
191
mg
,
Sodium
1034
mg
,
Potassium
350
mg
,
Fiber
5
g
,
Sugar
15
g
,
Vitamin A
370
IU
,
Vitamin C
20.7
mg
,
Calcium
181
mg
,
Iron
2.7
mg
More Taco Recipes to make
More Amazing Shrimp Recipes: