You are going to love easy this easy Chocolate Peanut Butter Fudge recipe. With only 2 ingredients you can have this fudge anytime of the week. This recipe is perfect for your holiday parties or for a homemade gift.
2 Ingredient Chocolate Peanut Butter Fudge:
We love making fudge during the holidays. It is a staple dessert at all of our holiday get-togethers. Making and having fudge just brings back so many memories having it at my grandmother's house.
When I discovered how easy it is to make and with only 2 ingredients, I knew this recipe was for me. There are so many different fudge recipes, but I like to find recipes that are budget friendly and easy to make too.
Need a sweet fix?
This fudge recipe will fix that. This no-bake, no-cooking fudge recipe will be your all time favorite fudge recipe. This fudge recipe doesn't require any additional ingredients such as butter or powdered sugar.
It really only needs two ingredients. It is made in the microwave and only requires one bowl for mixing. After mixing, the fudge comes out so smooth and creamy that your guest will be surprised how amazing it tastes.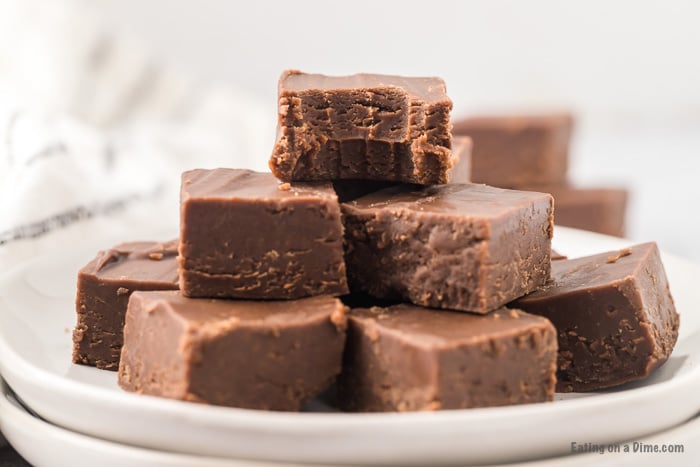 Easy Chocolate Peanut Butter Fudge Recipe:
Fudge is a classic dessert that we seem to have more during Christmas time. This has to be the easiest dessert recipe you will make. With only 2 ingredients, this is definitely the dessert I have my kids make with me.
Plus, there is no reason to complicate a fudge recipe. As you know, I am big on keeping things simple in my kitchen. It is one thing I can control in my life so I like recipes that don't require a lot of ingredients. Plus I know my family will be happy with the results.
Not only is the easy chocolate peanut butter fudge recipe great for your holiday baking, but it is perfect for bake sales.
Perfect for Gift Giving:
We love giving homemade gifts. Since I love cooking, making cookies, fudge, and cakes for gifts just comes natural. Because my family is large, I really have to make sure my budget is on track. Making homemade baking goods as gifts helps me to do that.
I like using these holiday bags to add in my homemade treats. I put a cute ribbon and a tag on them. They make the perfect gifts for kids' teachers, neighbors and friends.
You can also use this recipe for your cookie exchange party. I get invited to several of these parties during the holiday season. I really like going because I can make this easy recipe but come home with some beautiful cookies and treats for my holiday table.
Try Vanilla Frosting:
We love making a mixture of chocolate and vanilla fudge. It looks so pretty on the plate and we love the variety.
Instead of using chocolate frosting, you can use vanilla frosting. Try to make sure to stick with the classic vanilla frosting. The whipped frosting or cream cheese frosting won't work with this recipe.
Ingredients:
Peanut butter
Milk Chocolate frosting
How to make Chocolate Peanut Butter Fudge:
In a microwave safe bowl, combine the peanut butter and frosting together for one minute to melt.
Stir peanut butter mixture and heat for one more minute. Continue heating and mixing until the ingredients mix well together. Make sure you do not overheat the peanut butter mixture as it could burn.
Line a 9×9 baking pan with parchment paper. Pour the mixture into the prepared 9×9 glass baking pan. I spray a little cooking spray in the prepared pan so it is even easier to get out of the pan.
Stir until smooth, then refrigerate fudge until hard.
It will take about one to two hours for the fudge to hardened.
Remove from pan, and cut into bite size pieces. Enjoy!
Tips on making the best fudge:
While you are mixing together the chocolate and peanut butter, make sure that you are heating up the mixture about a minute or less at a time. The peanut butter mixture could burn very easily and quickly.
If you frosting is already soft and pourable, just pour into the bowl and then pour the heated peanut butter into the frosting. The heated peanut butter will naturally melt it.
Before placing into the prepared pan, add in your sprinkles or extra nuts at this time.
Making it Keto & Low Carb:
Did you know that you can make this fudge recipe Keto & Low Carb? With all the holiday treats that eat over the holiday, I like to have options for when I want something sweet but would like it low carb.
You can use natural peanut butter and sugar free chocolate chips. Still two ingredients and still easy to make.
How to store:
Storing fudge is easy to do. I usually have a designated area on my kitchen for all the holiday desserts that we make and receive. It makes it easy to know what can be eaten and looks so festive on my counter.
You can also put the fudge in the refrigerator. It will last up to one week. The good thing about this recipe and the easy ingredients you can make some more when you run out.
Can you freeze fudge?
Yes, you can. Fudge is the perfect dessert to freeze. As long as you store it in a freezer safe container it will last about 2 to 3 months in the freezer.
We usually like to set out a few pieces before we eat dinner. But the time we are ready for dessert, the fudge is thawed and ready to eat.
Variations to this fudge recipe:
We love recipes that you can make some variations. Here are some of our favorites:
Use almond-butter instead of peanut butter.
Add in some sprinkles for the holiday you are celebrating. Try red and green for your Christmas gathering.
Coconut
Nuts
M&M's
Have leftover Halloween candy? Try chopping up some of your favorite candy and put it in the fudge.
You can also use chocolate chips or peanut butter chips and sweetened condensed milk to make this chocolate fudge.
Add in some vanilla extract for a vanilla flavor fudge.
Print recipe here for Chocolate Peanut Butter Fudge:
Chocolate peanut butter fudge
2 Ingredient Fudge – This easy Chocolate peanut butter fudge recipe is delicious. with only 2 ingredients, this is the perfect Holiday treat.
Ingredients
2

Ingredient Chocolate peanut butter fudge

1

jar

peanut butter (16 oz.)

1

jar

chocolate frosting (16 oz.)
Instructions
In a microwave safe bowl, melt the peanut butter and frosting together for one minute.

Stir and heat for one more minute.

Line a 9×9 baking pan with parchment paper. Pour mixture into a prepared 9×9 glass baking pan.

Smooth, then refrigerate fudge until hard.

It will take About an hour.

Remove from pan, and cut into bite size pieces. Enjoy!
Nutrition Facts
Calories
186
kcal
,
Carbohydrates
16
g
,
Protein
5
g
,
Fat
13
g
,
Saturated Fat
3
g
,
Polyunsaturated Fat
3
g
,
Monounsaturated Fat
6
g
,
Sodium
121
mg
,
Potassium
160
mg
,
Fiber
1
g
,
Sugar
13
g
,
Vitamin A
1
IU
,
Calcium
10
mg
,
Iron
1
mg
More easy fudge recipes: