Crock Pot Chicken Florentine Recipe is a delicious dinner idea full of the most decadent and creamy sauce. Lots of cheese, spinach and more come together for a chicken crock pot meal your family will go crazy over.
Crock Pot Chicken Florentine Recipe
This recipe sounds so fancy but it is one of the most simple dinner ideas you can make. The results are a rich and creamy sauce full of hearty chicken and more.
The slow cooker makes dinner possible even on really busy weeknights. Your family can enjoy a fabulous meal with hardly any effort at all.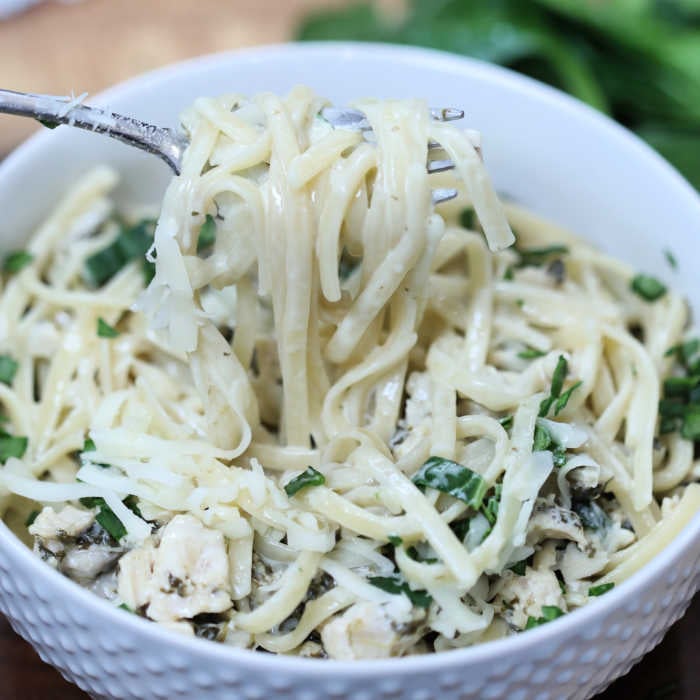 Chicken Florentine is so flavorful that even the kids won't complain about eating the spinach. The delicious cheese sauce gives the spinach and chicken such an amazing flavor that everyone will love it.

What is Chicken Florentine?
Chicken Florentine typically consists of a rich and creamy white sauce with spinach and cheese. The recipes normally calls for chicken but you can also substitute shrimp.
The creamy and flavorful sauce make this meal one of a kind and guaranteed to be a family favorite.
What all do you need to make this Easy Chicken Florentine Slow Cooker Recipe?
chicken breasts
garlic
fresh baby spinach
heavy cream
chicken stock
mozzarella cheese
spaghetti
It only takes a few ingredients to make this delicious meal.

How to make Chicken Florentine?
This recipe is so simple you will make it frequently.
Everything goes into the crock pot except the pasta and mozzarella cheese.
Cook everything on low and 30 minutes before ready to eat, stir in the uncooked pasta.
Let simmer and then stir in the cheese until melted.
You can top with Parmesan cheese before serving if you prefer. We love cheese so we always do this. Yum!
Chicken Florentine with Cheese will be a hit!
Keep reading for the full recipe below.
What to serve with Chicken Florentine?
We love to keep meal time easy so a simple side salad is one of our favorite things to serve with this amazing pasta. I also love to have fresh bread with this meal.
The creamy and cheesy sauce is so delicious so bread is a must for getting every last drop. Dip Garlic Bread Cheese Sticks or Easy Homemade Dinner Rolls into the sauce to take this meal even better.
The Chicken Florentine Sauce is the best!
Don't buy store bought sauces when it is so easy to make your own at home. Not only does it taste so much better but it is much cheaper.
You can try cream of mushroom soup to change up the flavor a little bit.
Make sure you have a good crock pot to make Chicken Florentine Casserole Crock Pot.
One of my favorite slow cookers is this programmable crock pot for when I am am not at home all day. I love coming home to a nice meal ready and waiting!
If you are in the market for something new, I also love my Ninja cooker. We use this one frequently because you can brown the meat in the same slow cooker for recipes that call for that.
It cuts down on pans to clean and just makes thinks really simple. It has become of my favorite kitchen appliances.
I also really like this crockpot as well. I use this all the time and it's great for lots of recipes.
My favorite feature is that you can lock the lid down. This is awesome for when you need to take the crockpot somewhere.
I often use the slow cooker to take dishes to potluck events and this feature is amazing! There are several others on sale here.
I also like to use crock pot liners to make clean up a breeze. These are worth every penny and save a ton of time.
Trust me! Buy the crock pot liners if you don't already have any because they will save you so much time.
Give this Chicken Florentine Pasta a try!
We love it and that includes even the kids that are picky. 🙂 You will love having this simple and easy meal to serve to your family!
The slow cooker keeps my sanity during busy seasons of life. So often we are running from work to school and endless activities.
Knowing that I have easy recipes to use that let the crock pot do all the work really help. I can't wait for you to try this delicious chicken recipe.
You can even try making Crock Pot Chicken Florentine soup!
Thin out the creamy sauce with more chicken broth and with a few modifications you can have a delicious soup. We like to do this with the leftovers sometimes.
So good! However you decide to make this recipe, it is sure to be a hit with the family.
My kids gobble this one up.
Print this Creamy Chicken Florentine Pasta recipe below:
Crock Pot Chicken Florentine Recipe
Crock Pot Chicken Florentine Recipe is a delicious dinner idea full of the most creamy sauce. Lots of cheese, spinach and more make this recipe so tasty.
Ingredients
3

boneless skinless chicken breasts

cute into bite size pieces

2

teaspoon

minced garlic

1

teaspoon

salt

6

cups

fresh spinach leaves

2

cups

heavy whipping cream

4

cups

chicken broth

3

cups

shredded mozzarella cheese

16

oz

spaghetti

uncooked
Instructions
Place everything in the crock pot except the pasta and mozzarella cheese.

Cook on low for 8 hours.

30 minutes before ready to eat stir in the uncooked spaghetti. Cook on low for 30 minutes.

Stir in the cheese until melted and serve.
Recipe Notes
Notes – top with fresh parmesan cheese.
Nutrition Facts
Calories
819
kcal
,
Carbohydrates
62
g
,
Protein
39
g
,
Fat
45
g
,
Saturated Fat
26
g
,
Cholesterol
189
mg
,
Sodium
910
mg
,
Potassium
782
mg
,
Fiber
3
g
,
Sugar
3
g
,
Vitamin A
4375
IU
,
Vitamin C
9.6
mg
,
Calcium
389
mg
,
Iron
2.6
mg
Easy Crock Pot Chicken Scampi Recipe will be a family favorite with all of the tender and flavor packed chicken. The bell peppers add a ton of color and the pasta bring this dish all together.
Find more easy and delicious Crockpot Chicken Recipes:
Find more crock pot recipes below: