Crock Pot Nacho Cheese Sauce is a creamy, cheesy dip that is perfect for any occasions. Simple ingredients make this cheese so delicious.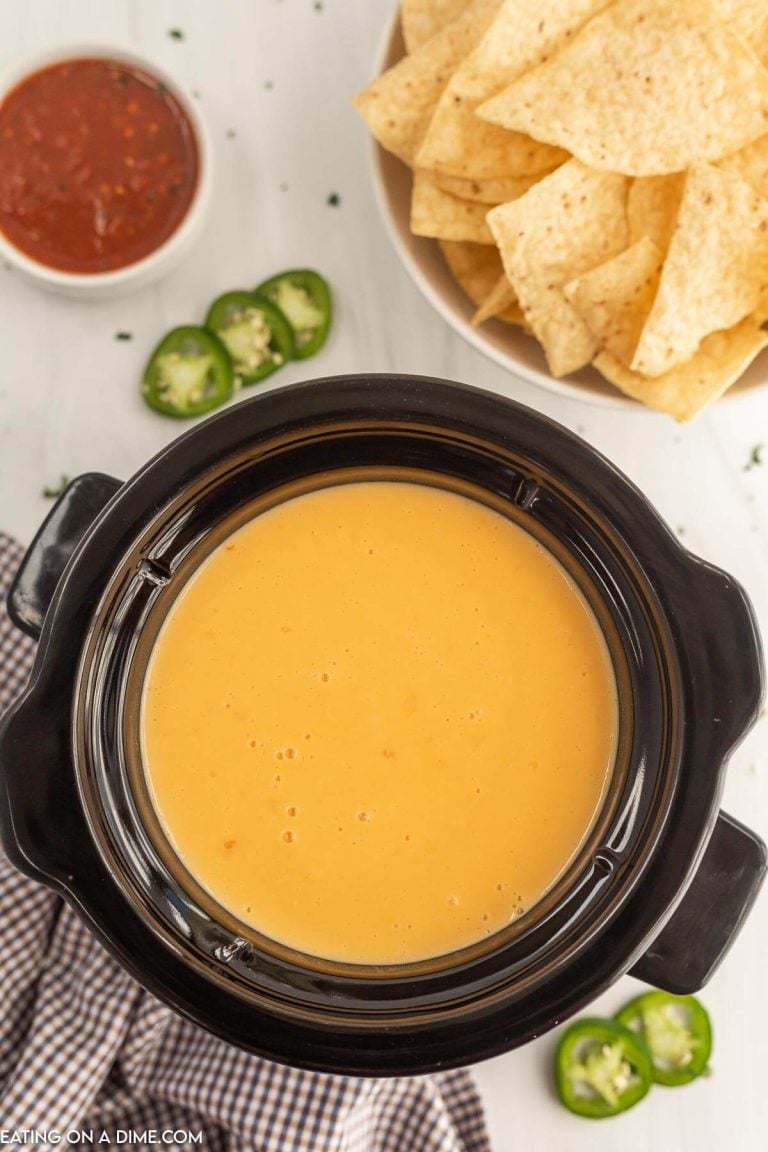 Crock Pot Nacho Cheese Sauce Recipe:
This creamy, cheesy nacho cheese dip is a must have dip for game days, holiday appetizer, or movie night in. It is made with simple ingredients and no processed cheese.
You will love this homemade nacho cheese sauce and never buy store bought cheese sauce again. The slow cooker does all the work which makes it an easy dip to serve for any occasion.
Creamy, delicious, and the perfect texture will have your family and friends coming back for more. Shred real cheese and mix with milk, cornstarch and hot sauce for an easy cheese dip.
What is the Best Cheese to use for Nacho Cheese?
There are so many different recipes for Nacho Cheese dip that contain processed cheese but I wanted make a dip with real cheese.
We used cheddar cheese for this recipe. You can also use Monterey Jack or sharp cheddar. We do not recommend using pre shredded cheese as it contains ingredients that are not necessary.
When you shred cheese from a cheese hunk, then it melts better and taste better. These 4 ingredients combined and melted together in the slow cooker make a delicious cheese dip for any occasion.
Ingredients for Nacho Cheese Sauce:
Cheddar Cheese, shredded
Cornstarch
Evaporated Milk (12 oz each)
Hot Sauce
How to Make Nacho Cheese in the Crock Pot:
Step 1 – Whisk together the cornstarch evaporated milk and hot sauce in a medium mixing bowl. Then add this mixture into a crock pot.
Step 2 – Stir in the shredded cheese.
Step 3 – Cover and cook on high for 1-2 hours until the cheese is melted and the sauce has thickened.
Step 4 – Serve while warm with chips and enjoy!
Tips for Slow Cooker Nacho Cheese:
Cook on High – Make sure to cook this dip on high. You will need the higher heat in order for the nacho sauce to thicken.
Slow Cooker Size – We used a 4 quart crock pot for this easy dip recipe.
Cheese – We recommend shredding your own cheese. The pre shredded cheese has many ingredients that we can not even pronounce. Hunk cheese melts better and taste better.
Combine Ingredients – Before adding in the shredded cheese, combine the evaporated milk, hot sauce and cornstarch together. Combine with the cheese makes a creamy, cheesy texture.
What to Serve with Nacho Cheese Recipe:
Not only is Nacho Cheese great for dipping your favorite tortilla chips in, you can also serve it for many different ways. We also like making a nacho bar when we are feeding a crowd.
Nachos – This is a given option. There is nothing better than loading your plate up with chips and drizzling this delicious cheese over the top. Simple, tasty and the best way to eat nachos.
Burrito Bowls – We love making burrito bowls when we have leftover ground beef or chicken for an easy weeknight meal. Drizzle the homemade cheese sauce over the top of your rice, beans and meat for the ultimate burrito bowl.
Quesadilla – Quesadilla is also a good meal to make with leftover chicken. Take you quesadillas to the next level by serving this queso dip recipe as a dipping sauce. You can even add it on your chicken to cook on your quesadilla.
Tacos – Make your favorite taco recipe, and drizzle this cheese over the top. This cheese sauce is the perfect addition to the your tacos, burritos, or enchilada.
Variation Ideas:
This nacho cheese dip recipe is a basic recipe that we make often. But it is also fun to add in some our favorite ingredients to add in some additional flavor.
Jalapeno Juice – Pour in a tablespoon or two of some jalapeno juice.
Rotel – We love to stir in a can of Rotel. It is loaded with flavor and we can add in a can of hot and mild to add just a hint of spice.
Taco Seasoning – For even more flavor, I love add in a tablespoon of taco seasoning. It enhances the taco flavor and perfect when we are making our favorite Mexican food.
Taco Meat – Make your cheese dip more hearty and mix in some taco meat.
Bacon – When I serve the nacho cheese dip, I love to add some bacon crumbles to the top of my nachos.
How do you keep Nacho Cheese warm for a party?
To keep the Easy Nacho Cheese warm for a party, it is important to keep the slow cooker covered. If your slow cooker has this option, turn the setting to warm, so the cheese sauce doesn't burn.
If you keep the lid off for to long, the cheese sauce will thicken and cool off. We recommend occasionally giving the cheese sauce a quick stir. This keeps the texture smooth and creamy.
I also like to use a smaller slow cooker when making this cheese dip. It is the perfect size to make dips in.
How to Store Leftovers:
If you have leftovers for this cheese dip, place in an air tight container. Place in the refrigerator for up to 3 days. The cheese dip may be thick after being the refrigerator, so you may need to add a little milk.
I recommend reheating in a sauce pan or in the microwave.
Easy Nacho Cheese Dipping Sauce:
This homemade slow cooker nacho cheese sauce is super easy to make and is so creamy. I think it tastes better than anything store bought.
From movie night to parties, this recipe is my go to nacho cheese recipe. My kids are always having friends over and I can quickly put this cheese dip together for them to enjoy.
It is so delicious that you will want to serve it at parties but simple enough for a weeknight snack. Simple 4 ingredients makes this cheese dip perfect any day of the week.
Print Recipe here for Crock Pot Nacho Cheese:
More Easy Crock Pot Dips: