This post may contain affiliate links. If you make a purchase through links on our site, we may earn a commission.
Crock pot peach dump cake is decadent and tasty for the perfect dessert without any work. With only 3 ingredients, enjoy peach dump cake recipe any day of the week!
Crock pot peach dump cake
This amazing Crock Pot Peach Dump Cake recipe makes it possible to serve dessert for family dinner, special occasions or anytime you want! You won't believe that only 3 ingredients can turn out so amazing. My family was pretty impressed and so was I. 🙂
We love the slow cooker and dessert is so easy thanks to this toss and go recipe. If you enjoyed Crock Pot Apple Pie Dump Cake, you are going to love this peach dump cake.
Also check out our Crock Pot Desserts for more ideas.
Slow cooker peach dump cake is so delicious and we love it served warm. Top the warm peach cake with a scoop of vanilla ice cream or whipped topping and you have the best dessert.
Our family loves this crock pot peach cake and it reminds us of peach cobbler but easier. This dessert is simply amazing!
You can enjoy dessert without all the work thanks to the slow cooker and a cake mix!
The peach mixture is so decadent and the cake is just the best comfort food. Each bite is so tasty.
We love using the slow cooker and dessert is no exception. You really can make the most amazing desserts using just the crock pot. So easy!
If you loved our Easy Chocolate Crock Pot Lava Cake, you will love how simple this new recipe is.
Crockpot peach cobbler with canned peaches and cake mix makes it so easy to enjoy dessert any day of the week.
This recipe tastes like homemade cobbler but it is really a cake mix in the crock pot. No one will ever guess!
The cake mix combined with the peaches and other ingredients to make this delicious.
It is the perfect idea for dessert even when you don't have much time at all. We have had last minute guests and I made this in minutes.
I love that I can serve dessert with so few ingredients and have it turn out so amazing. Anyone can make this!
Make sure to have a good slow cooker to make this crock pot peach dump cake recipe.
If you are in the market for something new, I really love my Ninja cooker. It has become of my favorite kitchen appliances.
I also really like this crockpot as well. I use this all the time and it's great.
My favorite feature is that you can lock the lid down. This is awesome for when you need to take the crockpot somewhere.
I often use the slow cooker to take dishes to potluck events and this feature is amazing! There are several others on sale here.
Another favorite is this programmable crock pot for when I am am not at home all day. I love coming home to a nice meal ready and waiting!
I also like to use crock pot liners to make clean up a breeze. These are worth every penny and save a ton of time.
Another style I love is this casserole crock pot. It is also great for this cake because it makes a thinner layer. Just use what you prefer!
I bought mine on Amazon,and I love it. It is perfect for the Holidays and really year round.
Plus, it is just so pretty. We can still enjoy all our favorite dessert recipes without ever turning the oven on.
You will definitely get lots of use out of your crock pot regardless of which style you have. We love crock pot recipes!
Let's learn how to make this delicious and easy slow cooker peach dump cake recipe!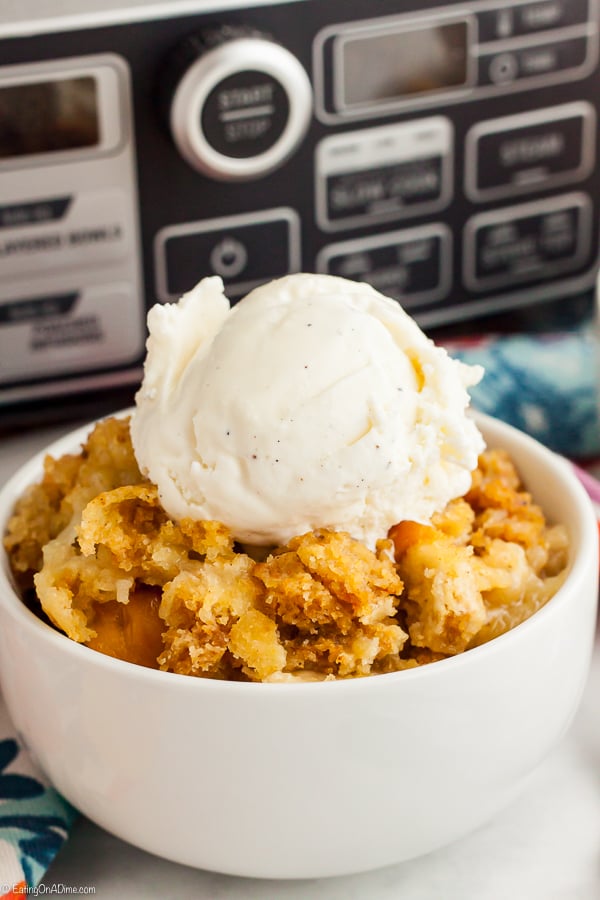 Ingredients for slow cooker peach cake recipe:
canned peaches in heavy syrup
yellow cake mix
melted butter
It really is that simple and you only need 3 ingredients!
How to make crockpot peach cobbler with yellow cake mix?
First, in a 6 quart crock pot dump the 3 cans of peaches (do not drain).
Next, in a bowl mix together the dry cake mix and melted butter.
Crumble the cake mix over the peaches.
Cover and cook on high for 2 hours. That is all! I told you it was so easy!
Topping ideas:
Vanilla ice cream
Try different ice cream flavors. Butter Pecan is delicious!
Whipped cream
Drizzle Caramel sauce on top. So good!
Top with more nuts. Pecans or walnuts are great.
Sprinkle a dash of cinnamon when serving. It looks so pretty!
My favorite is a scoop of vanilla ice cream and a generous drizzle of caramel sauce. It is amazing!
This is such an easy dessert but one of our favorites. I just love recipes that are so easy but turn out so decadent and delicious.
You truly can enjoy a wonderful dessert with little to no work. Just another example that it does not have to be complicated or expensive to be amazing!
What other variations of crockpot dump cake are good?
Try white cake mix instead of yellow cake mix. This is also tasty.
Use other pie fillings such as cherry, blackberry, strawberry, blueberry and more! The ideas are endless!
You can use fresh peaches in this recipe but you will need to make a syrup for them or it will be too dry.
Crock pot peach dump cake is easy, frugal and so versatile!
The beauty of this recipe is it is so versatile. You can easily switch the cake mix or pie filling to suit what you have on hand or your family likes.
We make this all the time and have tried lots of tasty combinations. You are going to love simple it is.
I like to pick up different types of cake mixes when they go on sale at the grocery store.
This recipe is so easy to use what you have on hand. I often just use what I already have or what is on sale at the grocery store. We are fans of using what we already have and it saves us time and money.
You can easily feed a group or large family on a budget with delicious dessert recipes like this. I love being able to use things we already have to turn them into delicious recipes like this one.
We love simple recipes like this. In fact, I cut our grocery bill by 50% off by following these 8 Tips for for Saving Money on Groceries by Menu Planning! Save that money for a family vacation or maybe just some wiggle room in the budget.
Slow cooking is so easy and delicious.
Invite some friends over and enjoy this crock pot peach dump cake!
This easy peach dump cake is so delicious paired with a hot cup of coffee. If you need a dessert for company, this is a great one to enjoy without being stuck in the kitchen.
There is just something about the combination of hot coffee and cobbler. It really is such an easy dessert that it is perfect to make for a gathering with friends, book club and more.
Everyone can enjoy a bowl of tasty peach dump cake topped with vanilla ice cream or whipped cream and a cup of coffee.
It doesn't have to be complicated to be delicious. It is the perfect dessert to enjoy with friends and lots of memories will be made.
You could make this and make a coffee station and then set out a few toppings for the peach dump cake and it would be so fun! Not to mention tasty.
If you love to entertain, you definitely will want to add this to your list of things to make. Not only is it tasty but it allows you more time with your guests.
No one is stuck in the kitchen cooking and serving. This easy dessert is no work at all and the crock pot keeps it warm and literally does all the work.
If you can throw a few a ingredients into the slow cooker, you can definitely make this amazing recipe!
Print this easy crock pot peach dump cake recipe below:
Crock pot Peach Dump Cake recipe
Crock pot Peach Dump cake – Make peach dump cake in the crockpot with only 3 ingredients! The perfect slow cooker dessert.
Ingredients
3

cans

peaches in heavy syrup

14-15 ounces each

1

box

yellow cake mix

1

cup

butter

melted
Instructions
In a 6 quart crockpot dump the 3 cans of peaches (do not drain).

In a bowl mix together the cake mix and melted butter.

Crumble the cake mix over the peaches.

Cover and cook on high for 2 hours.

Serve warm with ice cream.
Nutrition Facts
Calories
355
kcal
,
Carbohydrates
51
g
,
Protein
2
g
,
Fat
17
g
,
Saturated Fat
10
g
,
Cholesterol
41
mg
,
Sodium
455
mg
,
Potassium
119
mg
,
Fiber
2
g
,
Sugar
33
g
,
Vitamin A
694
IU
,
Vitamin C
2
mg
,
Calcium
102
mg
,
Iron
1
mg
Try these other easy dump cakes:
Try these other easy cake recipes: