Crock Pot Desserts are so easy to make and the options are endless. We have 28 of the best slow cooker dessert recipes to try.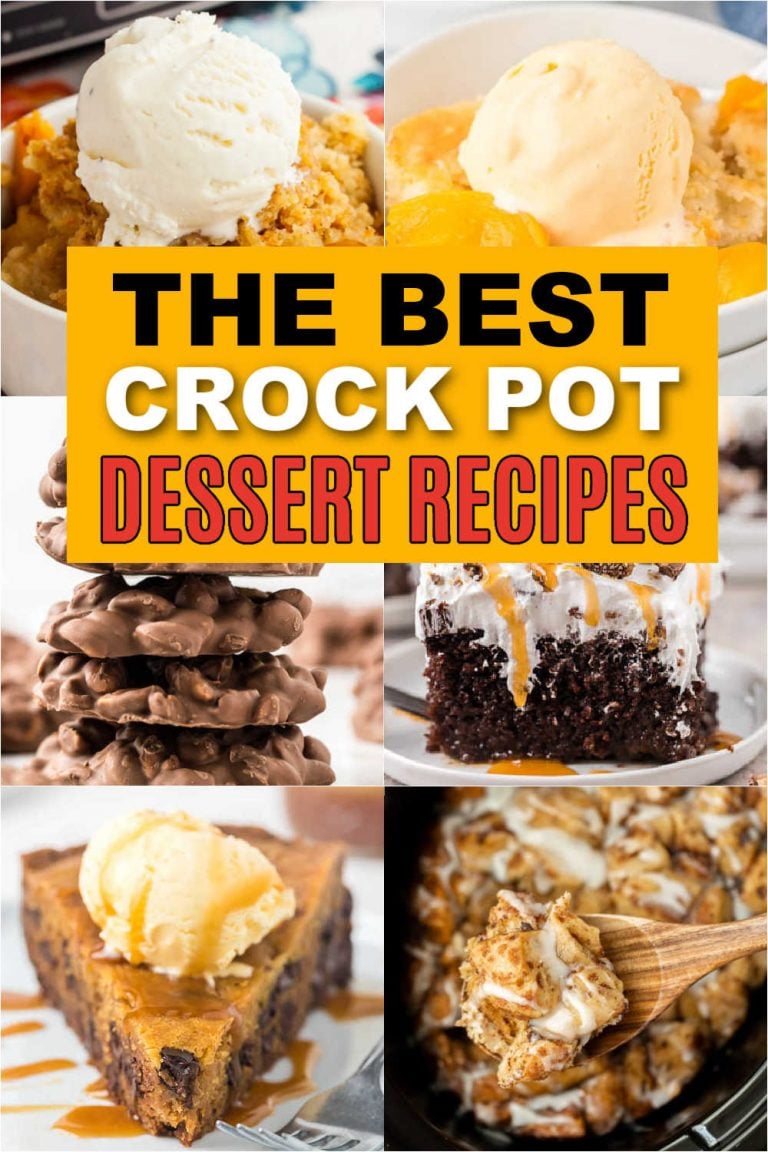 The best Crock pot Desserts
The next time you want a sweet treat, try making one of these fabulous slow cooker recipes. If you have not tried dessert in the crock pot, you are missing out.
The recipes are effortless and you can sit back and enjoy the most delicious desserts. From Apple Crisp to decadent Crockpot Chocolate recipes, there is so much to love about these recipes. You can even find gluten free options.
Since the crock pot does all of the work, you can have more time for other things. Friends and family will be so impressed with these luscious desserts make in the slow cooker.
The only extra step you might want to add is topping. Many of these recipes would be even more decadent topped with vanilla ice cream.
Most Popular Crockpot Desserts
Slow Cooker Dessert Tips
Don't forget to coat your slow cooker with non stick cooking spray.
You can also use crock pot liners to make clean up easier. I love being able to toss these.
Make sure you have a good crock pot. We love the programmable ones so we can come home to dessert ready to enjoy.
Easy crockpot dessert recipes
These are the easiest desserts thanks to the crock pot. Each recipe is so amazing. The hardest part will be deciding which one to make first.
Table of Contents
1. Crock Pot Peanut Clusters
This slow cooker chocolate treat is super easy to make with only 3 ingredients. It is perfect to enjoy year round or to give as gifts during the holidays.
2. Crock Pot Peach Cobbler Recipe
Enjoy this classic cobbler recipe without much work thanks to the slow cooker. Top with vanilla ice cream and serve warm.
3. Crock Pot Peach Dump Cake Recipe
You will be so impressed how this turns out with just 3 ingredients. It starts with a cake mix and gets even better with whipped cream on top.
4. Crock Pot Chocolate Chip Cookie
The gooey cookie is so decadent with lots of chocolate, brown sugar and more. It is so tasty.
5. Easy Chocolate Crock Pot Lava Cake Recipe
From the chocolate chips to the gooey topping, this dessert does not disappoint. Top with a scoop of ice cream to make it even more amazing.
6. Crock Pot Apple Pie Dump Cake
This dessert will make your house smell amazing as it cooks. The recipe starts with a cake mix and you can easily use spice cake or anything you have.
7. Crockpot Applesauce
Skip the store bought applesauce and make this easy recipe instead. It cooks to perfection without much work.
8. Slow Cooker Bread Pudding
Classic bread pudding is so decadent and now you can make it using the slow cooker. Dollop a generous portion of whipped topping on each serving for the best dessert.
9. Crock Pot Cinnamon Roll Casserole
This can be enjoyed for breakfast or dessert. Cooking cinnamon rolls with this method does not disappoint.
10. Crockpot Yogurt
You can save a ton of money by making yogurt in the slow cooker. It is so easy to make homemade yogurt and it tastes great.
11. Crock Pot Cherry Dump Cake
Try this easy dump cake with just 3 ingredients. The cherry flavor is the best.
12. Crock Pot Pumpkin Butter Recipe
The entire house will smell like cinnamon and pumpkin as this cooks in the slow cooker. It is delicious on biscuits, pancakes, toast and more.
13. Slow Cooker Better than Sex Cake
There is so much to love about this heath bar cake. From the luscious toppings to the moist cake, it is rich and decadent.
14. Easy Crock Pot Pumpkin Cinnamon Roll Casserole
Jazz up plain cinnamon rolls with this wonderful Pumpkin flavored Cinnamon roll casserole. Top with a glaze or cream cheese frosting.
15. Crock Pot White Hot Chocolate
Each sip of this drink is so rich and creamy. We love to use white chocolate for a tasty change in flavor.
16. Crockpot Hot Chocolate
It is so easy to make a large batch of hot chocolate with the help of the slow cooker. You only need 5 simple ingredients to make hot cocoa from scratch.
17. Crock Pot Lemon Blueberry Cobbler
If you love lemon cake, this lemon blueberry cobbler is a must try. The combination is so fresh and delicious.
18. Crock Pot Patriotic Clusters
Chocolate clusters are so easy to make and perfect to jazz up for July 4th or Memorial Day.
19. Crock Pot Easter Candy Clusters
These pretty pastel clusters are perfect for Easter or the Spring. They are so rich and creamy while being easy to prepare.
20. Slow Cooker Peanut Butter Cake
Peanut butter fans will go crazy over this easy to make peanut butter cake. It is packed with peanut butter and more.
21. Slow Cooker Apple Bread Pudding
The salted caramel drizzle makes this bread pudding even more delicious.
22. Crockpot Chocolate Caramel Cake
The combination of chocolate and caramel make a delicious cake that is so rich and decadent.
23. Blackberry Cobbler
The delicious tang of blackberries combines with sweet bread topping for a tasty cobbler.
24. Crockpot Banana Cake
Everything you love about banana bread is even better in this cake recipe.
25. Crock-Pot No Bake Cookies
With only a few ingredients, you can satisfy that craving for cookies. Learn how to make no bake cookies easily in the crock pot.
26. Crock Pot Triple Chocolate Bread Pudding
If you enjoy classic bread pudding, try this rich chocolate version in the crock pot.
27. Crock Pot Chocolate Peanut Butter Cake
Chocolate and peanut butter fans will love this delicious combination in this fabulous recipoe.
28. Crock pot Fudge
Everyone will love these crock pot desserts.
There is something that everyone will enjoy. From chocolate desserts to bread pudding, cookies and much more. These recipes are simply amazing and so easy to put together.
More Crock pot recipes: