Crock Pot Monkey Bread is easy to make in the slow cooker. Monkey Bread is the perfect brunch or breakfast idea any day of the week.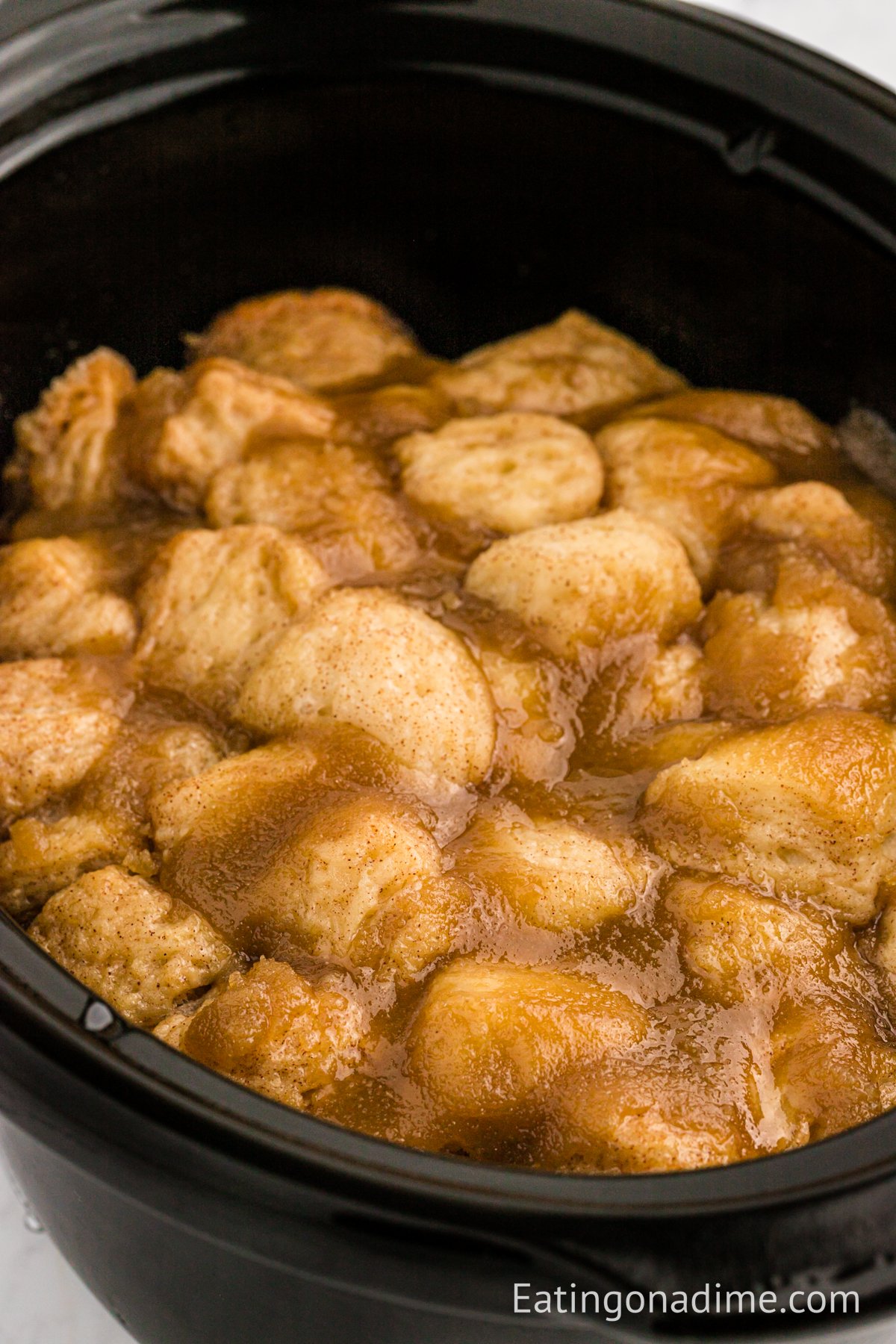 Crockpot Monkey Bread:
Monkey Bread Crockpot Recipe is delicious cinnamon, sugar breakfast idea. This slow cooker recipe has all the gooey texture that a traditional Monkey Bread has. Prepping the monkey bread in the slow cooker is easy and it cooks in a few hours.
If you are needing space in your oven, make the monkey bread in your crock pot. It turns out with crispy edges and all the cinnamon sugar flavor that we love. Make it for a holiday breakfast or a Saturday morning with the kids.
Monkey bread is a crowd favorite. We love to serve it along side some fruit and bacon to complete the meal. You will love the flavors of the Monkey Bread Recipe and your house will smell amazing.
You might also like Crock Pot French Toast Recipe or Crock Pot Monkey Bread Recipe.
What is Monkey Bread?
Monkey bread is a soft and sticky pastry that is usually made with canned biscuits. The biscuits are placed in a slow cooker or in a Bundt pan. Then melted butter, cinnamon and sugar covers the biscuits and baked.
The buttery, cinnamon biscuits stays together as it bakes. Then when it is done cooking, you pull one biscuit off at a time. This center of the bread is the best part as all the cinnamon glaze comes together.
This basic recipe is so easy to make and with easy ingredients it is the perfect weekend breakfast idea.
Ingredients:
Buttermilk Biscuits (10 count each)
Granulated Sugar
Ground Cinnamon
Brown Sugar
Butter
How to Make Monkey Bread in a Crock Pot:
Prepare Crock Pot – Spray a 6 quart crock pot with a non-stick cooking spray.
Cut Biscuits – Cut the biscuits in 4 pieces each. Then place the biscuit pieces in a large zip lock bag.
Add Sugar and Cinnamon – Add the sugar and cinnamon to the bag. Do not remove the air from the bag. Seal the bag and shake the bag to coat the biscuits with the cinnamon and sugar mixture.
Melt butter and brown sugar – Add the butter and brown sugar to a microwave safe bowl. Microwave for 1 minute and then whisk the mixture together until well combined.
Layer biscuits in slow cooker – Then add half of the biscuits to the slow cooker and then pour half of the butter mixture over the biscuit pieces.
Add remaining biscuits and mixture – Top with the remaining biscuit dough and remaining butter mixture.
Cook Monkey Bread in Slow Cooker – Cover and cook on high for 2-3 hours until cooked through. The edges of the monkey bread will start to brown but the center will still look slightly gooey.
Let Cooked bread rest – Turn the crock pot off and let the mixture sit for 10-15 minutes before serving.
Serve and Enjoy – Then serve while warm and enjoy!
Tips for Making Slow Cooker Monkey Bread:
Cooking Time – Each crock pot cooks slightly differently, so make sure to check on the monkey bread every 45-50 minutes to check for doneness.
Moisture – If you are worried about the monkey bread getting soggy, you can place a towel over the crock pot and top with the lid. The towel will absorb the moisture.
Spray Crock Pot – You can spray your crock pot with a cooking spray or line it with parchment paper. This keeps the monkey bread from sticking to the sides. You can also use a slow cooker insert before layering the biscuits.
How to Serve:
Monkey bread is easy to serve straight from the slow cooker. Make sure when you are spooning out an individual portion that you are getting all the cinnamon sugar glaze. Add one of these easy sides to complete your breakfast:
Easy Additions:
Make a Cream Cheese Glaze – It is totally optional but sometimes I make a drizzle for the top with cream cheese and powdered sugar. It goes so well with the sugar and cinnamon.
Use Cinnamon Rolls – There are so many tasty options you can try with this delicious pull apart bread. Cinnamon rolls are so tasty and you can buy all sorts of flavors to switch things up.
Bake Monkey Bread – Use a bundt pan or also known as a fluted tube pan to make this recipe. You can make this recipe in a loaf pan or a baking dish as well.
Add some nuts – This recipe would be great with some added nuts. We like to chop up some pecans and add them in as we are preparing the pan.
Sauce – When the bread is finished cooking, drizzle the top with chocolate or caramel syrup for amazing flavor.
Dried Fruit – Top the bread with dried cranberries to add more texture to the bread. This would be perfect if you are serving this for Christmas morning breakfast.
How to Store:
Store any leftovers in an airtight container at room temperature for up to 3-4 days. I like to reheat the leftovers for 15-20 seconds before enjoying them to make the monkey bread warm and gooey again.
Can I use any brand of biscuits?
We have used the cheap biscuits and we have used the Pillsbury grands biscuits and both have turned out amazing. So grab yourself a can of cheap biscuits and make this easy breakfast or brunch recipe.
Easy Monkey Bread Recipe:
The kids request this all the time. Everyone seems to love it. We have even made this to take to others. Often when someone has a new baby or recovering from surgery, they bring dinner but breakfast is a great idea too.
You can make this in a disposable cake pan and take it to someone that could use it. We actually took this to someone recently and they loved it!
We packed a side of fruit in a little container and some paper plates for them to use. It was a hit and a nice change for them. This recipe is so inexpensive and a great way to bless someone without spending a ton of money or time.
Your family will love this easy breakfast recipe. I don't mind making it frequently because it is just so easy and inexpensive to make. Plus, everyone likes it so that is always a winner when you have a big family like we do!
Print Recipe here for Crock Pot Monkey Bread:
More Crock Pot Breakfast Recipes: