Have you been hesitant to make homemade donuts? We have a recipe for easy biscuit donuts that is absolutely delicious and very simple. Each bite is soft and fluffy and coated in a tasty sugar topping.
Easy biscuit donuts
This homemade donut recipe is the absolute best recipe. You will not believe that donuts can be this amazing from a can of biscuits. They are that good.
Be prepared to make these again and again because they are SO delicious. My kids like them with an ice cold glass of milk and I think they are great with a cup of coffee.
They are such an easy and delicious breakfast. Your family and friends will love this.
I could eat these donuts all by themselves. However, they are perfect served with Sausage and Egg Breakfast Casserole Recipe. Talk about a fabulous brunch.
My kids have requested this for breakfast after a sleepover. It was a big hit with all of their friends.
The recipe is not only really yummy but it's very inexpensive to make. We normally can get a can of biscuits on sale or even super cheap regularly priced.
I love recipes that are frugal and do not bust the budge. My kids get so excited when I make these and it's become a special treat around here.
How to make biscuit donuts
Just start with a roll of biscuits. I used an apple corer to create the hole in the middle.
Heat your oil and fry. It is that simple. Coat in a cinnamon sugar mixture and enjoy.
You might want to start off with grabbing a couple of cans of biscuits. I only bought one the first time I made these and the donuts went very fast.
Everyone gobbled these amazing donuts up.
Ingredient for Biscuit donuts:
Biscuits (I used Pillsbury Original Grands Flaky Lakers 8 ct)
Vegetable Oil
White Sugar
Ground Cinnamon
How to make homemade donuts with biscuits
First, separate the biscuits and cut a hole in each one. I used an apple corer to quickly do this.
Set the biscuits aside and make the coating. Just add sugar and cinnamon to a small bowl and whisk.

Stir to combine. Make sure the bowl is big enough to hold your

donuts

.
Next, add oil to a small saucepan. You'll need about 2 inch of oil to fry the donuts. Use the medium heat setting for the oil.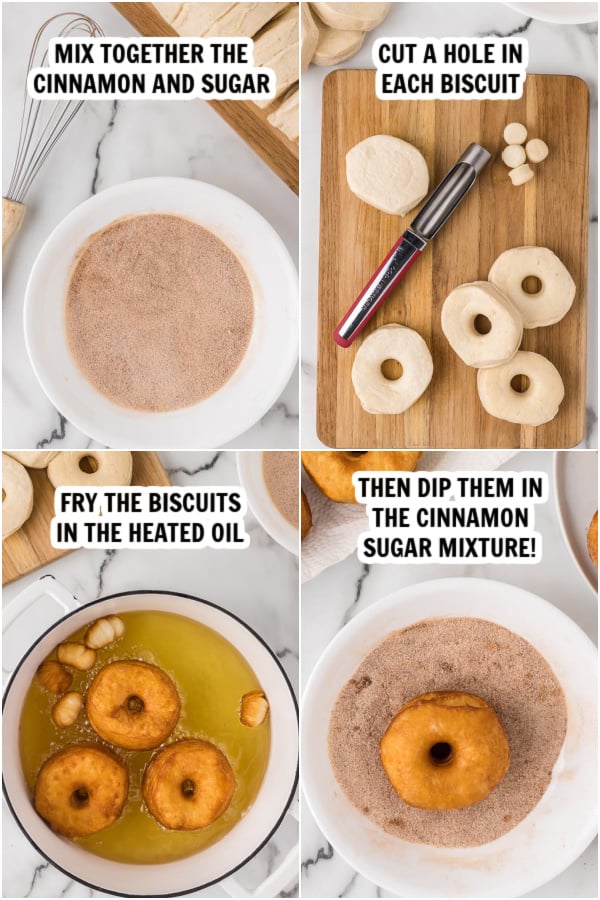 Now place the biscuits carefully into the hot oil. Drop them one a time and cook for 1 minute on each side.

This is essential. If you go by "looks" your donuts will probably be doughy/uncooked in the center.

It seems like a minute is a long time and they tend to get pretty dark in the oil, but it's enough time to cook each side.
Then flip the donut when 1 minute is up and continue to cook on the other side for 1 minute. You want the donuts to be golden brown.
Finally, remove from the oil carefully and place onto a plate. I recommend putting a paper towel on the plate to absorb any excess grease.
Finally, let the donuts set for another 2 minutes. Then dunk the hot donuts into the cinnamon sugar mixture making sure to coat all the sides evenly.
Jump to recipe below.
Tip to make Homemade Fried donuts:
It is helpful to have an apple corer to make the hole in the center of the donut. It's certainly optional but makes all of the donuts uniform. It also just helps to make the donuts come together quick. And we all know that means getting to eat them faster.
Dip the donuts in melted butter. We dipped the hot donuts in the coating without anything else added. However, you can also dip the donuts in melted butter prior to dunking in the cinnamon sugar mixture if you prefer.
How to store:
The donuts are best fresh. However, if you have leftovers store them inside an airtight container or bag at room temperature. They will last about 2 days.
If you want to make the donuts last longer, place them in the fridge. They will last up 5 to 7 days stored in the fridge.
When ready to eat, reheat them in the microwave for 10 to 15 seconds. The texture will be different from when they were just fried but they will still be good. The donuts will just be softer.
Variation ideas
Glazed Donuts – Make an easy glaze with ½ cup powdered sugar and 1 to 2 tablespoons milk. Mix this together a little at a time because you may not need it all. Drizzle over the donuts.
Chocolate- Melt chocolate chips and lightly dip the top of the donut into the chocolate. This is an easy and tasty way to satisfy a chocolate craving.
Sprinkles– Most kids love sprinkles so feel free to top a few donuts with festive sprinkles. It would be fun to make these for a special birthday breakfast or Christmas morning.
Easy Homemade Donuts are delicious.
Did you know you can also use doughnut holes with the biscuit dough? Save the dough from the center you cut out.
Fry those just like the donuts. You will have donut holes. So tasty and fun.
Another idea is to only make donut holes. If I am only making donut holes, I will roll the donuts out and use an apple corer to make individual holes.
It makes a ton of donut holes and they are so good deep fried.
Either way, these are so delicious and really simple. I love to make an assortment of different types- sugar topping, powdered sugar, glazed and more. Just get creative.
Print this Homemade Donut recipe below:
More Homemade donut recipes: