Learn how to make this Easy Monkey Bread Recipe for a quick and delicious breakfast idea your family will love. Monkey bread is so inexpensive to make and you will be amazed how little time it takes to make this tasty recipe.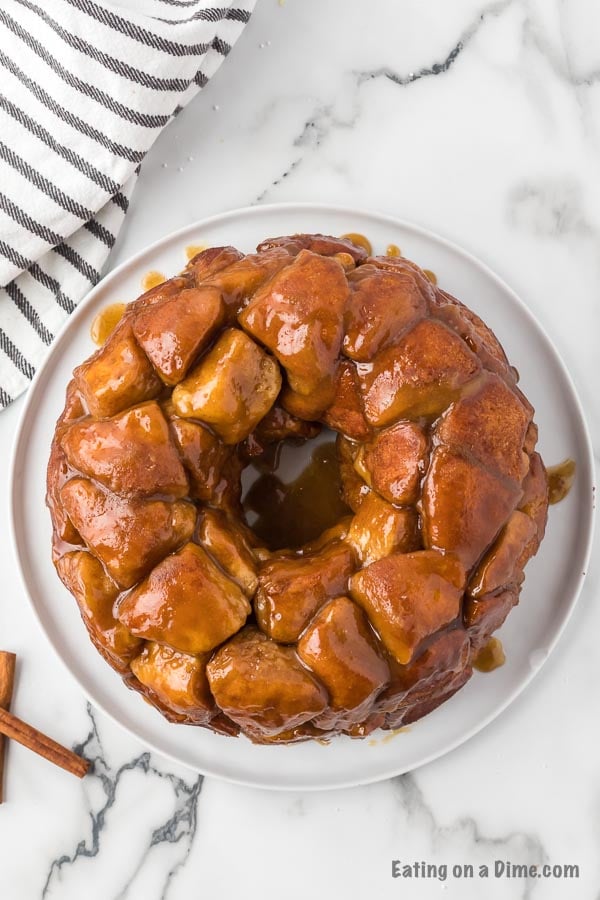 Easy Monkey Bread Recipe:
One morning everyone wanted cinnamon rolls and we didn't have any. I also didn't feel like making them from scratch. However, I had canned biscuits and came up with this Easy Monkey Bread Recipe.
It is so tasty and delicious and the kids actually said this was their new favorite thing to eat for breakfast or brunch. It is incredibly cheap to make and so simple that we make this frequently.
Your family will love this easy idea for breakfast! You might also like our crock pot version.
What are Cinnamon Pull Apart?
Cinnamon Pull Apart bread gets its name from the cinnamon, buttery covered biscuit that are all cooked together. The buttery, cinnamon loaf stays together and then you pull one biscuit off at a time.
This center of the bread is the best part as all the cinnamon glaze comes together. This basic recipe is so easy to make and with easy ingredients it is the perfect weekend breakfast idea.
Monkey Brains Recipes!
So, I'm not sure why we call this monkey brains except that one of the kids used the name once and it stuck. All of the kids, of course, thought the name was cool.
It has become a family tradition around here and I love the memories we are making. It is easy enough to make for a school morning but special enough to make for holidays and other special occasions.
We love this Easy monkey bread recipe and the kids go crazy for it. You will not believe how simple it is and how little time it takes to put this together.
The Best Monkey Bread Recipe with Biscuits:
This is a very simple recipe and it makes a wonderfully tasty addition to any breakfast. I always buy store brand biscuits since they are the cheapest.
If you have a can of biscuits and need a new recipe, make this pantry ingredients Monkey Bread Recipe. You will never eat just plain biscuit again.
We love Cinnamon Pull Aparts all by itself. However, it is very tasty with a side of bacon and fresh fruit!
Whether you have this for breakfast or brunch, it is sure to be a hit with everyone! Give it a try and let us know what you think.
Monkey Bread Ingredients:
Buttermilk Canned Biscuits
Granulated Sugar
Cinnamon
Brown Sugar
Butter
How to make Monkey Bread:
Start Oven and Prepare Pan – Preheat the oven to 350 degrees F and grease a 10″ Bundt pan with a non stick cooking spray.
Prepare the Biscuits – Remove the biscuit dough from the packaging and cut biscuits into quarters or 4 pieces each.
Add the biscuits to a bag – Place the biscuit pieces into a large zip lock bag.
Sprinkle Cinnamon and Sugar – Add the granulated sugar and cinnamon to the bag. Do not remove the air from the bag. Seal the bag and shake to coat the biscuits with the cinnamon and sugar mixture.
Place in Pan – Then place the biscuit pieces into the Bundt pan.
Prepare the Glaze – Place the butter and brown sugar in a small sauce pan. Then heat over medium high. Whisk the ingredients together and bring the mixture to a boil.
Pour over Biscuits – Pour the brown sugar and butter mixture over the biscuits in the Bundt pan.
Bake Monkey Bread – Bake for 35 minutes or golden brown and the center is no longer doughy.
Remove from Oven – Then let the pan set for 5-10 minutes and then carefully invert onto a pan to serve.
Serve warm and enjoy! – It is best to serve warm.
Can I use any brand of biscuits?
We have used the cheap biscuits and we have used the name brand biscuits and both have turned out amazing. So grab yourself a can of cheap biscuits and make this easy breakfast or brunch recipe.
Why this is the best Monkey Bread Recipe!
Easy 5 Ingredients – These ingredients are easy and ones we always have on hand.
Quick Breakfast Idea – This breakfast is quick and easy to prepare. In less than an hour you will have a yummy breakfast.
Yummy Cinnamon Glaze – Our favorite part is the buttery, cinnamon glaze.
Everyone Loves it – When I make this for my family or for a crowd, it is always a hit and there is usually none leftover.
The Monkey Bread fell apart:
If your Monkey Bread fell apart while trying to remove it from the pan, it is probably because the pan wasn't greased well enough.
Make sure when you are preparing you pan that you spray more than you think you need and getting all edges of the bundt pan.
Variations for Monkey Bread:
Make a Cream Cheese Glaze – It is totally optional but sometimes I make a drizzle for the top with cream cheese and powdered sugar. It goes so well with the sugar and cinnamon.
Use Cinnamon Rolls – There are so many tasty options you can try with this delicious pull apart bread. Cinnamon rolls are so tasty and you can buy all sorts of flavors to switch things up.
Make it from scratch – If you do make from scratch, make sure to have a dough hook for your mixer to get the cups of flour mixed easily once you add the egg. Keep in mind the cooking time will increase if making from scratch to 45 minutes as you want the Monkey Brain doubled in size.
Use a different pan – If you don't have a bundt pan or also known as a fluted tube pan, that's okay. You can make this recipe in a loaf pan or a baking dish.
Add some nuts – This recipe would be great with some added nuts. We like to chop up some pecans and add them in as we are preparing the pan.
How do you store Monkey Bread:
This recipe is best served warm and on the same day. If you do have left overs, wait until the monkey bread is at room temperature. Cover with a plastic wrap and place in the refrigerator. It will stay good for about 3 days.
Can it be prepared the night before?
Yes, it can. This would be prefect breakfast to make for your Christmas morning breakfast. Simply, make monkey bread as indicated and cover. Place in the refrigerator overnight.
In the morning, remove plastic wrap and bake. It is that easy.
Cinnamon Pull Apart Bread is always a hit!
The kids request this all the time. Everyone seems to love it. We have even made this to take to others. Often when someone has a new baby or recovering from surgery, they bring dinner but breakfast is a great idea too.
You can make this in a disposable cake pan and take it to someone that could use it. We actually took this to someone recently and they loved it!
We packed a side of fruit in a little container and some paper plates for them to use. It was a hit and a nice change for them. This recipe is so inexpensive and a great way to bless someone without spending a ton of money or time.
Your family will love this easy breakfast recipe. I don't mind making it frequently because it is just so easy and inexpensive to make. Plus, everyone likes it so that is always a winner when you have a big family like we do!
Print this Easy Monkey Bread Recipe below:
More easy Breakfast Recipes: