Learn how to make the best Zucchini Bread Recipe. Each delicious slice of Zucchini Bread is so moist and flavorful that even the kids will love it.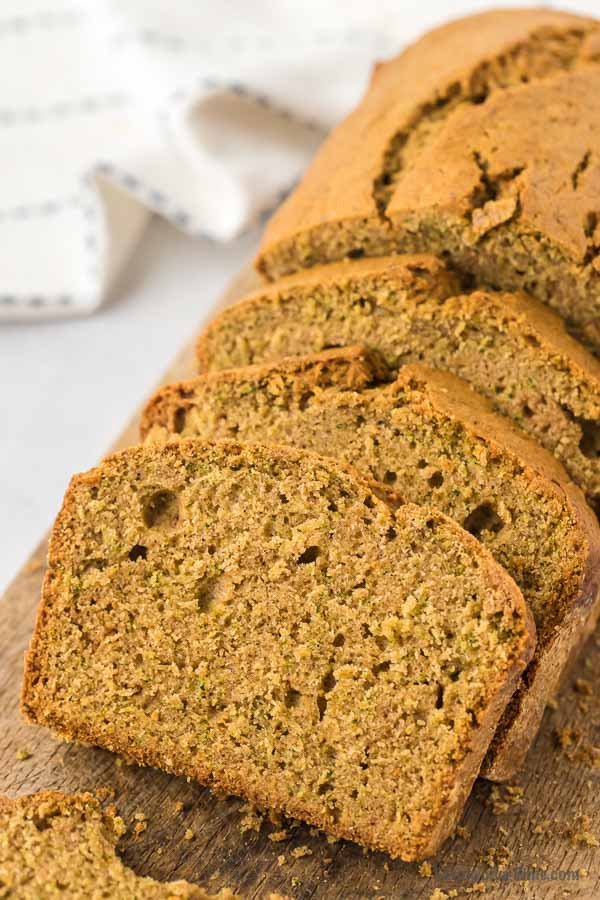 What is zucchini bread?
Zucchini bread is a fabulous combination of zucchini, spices, flour and more. It does not taste like zucchini and takes on the flavor of the spices.
It is a great recipe and everyone will enjoy it. It is similar to banana bread and your family will love this recipe.
The zucchini makes it so moist and really delicious. It is delicious as bread or zucchini muffins.
Zucchini Bread Recipe is amazing.
This easy Zucchini Bread Recipe is so simple that you can enjoy home baked bread any day of the week.
I love the smell of bread baking in the morning! Actually, I love the smell anytime, but there is something especially rewarding about baking in the morning.
I don't know if it's because I know the kids will probably get out of bed without a lot of nagging or because I'm slightly proud of myself for baking first thing in the morning. Either way, I was super excited to try this recipe for zucchini bread.
Ingredients:
all purpose flour
salt
baking soda
baking powder
cinnamon
Ground Nutmeg
eggs
unsalted butter, melted
granulated sugar
brown sugar
vanilla extract
grated zucchini
It sounds like quite a bit of ingredients but as you can see it is all common things you already have.
How to Make Zucchini Bread:
Preheat the oven and prepare the pan. The oven needs to preheat to 325 F. While the oven warms up, generously grease the loaf pan.
Combine dry ingredients. Mix together the dry ingredients. Then set aside.
Beat the eggs and sugar. Use a large bowl and beat the eggs, butter, sugars, and vanilla.
Add the flour mixture. Slowly add flour mixture to the large bowl, beating as you go.
Finally, add the shredded zucchini. Then beat again until thoroughly mixed.
Pour the batter into the greased loaf pan. Bake at 325 F for 60-65 minutes until a toothpick inserted into the center comes out clean. The bake time may vary based on your oven so keep an eye on it.
Allow to cool. Let the bread cool on a wire rack for 10 minutes. Then once it has cooled completely, slice and enjoy!
How to store zucchini bread?
Wrap the bread tightly using plastic wrap. You can also place it inside a ziplock bag if you prefer.
It can stay on the counter for a couple of days. After 2 to 3 days, it needs to be refrigerated . It will last up to a week in the fridge.
Can you freeze Zucchini Bread Recipe?
This bread freezes great. So, if you are so inclined, make a double batch and freeze your leftovers.
When I make a double batch, I like to make one loaf and then use the rest of the batter to make medium or mini loaves. We eat the large loaf straight away and then freeze the smaller loaves for later.
It is really easy to enjoy now and later. Since you already have all of the ingredients out, it isn't anymore work to make.
The mini loaves are also really cute gifts to hand out to neighbors, friends and more. It is the perfect size and everyone loves these.
How to freeze zucchini bread:
I like to use a large freezer bag for the large loaves and the mini loaves. I can usually fit several of the mini size in one bag.
If stored properly in the freezer, it can be frozen up to 3 months.
When ready to eat, thaw overnight in the fridge.
This recipe freezes well and you can easily and quickly grab one from the freezer any time you want one!
What type of pan do you need to use?
You definitely want to have a good loaf pan for this bread or any type of quick bread recipe. If you need a new loaf pan, there are several great ones here.
I have the farberware and the wilton pans. They are both great.
I would purchase 2. I have 2, but sometimes I wish I had 4 when I'm doing a lot of baking.
If I am taking the loaf to someone, I like to use the disposable loaf pans so they don't have to worry about getting anything back to me.
This is a regular sized pan which is what I used. However, you can turn this recipe and make them into smaller loaves which are super fun for gift ideas.
Wilton Recipe Right 4 Cavity Mini Loaf Pan is a great pan and you can use this recipe to fill up those 4 mini loaves.
The 8 Petite Loaf Pan is also fun for gift ideas. You can use this recipe to make these 8 petite loaves as well.
I love being able to bake so many mini loaves at once. It is a real time saver around here!
How to Prepare Zucchini for Bread?
There isn't any need to peel zucchini. You will not taste it in the bread once baked.
Simply wash and use a box grater to shred. It is that simple.
If your zucchini has excessive moisture, you can use a kitchen towel to help remove some of that. However, this moisture helps to make the bread really moist so I do not recommend removing it all.
This recipe is perfect for using large zucchini that isn't ideal for cooking but works great for baking. Don't toss those out because it makes great zucchini bread.
When zucchini is in season, you can utilize this for zucchini bread and freeze some too. I think you might be surprised how delicious this effortless recipe is.
Can you freeze grated zucchini?
Yes, you can. If you have extra grated zucchini, go ahead and freeze it for later.
Place them in a freezer container or bag. It will keep up to 2 months in the freezer.
Simply thaw the zucchini when ready to use. Don't forget to remove the excess moisture as there will be more from freezing.
You can use this for making more zucchini bread or muffins.
Variation ideas:
Substitute vegetable oil for butter. Just keep in mind that when you saw these 2 ingredients when baking, you need to reduce the oil to ¾ the amount of butter called for.
Make muffins. Instead of bread, use the batter to make mini or regular muffins.
Nuts make a great add-in. Try adding ½ cup to ¾ cup walnuts or pecans. If you really like nuts, add as much as 1 cup to the recipe.
Chocolate Chips. Toss in a handful of chocolate chips for a decadent combination. You can use dark chocolate, milk chocolate or semi-sweet morsels.
Swap whole wheat flour for regular flour. This is a simple swap if you are trying to use whole grains.
You can use coconut oil instead of butter for a dairy free option.
Try adding raisins or cranberries to the bread mixture. It makes the bread even more tasty.
Tips for Zucchini bread recipe:
Be careful to not overmix the batter. Stir until just combined.
Keep a close eye on the bread to ensure it is not getting too brown on top. If the center is not fully cooked but the top is getting brown, cover with foil. This will allow the bread to finish cooking without having the top excessively brown.
Allow the bread to sit on a cooling rack for a few minutes before slicing. It needs time to set.
Make Zucchini bread today.
This fabulous recipe is so amazing and definitely a must try. It is a great way to sneak veggies into your kid's diet.
No one will taste the zucchini in this amazing bread. It is sweet and flavorful. The zucchini makes it so moist.
It will definitely be a hit with minimum effort. The entire recipe is easy and not complex at all.
Anyone can mix this together for a simple and effortless quick bread recipe.
Print this Easy Zucchini Bread Recipe:
More quick bread recipes: