Crock Pot French Toast Recipe is the perfect holiday breakfast or brunch. Simple ingredient makes this recipe so easy to make and delicious.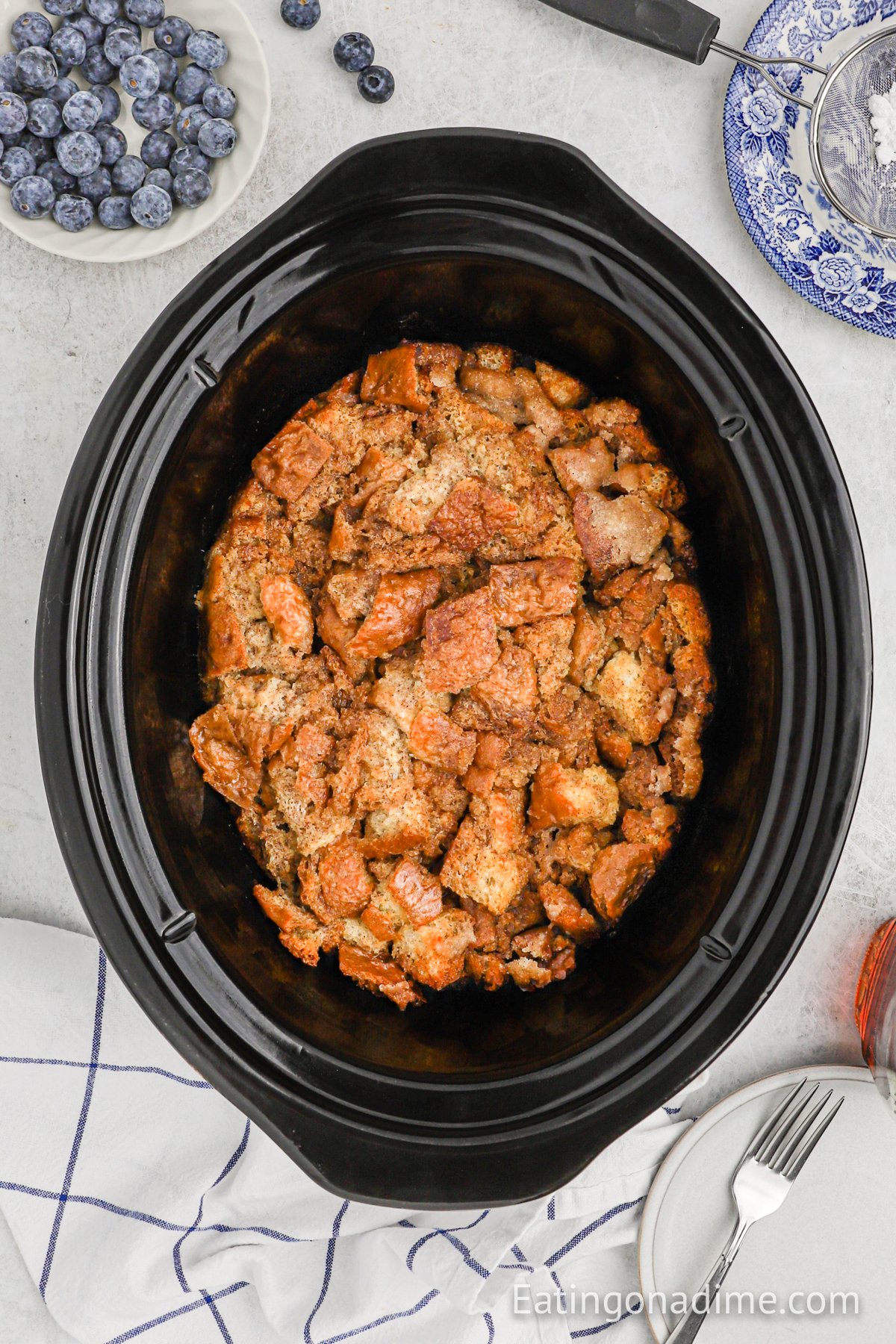 Crock Pot French Toast Recipe:
French Toast is a family staple breakfast on the weekends. It is loaded with cinnamon and sugar flavor that makes this a family favorite. Making French Toast in the slow cooker has never been easier thanks to this easy recipe.
There are many ways to enjoy French Toast and these recipes are some of our favorites. French Toast Casserole Recipe, Nutella French Toast Recipe, or Overnight French Toast Recipe.
This crock pot recipe is perfect to make for a Christmas Morning breakfast or having friends over for a brunch. The slow cooker does all the work. Add your favorite toppings for a delicious and easy breakfast idea.
Should I Use Stale Bread?
Yes, this crockpot French Toast Casserole recipe is better when made with stale bread. You can also go to your local bakery and get day old French Bread for cheap.
If you have bread that is about to go bad, make this simple recipe for an easy morning breakfast.
Ingredients:
Loaf French Bread, diced (stale bread works great)
Large Eggs
Milk
Cinnamon, divided
Vanilla Extract
Butter, softened
Brown Sugar
How to Make French Toast in the Crock Pot:
Step 1 – Cut the French bread into cubes and place them in a large mixing bowl.
Step 2 – In a separate mixing bowl, whisk together the eggs, milk, cinnamon and vanilla extract. Pour the egg mixture over the bread and stir until the bread is coated well with the egg mixture.
Step 3 – Cover and refrigerate for at least 4 hours (but we usually refrigerate overnight).
Step 4 – Spray a 6 quart crock pot with a non-stick cooking spray and pour the bread mixture into the crock pot. Spread out the mixture evenly into the bottom of the crock pot.
Step 5 – Mix together the softened butter and the brown sugar to make a crumble topping. Crumble the topping over the top of the bread mixture in the crock pot.
Step 6 – Cover and cook on low for 4 hours or on high for 2 hours until the mixture is cooked through.
Step 7 – Let the French toast set for 20-30 minutes until it sets and then it's ready to serve and enjoy!
What is the Best Bread for French Toast Casserole?
In this recipe we used French Bread as it is thick and makes a delicious French Toast casserole. When selecting a kind of bread you want a bread that is sturdy enough to hold up when the egg mixture is poured on it.
If you use a thin slice bread like a sandwich bread, it could fall apart while it is cooking. Some other options to try is:
Sourdough Bread
Brioche Bread
Challah Bread
Recipe Additions:
There are many things that you can add to this French Toast Slow Cooker Recipe. This is a base recipe, but it is still delicious if you serve it as is.
Add in Fruit – Canned apples or pie filling would be a good addition.
Mix in Nuts – Chopped pecans, walnuts or sliced almonds would be a delicious addition to this recipe.
Savory French Toast – If you would like to add some savory flavor to your French Toast, add in sausage crumbles, diced ham or crumbled bacon.
Creamy Addition – Cream cheese added to your casserole makes for a delicious creamy casserole.
Slow Cooker French Toast Tips:
Bread – We recommend using stale bread or day old French Toast Casserole. This results in the best casserole. Use a thick cut bread such as french bread or sourdough bread.
Diced bread – We decide our bread into about 1 inch thick bread. This is the prefect size to absorb the milk and egg mixture.
French Toast Mixture – Before cooking the French Toast Casserole, allow it to refrigerate overnight or for at least 4 hours before cooking.
Spray Slow Cooker – Before adding the mixture in the slow cooker, make sure to spray with cooking spray. This prevents the casserole from sticking to the slow cooker and easier to clean up.
Cook just right – We recommend cooking this casserole on low. Just make sure to not over cook it.
Toppings for Crock Pot French Toast Casserole:
There are many delicious toppings for French Toast Casserole. These are my favorites:
Syrup
Fruit
Peanut Butter
Powdered Sugar
Nutella
Butter
What to Serve with French Toast Casserole:
This French toast is great served with maple syrup, powdered sugar or fresh berries. These are some of our favorite sides:
Bacon
Sausage
Eggs
Omelet
Yogurt
Can I Make this Gluten Free?
Yes, Slow Cooker French Toast Casserole can be made Gluten Free. Simply pick a bread that is gluten free and you will make it the same way.
How to Freeze French Toast:
Refrigerate the leftovers in an airtight container for up to 5 days. If you would prefer to freeze the french toast, place in a freezer safe container. You can also wrap with plastic wrap and foil and place in the freezer.
If stored properly, this french toast will last about 2 months in the freezer.
How to Reheat:
When you are ready to serve again, allow the French Toast to thaw in the refrigerator overnight. Then place in a baking dish and bake in preheated oven at 350 degrees.
If you have problems with the top burning, you may need to cover with foil. Bake for about 15 minutes or until warm. Cooking times may vary.
Print Recipe here for Crock Pot French Toast:
More Crock Pot Breakfast Recipes: