This post may contain affiliate links. If you make a purchase through links on our site, we may earn a commission.
Whip up this amazing Overnight french toast recipe and all you have to do in the morning is bake and enjoy! It is that easy. Try this recipe for busy school mornings, holidays and more.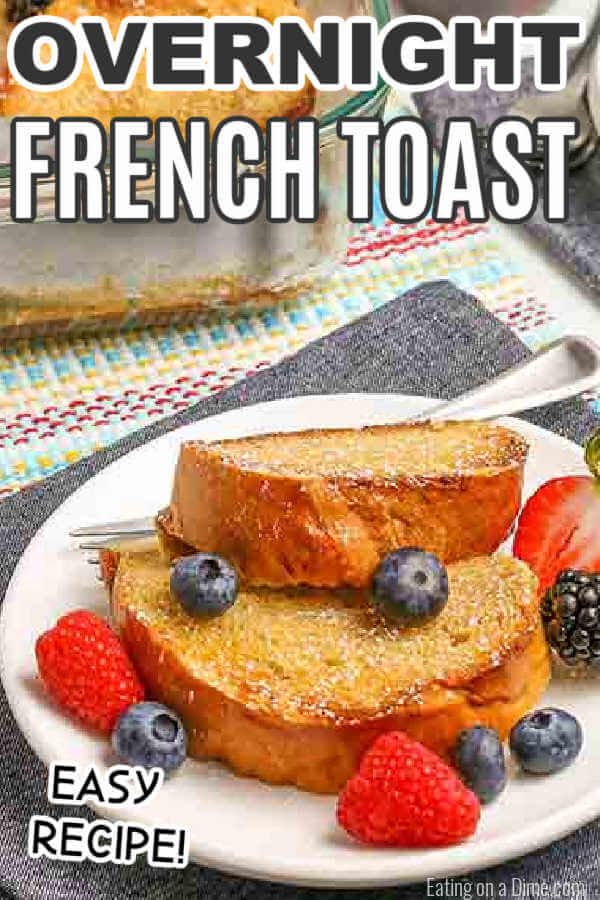 Overnight french toast recipe
Everyone can enjoy a great breakfast even on hectic mornings. We absolutely love this Overnight French toast recipe. You mix everything up the night before and just bake in the morning. Talk about easy!
We have made this when we had overnight guests and it's nice to give them a special breakfast. They can't believe how simple it is! It really is easy enough for school mornings but special enough for any occasion.
Literally everything is done the night before so you just bake and enjoy. It doesn't get any easier and this is SO delicious!
It is great for a crowd when you don't want to stand over a griddle making traditional french toast. This recipe is a win all around.
If you prefer to use a loaf of sandwich bread, try this recipe for French Toast Casserole recipe that is also made overnight.
Can I keep French toast overnight?
This is best made the night before. You can certainly mix it up and bake it but it won't be as good. When you let the french toast sit overnight, all of the flavors really blend and the bread gets the perfect consistency.
If you have any leftovers, you can store in the fridge up to 2 days. We rarely have any left as most people come back for seconds.
Ingredients for overnight french toast bake:
One loaf French bread, cut into 1 inch thick slices
8 large eggs
1 cup heavy cream
1 cup milk
½ cup brown sugar
2 teaspoons vanilla extract
1 teaspoon cinnamon
for Serving
Powdered sugar, optional
Maple syrup, optional
Fresh fruit
How to make baked french toast recipe:
First, goat a 13×9 baking dish with softened butter.
Slice the french bread and arrange in baking dish in two rows. It is okay if you have to overlap the bread.
In a large bowl, beat the eggs.
Whisk in the heavy cream, milk, granulated sugar, vanilla extract and cinnamon.
Pour milk mixture over bread, pressing down lightly to be sure the mixture covers the bread. You want all of this to soak into the bread.
Cover with plastic wrap and place in refrigerator overnight.
Remove from refrigerator 30 minutes prior to baking.
Preheat oven to 350 degrees F.
Bake uncovered for 35-40 minutes or until browned and inside is set.
Serve with powdered sugar, maple syrup or fresh fruit. Store leftovers in refrigerator for up to 2 days
What can you serve with overnight french toast?
If you have a few extra minutes, this homemade pancake syrup on top is so delicious. We also love to add powdered sugar on top. YUM!
You can also add bacon or sausage with the french toast. My kids love when we have breakfast for dinner and this is one of their favorite meals. They absolutely love french toast casserole and bacon!
Try adding some fresh fruit. We love this easy Tropical Fruit Salad. It is easy and so good.
French Toast Casserole variation ideas:
Try using other types of bread. Some ideas include: raisin bread, french bread, Italian bread, texas toast, sour dough bread and more.
Add raisins and nuts to the french toast mixture.
Drizzle caramel.
Vanilla Buttercream Frosting is amazing on this french toast casserole or cream cheese drizzle and more brown sugar cinnamon.
french toast bake with texas toast is a favorite!
Try these tips to save even more money:
Check your local grocery store for "reduced for quick sale" bread. It is usually 50% or 75% off which means you can save a lot of money.
Many times you can find french bread for a reduced price. If not, many other kinds of bread will work in this recipe. Just make sure you have enough to cover the bottom of a pan.
I've used sour dough bread before and it was amazing!
Make an extra to freeze!
This recipe freezes wonderfully. In fact, you can go ahead and make 2 at the same time -one to eat now and one to eat later without much more effort. Just allow it to thaw overnight in the fridge and bake like normal.
I hope you enjoy it as much as we have!
This recipe is perfect in a 9×13 casserole dish. The ones with the lid are really handy if you are taking this dish somewhere.
I use the disposable pans for the one I put in the freezer. It doesn't take any more work and you have a great meal for later.
This recipe is great for brunch and potlucks. See Mother's Day Brunch Recipes for more ideas.
Print this overnight french toast recipe below:
Overnight French Toast
Whip up this amazing Overnight french toast recipe and all you have to do in the morning is bake and enjoy! Try this for busy school mornings and holidays.
Ingredients
One loaf French bread

cut into 1 inch thick slices

8

large eggs

1

cup

heavy cream

1

cup

milk

½

cup

brown sugar

2

teaspoons

vanilla extract

1

teaspoon

cinnamon

Serving

Powdered sugar

optional

Maple syrup

optional

Fresh fruit
Instructions
Coat a 13×9 baking dish with softened butter

Slice bread and arrange in baking dish in two rows, overlapping if necessary

In a large bowl, beat the eggs

Whisk in the heavy cream, milk, granulated sugar, vanilla extract and cinnamon

Pour milk mixture over bread, pressing down lightly to be sure the mixture covers the bread

Cover with plastic wrap and place in refrigerator overnight

Remove from refrigerator 30 minutes prior to baking

Preheat oven to 350 degrees F

Bake uncovered for 35-40 minutes or until browned and inside is set

Serve with powdered sugar, maple syrup or fresh fruit

Store leftovers in refrigerator for up to 2 days
Nutrition Facts
Calories
513
kcal
,
Carbohydrates
60
g
,
Protein
17
g
,
Fat
23
g
,
Saturated Fat
12
g
,
Cholesterol
277
mg
,
Sodium
463
mg
,
Potassium
274
mg
,
Fiber
2
g
,
Sugar
22
g
,
Vitamin A
966
IU
,
Vitamin C
1
mg
,
Calcium
152
mg
,
Iron
4
mg
Try these other easy breakfast casseroles:
Try these other french toast recipes: