Save oven space this holiday season and make Crock Pot Pecan Pie. All the flavors of your favorite holiday pie made in your slow cooker.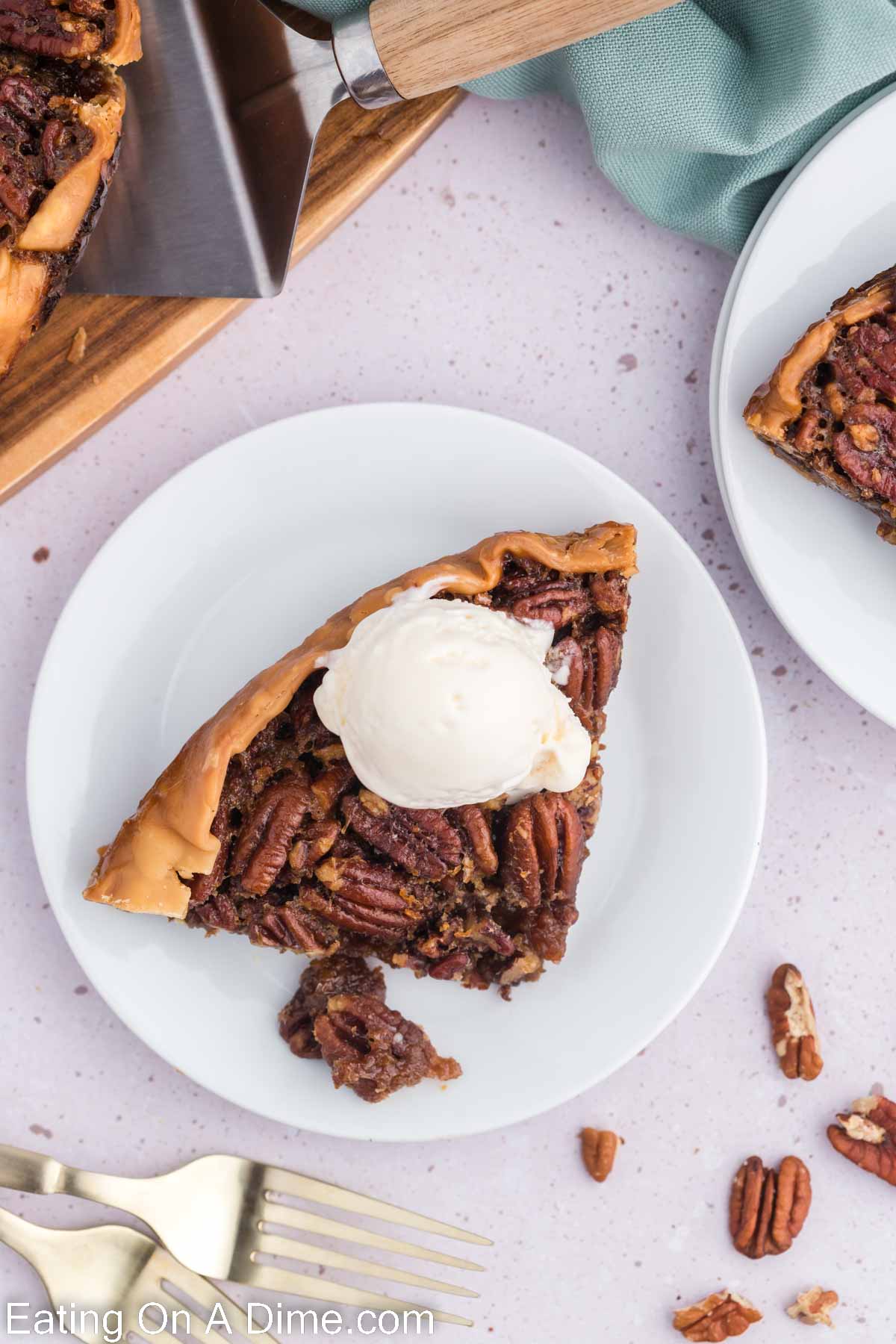 Crock Pot Pecan Pie Recipe:
Making Pecan Pie has never been easier. This classic holiday pie recipe is easily made in the slow cooker with simple ingredients and easy steps. It starts with a refrigerated pie crust and then it is filled with amazing pecan pie filling.
Save some oven space this holiday season and prepare everyone's favorite pie in the slow cooker. The pie crust is cooked perfectly crisp and the pecans still gets golden brown. The super sweet filling sets perfectly when made in the slow cooker.
Impress your family this holiday season and make their favorite pie in the slow cooker. You will love how evenly it cooks and how it taste. Top with whipped cream or a scoop of ice cream and it is amazing dessert.
What is Pecan Pie?
Pecan pie is a type of sugar pie. It has a base of corn syrup and brown sugar blended with other delicious ingredients and of course pecans. This pie has a rich buttery taste and is sweet and amazing. The best thing about this pie, it isn't hard to make.
The ingredient list is simple and you likely already have most of what you need. Many people think it is complicated to make pecan pie but it isn't at all.
This easy pecan pie is a really simple homemade pie and I think you will be pleased how easy it is.
Ingredients:
Refrigerated Pie Crust 
Eggs – lightly beaten
Light or Dark corn syrup
Packed Light Brown Sugar
Butter – melted
Vanilla Extract
Pecan Halves
How to Make Pecan Pie in the Crock Pot: 
Prepare Slow Cooker – Line a 6 quart slow cooker with a crock pot liner (not an oven liner). Then place the pie crust into the bottom of the slow cooker. Press down on the bottom of the crock pot and around the sides so that it fits the bottom of your crock pot. 
Combine Ingredients – In a large bowl, combine eggs, corn syrup, sugar, butter and vanilla until well blended.
Add Pecans to Mixture – Stir in pecans.
Pour into Crust – Pour the mixture into the crock pot on top of the crust (do not go over the crust). 
Cook – Cover and cook on high for 3 hours.  Then turn the crock pot off and take the lid off. Let it sit for at least 1 hour to set and to cool completely. 
Serve and Enjoy – Then carefully remove the pie by lifting the crock pot liner out of the crock pot.  Then the pie is ready to cut, serve and enjoy! 
Slow Cooker Pecan Pie Tips:
Let Pie Rest – You have to let the pie sit for at least 1 hour or it will fall apart when removing it from the crock pot so make sure to not skip this step.
Line Crock Pot – Make sure you line crock pot with slow cooker liners and with parchment paper. This helps to remove the pie and easy clean up. You can also spray with cooking spray to prevent from sticking.
Pie Crust – We prefer to use a refrigerator pie crust instead of making our own in this recipe.
Crockpot Pecan Pie Variations:
Cobbler Style – If prefer a cobbler style dessert, just leave the pie crust off. Then you can cook the pecan pie filling in the slow cooker and dish with ice cream.
Corn Syrup Substitute – If you are out of corn syrup, use honey or maple syrup instead. Make sure to add in a couple of tablespoons of flour for that thick texture. You can also mix hot water with granulated sugar.
Use Different Nuts – You can easily add in sliced almonds for added flavor.
Chocolate Chip – If you love chocolate as much as I do, mix in some chocolate chips.
Pecan Pie Topping Ideas:
This Pecan Pie is delicious as it served. But I love to add a topping for added flavor.
Whipped Topping
Vanilla Ice Cream
Caramel Syrup
Extra Chopped Pecans
Pecan Pie Filling:
A pecan pie filling is made of simple ingredients. The filling is made with pecans, eggs to hold all the ingredients together, corn syrup prevents the filling from crystalizing.
It also has butter, vanilla, and brown sugar all combined to make the best pecan pie filling.
How to Store Leftovers:
Refrigerate any leftover pie in an airtight container for up to 5 days. We recommend placing in the refrigerator to keep fresh.
Can Slow Cooker Pecan Pie be Frozen?
Yes, you can freeze this Pecan Pie. After cooking the pie in slow cooker, make sure to let it cool completely at room temperature. Then wrap the pecan pie twice with plastic wrap making sure all the air has been removed.
If stored properly, the pecan pie will last up to 1 month in the freezer. When you are ready to serve, let pecan pie thaw in the refrigerator over night.
Print Recipe here for Crock Pot Pecan Pie:
More Slow Cooker Desserts: