Now you can enjoy Crock Pot Shepherd's Pie Recipe any day of the week thanks to the slow cooker. This delicious and classic recipe gets a twist in the crock pot making it the perfect meal for busy families.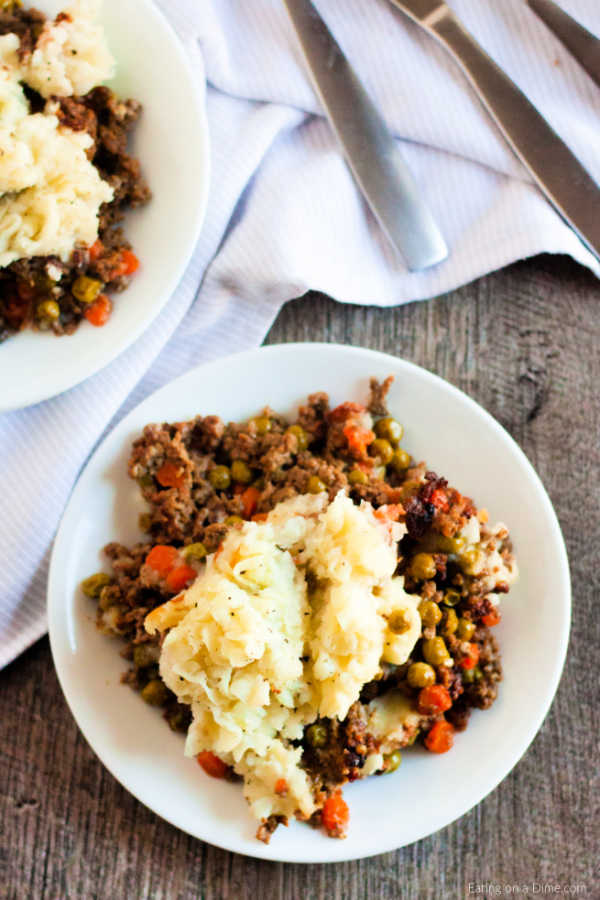 Crock Pot Shepherd's Pie Recipe
Did you grow up eating Shepherd's Pie? It is the best comfort food and everyone seem's to enjoy it! I'm going to show you how to make it in the slow cooker giving you even more reasons to love this recipe!
We loving coming home to dinner ready and waiting. This recipe is so easy and only takes a few minutes to prepare.
The delicious beef has the the best flavor from the cream of mushroom soup. I could literally just eat it by the spoonful.
It is even more amazing with the mashed potatoes. Yum!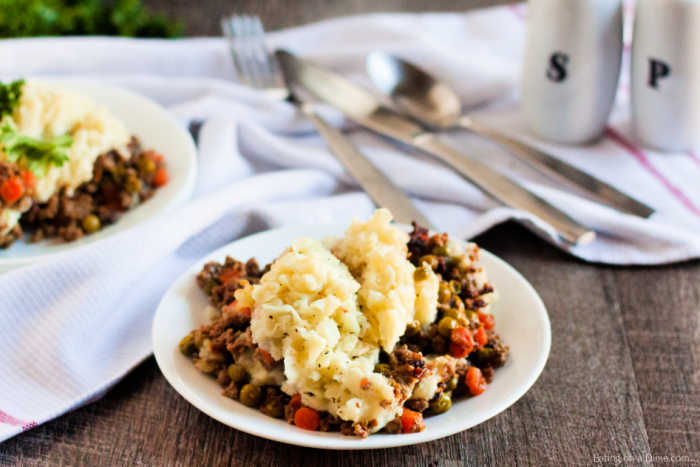 Make sure you have a good slow cooker for this Shepards pie crock pot recipe.
I have the Ninja cooking system and it is my absolute favorite. The nice thing about this is you can brown the meat in the same slow cooker.
It is nice to just have the one pan to clean and it is very handy. It has become of my favorite kitchen appliances.
If you are in the market for a new crockpot, this one is my favorite. I use this all the time and it's great.
This is awesome for when you need to take the crockpot somewhere. I often use the slow cooker to take dishes to potluck events and this feature is amazing!
There are several others on sale here.
Another favorite is this programmable crock pot for when I am am not at home all day. I love coming home to a nice meal ready and waiting!
I also like to use crock pot liners to make clean up a breeze. These are worth every penny and save a ton of time.
If you do not use crock pot liners, it is a good idea to spray the slow cooker with non stick cooking spray.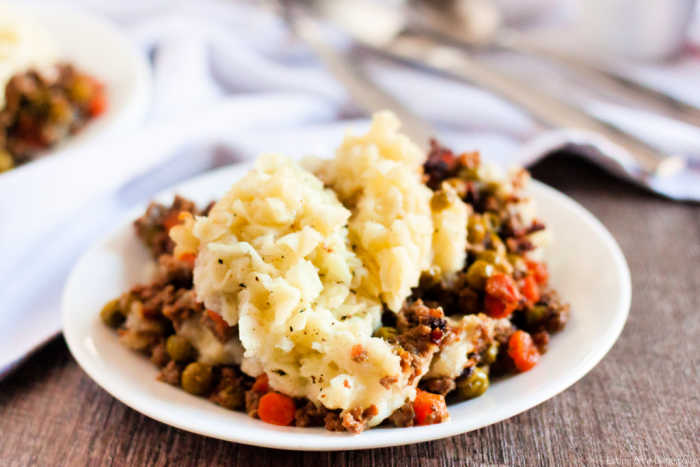 INGREDIENTS FOR CROCK POT SHEPHERD'S PIE:
ground beef
onion
minced garlic
onion powder
frozen peas and carrots
cream of mushroom soup
Russet Potatoes
HOW TO MAKE SHEPHERD'S PIE IN A CROCK POT:
You need to brown your ground beef first. However, if you have a ninja cooking system like we use, the meat can be browned right in the same pot.
This is one of the main reasons we love the Ninja so much because it cuts down on pans and clean up.
Next add everything to the crock pot except the mashed potatoes.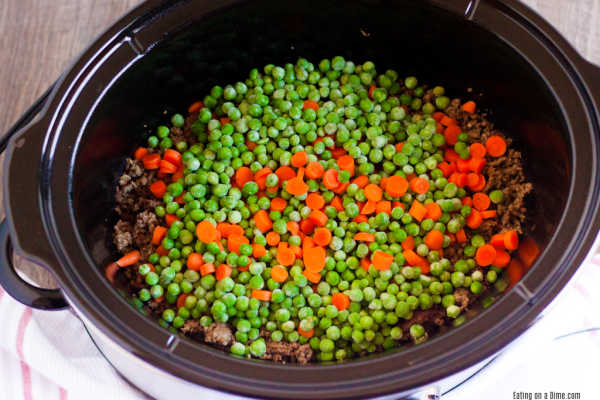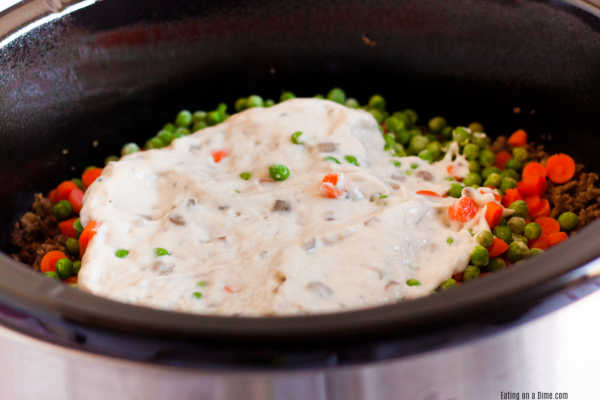 Cook for 6 hours and 2 hours before serving, spread the mashed potatoes on top.
Let everything cook another 2 hours and serve!
This is super yummy and your family will love this.
Crock Pot Shepherd's Pie Notes:
You can use ground turkey instead of ground beef. This is just as delicious. We have even used chicken.
We like to make our own mashed potatoes but you could use instant potatoes in a pinch.
The frozen veggies are delicious but feel free to make this your own. I have even used frozen green beans.
Add beef broth if you need to thin the mixture a little. This is just up to personal preference.
I often just use what I have in the freezer or what is on sale at the grocery store. We are fans of using what we already have.
We love simple recipes like this. I keep recipes like this on the regular menu plan rotation because I know the entire family will enjoy these meals.
In fact, I cut our grocery bill by 50% off by following these 8 Tips for for Saving Money on Groceries by Menu Planning! Save that money for a family vacation or maybe just some wiggle room in the budget.
Slow cooking makes it easy!
What else can you try with this easy crock pot shepherd's pie recipe:
crock pot shepherd's pie with biscuits – try using canned biscuits on top instead of mashed potatoes.
crock pot chicken shepherd's pie – use ground chi
crock pot shepherd's pie with tater tots – tater tots are delicious if you need a quick substitute.
slow cooker shepherd's pie sweet potato – you can use sweet potato instead of regular on top.
We also love vegetarian shepherd's pie crock pot version.
Simply omit the beef and bulk up the veggies. This is a great idea for Meatless Monday!

Tip for slow cooker shepherd's pie recipe:
This recipe like many calls for diced onions. Another time saving tip is to use a small food chopper or food processor to quickly and easily chop the onions.
If you do not have one of these, I highly recommend them. They are such a time saver and you can get the veggies really fine if you have children that are picky.
I usually just chop the entire vegetable and freeze what I don't need. It's so nice to be able to just take the diced onion out of the freezer for recipes.
This is how I meal prep. It's so quick and easy and helps get dinner on the table fast.
Learn and how to freeze onions and also how to freeze peppers to save so much time in the kitchen!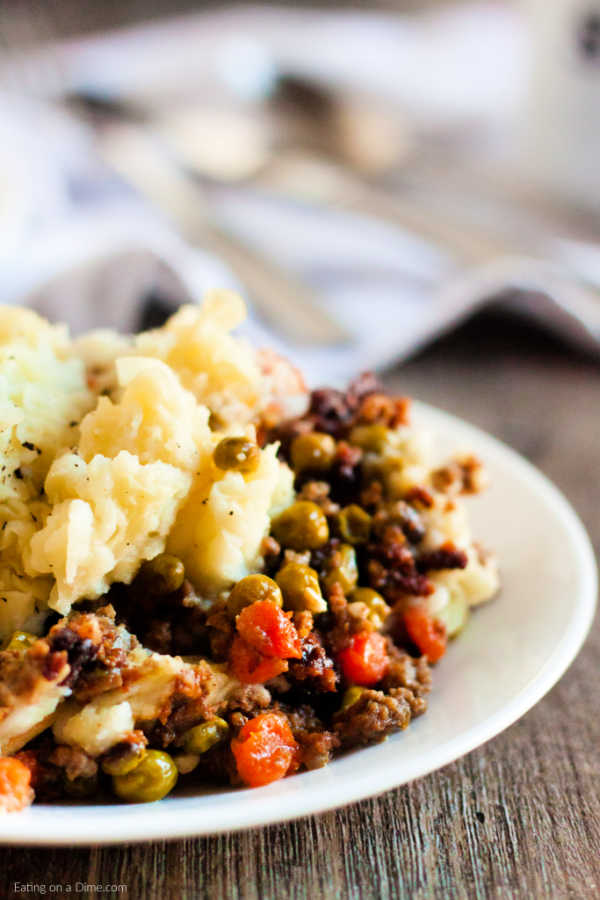 Print this easy shepherd pie recipe ground beef below:
Crock pot Sheperd's pie
You can enjoy Crock Pot Shepherd's Pie Recipe any day of the week thanks to the slow cooker. This tasty recipe is so easy in the crockpot.
Ingredients
3

lbs

ground beef

1/2

onion chopped

1

teaspoon

minced garlic

1

teaspoon

onion powder

16

oz

bag frozen peas and carrots

10.5

oz

cream of mushroom soup

4

Russet Potatoes boiled and mashed
Instructions
Brown your ground beef, drain.

Spray your crock pot with cooking spray.

Add all the ingredients except the mashed potatoes in the crock pot.

Cook on low for 6 hours.

In the last 2 hours of the cooking time, spread the mashed potatoes evenly over the top.

Cook the additional two hours. Serve immediately.
Nutrition Facts
Calories
764
kcal
,
Carbohydrates
38
g
,
Protein
47
g
,
Fat
47
g
,
Saturated Fat
18
g
,
Cholesterol
164
mg
,
Sodium
571
mg
,
Potassium
1427
mg
,
Fiber
5
g
,
Sugar
1
g
,
Vitamin A
7180
IU
,
Vitamin C
17.2
mg
,
Calcium
84
mg
,
Iron
6.8
mg
Crock Pot Monterey Chicken Recipe has lots of cheese, barbecue sauce and more for the best meal.
Enjoy delicious buffalo chicken drumsticks any day of the week when you make this easy Crock pot Buffalo Chicken Drumsticks Recipe.
If you love chicken pot pie, try this twist on the classic recipe when you make Crock pot beef pot pie recipe.
Try these other easy crockpot recipes: