Cucumber Lemon Water is a refreshing drink with only 3 ingredients. Stay hydrated with this delicious infused water.
Cucumber Lemon Water
If you struggle to drink your daily allotment of water, try making Cucumber Lemon water. Not only is it a tasty way to stay hydrated but it is so easy.
This recipe is effortless to make and looks so fancy. Getting your water intake daily will be a breeze. You will enjoy reaching for more glasses of water.
You will not be bored drinking water with this lemon and cucumber infused drink. It provides the perfect hint of flavor to make it easy to drink lots of water.
I think you will also love how pretty it looks in a large pitcher. You can see the vibrant colors of the lemon and cucumber slices.
We have even served this for bridal showers and other events. It just looks pretty.
What is cucumber lemon water?
It is a delicious combination of cucumber and lemon slices infused into water. This drink has many health benefits while being simple to prepare and delicious.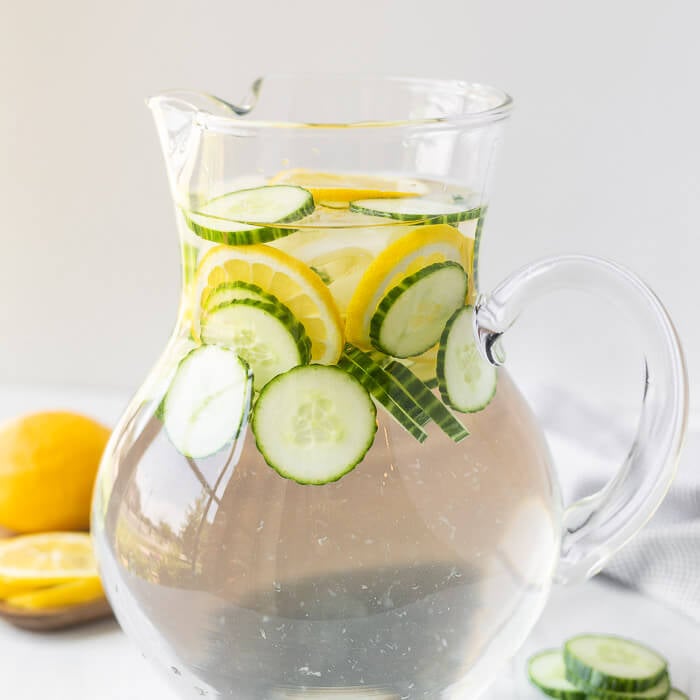 Cucumber lemon water benefits
Boots Immunity. Vitamin C and antioxidants help to boosts the bodies immune system.
Alkalinity. Both lemons and cucumbers are alkaline foods. The combination of both helps anyone that drinks cucumber lemon water to function at a PH balanced level.
Digestion. Citrus helps to purify the liver.
Weight loss. This drink acts a natural diuretic and can help to lose weight.
Antioxidant. Both cucumbers and lemon have high levels of antioxidant that will help combat the free radicals in the body.
Healthy Skin. The combination of ingredients supports healthy skin.
As you can see the benefits of cucumber water are endless. From healthy skin to weight loss, this easy drink recipe has numerous benefits as a detox water.
Ingredients:
Lemons. This ingredient is packed with vitamin C and fiber. It gives the water a citrus flavor that is so tasty.
Medium English Cucumber. Cucumbers help with digestion and provide numerous health benefits. They help with toxins, inflammation and more.
Cold Water. Tap water is fine.
How to make cucumber lemon water:
Prepare the lemon and cucumber. Wash and slice the lemon and cucumber into thin slices.
Get out a large pitcher for the drink. Add the sliced lemons and cucumber to a pitcher. Then add in the cold water.
Refrigerate. The water needs to be chilled for at least an hour before serving. If you can't wait for the drink to be refrigerated, at least add a few ice cubes. You can use us a wooden spoon to slightly mash the lemons and cucumbers to release the juices from the them.
Jump to recipe below with complete instructions.
How long does lemon cucumber water last?
This beverage is best served the same day but you can also refrigerate the water for up to 3 days. Any longer and the slices start to break down and become mushy.
Since it is so easy to make, the drink is simple to prepare the day you need it. With so few ingredients, it really is effortless.
Variations:
You can also add limes to change up the flavor of this easy cucumber water.
Add a few sprigs of fresh mint to the water. This is a delicious pairing with the lemon and cucumber. It also has benefits such as helping with sinuses.
Try using sparkling water instead of plain water. This is an easy substitute to help when you are craving soda. The fizz combined with the citrus flavor makes a refreshing drink.
Tips:
You can use us a wooden spoon to slightly mash the lemons and cucumbers to release the juices from the them. This will enhance the water and give it even more flavor.
We prefer to use English Cucumbers in this recipe because this type does not have the large seeds.
The drink is best prepared the day you plan to serve it.
Serve the drink in a clear pitcher so you can see the pretty slices of cucumber and lemon. Another idea is to use a drink dispenser. Either of these would make great options.
Try it today.
Make this drink for an easy way to incorporate more water into your daily routine. It is so refreshing and has the perfect amount of flavor.
The simple ingredients add a hint of flavor that makes it so easy to drink lots of water. If you struggle to drink enough water each day, make this simple recipe.
It is going to be a game changer when it comes to your water allotment. Once I started putting these fresh slices in water, it helped tremendously.
Make a large pitcher of this today and see how tasty it is. Water will not be boring anymore.
Print this Cucumber Lemon Water recipe below:
More Flavored water recipes: