Delicious Cucumber water recipe is a refreshing way to stay hydrated. Enjoy this cucumber infused water for health benefits and more.
Delicious Cucumber water recipe
You might be surprised how tasty this recipe for Cucumber Water is. With only 2 ingredients, this recipe is so simple. It makes drinking water easier and the cucumber slices add a hint of flavor.
Another idea is to add fresh mint to each glass. Not only will this look pretty but adds even more flavor.
What is the benefits of cucumber water?
Lowering high blood pressure
Weight loss. The water will help to fill you up and reduce hunger and snacking.
Skin health and appearance. Your skin will glow and look amazing.
Reduces inflammation. Swelling and puffiness will be reduced.
Increases hydration
Drinking cucumber water is a good source of antioxidants.
Reduce acne.
Provides electrolytes. This is a great way to replenish electrolytes without excess sugar found in sports drinks.
Prevents kidney damage and helps your body effectively excrete waste.
Helps to strengthen the immune system.
Your body needs water to function properly. Once you add the cucumber, the health benefits are even more.
Plus, it just tastes better than plain water. You might hear it referred to as spa water, detox water and other terms.
Either way, it is super easy to make, tasty and loaded with health benefits. Give it a try and see just how yummy it is. If you struggle to drink enough water, this might be the trick to help.
It really enhances the water making it so delicious.
Ingredients for Cucumber Water
Medium English Cucumber
Cold Water
How to make Cucumber water:
Prepare the cucumbers. Wash and slice the cucumber into thin slices.
Get out a pitcher to combine the ingredients. Add the sliced cucumber to a pitcher. Then add in the cold water and blend together.
Refrigerate. Place in the fridge for at least an hour before serving. You can use a wooden spoon to slightly mash the cucumbers to release the juices from the cucumbers. This is optional but will enhance the flavor even more.
How much should I drink?
Most experts recommend 8 glasses of water a day with each being 8 ounces. It is so important to stay well hydrated for a myriad of reasons and health benefits.
Just note that this amount will vary based on personal needs, weight and activity level.
How long can I leave cucumbers in water?
This cucumber water is best served the same day. However, you can also refrigerate the water with cucumber slices for up to 3 days.
I do not suggest longer as the cucumber will become slimy and start to deteriorate. We definitely do not want this to happen.
Since it is literally only 2 ingredients, you can quickly make this whenever the mood strikes. It is so quick and easy to toss together for a refreshing drink.
Do I use Standard or English Cucumbers?
We used English cucumbers in this recipe. You can use what you prefer.
English cucumbers are normally called seedless cucumbers. However, they do actually have seeds. They are just really small.
Standard cucumbers have large seeds inside.
The peeling is also thinner on English Cucumbers. These usually do not need to be peeled.
Whereas the peeling on standard cucumbers is much thicker and slightly rough. These usually need to be peeled.
As far as taste, English cucumbers are sweeter and less bitter than a standard cucumber. Personally, we prefer English Cucumbers but you can use either variety.
Add in ideas:
Fresh Mint. This is delicious with the cucumber.
Lemon. Lemon slices thinly sliced taste great.
Lime. Try combining lemon and lime together.
Strawberry. Crush the strawberries a little bit to get the water really infused with the fruit.
Try using sparkling water instead of regular water. The carbonation makes it feel special and takes it up a level.
You might not automatically think about adding fruits and vegetables to water but it makes a refreshing drink. Water infused with these items enhances the flavor and makes it such a delicious drink.
Water is a great drink and does not have to be boring at all. Try some of these ideas to change up the flavor in this easy cucumber water.
I also think it is easier to get your water allotment for the day if it has some of these fun add ins.
Tips for delicious Cucumber Water:
If using berries, they will only last about a day. Keep this in mind if preparing this in advance.
Cucumbers last longer than fruit and can be prepared in advance up to 3 days.
Try combining cucumber slices with lemon or lime slices. The combination gives the drink a tanginess that is so yummy and refreshing.
Print this Cucumber water recipe: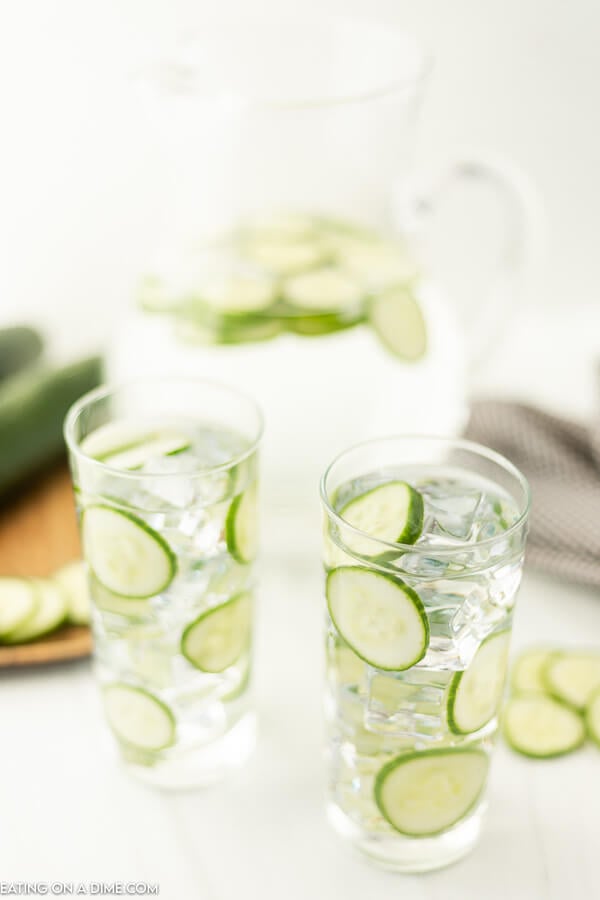 More easy drink recipes: