This post may contain affiliate links. If you make a purchase through links on our site, we may earn a commission.
Try one of these Watermelon drink recipes anytime you need a cool and refreshing drink in minutes. Beat the heat and quench your thirst with these easy recipes.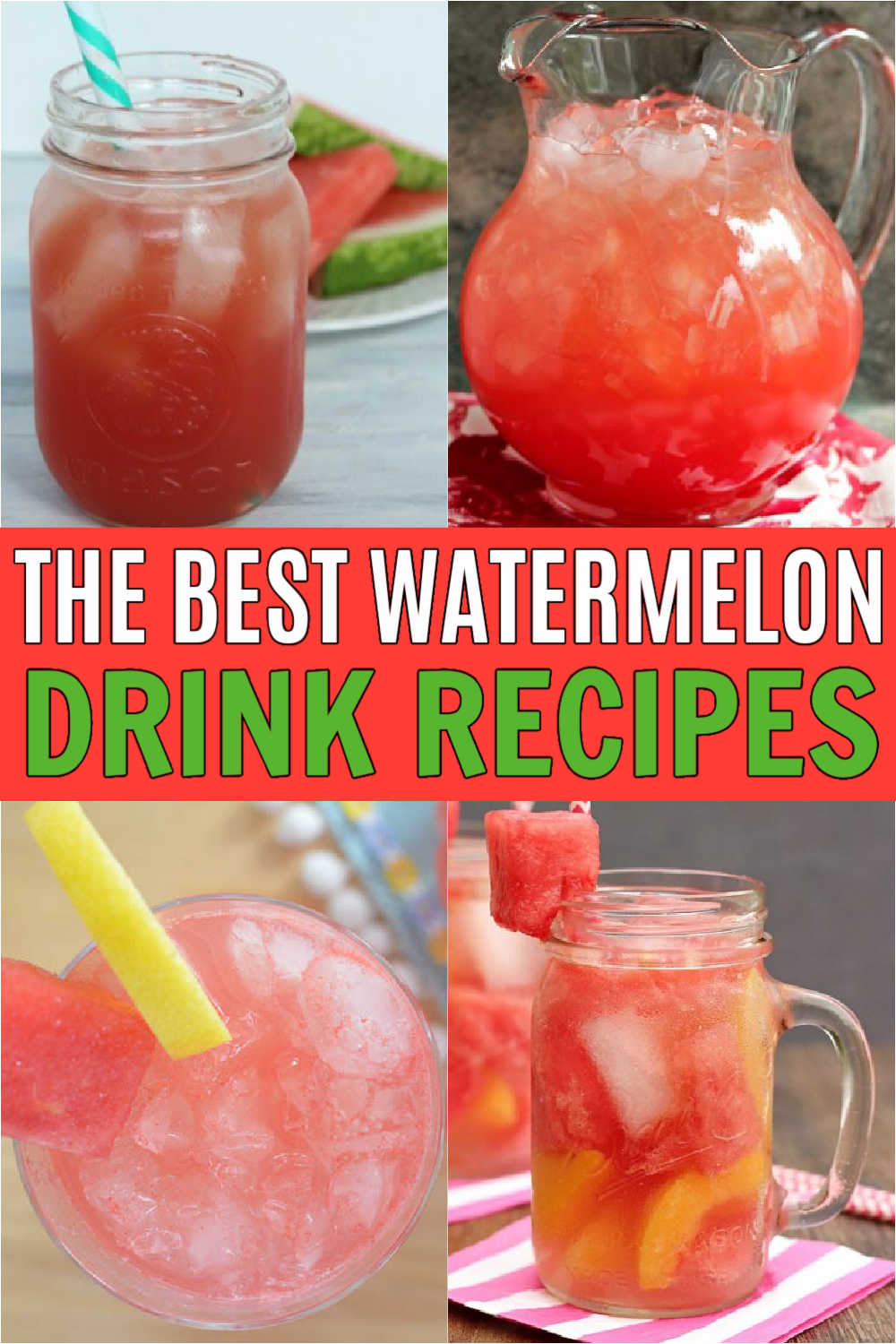 Watermelon drink recipes
There isn't much much more refreshing then watermelon in the summertime. Well, maybe except for Watermelon Drinks!
I have some delicious Watermelon Drink Recipes I'd like to share with you. Many of these I have tried and some I plan to try once Watermelon is in season. They all sound so good!
Do you have a favorite watermelon drink recipe? They all sound amazing. The hardest part will be choosing one to try first!
Let's get started with these refreshing recipes this summer. Once you start making them, you will see how easy and tasty they are.
From slushies and smoothies to lemonade and spritzers, you can find a recipe for everyone. Yum!
1. Homemade Watermelon Lemonade
You only need 3 ingredients to make the best watermelon lemonade. Find the simple yet delicious recipe here.
2. Watermelon Slush
With just 5 minutes and 3 ingredients, this perfectly frozen treat is so easy to make here. You can serve this for parties but it's easy enough for an afternoon treat.
3. Strawberry Watermelon Smoothie
Try this refreshing Strawberry watermelon smoothie recipe here. It is perfect to beat the heat and always a crowd pleaser.
4. Watermelon Agua Fresca
You are going to be pleasantly surprised with this 4 ingredient recipe here. It is bursting with watermelon flavor and tastes so fresh and amazing.
5. Sparkling Watermelon Lemonade
Everyone will love the sparkling water in the drink here for tons of watermelon flavor with a little fizz. Give it a try.
6. Watermelon Punch
This frugal drink can easily feed a crowd and you have a ready made "punch bowl". Try the recipe here at your next cookout or party.
7. Watermelon Peach Spritzer
This simple drink starts with your favorite lemon lime soda and gets topped with peaches and watermelon. Get the fabulous recipe here.
8. Watermelon Ice
Skip ice cream and make this delicious watermelon ice instead here. This recipe is so light and perfect for a hot day.
9. Strawberry Watermelon Lemonade Slushy
This treat will quickly become everyone's favorite in the Summer months. Enjoy a homemade slushy with the perfect combination of watermelon and strawberry here.
10. Watermelon Green Tea
Jazz up green tea with this delicious watermelon recipe here. Grab a big watermelon and make the perfect Summer drink.
Try these watermelon drinks today.
One of the recipes I haven't tried yet is the Watermelon Punch, but I will definitely be trying it soon. It would be perfect for our next BBQ.
All of the recipes are really simple and call for just a few simple ingredients. I love how club soda can transform a recipe. Recipes with that ingredient are so fun and perfect for those that like the extra fizz.
From watermelon lemonade to watermelon margarita, give these drinks a try. Regardless of what watermelon drink you try, it will be great.
Choose a simple recipe and surprise your family with these delicious drinks. Watermelon chunks are naturally sweet and require little sugar or just a basic simple syrup if anything.
Learn how to freeze fruit and enjoy delicious fruit anytime you want. Frozen watermelon is perfect in smoothies, slushies and more. You can use a fine mesh strainer to make sure the seeds or large chunks are out.
You are going to love having so many great recipes to try this Summer. We love them so much that we make them frequently.
It is the perfect drink for a crowd or party because watermelon is inexpensive in the Summer. Anyone can make a big batch and not bust your budget.
I love delicious recipes that are frugal, delicious and can feed a crowd. Yeah!
Make one of these refreshing drinks today. Don't forget the fresh mint for topping. So pretty!
We also love making this cherry limeade sherbet punch recipe for another delicious drink idea.
Money Saving tip:
Buy fruit when it is on sale! Make sure you download our free What's in Season? Calendar of Fruits and Vegetables in Season printable that will show you when you will find produce at its lowest price.
I have learned over the years that shopping and cooking based on sales really helps our grocery budget. It adds up over time and makes a big difference in our budget.
It helps keep the grocery budget reasonable and feed a large family. By shopping when things are on sale I save money on groceries and it really helps our budget. Saving money and feeding a big family can be accomplished.
I cut our grocery bill by 50% off by following these 8 Tips for for Saving Money on Groceries by Menu Planning! You will be so glad you bought lots of yummy fruit on sale. We love to stock to freeze fruit and enjoy all year!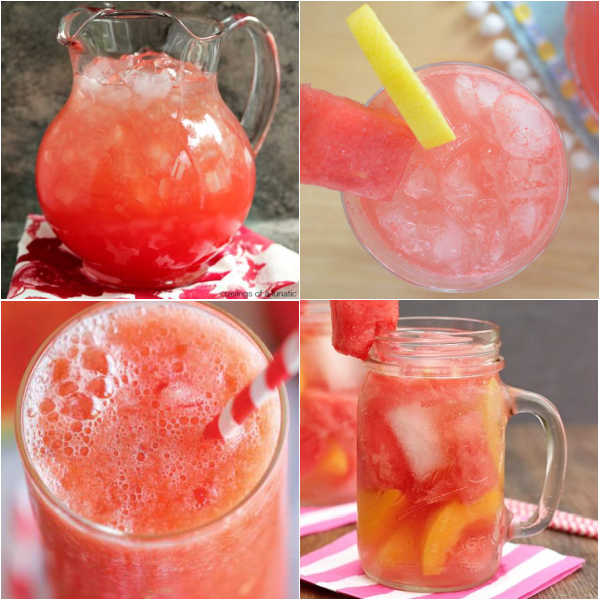 Tip:
Some of these drinks require a blender. I have a Vitamix and I love it. My vitamix is old and is still going on strong for years.
Now, it is quite the investment to get one, but it is one investment that won't disappoint. This blender will be the last blender you ever had to buy. Amazon has several of them on sale right now for a great price.
Also check out our roundup of 24 mouthwatering watermelon recipes.
Do you have a favorite drink recipe? I would love to hear what it is so I can try it, too. Enjoy!
Make sure you also try our super easy to make homemade watermelon popsicles . The kids just love them!
More easy watermelon recipes:
Try more beverage recipes: