Homemade Watermelon Popsicles are so easy to make and you only need 3 ingredients! This is such an easy treat to make this Summer that is refreshing and delicious.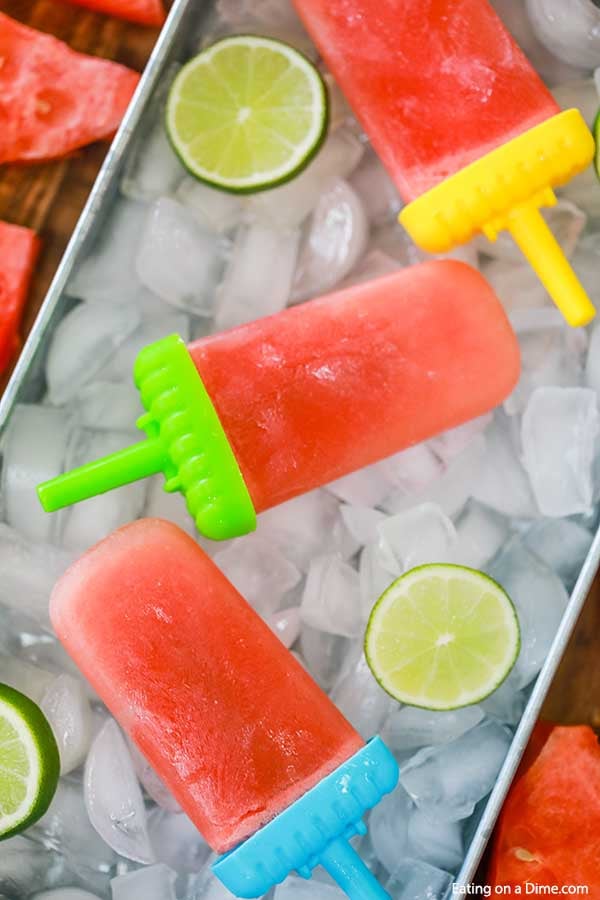 Homemade Watermelon Popsicles:
There is just something about popsicles and summer that go hand and hand. My kids can't get enough of these easy Homemade Watermelon Popsicles.
We made these easy gluten free recipe for Watermelon Popsicles and the kids went crazy over them. The fresh watermelon makes this summer treat so amazing and one that even the adults will want to enjoy.
Even better, this recipe is SO simple. You know we don't like anything complicated around here so an easy recipe is a must. With only 3 simple ingredients needed, you can enjoy these quickly and easily on a Hot Summer Day.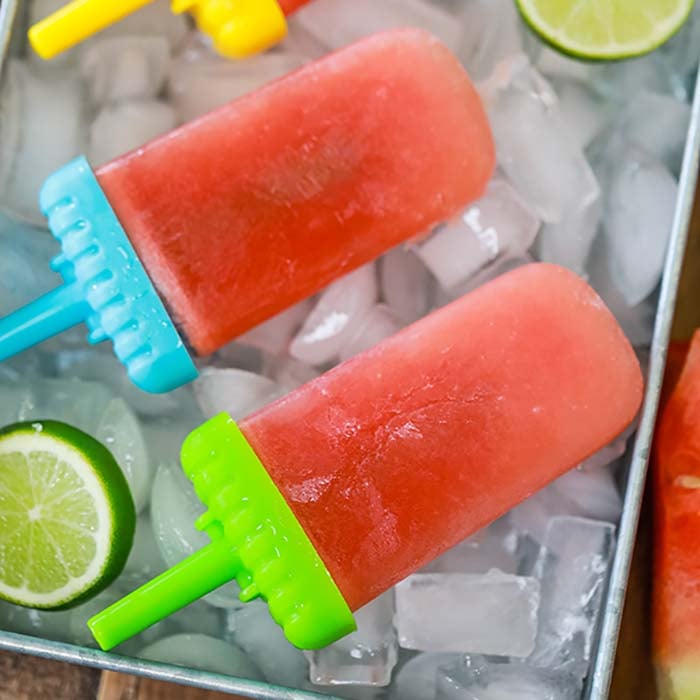 Tips for Picking the Perfect Watermelon:
To make the perfect Watermelon Popsicles, you need the perfect Watermelon.
Shape – We like to pick the round watermelons as they are sweeter. If you chose the oval ones, they are a bit more watery.
Extra Sweet – If you want your popsicles to be extra sweet, pick one that has good webbing lines.
Ripe Watermelon – When you are selecting a watermelon, pick the one that has a golden yellow bottom. This indicates that the watermelon has ripen.
Ingredients:
How to Make Watermelon Popsicles:
Add Ingredients to Blender – Added sugar, watermelon and lime into the blender and blend. Just blend it all together until it is nice and smooth.
Strain the Mixture – I always pour the mixture through a strainer to remove the seeds and make sure everything is really smooth.
Pour into Popsicle Molds – Then all that you have to do is pour into popsicle molds and freeze.
Serve and Enjoy – Once Frozen, serve and enjoy.
Popsicle Molds We Recommend:
You will need popsicle molds, but those are really inexpensive right now on Amazon. Besides these delicious Watermelon popsicles, you can make a a ton of fun popsicles this summer like these Root beer float popsicles.
These are definitely worth the small investment.
Here are a few of my favorite molds:
How long do they Last in the Freezer?
If popsicles are stored correctly, the will last about 2 months in the freezer. I like to keep this frozen treat stocked in the freezer all summer long.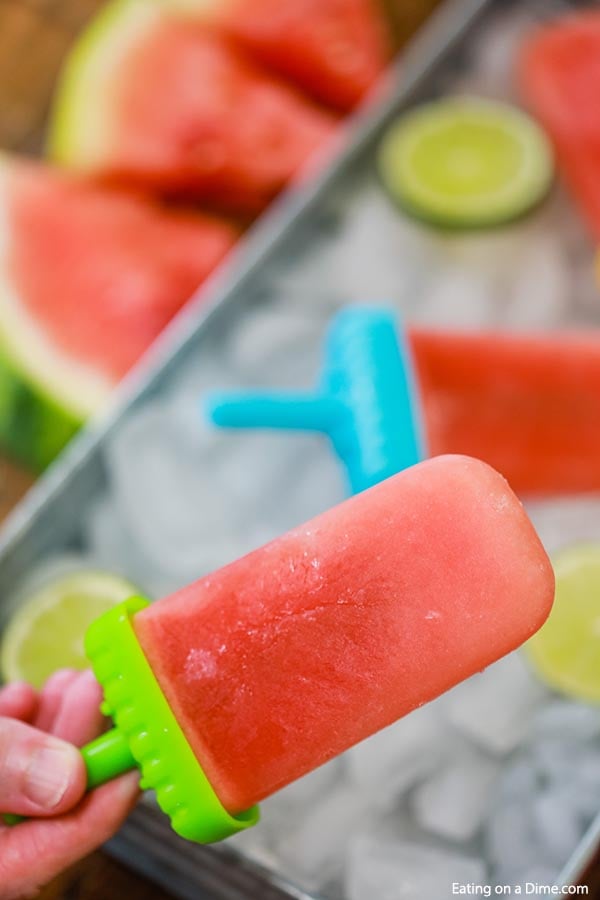 How to remove popsicles from molds:
Once your popsicle is frozen solid in the mold, now it is time to enjoy them. The best option in removing from the mold is running the mold under water for a minute. Then carefully try and wiggle the popsicle stick free of the mold.
If it doesn't immediately come out, then run it under the water again. Make sure you don't get water inside the mold. Also, don't force it out of the mold or you can break the popsicle.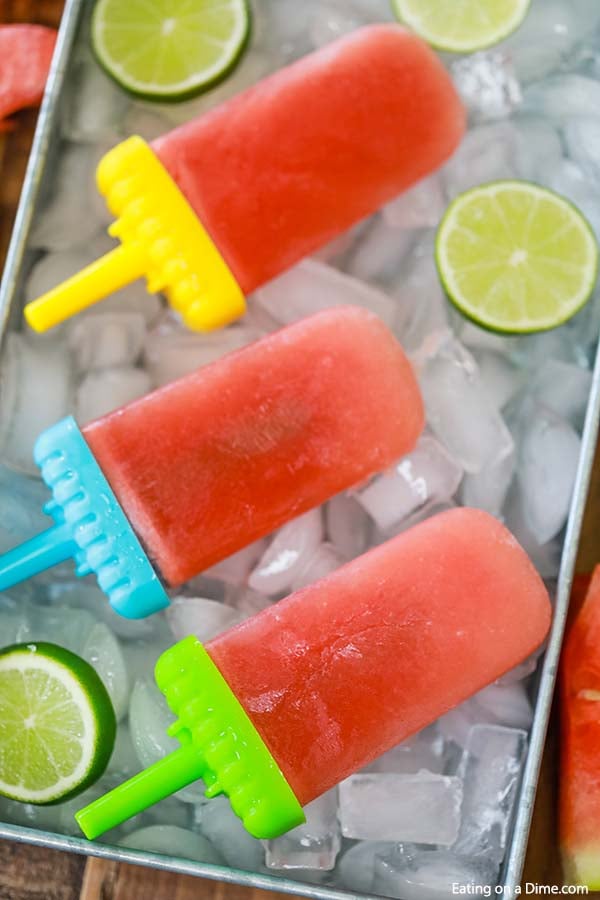 Can I use Different Fruit?
When making popsicles, we like to try different fresh or frozen fruits. You can combine multiple fruits to make delicious popsicles. Here are some of our favorites:
Blueberries
Raspberries
Mangos
Pineapples
Strawberries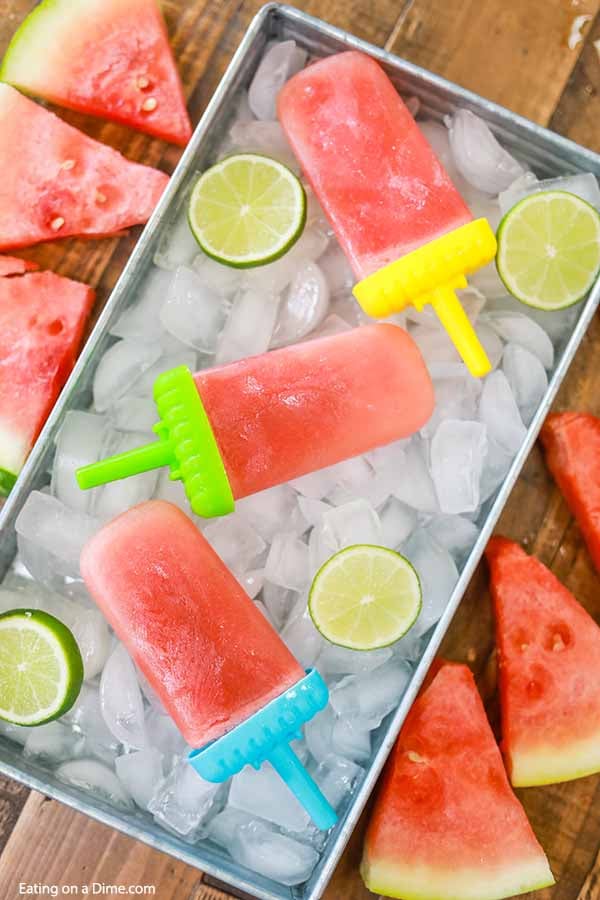 Watermelon Popsicle Variations:
Creamy Popsicle – If you are wanting a creamy popsicle, mix in about ½ cup of coconut milk.
Layer Ingredients – You can layer popsicle ingredients in the mold. Add a layer of the blended watermelon mixture, then add a layer of fresh fruit. Then continue to mold is full.
Adult Popsicles – If you are having an adult party, mix in some tequila for the perfect party popsicles.
Mint Leaves – For extra flavoring, add in some mint leaves.
Tips for the Best Watermelon Popsicles:
Seedless Watermelon – We recommend using seedless watermelon when making these popsicles. This ensure that you are not having to remove the seeds from the popsicles.
Leave Space – When filling up the popsicle mold with the watermelon mixture, leave about a ¾ inch gab. This allows for expansion.
Fresh Lime Juice – If adding in lime, we recommend squeezing in fresh lime. You can even add in fresh lemon juice.
Easy Watermelon Popsicles are a Crowd Pleaser:
The fresh watermelon really made this an amazing treat. They reminded me of the watermelon popsicles outshine version at the grocery store.
The kids said they also thought they tasted like the watermelon popsicles ice cream truck ones you can purchase.
Either way, they were so good and you can't beat the watermelon popsicle calories. They are healthy and delicious!
Print this Homemade Watermelon Popsicles recipe below:
Homemade Watermelon Popsicles
Homemade Watermelon Popsicles are so easy to make and you only need 3 ingredients! This is such an easy treat to make this Summer and so refreshing.
Ingredients
4

cups

chopped watermelon

2

tablespoons

sugar

1

lime – juiced
Instructions
Place the watermelon, sugar, and the lime juice in a blender. Blend until smooth.

Pour through a stainer to remove the seeds. Use a spoon to push the extra through, if you have any pulp in it.

Pour into popsicle molds.

Freeze it for a few hours to overnight.

To quickly loosen, run the Popsicles under warm water for a minute and the popsicles will pull out easily.
Nutrition Facts
Calories
49
kcal
,
Carbohydrates
13
g
,
Protein
1
g
,
Fat
1
g
,
Saturated Fat
1
g
,
Sodium
1
mg
,
Potassium
125
mg
,
Fiber
1
g
,
Sugar
10
g
,
Vitamin A
575
IU
,
Vitamin C
11.5
mg
,
Calcium
11
mg
,
Iron
0.3
mg
More Homemade Popsicles recipes to try: