This post may contain affiliate links. If you make a purchase through links on our site, we may earn a commission.
These delicious Homemade lemonade recipes will quench your thirst and they are so simple to make. Try over 35 quick and easy recipes you will love.
Homemade lemonade recipes
You are going to love these homemade lemonade recipes. Sunny summer afternoons and summer adventures call for a dose of refreshing lemonade!
What could be better than a glass of fresh squeezed homemade lemonade to cool you down on a hot day. I love a good recipe for lemonade which is why I wanted to share with you some of the best homemade lemonade recipes.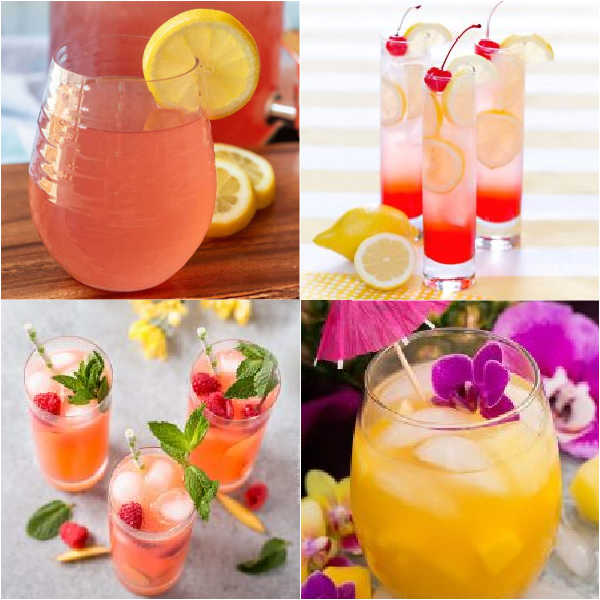 Here are 35 easy lemonade recipes that taste amazing. You will love all the variations on classic lemonade.
Strawberry lemonade is my favorite! So refreshing! I bet you will have trouble choosing only one recipe for lemonade.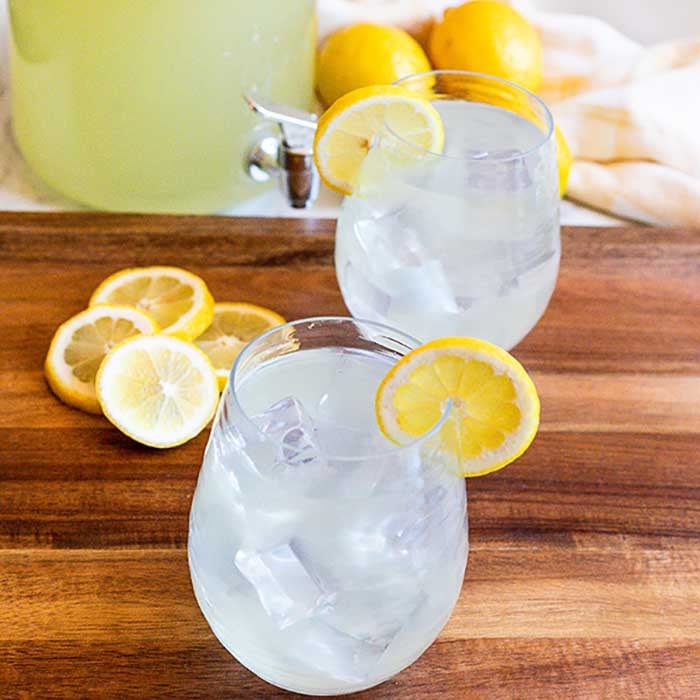 Copy Cat Chick-fil-a Lemonade recipe
The copycat recipe here is so refreshing and incredibly simple to make. Enjoy your favorite lemonade at home for a fraction of the price in just minutes!
Fresh Squeezed Lemonade
This fresh squeezed Lemonade recipe here will blow your mind! You'll never go back to store bought!
Watermelon Lemonade
Only 3 ingredients to make this fun summer drink here. You will be in awe of how delicious this drink is with a splash of watermelon.
Copycat Starbucks Passion Tea Lemonade Recipe
Need to save money? Try making this copycat Starbucks drink with only a few ingredients here that you probably already have.

Pineapple Lemonade Recipe
This recipe is so bright and vibrant here. The pineapple adds a yummy twist to a classic homemade lemonade recipe.
Cherry Lemonade
This family friendly cherry lemonade recipe is my absolute favorite for these hot summer days and nights. Get the easy recipe here.
Perfect Lemonade
Make this today and find out why it is so easy and refreshing for Summer. The perfect combination of sweet and tart here.
Strawberry Lemonade
Fresh strawberries and fresh lemons make a delightful combination here! You will love this sweet and tangy drink.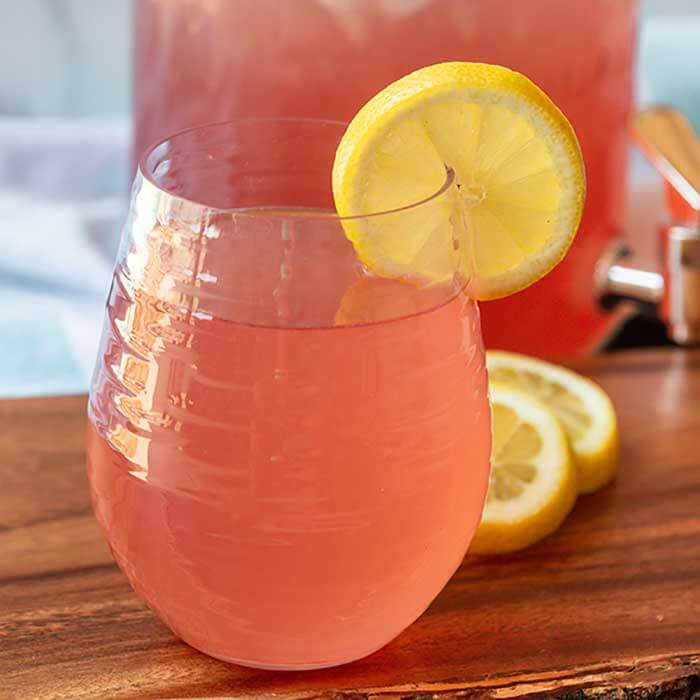 Delicious Homemade Pink Lemonade
This refreshing recipe here is so refreshing and perfect for summer. You will love the extra burst of flavor the cranberry juice adds.
Pineapple Lemonade Recipe
This drink is so refreshing and the perfect drink for Summer. The recipe here takes classic lemonade to a new level. The hint of pineapple gives this recipe such an amazing flavor!
Less Sugar Added Strawberry Lemonade
This yummy blend of strawberry and lemons will quench your thirst without being laden with sugar here. A great recipe for those looking for a healthier lemonade recipe.
Refreshing Lemon-Limeade Recipe
This lemon and lime twist is the perfect combination for a refreshing summer drink. Get the recipe here.
Raspberry Peach Lemonade
Just one sip of this raspberry peach lemonade and you'll be instantly dreaming of those laid back summer days filled with sunshine, warm breezes and a perfect blue sky! Get the amazing recipe here.
Fresh Strawberry Lemonade
Strawberry Lemonade made with fresh strawberries and lemons. Get the recipe for this refreshing combination here.
Mint Infused Lemonade Recipe
This recipe is so simple and easy to make in large quantities here. The perfect drink for parties. It's light and refreshing and just so pretty.
Frozen Strawberry Lemonade
Who can resist a delightful splash of lemonade and some irresistible strawberries? See the tasty recipe here.
Copycat Chick Fil A Frosted Lemonade
A delicious blend of ice cream, lemonade and more make this so refreshing. Everyone will love the recipe here.
Pink Lemonade
This standout pink drink here is a nice take on the classic lemonade. Perfect for cookouts, parties and more.
Fresh Peach Lemonade
This refreshing summer favorite is so simple and has fresh juicy peaches and lemons for a delicious thirst quencher. Try the recipe here.
Strawberry Lemonade
If you are looking for a sweet and tart drink that will quench your thirst, this recipe here is the one to try. The lemonade is so delicious.
Blueberry Lemonade
This light and refreshing Blueberry Lemonade is totally homemade here but so easy to make. You can make ahead and chill for the best drink.
Sparkling Pink Lemonade
Add a few slices of lemon to a tall pitcher of lemonade and you have the perfect beverage for your next summer BBQ. Take a look here at the simple recipe.
Mint Lemonade
Try this delicious combination here of mint and fresh lemons. The recipe will make you feel like you're on vacation!
Sparkling Lemonade
If you love lemonade, try this updated sparkling version here. It's cool, crisp and refreshing. The perfect sparkling lemonade recipe for summer!
Strawberry Lemonade
This clean eating strawberry lemonade recipe here is a very refreshing drink. You can enjoy this all summer long no matter how you blend it!
Pineapple Mango Lemonade
This lemonade puts a great tropical twist on the classic lemonade recipe! Try the tropical recipe here.
Champagne Lemonade Margaritas
This totally celebration-worthy cocktail comes to life when you combine champagne with some pink lemonade! Check out the recipe here.
Homemade Strawberry Lemon Lime Lemonade
This family favorite refreshing drink is made easily by hand and uses fresh ingredients here. The combination of fresh lime juice and sweet, strawberry sauce make a great drink.
Watermelon Lemonade
This delicious watermelon lemonade is both sweet and refreshing. See the easy recipe here.
Strawberry Lemonade Sun Tea
This Strawberry Lemonade Sun Tea Recipe is the perfect summertime beverage here. A naturally fruit flavored tea with no added sugar!
Sweet Southern Pink Lemonade
This sweet, southern pink lemonade will be a huge favorite in your home. Best of all, you won't mind making it because it is so easy to do here.
Summer Berry Lemonade
Make use of fresh, seasonal berries and mix up a batch of sweet and tart Summer Berry Lemonade here. It is so yummy!
You will love all of these homemade lemonade recipes.
From classic lemonade to a little something extra, there are so many homemade lemonade recipes to choose from. You are sure to find the perfect recipe for lemonade for any occasion.
Skip the store bought lemonade and make one of these delicious recipes at home. It is easy to juice your lemons and make homemade lemonade in minutes.
You really do not need much to make it. If the recipe calls for a simple syrup, just grab a small saucepan. All of these recipes are very simple.
Get ready to enjoy ice cold homemade lemonade! I love to top each glass with lemons sliced and add ice. Enjoy!
Which of the best lemonade recipes do you plan to try?
Find more refreshing Summer drink recipes here: