This post may contain affiliate links. If you make a purchase through links on our site, we may earn a commission.
Make these easy summer drinks to beat the heat any day of the week. Choose from slushies, lemonade, punch and more. We have something for every occasion.
Easy summer drinks
With the weather finally starting to heat up, I can't help but think about summer! Things just slow down and it is a great time of year. I love watching the kids play by the pool and laughing with my family. Serve one of these drinks with our Summer Snack Charcuterie board and it will be the perfect day.
Grilling out and refreshing drinks come to mind. If you think of the same types of things, you are going to love this summer drinks recipes round up! I've put together a bunch of easy summer drinks recipes that are delicious!
Frozen drink recipes
Fanta Ice Cream Float
If you love Fanta and ice cream, combine them into this fabulous drink. This Fanta Float is always a crowd pleaser. You are going to love it!
Strawberry Lemonade Slushies
Skip the store bought slushes and make this easy and refreshing slushie recipe at home. The strawberry and lemonade combination is delicious.
Pineapple Lemonade Slushie Recipe
Enjoy this light and refreshing drink to beat the heat! You will love the combination of pineapple and lemonade in this slushie recipe. Cool and refreshing and oh so easy!
Dark Berry Chia Smoothie
Sneak in chia seeds to get more omega 3 fatty acids in your diet. This berry smoothie is so delicious and no one will guess it is good for you too!
Easy Fruit Smoothie Recipe
This healthy smoothie recipe is delicious. It is such an Easy Frozen treat and kids will love it. Give this strawberry smoothie a try for a delicious treat.
Raspberry Lemonade Slushies
Fresh lemons and fresh raspberries make this slushie delicious and so refreshing. Try this easy raspberry slushie with just a few ingredients.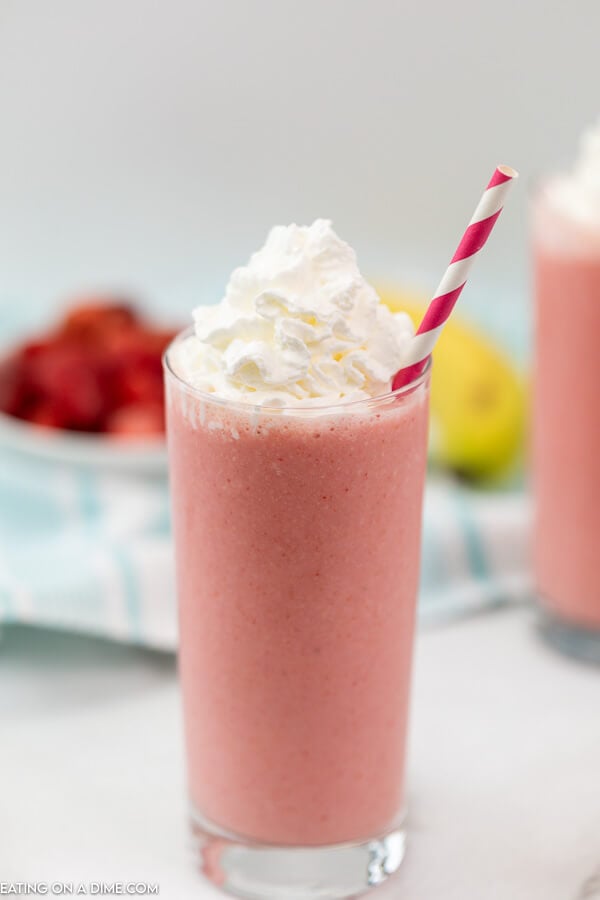 Yogurt Strawberry Banana Smoothie Recipe
The entire family will enjoy this Strawberry Yogurt smoothie. Plus, you can feel good about serving everyone a smoothie packed with fruits and nutrition with this recipe with greek yogurt.
Sunrise Smoothie
What better combination to enjoy than mango and strawberry? This is the perfect smoothie for breakfast and also includes a banana for even more great flavor.
Strawberry Watermelon Smoothie
Watermelon fans will go crazy over this tasty combination of strawberry and watermelon. Enjoy this strawberry smoothie for an afternoon snack or anytime you need something quick and refreshing.

Kool-Aid Slushies
Learn how to make a slushie at home! Your kids will absolutely go crazy over these kool aid slushies. They taste just as yummy as the ones you buy but at a fraction of the cost.
Low calorie slushie
Enjoy a delicious slushie with this low calorie option. You only need 3 ingredients and it is simple and delicious. Make this guilt free slushie today.
Strawberry slushie recipe
In literally minutes, your family can enjoy this amazing slushie any day of the week. This drink is bursting with strawberry flavor and so easy to make.
Easy Tea recipes
Copycat Starbucks Passion Tea Lemonade
Make this refreshing copycat passion tea lemonade recipe at home. Save money and enjoy your favorite drink in minutes for a fraction of the price of store bought.
Almond Iced Tea
Jazz up traditional iced tea when you make
Almond tea
. Perfect to enjoy on a hot day.
Southern Sweet Tea
Iced tea is the perfect Summer drink and Southern tea is the way to go. If you don't know how to make it yet, you will love tea the Southern way.
Raspberry Iced Tea Recipe
It's so simple to make and the fresh raspberries make this drink so tasty. Once you learn how to make raspberry iced tea, it will be something that everyone asks for again and again. It's SO good!
Copycat Olive Garden Peach Iced Tea
Love Olive Garden peach tea? This recipe is so easy to make at home and you can enjoy it anytime you want. Plus, the savings will add up!
Peach Iced Tea
Try this easy recipe for a tasty blend of peach and iced tea. It is refreshing and tastes a lot like like Sonic's Peach Ice Tea.
Homemade lemonade recipes
CopyCat Chick-Fil-A Lemonade
Copycat recipes save money and this one is so refreshing and incredibly simple to make. Enjoy your favorite lemonade recipe at home for a fraction of the price in just minutes!
Homemade Berry Lemonade Kombucha
Have you been wanting to try kombucha? Make this yummy homemade berry lemonade for a great drink idea. Everyone will love it!
Strawberry Rhubarb Lemonade
Fans of rhubarb will love this lemonade blend. Try it today for something different and so delicious.
Rhubarb Grapefruit Lemonade
Sweet, tart and the perfect blend of citrus make this drink delightful. Try this grapefruit lemonade recipe.
Homemade Watermelon Lemonade
Whip up a batch of watermelon lemonade for a fraction of the price of store bought. You only need 3 ingredients to make this homemade drink and everyone will go crazy over it.
Lavender Lemonade
From the gorgeous color to the calming fragrance, this recipe is perfect for a brunch, afternoon tea or just to beat the heat. Lavender lemonade is a real treat.
Pink Lemonade
Make this in minutes for the perfect drink. This delicious pink lemonade recipe is super easy and so refreshing.
Copycat Sonic Cherry Limeade
Skip the line and make this cherry limeade at home that tastes just like Sonic's. You will love it and the recipe is so easy to make at home.
Pineapple Lemonade Recipe
This recipe takes classic lemonade to a new level. The hint of pineapple gives this lemonade recipe such an amazing flavor and it is the perfect drink for Summer.
More Summer drink recipes:
Sparkling Crystal Light
We love to make this sparkling drink for a refreshing drink everyone can enjoy. It is super easy to make and you can make any flavor you like. This is budget friendly and sure to be a hit.
Black Cherry Soda
Learn how to make simple syrup and turn it into a delicious soda drink. The black cherry has a great flavor and the drink is so easy to make.
Red, White and Blue Punch
Make this fun multi-colored punch that is patriotic and so delicious. The festive punch is so easy to make and looks amazing.
Easy Sonic Ocean Water Recipe
Does your family love the Ocean Water drink from Sonic? This copy cat Sonic Ocean water recipe is so easy to make at home and such a fun drink.
Sparkling Orange Chillers
Orange juice and sparkling water come together for something special in this chiller recipe. Even better, you can easily use different types of juice for even more drink options.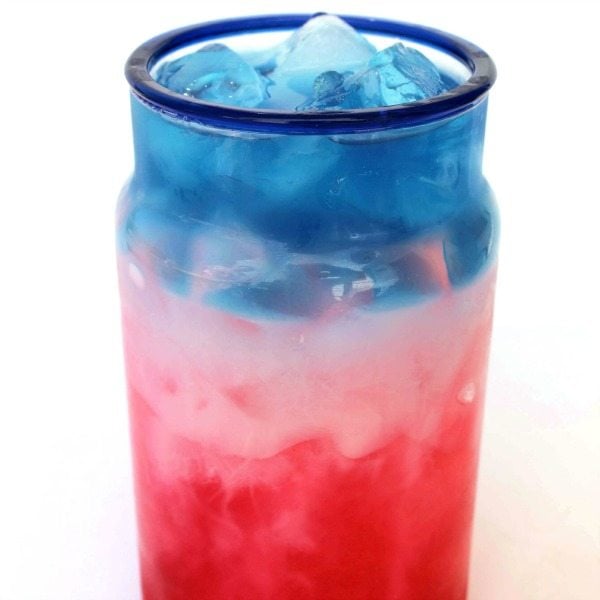 How to make Red, White and Blue drink with perfect layers
Who is ready for Summer and the 4th of July!?Learn how to make this kid friendly red, white, and blue drink that not only looks pretty but tastes delicious too.
Best party punch recipe
You only need 3 ingredients to make the best punch. Make this for birthday parties, baby showers and more for a delicious punch.
What are your favorite easy summer drink recipes?
Do you prefer Lemonade or Tea? Something a little fruity? Whichever your preference, we have a variety here that you are bound to enjoy.
We can't wait to hear how much you enjoyed these easy summer drinks recipes! Come back and tell us which ones you tried and which ones you loved.