This easy lemon water recipe is so refreshing and a tasty way to stay hydrated. Enjoy this drink guilt free as it has no added sugar and zero calories.
Easy lemon water recipe
Drinking lemon water is such a refreshing drink with many added health benefits. If you struggle to get in the daily dose of water, try this healthy drink.
The lemon slices give it the perfect hint of flavor. You will love drinking cups of water all day.
Try making a large pitcher of this to enjoy instead of sugary drinks like soda. It is really delicious.
What are the benefits of drinking lemon water?
Weight loss. Lemon may aid in helping to reduce your appetite. You can drink a glass of this infused water prior to your meal. This will help you feel full and possibly help to lose weight.
Digestion. It helps to aid in digestion. The acidity in lemon helps the process of breaking down food.
Protection from disease. Lemon may help to prevent infection. This is due to the acidic environment it provides in the stomach and the antioxidant properties.
Kidney function. Water is necessary for proper kidney function.
Vitamin C. Lemon is a citrus fruit and a great source of Vitamin C.
Hydration. It is critical to stay hydrated each day. Lemon slices help to give it flavor making it easier to drink the daily allotment.
Alkalinity. Acid in the body often results in inflammation. Drinking water with lemon helps to reduce inflammation due to the antioxidants and vitamin C.
Ingredients:
How to make Lemon water:
Prepare the lemons. Wash and slice the lemon into thin slices.
Place the slices into a pitcher. Add the sliced lemons and add with cold water to a pitcher. You can use filtered water if you prefer.
Chill the beverage. Refrigerate for at least an hour before serving. You can use a wooden spoon to slightly mash the lemons to release the juices from the them.
How to make a single glass of lemon water:
Slice ½ lemon for every 8 to 10 ounces liquid.
Stir and refrigerate. You can add ice to quickly chill the beverage to enjoy immediately.
How long will lemon water last?
It lasts about a day at its freshest. I like to make a large pitcher every morning.
It is the perfect amount for the day and I don't have to worry about the lemon getting soggy.
The drink is super easy to make and pretty effortless. It doesn't take any time at all to make each morning.
How to store:
It is best served the same day but you can also refrigerate the water for up to 3 days.
Warm lemon water
There are benefits to drinking warm lemon water in the morning. It helps to promote clear skin, aids in digestion, boosts your immune system and more.
Drinking it warm also helps to loosen congestion and thin mucus. Other benefits include: stress reliever, helps with circulation, reduces nasal congestion and more.
Go ahead and drink warm water for an added health boost. Sometimes, I also add a little bit of honey as well. It's so yummy.
How to make sparkling lemon water:
Substitute sparkling water instead of the plain water. Add the lemon slices as directed and refrigerate.
This is a tasty way to handle cravings for soda. If you love the carbonation in soda, try using sparkling water to make this easy drink.
You might just be surprised how much you love it. It is a really easy and tasty way to replace soda all together.
Just note the sparkling water will go flat after awhile. Due to this, I prefer to serve it right away when making sparkling water.
Lemon water additions:
Cucumber slices. Thinly slice cucumber and add into the drink. The combination is refreshing.
Lime slices. Lemon and lime pair nicely together.
Strawberries. Fruit infused water is so tasty.
Drink with a straw.
It is suggested that you drink lemon water using a straw to prevent damage to tooth enamel. The acidity of lemon undiluted can possibly damage enamel depending on the condition of your teeth.
Make this easy recipe for lemon water.
It is so refreshing and one of my favorite ways to stay hydrated. I refill my glass as soon as I finish one. This helps to fulfill my daily water allotment.
Make a pitcher today and start enjoying all of the benefits. Everyone will enjoy drinking water with a hint of lemon flavor.
Print this Lemon Water Recipe below: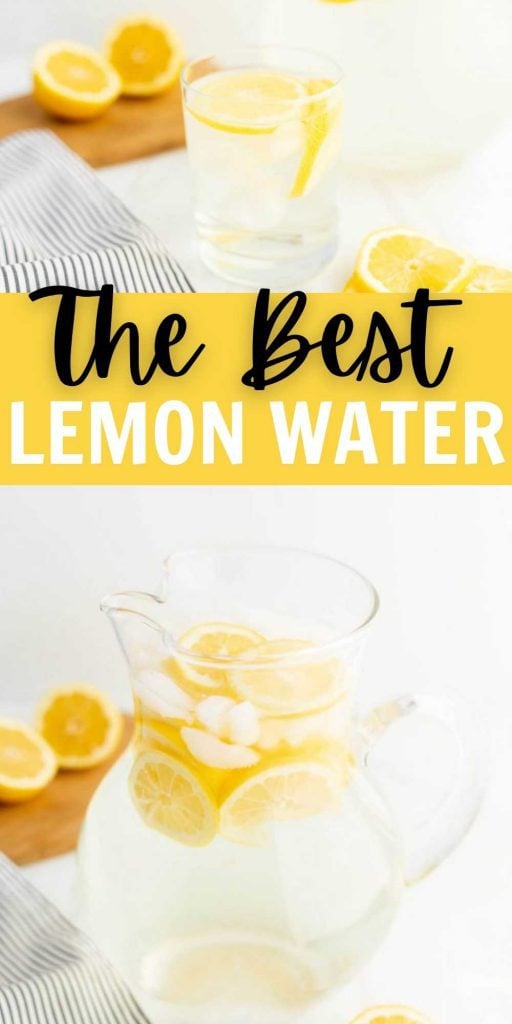 More flavored water recipes: