This post may contain affiliate links. If you make a purchase through links on our site, we may earn a commission.
Enjoy these flavored water recipes with subtle flavors everyone will enjoy. 8 infused water recipes that are easy to make and refreshing.
Flavored Water Recipes
Drinking plain water can get boring. If you are looking for healthy ways to jazz up water without added sugar, we have the solution.
These recipes for infused water include various fruit and veggies. It enhances the water for a delicious and easy way to stay hydrated.
Make a large pitcher and keep it in the fridge. You will be surprised how much easier it is to get the entire family to drink water.
We have recipes for fruit, veggies and fresh herbs. Experiment with different ingredients and never get bored. It is an effortless way to stay hydrated all day long.
Infuse water is also very inexpensive. It is much cheaper than buying juice, soda and other beverages at the grocery store. Not to mention a ton cheaper and healthier.
What is the best fruit to put in water?
There are many different types of fruit that can be used to infuse water. However, some enhance the water more than others.
Some examples include: lemons, oranges, limes, blueberries and strawberries. These are great examples of fruit that quickly enhances the water.
How long can you leave fruit in infused water?
It will last up to 3 days in the refrigerator. However, I prefer to remove the fruit or veggies ater 24 hours.
After about a day, they began to breakdown and cause the water to be bitter.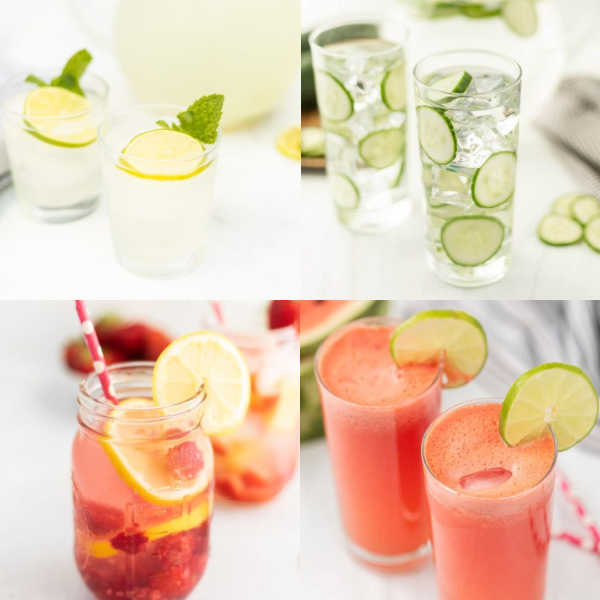 Is drinking fruit infused water good for you?
There are many health benefits to drinking fruit infused water. Generally, people will stay more hydrated and drink more water. The added flavor really helps versus drinking plain water.
It is the perfect alternative to soda and one of our favorite healthy drinks. The fruit flavor adds the perfect hint of flavor.
Some of our favorite benefits:
Hydration. It is so much easier to drink lots of water when it is infused with fruit.
Extra vitamins. Citrus fruit is loaded with vitamin C. This is a great way to add more vitamins to your day.
Alternative to soda. Enjoy a glass of infused water instead of reaching for soda. It is a healthy substitute.
No added sugar. The natural sweetness from the fruit is all you need. You can greatly reduce your sugar intake each day by reaching for water.
Tips for Easy Fruit infused water recipes:
Wooden Spoon. Use a wooden spoon to gently smash the fruit to release more flavor. Stir to combine with the cold water.
Ice Cubes. Infused water is best served refrigerated. If you can't wait, add ice cubes to each glass of water.
Frozen Fruit. Utilize chunks of frozen fruit to keep the drink cold and gradually release flavor. This is perfect for warmer weather.
The Best Flavored Water recipes
We have a list of the best infused water recipes. They are simple to make and delicious. It will be effortless to stay hydrated with so many wonderful ways to enjoy water.
I like to make a pitcher first thing in the morning. It makes it so easy to drink lots of water during the day. If it is already prepared, everyone is more likely to grab a glass of water.
1. Cucumber Water
Not only does Cucumber Water taste great but there are many health benefits as well. This is a delicious way to enhance water and the slices look pretty too. Each glass is so refreshing and extremely tasty.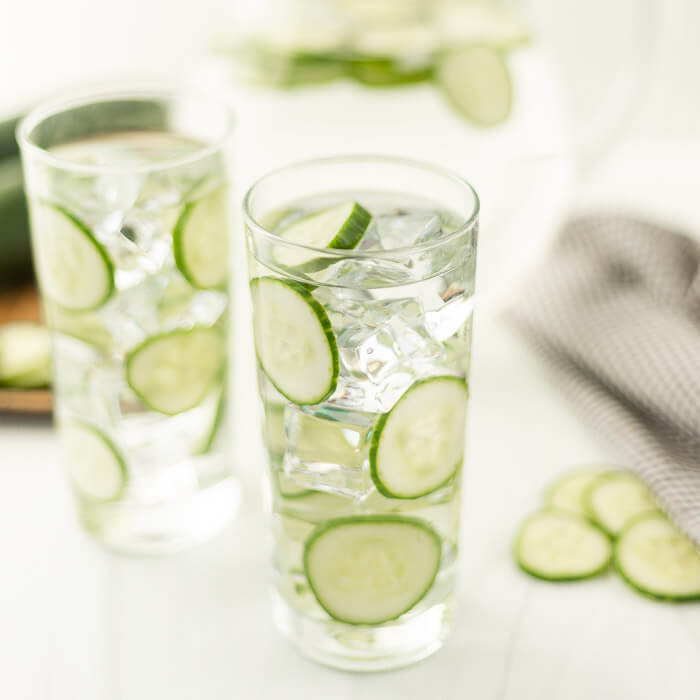 Cucumber Water
Delicious Cucumber water recipe is a refreshing way to stay hydrated. Enjoy this cucumber infused water for health benefits and more.
See the Recipe
2. Watermelon Water
Whip up this easy recipe for Aqua Fresca. With only a handful of ingredients, it is so quick and easy to make. This drink is the perfect recipe for a hot day and kids love this.
Watermelon Water
Watermelon Water is a refreshing drink with only a few simple ingredients. Aqua Fresca is super easy to make and perfect for a hot day.
See the Recipe
3. Strawberry Water
Anyone can easily make this drink with only 4 ingredients. It has lots of strawberry slices for a drink packed with flavor. This recipe is great for any occasion as well.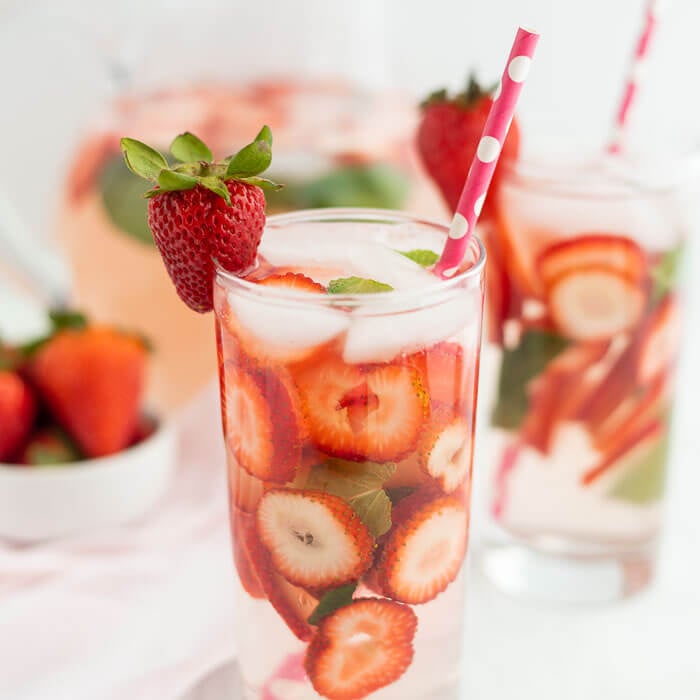 Strawberry Water
Strawberry Water recipe is a refreshing drink that can be made in minutes. With only 4 ingredients, Strawberry Aqua Fresca is quick and easy.
See the Recipe
4. Cucumber Lemon Water
The combination of cucumber and lemon slices make a gorgeous drink that is tasty as well. It is so easy to stay hydrated with this recipe. Try this infused water for a great way to quench your thirst.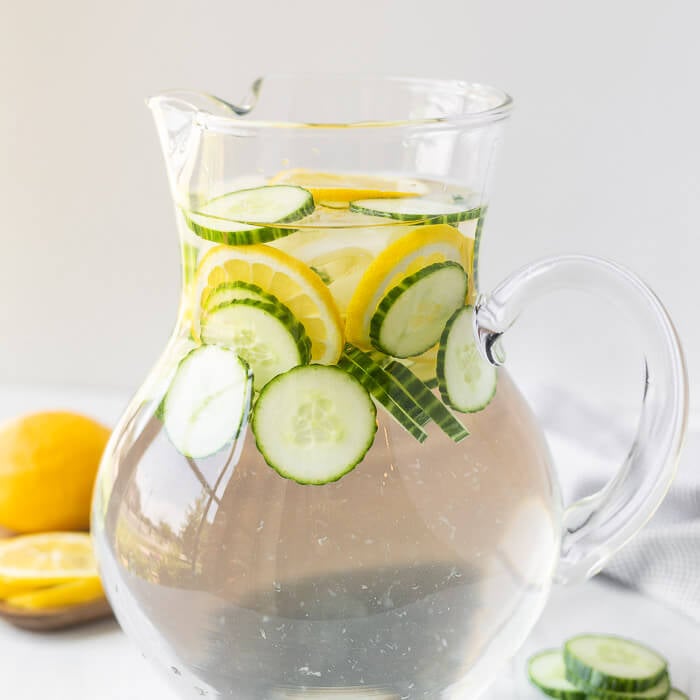 Cucumber Lemon Water
Cucumber Lemon Water is a refreshing drink with only 3 ingredients. Stay hydrated with this delicious infused water.
See the Recipe
5. Fruit Infused Water
Skip the sugar laden drinks and make fruit infused water instead. The combination results in the perfect drink to enjoy all day long. It really satisfies your thirst and tastes great.
Fruit Infused Water
Fruit infused water recipe is the perfect alternative to sugary drinks. With only a few ingredients, this refreshing drink is quick and easy.
See the Recipe
6. Mint Water
Fresh Mint adds the perfect element of flavor to plain water. Mint leaves give this drink the most subtle hint of flavor without much work at all. This drink is simple but tasty.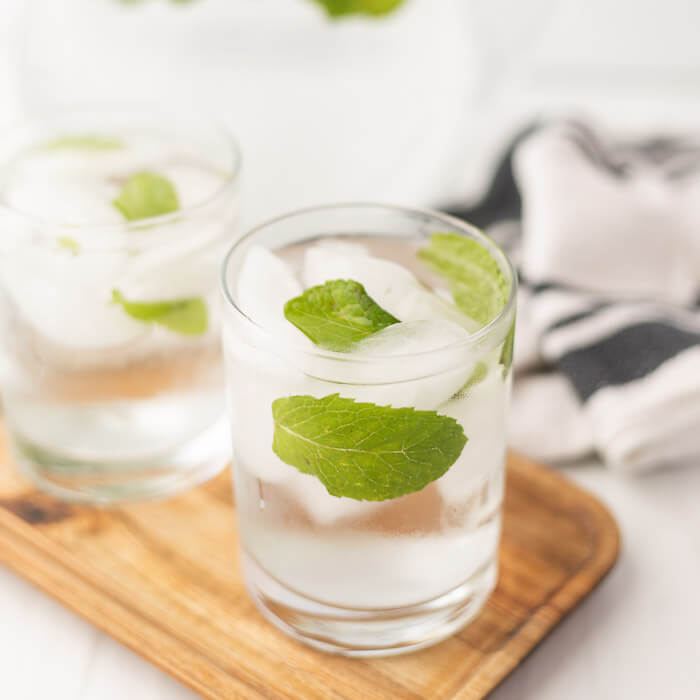 Mint Water
This easy Mint Water Recipe is just what you need to beat the heat. It is light and refreshing while being super easy to prepare.
See the Recipe
7. Lemon Water
Toss a few slices of lemons into water for an easy drink in minutes. Not only does it look pretty in a glass pitcher but it's tasty too.
Lemon Water
This easy lemon water recipe is so refreshing and a tasty way to stay hydrated. Enjoy this drink guilt free as it has no added sugar and zero calories.
See the Recipe
8. Lime Water
The zesty flavor of Lime really enhances water for a delightful beverage. We like to make this with sparkling water for an amazing alternative to soda. Feel free to combine slices of lime water and lemon water for a new flavor twist.
Lime Water
Lime Water recipe is perfectly infused with lime for a refreshing drink. The citrus flavor enhances the water making it a great choice for hydration.
See the Recipe
Delicious flavored water recipes.
Give these easy recipes a try. They are so tasty and make it simple to stay hydrated all day long.
We have a blast trying a new recipe each day. The variety is fun and keeps everyone enjoying water.
Let us know which recipe you try. Do you have a favorite?
More Easy drink recipes: