Easy, Cheesy Instant Pot Scalloped Potatoes. The perfect side dish for all your holiday meals. Cooks in less time thanks to the pressure cooker.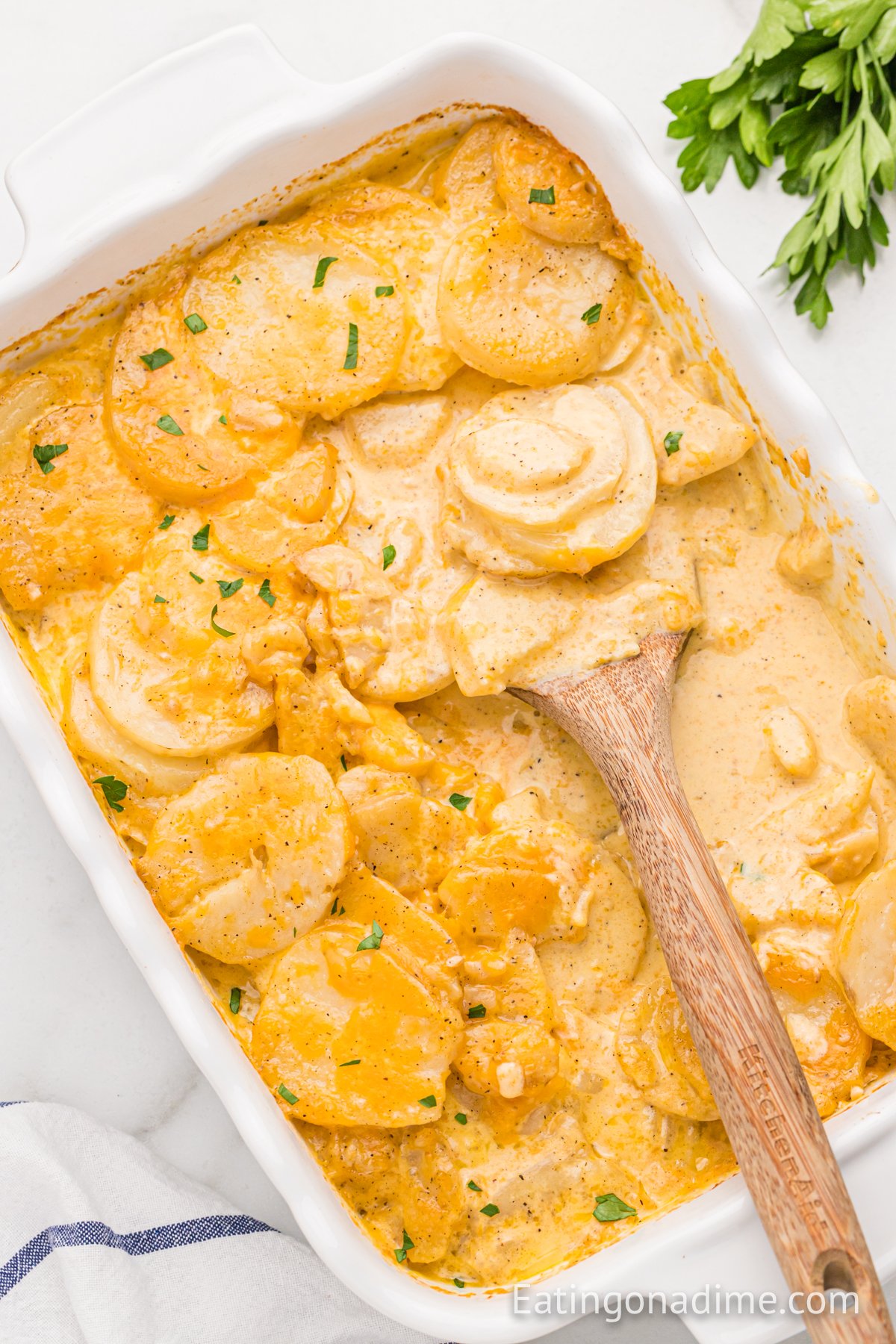 Instant Pot Scalloped Potatoes Recipe:
We love using out instant pot for many different recipes. But using it for the holidays, save me so much time. This Scalloped Potatoes Recipe cooked in the instant pot softens the potatoes to cook perfectly in the oven.
This side dish comes out perfectly cheesy and delicious when made in the pressure cooker. It is a quick and easier version than made in the slow cooker. But if you only have a slow cooker, our Slow Cooker Scalloped Potatoes cook up perfectly too.
Cooking the potatoes in the instant pot keeps their form. It also makes them the right texture to finish cooking in the oven. Impress your family this holiday season with this easy, delicious side dish.
What type of Potatoes is best for this recipe?
When making this recipe, we prefer the more starchy potatoes. We used russet potatoes in this recipe, but you can also use Yukon Potatoes. Whichever potato you use, you are sure to please a crowd.
Ingredients:
Russet Potatoes, peeled and sliced into 1/4" thick slices
Heavy Whipping Cream
Chicken Broth
Minced Garlic – You can also use garlic powder.
Parmesan Cheese
Cheddar Cheese, shredded
Salt
Pepper
How to Make Instant Pot Scalloped Potatoes:
Add ingredients to Pressure Cookier – Add the chicken broth, minced garlic, salt and pepper to a 6 quart Instant Pot. Stir to combine.
Then add potatoes – Then add in the sliced potatoes. Seal and cook on high pressure cook for 2 minutes. Then do a quick release to release the pressure from the instant pot after the cook time.
Prepare Oven – Preheat the oven to 375 degrees F.
Remove potatoes from instant pot – Carefully remove the sliced potatoes from the Instant Pot into an oven safe baking dish. Leave the rest of the liquid in the instant pot.
Sauté ingredients with heavy cream – Then switch the instant pot to the sauté setting and whisk in the cream. Let the cream mixture simmer in the instant pot for 2-3 minutes.
Add in cheese – Then turn the instant pot off and stir in 2 cups of the shredded cheddar cheese. Stir until melted.
Pour sauce over potatoes in baking dish – Pour the cheese mixture over the potatoes in the baking dish. Gently toss the potatoes to cover it with the cheese sauce.
Top with more cheese – Then top with the remaining cheddar cheese and the shredded Parmesan Cheese.
Bake scalloped potatoes. Bake for 15 minutes to 20 minutes. Until the potatoes are warm and tender (check every 5 minutes or so). Then broil the top of the potatoes for 1-2 minutes to brown the top of the potatoes.
Serve and enjoy – Let the potatoes sit for 10-15 minutes and then they are ready to serve and enjoy.
How Long to Cook Scalloped Potatoes in the Instant Pot:
After adding in the broth, garlic, salt and pepper into the pressure cooker, add the slice potatoes. In the instant pot, the potatoes will cook for about 2 minutes. This allows them to get tender and finish cooking in the oven.
Recipe Variations:
Try customizing your scalloped potato recipe! There are different variations your can try to make this a one pot meal.
Add in Meat – Try adding in diced ham or bacon is a good addition to this recipe. Bacon makes everything taste better. Chicken or sausage is also a good option to make is a complete meal.
Slice Sweet Potatoes – Half sweet potatoes would be good also. We love sweet potatoes, and dividing up this recipe with sweet potatoes makes me love this recipe even more.
Cheese – We love to change up the cheese. You can add in Mozzarella, Gouda or Monterrey jack cheese in place of the cheddar cheese. It changes up the taste of the scalloped potatoes, but I love it when we use different cheeses.
Broth – If you prefer, you can use vegetable broth instead of chicken broth.
Seasoning – You can change the seasoning or add in red pepper flakes for added flavor.
We love to change it up occasionally just to make this an easy dish!
Scalloped Potatoes Instant Pot Tips:
Slicing Potatoes – Try to slice the potatoes as even as possible. So that they cook at approximately the same time (the thinner the better).
Shredding Cheese – Use freshly shredded cheeses so that it melts smoothly and evenly in this recipe. We prefer shredding cheese from the hunk cheese. There is no additional ingredients and it taste better.
Double the Batch – You can double to batch with the same cooking time. Just double the ingredients.
Favorite Cheese – Use what cheese you like. Sharp Cheddar is always a family favorite.
Topping – You can add a layer of bread crumbs for a crunchy topping.
Broil After Cooking – We recommend allowing the dish to broil for a few minutes after cooking. This gets the topping crispy layer of cheese.
Allow to Cool – Allowing the scalloped potatoes to cool for a few minutes, really gives the mixture that creamy texture.
Can you Freeze Scalloped Potatoes?
This dish is perfect for freezing to enjoy again another days. These steps will allow you to freeze properly so the scalloped potatoes stay delicious.
Cool Completely – Make the scalloped potatoes are cool completely before storing.
Covering – You can cover the dish in plastic wrap and aluminum foil. Or place the potatoes in an air tight container that is freezer safe.
Storing – If stored properly the scalloped potatoes will last about 3 months in the freezer.
Thawing – When ready to serve again, place container in the refrigerator to thaw overnight.
Reheating – Place potatoes in a microwave safe dish and reheat. You can also place in the oven at 350 degrees and heat for about 10 minutes.
How to Store Leftovers:
Refrigerate any leftovers in an airtight container for up to 5 days. You can store the leftovers in individual containers so it is easy to grab if you are taking for lunch.
Easy Holiday Side Dish:
We love bringing this side dish to pot lucks or make it for your family gathering. It is so easy to put together and requires very little work.
It is the perfect side dish when you are on a budget. We typically have most of the ingredients already. So I love it when I only have to get a few items I am missing to complete this dish.
Everyone will love how it tastes as it is the best comfort food. These potatoes are good with just about anything. These potatoes tend to be pretty filling, so try serving a lean meat as your main dish.
You can serve it with ham, chicken, steak, or fish. Even though scalloped potatoes are good anytime of the year, we tend to serve them on special occasions.
Print Recipe here for Instant Pot Scalloped Potatoes:
More Easy Instant Pot Side Dishes: