Old Fashioned Sugar Cookies are soft and delicious and easy to prepare. These sugar cookies are prepared and dropped on a cookie sheet.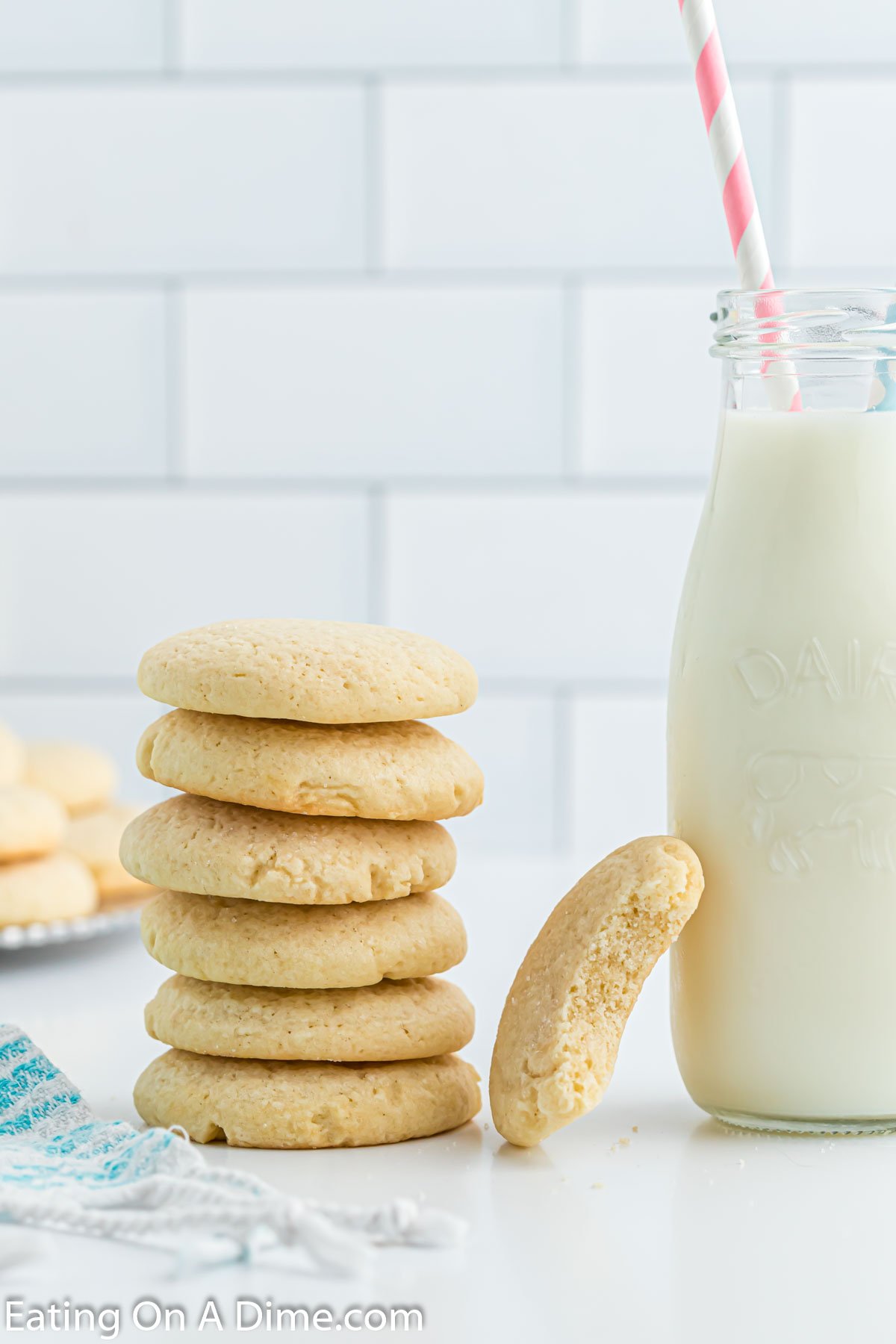 Old Fashioned Sugar Cookies Recipe:
We love the classic sugar cookie recipe. There is no rolling involved, you just mix the ingredients together and drop by the spoonful on a baking sheet. There is also need for cookie cutters to cut out sugar cookies. We love how simple this recipe is.
Sugar Cookies are one of our favorite types of cookies to make. We have made Sugar Cookie Bars and Sugar Cookie Fruit Pizza. both of these recipes are easy to make but are different forms of sugar cookies.
If you are looking for a simple sugar cookie recipe this old fashioned recipe is the one to make. The results are a soft and creamy cookie with all the flavors of a sugar cookie with easy ingredients.
Should Sugar Cookies be Soft or Crispy?
The very best sugar cookies are soft and tender. To get a soft sugar cookie depends on how you prepare the ingredients. When mixing the dry ingredients, make sure you mix to combine.
Over mixing your ingredients could result in crispy sugar cookies.
Ingredients:
Butter, softened at room temperature
Granulated Sugar
Large Eggs, at room temperature
Vanilla Extract
Milk
All Purpose Flour
Baking Powder
Salt
How to Make Old Fashioned Drop Sugar Cookies:
Mix together Wet Ingredients – Beat together the butter and sugar with a hand held mixer or a stand up mixer. Then add in the eggs, milk and vanilla extract. Mix until combined.
Mix Dry Ingredients together – In a separate bowl, whisk together the dry ingredients: flour, baking powder or baking soda and salt.
Combine dry and wet ingredients together. Then gradually stir the dry ingredients (flour mixture) into the wet ingredients (butter mixture) until a dough forms. Cover and chill the dough for at least 2 hours.
Preheat Oven – Then preheat the oven to 350 degrees F.
Drop Round Balls on Baking Sheet. Use a teaspoon or cookie scoop to drop the cookie dough onto a prepared baking sheet into round balls. Flatten the cookie dough out slightly by using the bottom of a glass dipped in granulated sugar.
Baking Cookies – Then bake for 12-15 minutes until the cookies are slightly golden brown. Make sure to rotate the baking sheets halfway through the baking time to ensure that the cookies are baked evenly.
Cool, Serve and Enjoy – Let the cookies sit on the baking sheet for 5 minutes. Then move the cookies to wire racks to cool completely.
Sugar Cookie Tips:
Make sure to not over bake the cookies. They should be slightly golden brown and they will continue to set once they cool.
Allow the cookies to sit before moving. If you remove from the baking sheet too soon, they will crumble.
Line Baking Sheet. When preparing supplies, line baking sheet with parchment paper for easy cleanup.
Mixing Ingredients. When mixing ingredients, you can use an electric mixer or a hand mixer.
Don't Overmix. To achieve soft and tender cookies, don't overmix ingredients.
Icing or No Icing:
Sugar cookies are delicious plan or decorated. I love when a sugar cookies has royal icing on it, so it is all what you prefer.
You can easily add sprinkles to a frosted cookie or add sprinkles before adding to the oven. We even love adding sugar on top of the cookie.
Frost cookies after the cookie has cooled for at least 5 minutes. Try our Homemade Cream Cheese Frosting for amazing flavor.
How to Store:
Store any leftover cookies at room temperature in an airtight container for up to 1 week. Keep a piece of bread in the container with the cookies to keep them soft.
How to Freeze Sugar Cookie Dough:
If you prefer you can make your sugar cookie dough ahead of time. You can freeze to use for all your holiday baking. Form the cookie dough balls as normal and flatten with a glass. Place on a baking sheet, then place in the freezer and freeze.
This will take about 3 to 5 hours. Once frozen, place inside an airtight storage container. Separate the layers of cookies with wax paper.
They can be frozen 1 to 2 months. When ready to bake, simply place on a baking sheet and cook as normal.
You may need to add an extra 1 to 2 minutes to the baking time if frozen.
Print Recipe here for Old Fashioned Sugar Cookies:
More Easy Cookies Recipe: