Try over 30 easy cookie recipes to satisfy your sweet tooth. These are the best cookie recipes including chocolate, strawberry, peanut butter and much more.
Easy cookie recipes
I can't wait for you to try these delicious and easy recipes. Everyone is going to want you to make cookies for the next event. With so many delicious ideas, the possibilities are endless.
You might also want to learn how to freeze cookies. Enjoy homemade cookies any day of the week with these easy tips for freezing cookie dough.
How do you make easy cookies from scratch?
Each homemade cookie recipe will vary but you do need a few common tools to make cookies from scratch.
Make sure you have a good baking sheet and I suggest using either parchment paper or a baking mat to make clean up easier.
Cookie scoop – Helps to make the cookies uniform and you can scoop a bunch at once. It saves time for sure.
Stand mixer– I love my stand mixer. It is so handy in the kitchen and perfect for mixing cooking dough.
Let's get started with these easy cookie recipes!
Cake Mix Chocolate Chip Cookies
The decadent recipe here starts with a cake mix and is so easy to make. You only need 4 simple ingredients to make these soft and fluffy Chocolate Chip cookies.
Strawberry Cheesecake Cookies Recipe
Cheesecake fans will go crazy over this easy recipe. Enjoy these Strawberry cookies packed with a ton of cheesecake flavor and decadent white chocolate.
Pretzel no bake cookies
You only need about 15 minute and everyone can enjoy delicious cookies. Each bite is a delicious combination of salty and sweet for the best no bake treat.
Monster Cookies
These cookies are loaded with so many good things that everyone will get super excited when you make them. Creamy peanut butter, chocolate chips, M&M's and more come together for one amazing Monster cookie.
Chocolate peanut butter cookies recipe
These easy cookies are fun to make with the kids and so easy with only 4 ingredients. Chocolate and peanut butter fans will love this tasty peanut butter cookie.
Red Velvet Cookies recipe
Satisfy your red velvet craving with this super easy recipe. We cheat and use a red velvet cake mix to achieve a moist and delicious red velvet cookie.
Chewy gingerbread cookies
Each bite is soft and delicious in this easy recipe. They are much easier to make than traditional gingerbread cookies and no rolling or cutting required.
Strawberry Cookies
If you are looking for a delicious yet easy cookie recipe, you need to try these. You only need 4 ingredients for these light and fluffy strawberry cookies packed with flavor.
Lemon Crinkle Cookies
Cake mix cookies are so easy and this one is perfect if you love lemon desserts. Lemon cookies are easy to make with only 4 ingredients and so delicious and easy.
Easy pumpkin cookies
Pumpkin Cookies are soft and delicious and packed with pumpkin flavor! This is the recipe to make when you are craving pumpkin!
Lofthouse cookies recipe
Try this homemade recipe for soft sugar cookies with decadent icing. It is a real treat and everyone will think you bought them at the bakery.
Cookies and cream cookies
Skip the mixes and make this easy and decadent cookies and cream recipe. Each bite is loaded with tons of goodness for the best cookie!
Butterscotch cookies recipe
You have to try this old fashioned cookie recipe packed with butterscotch pieces. Each bite is soft and chewy for the best cookie.
Salted caramel chocolate chip cookies
Decadent caramel and gooey chocolate come together to make amazing salted caramel cookies. This treat is heavenly and melts in your mouth.
Chocolate peppermint cookies recipe
Each bite is loaded with dark chocolate and topped with crushed candy canes for a delicious peppermint cookie. It starts with a cake mix and tastes amazing.
Hot cocoa cookies
Each bite of hot chocolate cookies tastes so chewy and gooey. Plus, this is such a fun recipe for the kiddos to help with.
Andes Mints Cookies
If you love Andes mints, you need to try these delicious mint packed cookies. This is super easy and packed with chocolate and mint flavor for the best treat.
S'mores cookie cups
Everyone will love these bite size treats that have everything you love about s'mores packed into a tasty cookie cup. Make these mini s'mores bites with only 5 ingredients for a delicious cookie.
Deep fried oreos
You only need 6 ingredients to make this deep fried oreos recipe that tastes just like from the fair! Enjoy the recipe at home for a fraction of the price!
Reese's peanut butter cup cookies
These Reese's cookies are amazing and the perfect recipe for peanut butter fans. Chocolate and peanut butter come together for a heavenly treat.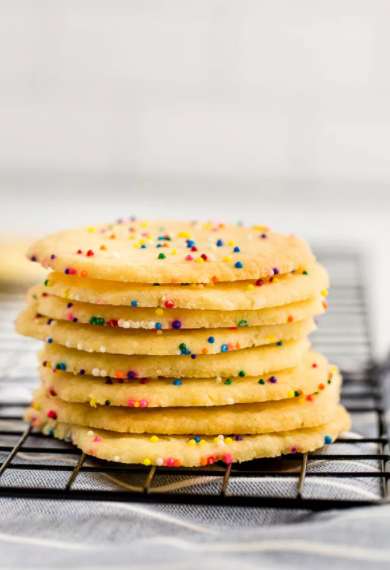 3 ingredient sugar cookies
With just 3 ingredients, these sugar cookies are super easy. If you are looking for a simple but delicious recipe, this is the cookie to make.
Snickerdoodle Cookie Recipe
Each bite of this cookie recipe is the perfect blend of cinnamon and sugar for a recipe everyone will love. This classic cookie is a must try.
Yellow Cake Mix Cookies
Only 4 ingredients and the results are the best cookie in minutes. Make this soft and delicious cookie for parties, holidays and more for a treat full of flavor.
Funfetti cookies
Sprinkle cookies are ready in under 20 minutes for a tasty treat. Not only is this recipe so easy but the cookies are gorgeous and so colorful!
M&M Cookies Recipe
Learn how to make this amazing m&m recipe from scratch with just a few easy steps. Each bite is bursting with chocolate chips and m&m's candy for a really awesome cookie recipe.
Italian cookies recipe
This recipe is so buttery and delicious with an amazing glaze that just brings it all together. The sprinkles make the Italian cookies extra festive and each bite is decadent and so tasty.
Butter Cookies Recipe
This buttery delight comes together quickly for a tasty and gorgeous treat. Easy butter cookies are pretty enough for a cookie exchange but easy enough to make any day of the week.
Cream Cheese Cookies Recipe
If you love cheesecake, you are going to go crazy over this recipe. Cheesecake cookies recipe has everything that you love about cheesecake in bite size cookies.
Easy No Bake Cookies Recipe
You are going to love how simple this no bake cookie is to make and each bite has the most delicious combination of peanut butter and chocolate. Anytime you want a sweet treat and need it fast, this is the recipe to make.
Funfetti Cake Mix Cookies
The tasty recipe only takes a few minutes and calls for just a few simple ingredients. Funfetti cookies are so fun to make and taste moist and delicious for the best treat.
These are the best cookie recipes!
Feel free to try several. They are all so easy that you can quickly make an assortment of yummy cookies.
More easy dessert recipes: