Taquito Enchiladas Tiktok Recipe only requires 3 ingredients and is easy to prepare. This enchilada recipe is the perfect weeknight meal.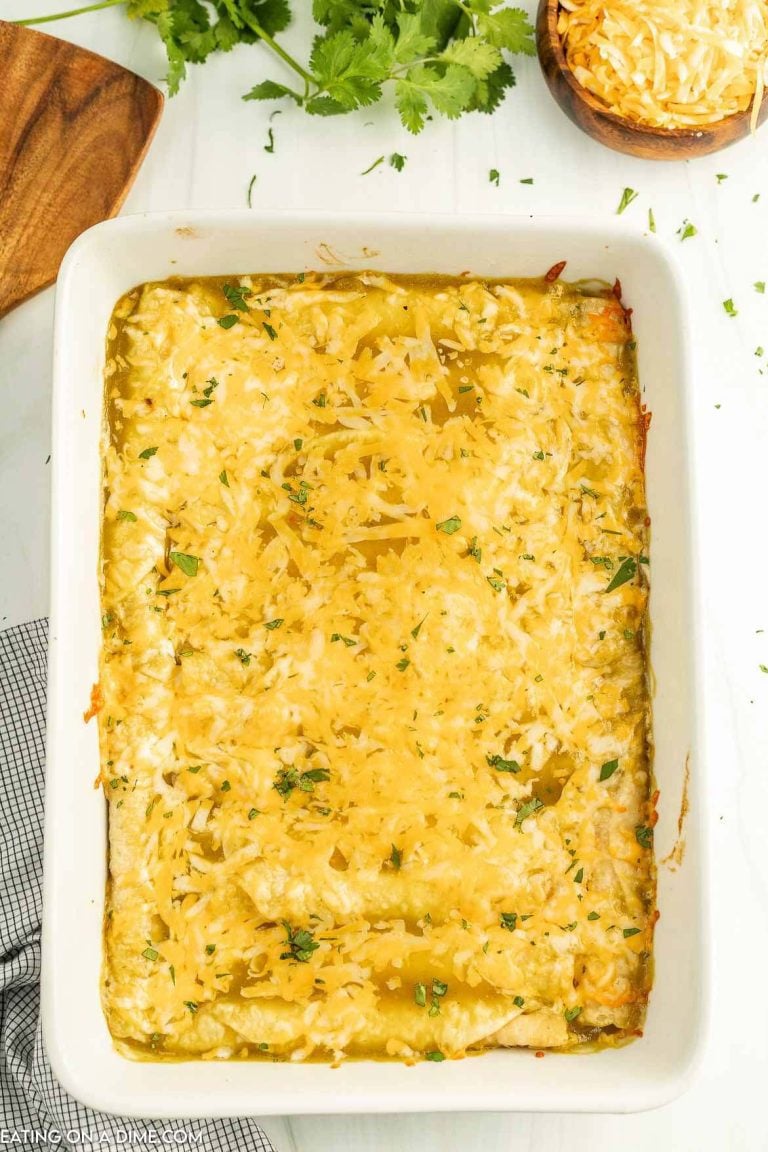 Lazy Enchiladas Tiktok Viral Recipe:
If you view Tiktok videos, then you have probably seen this lazy enchiladas with taquitos tiktok recipe. You only need 3 ingredients and it starts with frozen taquitos. Taquitos, enchilada sauce and cheese is all you need.
You can make this recipe with chicken or beef taquitos, any flavor of enchilada sauce or different cheeses. This viral Tiktok recipe is perfect for a weeknight meal and my kids love to have it when their friends are over.
If you love enchilada, make this easy enchilada recipe. Add a side of rice and refried beans for a complete meal idea. This easy dinner idea can be ready in about 20 minutes.
Ingredients:
Frozen Chicken Taquitos
Green Enchilada Sauce (10 oz)
Colby Jack Cheese (shredded)
How to Make Lazy Enchiladas with Taquitos:
Step 1 – Heat Oven – Preheat the oven to 375 degrees to 400 degrees F and spray a 9X13 baking pan with a non-stick cooking spray.
Step 2 – Add Taquitos to baking dish – Place the taquitos in the bottom of a 9X13 baking pan. Bake the taquitos for 10-12 minutes.
Step 3 – Top with Enchilada Sauce – Pour the enchilada sauce on top of the taquitos. Top with ¼ cup of the shredded cheese. Bake for 10 more minutes.
Step 4 – Top with Cheese – Top with the remaining shredded cheese. Bake for 3-5 minutes until the cheese is melted.
Step 5 – Serve and enjoy – Serve warm with your favorite enchilada toppings and enjoy.
What Size Baking Dish Should I Use?
This Tiktok lazy enchilada recipe should be baked in a 9×13 baking dish. 24 taquitos pick perfectly in a 9×13 baking dish. But you can use a smaller dish if you want to use less taquitos.
Can I Use Red Enchilada Sauce?
Yes, you can also use red enchilada sauce instead of green enchilada sauce if you prefer. Red Enchilada Sauce comes in mild, medium, or hot sauce.
If we use red enchilada sauce, we like to use medium as it gives the enchilada the perfect amount of spice.
What to Serve with Tiktok Enchiladas?
Make Tiktok Enchiladas a complete meal idea with these side dishes. These enchiladas are the perfect game day meal or when your kids have friends over.
Spanish Rice – We love making Spanish rice as an easy side dish.
Refried Beans – Make a batch of these easy crock pot refried beans for a delicious side dish.
Toppings – These enchiladas are delicious topped with sour cream, guacamole, or salsa.
Substitutions and Additions:
Taquito Variations – We used Chicken Taquitos for this recipe but steak or cheese taquitos would also work great.
Change the Cheese – Feel free to change the cheese. You can easily top with pepper jack cheese or mozzarella cheese. Make sure to shred your own cheese for best results.
Homemade Enchiladas – We used taquitos in this recipe, but you can easily wrap leftover chicken in corn tortillas. This would still be an easy dinner idea with simple ingredients. You can even make beef enchiladas.
Air Fryer – If you prefer, you can make these enchiladas in the air fryer. Place the ingredients in a small air fryer dish and heat. This would be the perfect size for an individual serving.
Recipe Tips:
Single Layer – Place the taquitos in a single layer in the baking dish. This helps to even bake the ingredients.
Prepare Baking Dish – Make sure to spray baking dish with cooking spray for easy clean up.
How to Store:
Refrigerate the leftovers in an airtight container for up to 5 days. My kids really enjoy them leftover, so I like to place in individual containers.
How to Reheat Leftovers:
To reheat the leftovers, place back in the baking dish and bake for about 10 minutes. You can also reheat in the air fryer or microwave. If you reheat in the microwave, it is possible that the enchilada may not come out as crispy.
Print Recipe here for Taquito Enchiladas Tiktok:
More Easy Enchiladas Recipe: